Papa Vinyard here, and I got somethin' for ya...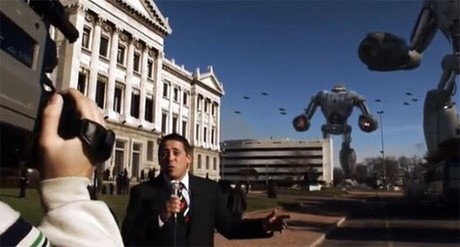 After Fede Alvarez's EVIL DEAD remake scared up almost $100 mil worldwide on a $17 mil budget, it seemed like the South American director had proven his mettle behind the camera, and now he is being granted the ability to direct his own sci-fi script, according to Hollywood Reporter. Media Rights Capital (MRC) will produce the film, with a distributor yet to be attached. Details on the film, entitled MACHINA, are slim, other than it will be co-written with EVIL DEAD co-writer Rodo Sayagues.
This development makes sense, given that Alvarez's sci-fi short film ATAQUE DE PANICO! (PANIC ATTACK!) is what got Sam Raimi's Ghost House Pictures interested in his talents to begin with. The short, posted below if you haven't seen it, is rough, due to its low budget, but is still quite impressive, and exhibits Alvarez's ability to depict the scuttle-fuck panic (the title doesn't lie) that would arise during this kind of grand-scale alien invasion. The sense of doom I got in the piece's climactic moments rivals anything I felt in INDEPENDENCE DAY, with only a fraction of that film's actual on-screen carnage. If he can bring the energy and confidence he's exhibited so far into a big-budget, original sci-fi property, then we should be in for a treat whenever MACHINA comes to theaters.
-Vincent Zahedi
"Papa Vinyard"
vincentzahedi@gmail.com
Follow Me On Twitter