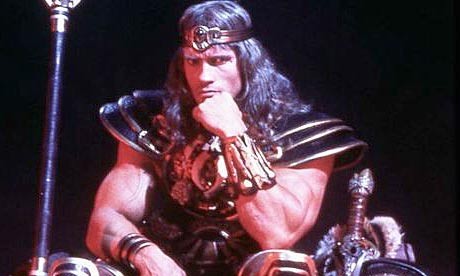 Hey Yo, Draven here.
It seems to be the summer for Arnold Schwarzenegger sequel news, as we previously had heard that Schwarzenegger is returning for THE EXPENDABLES 3, TERMINATOR 5, and THE LEGEND OF CONAN. The Arnold Fans was able to talk to CEO, Fredrik Malmberg of Paradox Entertainment (who is the property owner of Conan) and he gave some updates on THE LEGEND OF CONAN:
"We're doing the script and it's by the whole 'Fast and the Furious' team, which is great for a power position of the studio because they're extremely successful - it was the biggest movie and if anyone knows how to build a franchise, it is that team. It's Chris Morgan and Jeffery Kirschenbaum, the head of Universal. Arnold is very excited. It's just in the phase where it takes a lot of work to get the script just right. "
When Malmberg was asked if LEGEND OF CONAN is "100% happening" he responded by saying:
"Oh, It's happening. We have a great story. Everyone loves it. This is a role that's perfect for him (Arnold) and he's very involved with the whole Universal team. It's the best team they have. Arnold has been very instrumental to being this together saying, 'We gotta make a good Conan!' I think if we do this right, we can do two more Conan movies right after. I think Game of Thrones also shows a huge interest in fantasy. I'm psyched about it.
Malmberg also gave some more information on the plot of LEGEND and where it is going to fit in with the other two films:
"The idea is that this takes place AFTER Conan has been king. But this is the legend of Conan where he has been gone and people say, 'do you remember the good ol' days when Conan was around?' And now it's time for him to come back. In the stories and you can also see it when he's sitting on the thrown and the narration on that last scene of the movie..."with a troubled brow" ...you can tell he's not really happy being king. So, it's time for him to go out and do battle."
He then explained that they hope LEGEND is just the beginning of a new series of films :
"That's what we hope. In fact Arnold, judging by other classic actors like Eastwood who's in his 80s, he still looks badass. I think if this film is good and is well received, then I don't think we have to say NO to Arnold for several more movies. We can keep going forward, even after he ages. "
This is good news for the many of you that really want to see LEGEND OF CONAN and Malmberg had a lot more to say about the potential film so check out the link for more info.
Schwarzenegger seems to realize that he doesn't have much drawing power, after THE LAST STAND only grossed $12 million here in the US this year. So instead he is going to try to use his older franchises to be the drawing power for him. I do hope that some of his original films are successful so he can star in some different films. I did enjoy THE LAST STAND and have heard that he is far and away the best part of the upcoming film, ESCAPE PLAN and MAGGIE certainly sounds interesting. That being said, if I have to only live with him rehashing his earlier work, well that is better than nothing.
Follow me on Twitter here!