Hey guys! Horrorella here...
Last month, we posted a short teaser for the newest film from acclaimed director Hayao Miyazaki, THE WIND RISES. Now, we have a huge, beautiful trailer running about four-minutes of gorgeousness.
THE WIND RISES is an adaptation of the manga Kaze Tachinu (also written and illustrated by Miyazaki) and will tell the story of Jiro Horikoshi, an engineer who designed fighter planes for Japan in World War II. And while Studio Ghibli has released several films over the past couple of years (including ARRIETTY and FROM UP ON POPPY HILL), this is the first film that Miyazaki himself has directed since 2008's PONYO.
The film opens this weekend in Japan, but the U.S. still doesn't have a release date lined up. So it looks like we'll all just have to wait patiently, but I'm keeping my fingers crossed that we get to see it soon.
But in the meantime, check out the trailer. In fact, check it out twice - it is that beautiful. There is a bit of an introduction (all in Japanese), and then the trailer itself starts around the 1:18 mark.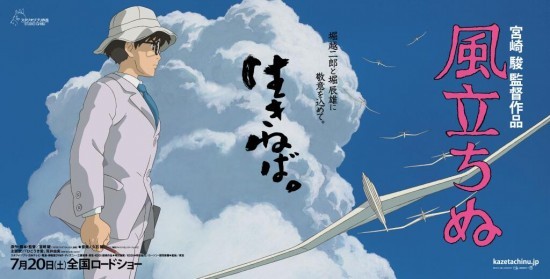 Follow me on Twitter