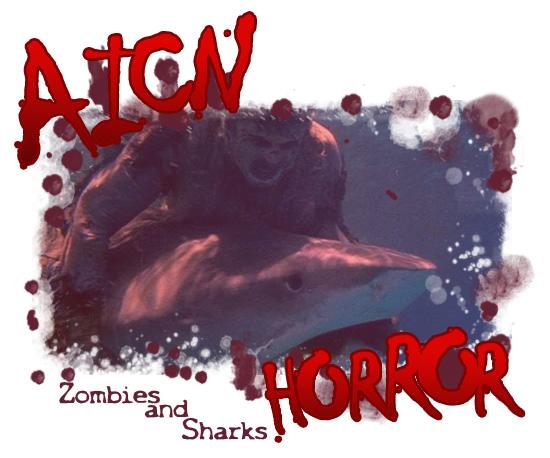 Logo by Kristian Horn
What the &#$% is ZOMBIES & SHARKS?
---
Greetings.
Ambush Bug
here. I'm typing this while on my way to the 2013 San Diego Comic Con. While I'm here I plan on catching up with friends, doing some interviews with the likes of Adrienne Barbeau, Peter David, and Gary Frank, among many others, and checking out the various sights, sounds, and smells that are usually related to these types of things.
If you're going to the con, there are a couple of things I wanted to alert you to.
Thursday evening at 7:00-8:00pm I'll be hosting the fifth annual
Horror on the Paneled Page
panel in Room 5AB. This year, I've gathered an eclectic bunch of creative types; Tim Seeley (writer of REVIVAL, HACK/SLASH), Brandon Seifert (writer of WITCH DOCTOR, HELLRAISER), Jen & Sylvia Soska (writers/directors of AMERICAN MARY, DEAD HOOKER IN A TRUNK), Matt Pizzolo (writer/director GODKILLER, organizer of OCCUPY COMICS, producer 12 REASONS TO DIE), Mark Miller (my namesake, who writes with Clive Barker on HELLRAISER, NEXT TESTAMENT), and Adam Egypt Mortimer (writer & co-creator with Darick Robertson on BALLISTIC). I'll be leading a lively discussion of all things horror, what to do and what not to do in horror, and how these talented folks are able to scare the bejeezus out of us in comics and film.
Directly afterwards, I'll be jetting over to the
Black Mask: Bringing a Punk Rock Sensibility, Activism, & Wu-Tang to Comics!
panel where Steve Niles (30 DAYS OF NIGHT), Brett Gurewitz (Bad Religion, Epitaph Records), & Matt Pizzolo (GODKILLER, OCCUPY COMICS) will be leading a discussion about their new publishing imprint Black Mask Studios which publishes Ghostface Killah's 12 REASONS TO DIE, Matt Miner's LIBERATOR, Darick Robertson's BALLISTIC, and OCCUPY COMICS. Sitting on the panel will be 12 REASONS TO DIE writer Matt Rosenberg, BALLISTIC writer Adam Egypt Mortimer, and others. If there's room, I'll be sitting on this panel discussing my contribution to OCCUPY COMICS and possibly some other top secret projects. This panel takes place in Room 8 at 8:00-9:00pm Thursday night.
Finally, I'll be in the
Hermes Press: Frank Frazetta Art & Remembrances
panel in Room 9 at 5:00-6:00pm on Friday sitting in awe at the Frank Frazetta art and discussing my upcoming werewolf graphic novel LUNA: ORDER OF THE WEREWOLF. Hermes Press will be releasing the 100 page comic with FAMOUS MONSTERS MAGAZINE in October of this year. I co-wrote LUNA with Martin Fisher and it sports art by Tim Rees.
If you're not attending the con, fear not. I'll be posting video and pics of the panels hopefully as soon as next week.
But if you're at the con, stop by one of these panels and say hi!
---
Find more AICN HORROR including an archive of previous columns on AICN HORROR's Facebook page!