Hey Yo, Draven here.
So I have received numerous e-mails that the reveal might have something to with a new 3-D Blu-ray that Fox will be releasing this fall. Here is some more information on that. Hopefully, that isn't the only thing as that would really be anti-climatic but it probably is. Do we really need Predator in 3-D? How about just an HD transfer that doesn't completely suck, Fox?
Here is the original story:
On the official Facebook page for PREDATORS, they have revealed the following image: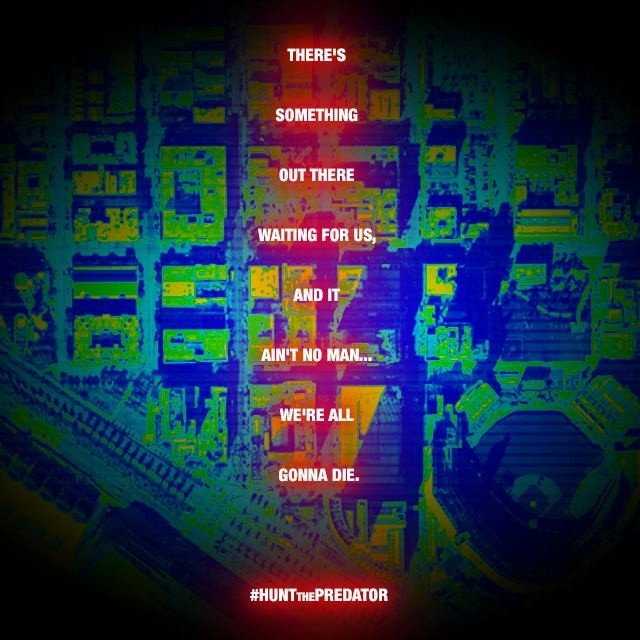 So the infrared (or "Predator Vision") poster is showing San Diego, and Comic-Con just happens to be this weekend. Logic seems to indicate that this will lead to the announcement of a new Predator film.
Robert Rodriguez has talked about a sequel to 2010's PREDATORS over the last three years. Plus, the film made $127 million worldwide on a $40 million budget, so it made a little bit of money. Fox is also teasing a major surprise at their Comic-Con panel this weekend so this could mean that the announcement of a sequel to PREDATORS is imminent. It could also mean an announcement of a new video game or something else entirely. There is a lot of smoke though, and hopefully we will get some fire this weekend.
I had a lot of fun with PREDATORS and only a small portion of Robert Rodriguez's original script was filmed so hopefully it will be a direct sequel and not another reboot. Some other AICN writers are speculating that we may finally get the return of Arnold Schwarzenegger to the series. This would make sense as he has committed to future installments of every other one of his franchises and I am sure Fox would love to make the PREDATOR 2 we never got. I will just be happy with the announcement of another PREDATOR film though.
What do you guys think? Are you excited for another PREDATOR film?
Follow me on Twitter here!