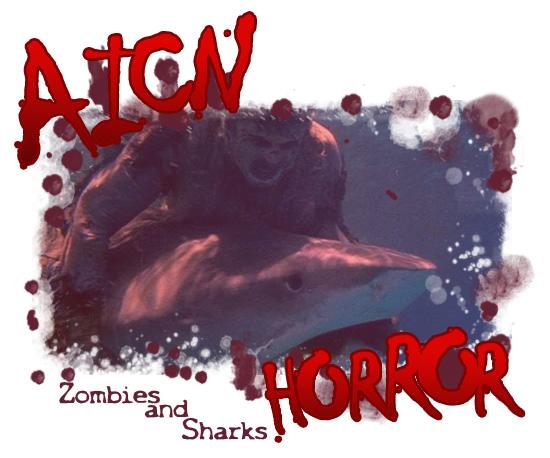 Logo by Kristian Horn
What the &#$% is ZOMBIES & SHARKS?
---
Greetings, all. Ambush Bug here with another AICN HORROR: ZOMBIES & SHARKS column. This week we've got some quirky little horror gems. But before that, there's this…
---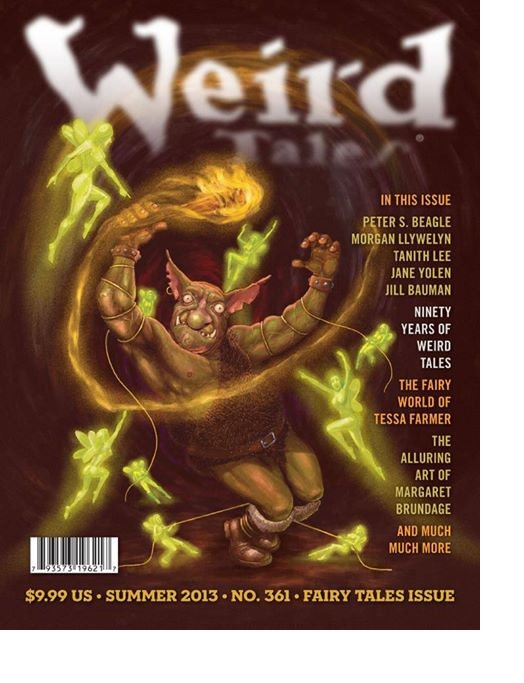 For those of you like me who grew up reading horror magazines, WEIRD TALES MAGAZINE has their second issue since their re-launch coming out today! The publisher (film maker and director) John Harlacher and editor in chief Marvin Kaye (he playwright, author and anthologist) have made an attempt to take the magazine back to its roots. Each new issue has a mixture of themed and non-themed fiction. The first relaunch issue (#360) had HPL's "Old Ones" as it theme with original fiction by Brian Lumley, Michael Shea and Darrell Schweitzer among others. The newest issue has "Fairy Tales" as it's them with fiction by Peter S. Beagle (THE LAST UNICORN) and Tanith Lee and non-fiction by Darrell Schweitzer. Be sure to pick up your copy of WEIRD TALES MAGAZINE when it hits the stands today or )
check out the website here for more info!
---
Here's another from William Wilson's "Never Got Made Files". This time he checks out something that did get made, but it turned out extremely different than what it originally intended to be. We're talking about the craptacular PHANTOM OF THE MALL, which originally was supposed to be something pretty special. What we got was…well, Pauly Shore ('nuff said).
Click on this link to read the whole story as William Wilson talks to co-writer Scott Schneid, who developed SILENT NIGHT DEADLY NIGHT and shows us some great pre-production art by Alec Gillis and Tom Woodruff, Jr.'s company.
---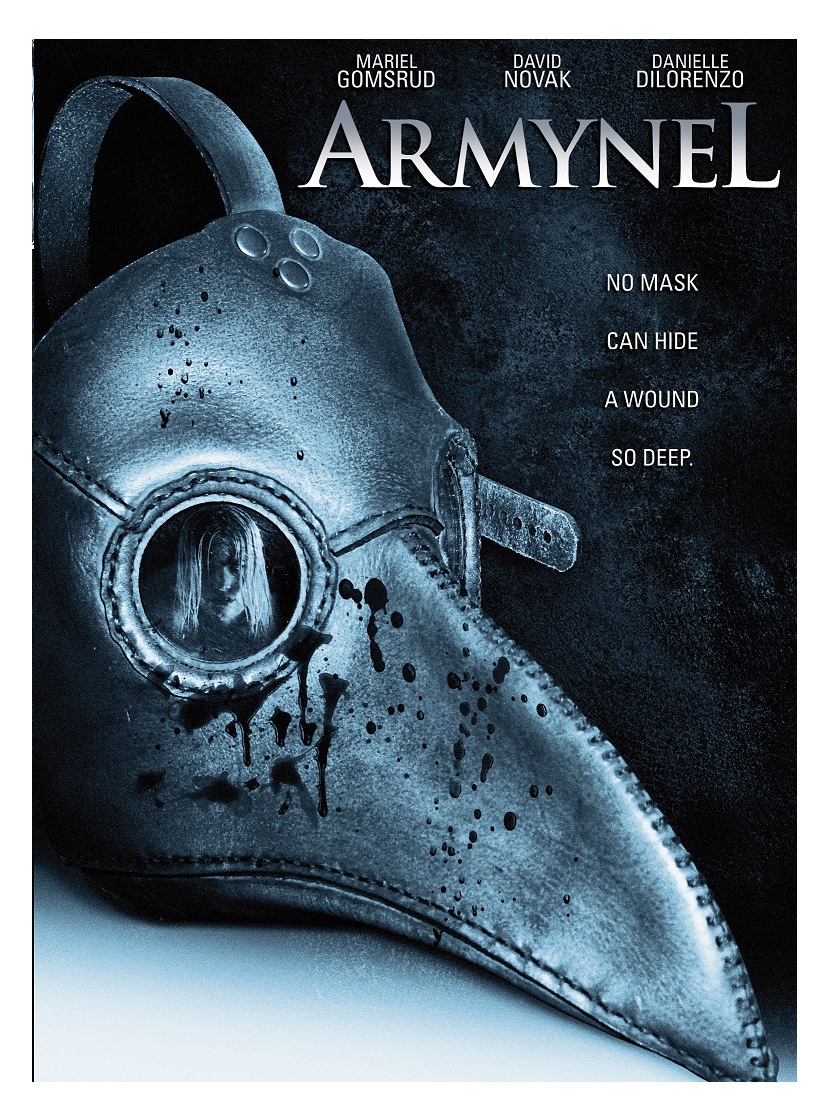 Next, here's an exclusive clip from the upcoming film ARMYNEL from
Midnight Releasing
. The official synopsis reads:
For Savannah, a personal assistant at a law office struggling with a dark secret, bad dreams soon become nightmares and then progress to hallucinations. Finally, she can't take it anymore and decides to tell her girlfriend Felicia. Felicia tries to help by introducing her to psychiatrist Doctor Dale. As she begins her hypnosis therapy sessions and her dark secrets come to light, tragedies begin happening around Savannah and all the signs point to her being the suspect.
The film will be available on DVD July 16th. I'll be reviewing it soon, but here's the clip and below that, the trailer of the film.
---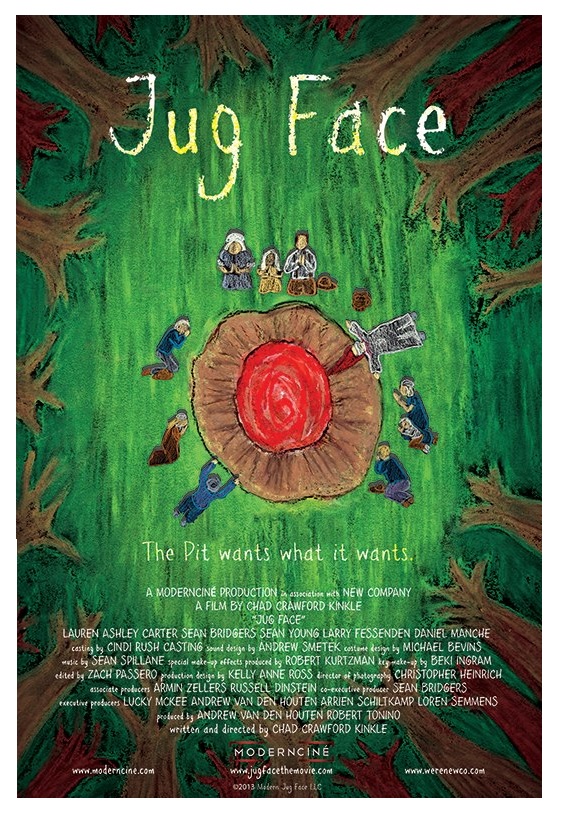 I know it's the middle of summer, but it's never too early to start planning for the Halloween season. Early bird tickets are on sale now for this year's GRIMMFEST on the 3rd - 6th of October at the Dancehouse Theatre in Manchester, UK. The first two films of the fest have been announced; HANSEL AND GRETEL GET BAKED (the off-colour homage to the Brothers Grimm with a distinctly unDisneyish modern re-imagined fairytale) and JUG FACE (
reviewed here
, the Lucky McKee produced forest-based fairy tale of a very different kind).
Find out how you can pick up tickets by clicking here!
---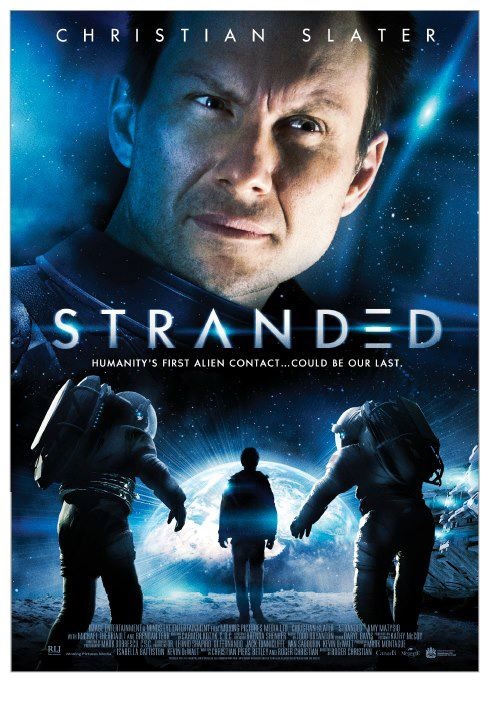 Finally, I've posted about STRANDED before. It's the sci fi film starring Christian Slater and directed by BATTLEFIELD EARTH director Roger Christian. The film is finally getting a domestic release date on VOD and in theaters on July 26, 2013. Below is the trailer of the film.
On with the horror reviews!
Today on AICN HORROR

(Click title to go directly to the feature)
Advance Review: THE LAST EXIT (2012)
Short Cuts: AFTER VISITING HOURS (2012)
VISIBLE SCARS (2012)
MON AMI (2012)
THE EXPELLED (2010)
BERBIAN SOUND STUDIO (2012)
Advance Review: OUTPOST 11 (2012)
And finally…HORROR BIZARRE #2: LIEBERMAN!
---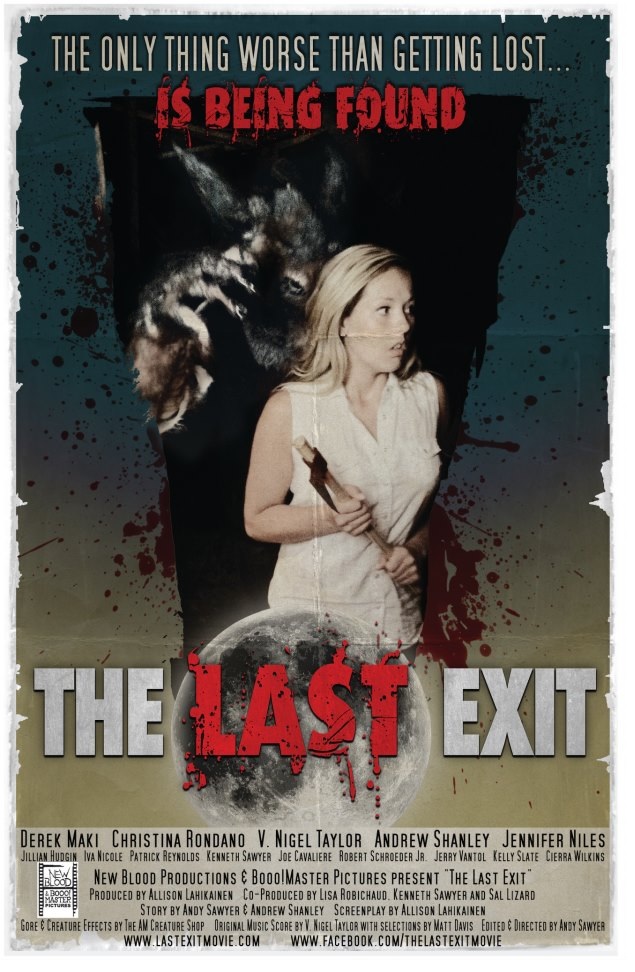 Advance Review: Currently touring festivals!
THE LAST EXIT (2012)
Directed by Andy Sawyer
Written by Andy Sawyer, Andrew Shanley, Allison Lahikainen
Starring Derek Maki, V. Nigel Taylor, Christina Rondano, Jennifer Niles, Andrew Shanley
Find out more about this film here and on Facebook here
Reviewed by Ambush Bug
Though filled with what we've all come to expect from indie horror (amateur acting, rough editing and sound, lo fi effects), THE LAST EXIT is also filled with a lot of indie charm, mainly in the fact the folks behind it seem to be trying to make something other than your run of the mill monster movie. For that, I have to give THE LAST EXIT credit.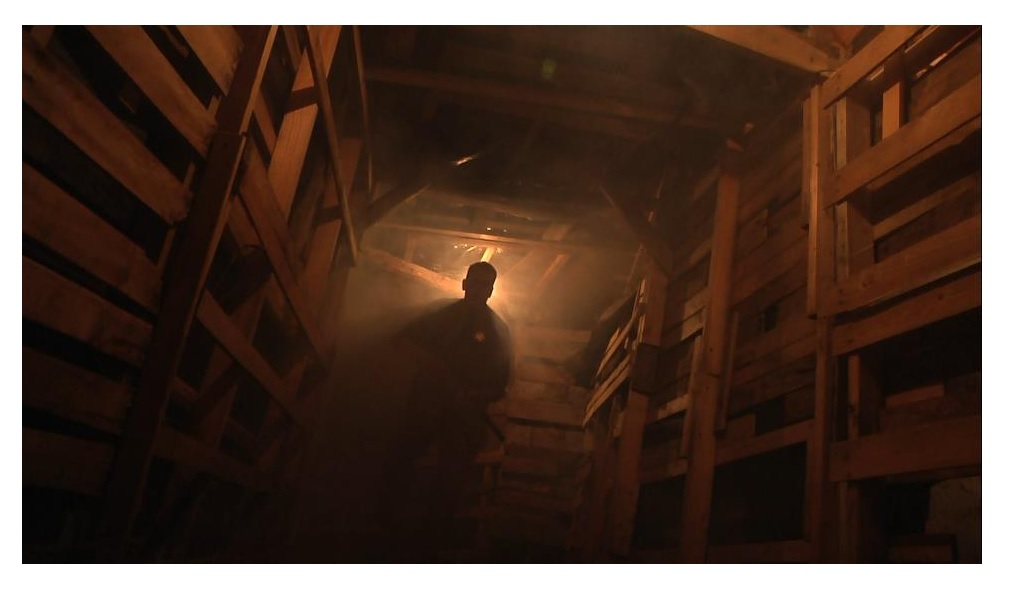 Writer/director Andy Sawyer and writers Andrew Shanley & Allison Lahikainen aim high with their script, which definitely has an air of Tarantino. The sidebars and tangents that you often see while folks are on their way to do something else in those films are abundant in THE LAST EXIT as the story focuses on different sets of people and sometimes different points in the story. It's an ambitious endeavor, somewhat successful in separating this film from the rest of the indie herd.
Still, with talk like this, sometimes even the most accomplished of actors have trouble making Tarantino-esque dialog for themselves. Give that type of dialog to amateur actors and sometimes it's hard to swallow. Granted, there are members of this cast who make it feel natural, but for the most part, the expansive vocabulary seems a bit out of place coming from the actors assembled here.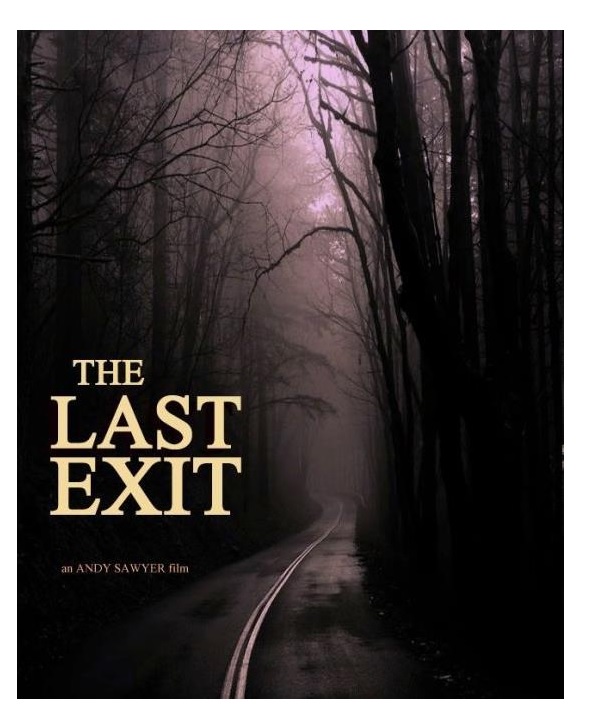 The film itself does a decent job with allotting a lot of time for some gratuitous gore and at least one gratuitous boob shot. These practical effects make for an interesting watch for gorehounds as a werewolf bisects and shreds through the expansive cast. The werewolf suit itself is impressive as well, and gives me that warm feel I fondly remember from watching old 50's monster movies.
The throwback feel to the effects and monster make up for the amateur acting and clunky dialog. The story is pretty straightforward, though it tries to be unnecessarily complicated at times. Still, basically THE LAST EXIT is about setting a group of people up to be eaten by a werewolf, then moving on to another set of folks. Pretty simple stuff and THE LAST EXIT does it with lots of indie gumption.
---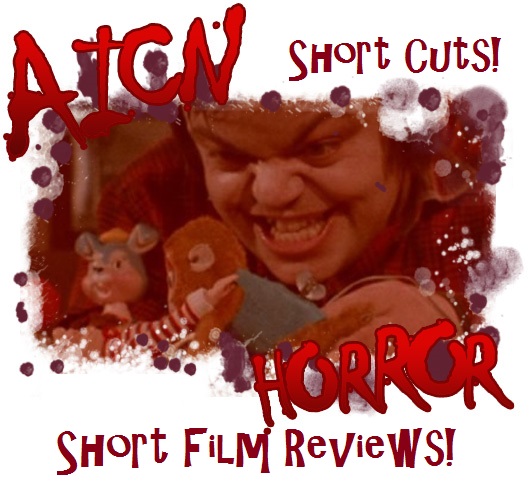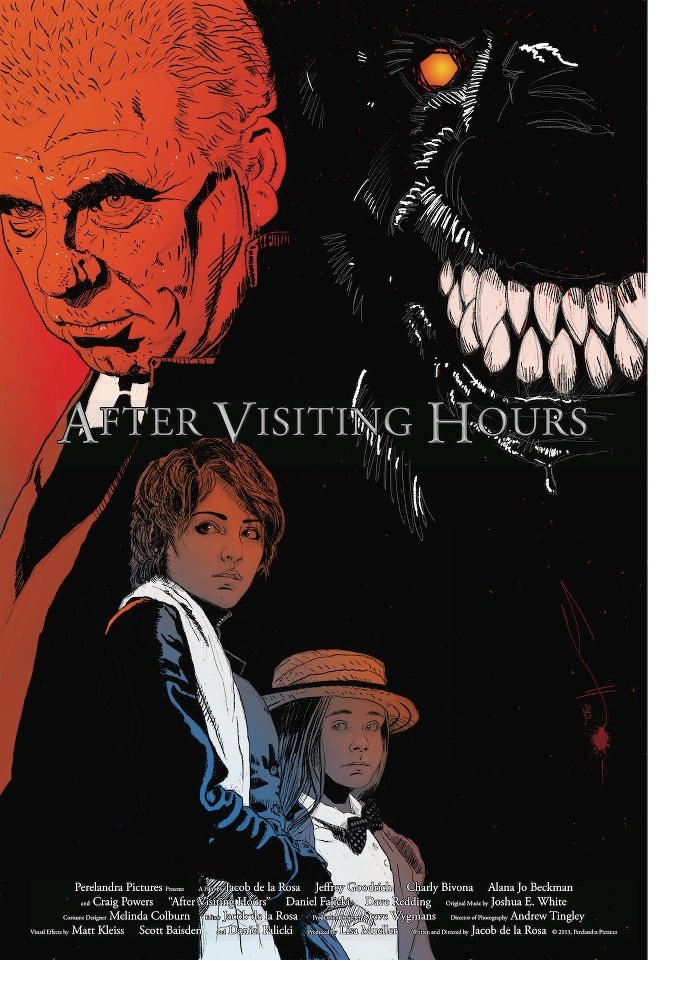 Find out more about where you might see this short film on Facebook here
AFTER VISITING HOURS (2012)
Directed by Jacob de la Rosa
Written by Jacob de la Rosa
Starring Jeffrey Goodrich, Charly Lee Bivona, Alana Jo Beckman
Reviewed by Ambush Bug
Another werewolf haunts this short about a retirement home which seems to have become the feeding ground for a beast from fable. Directed and written by Jacob de la Rosa, this is a quirky effort to make you jump and laugh all at once.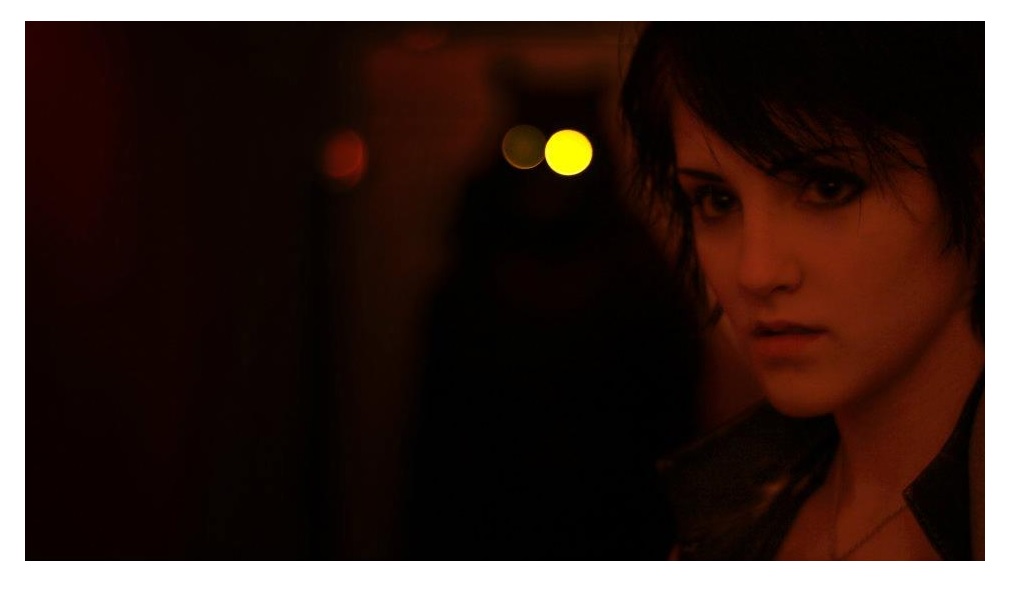 Though the werewolf suit used in this one seems like one someone might buy at WalMart, the way the director films the beast is actually pretty inspiring. There's a particular scene where we see the werewolf silently running up behind an elderly woman which actually is pretty thrilling in that the viewer is seeing something the person in the film cannot. Knowing the danger is approaching makes this scene extremely effective and made me think that bigger and better things may be in store for this filmmaker.
The story follows a swindler monster hunter and his two nieces. The swindler makes his way through retirement homes to fight fables gone wild, and the particular retirement home in this one is the place for a final standoff. AFTER VISITING HOURS gets my support for using an inventive setting for the action, as well as a few well-constructed scenes. If it's playing at a fest near you, seek out this indie big bad wolf yarn.
---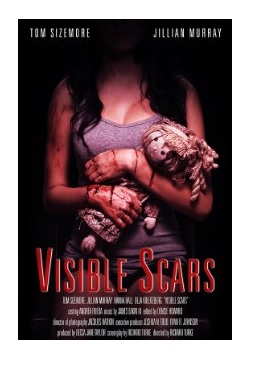 Available this week on BluRay & DVD!
VISIBLE SCARS (2012)
Directed by Richard Turke
Written by Thomas L. Ferguson, Richard Turke
Starring Jillian Murray, Tom Sizemore, Hanna Hall, Deja Kreutzberg, Dave Parke, Timothy Ryan Cole, Jonas Fisch, Carol Abney, Alix Angelis, Kris Angelis
Find out more about this film here
Reviewed by Ambush Bug
When their prostitute mother (Hanna Hall, SCALENE) picks up a crazy john (Tom Sizemore), the date ends badly and the john ends up taking the twin babies back home with him. Thus begins the twisted story of VISIBLE SCARS, which is sometimes disturbing, sometimes confusing, and all around weird through and through.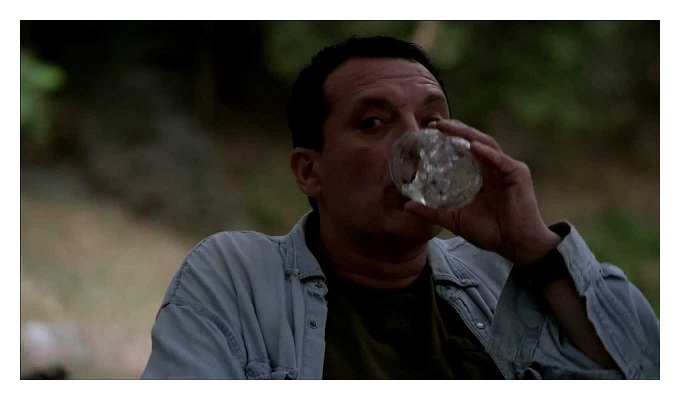 I seriously don't know if I should admire or loathe this film for the turns it takes throughout its running time. Just when you think you have it figured out, a revelation blows that theory out of the water. So as far as shattering expectations, VISIBLE SCARS surely does that.
The acting is decent too, as we skip ahead a handful of years and follow the story of the twins for a bit and then it veers off and follows a single woman with a troubled past. How this troubled woman is linked to the twins in the past is not what I thought it was going to be, but all the way through lead, Jillian Murray and especially Sizemore do a great job of making you believe the tragedies unfolding in this story.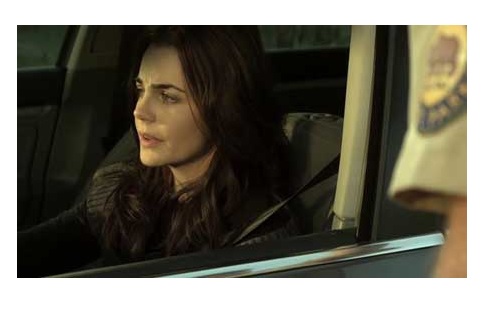 All signs point to this being a supernatural movie about a ghost and a haunted forest. Or maybe it's about something more concrete and in the real world. Any more would give away some integral twists that I feel are better experienced than ruined here. Still, the unconventional ending makes me admire this film for the ballsy way it finishes up.
Surprisingly gory in the second half and unpredictable all the way through, if you're looking for a film which will defy most expectations one might have regarding the destination it's headed, VISIBLE SCARS is it, most definitely.
---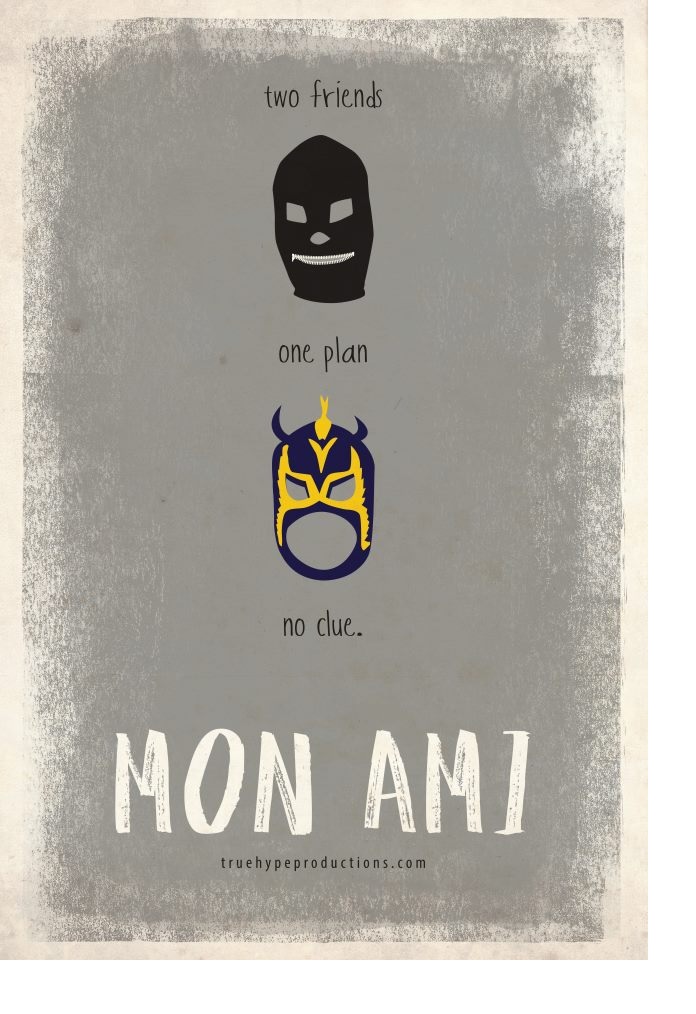 Out now on DVD & BluRay!
MON AMI (2012)
Directed by Rob Grant
Written by Rob Grant
Starring Michael Kovac, Scott Wallis, Bradley Duffy, John Fitzgerald, Len Harvey, P. Lynn Johnson, Bill Murdoch, Chelsea Reist, Justin Sproule, Teagan Vincze, Graham Wardle
Find out more about this film here and on Facebook here
Reviewed by Ambush Bug
This bloody little masterpiece had me laughing the whole way through. Hailing from the great white Canadian north, MON AMI is one of those films that gives no fucks about nothing and is proud to wallow in blood, obscenity, and making those making it look like idiots.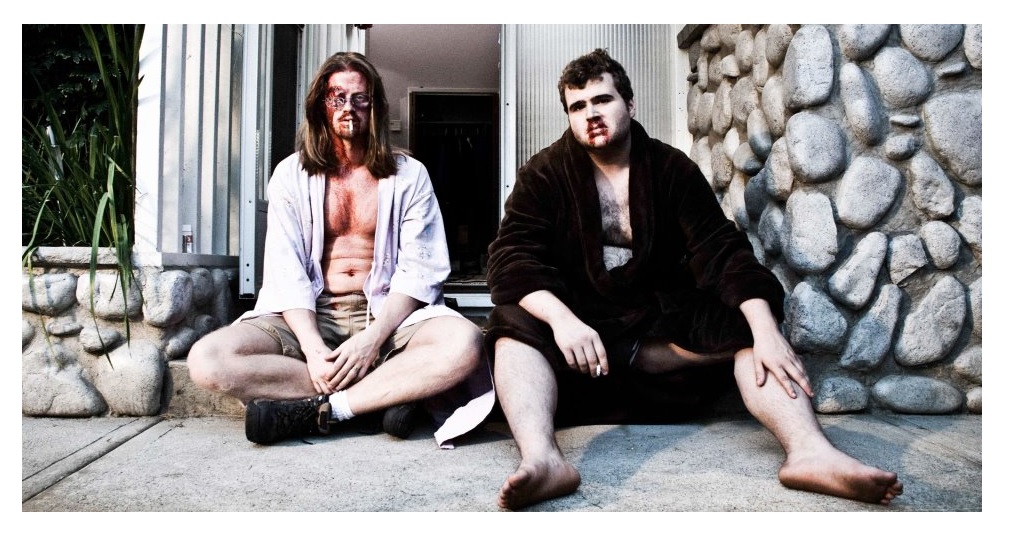 The story is something straight out of a Cohen Brothers film as a pair of hardware store managers who think they are up for a promotion to own the store once the owner retires are disappointed beyond belief when the store owner gives the store to his two douchebag sons. So the two clerks (played to comic perfection by Michael Kovac and Scott Wallis) hatch a scheme to kidnap the boss's daughter and hold her for ransom. Of course, the plan goes pear-shaped from the get go.
This comedy of errors gets bloody quickly, but the thing that makes this film so special is that despite the gory levels this film sinks to, somehow, someway, the two protagonists are still extremely likable. Maybe because we understand how they feel so well when they are passed over on the raise, or maybe it's because they seem so believable as such good friends, or because the two are extremely likeable actors. Nevertheless, despite how bloody and brutal this film gets by the end (and it does get pretty damn brutal), you're with these two the whole way.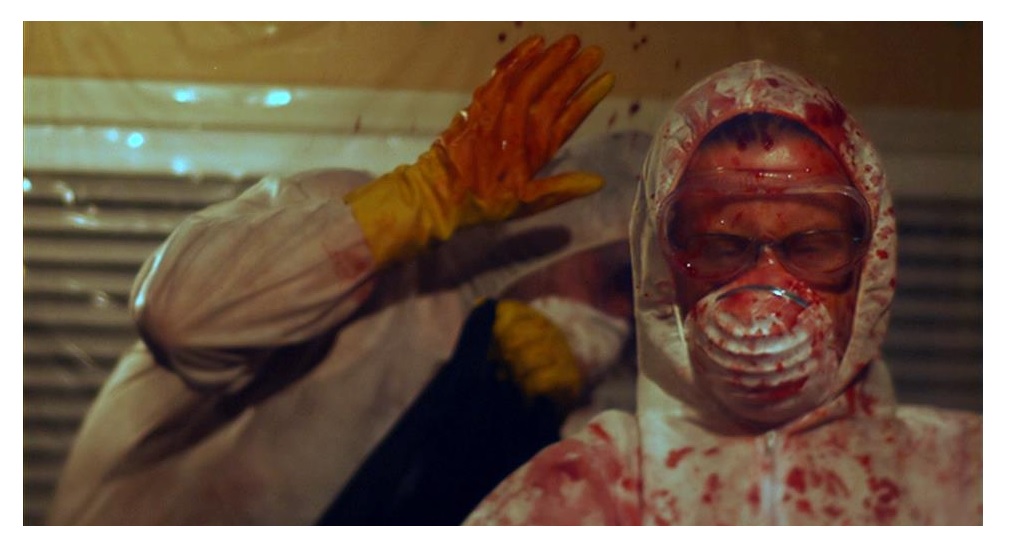 I've mentioned the blood (there's a lot), but what makes it all stomachable is the humor which evens this film out. Be it the ingenious way the initial abduction is orchestrated (not the plan itself, but the way the two stooges muck it up so bad, but still are able to successfully accomplish it) through each subsequent misstep from the ransom demand to the drop off to the confrontation with the victim's father to the way it all wraps up in the end, each moment gets more and more ludicrous, yet believable. The way writer/director Rob Grant balances it all makes me want to pay close attention to this guy's next projects.
Gross-out horror comedies often try to overindulge in either the blood or the laughs, but rarely does one of these films succeed evenly at both. MON AMI is a bloody buddy movie through and through, and I promise those who give this film a shot will laugh, then maybe feel bad for laughing for a tick, then laugh again.
---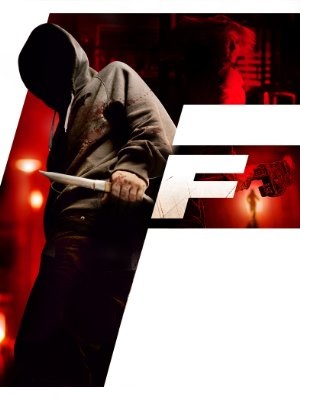 New this week on DVD from Screen Media Films (Find this film on Netflix here)!
THE EXPELLED (2010)
aka F
Directed by Johannes Roberts
Written by Johannes Roberts
Starring David Schofield , Eliza Bennett , Roxanne McKee, Ruth Gemmell, Juliet Aubrey, Emma Cleasby, Finlay Robertson
Reviewed by Ambush Bug
Another good one this week to check out is THE EXPELLED, a subdued yet effective slasher thriller which may be a bit ill-timed in its release in that the villains in this one are hooded teens much like the garb worn by Trayvon Martin. Whatever side you may fall on in regards to that controversial case, one thing for sure is that THE EXPELLED is a tense thriller that is definitely one of the more compelling entries in the overcrowded and worn out teen slasher genre.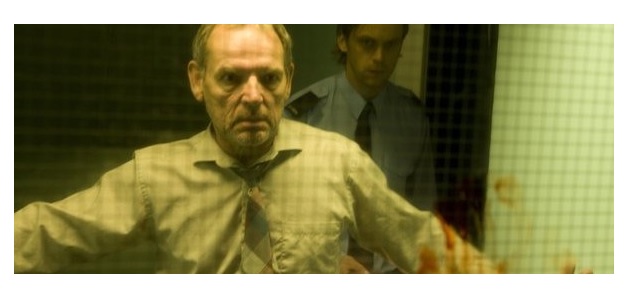 THE EXPELLED opens as a burnt out teacher Robert Anderson (David Schofield, who's been in everything from GLADIATOR to the PIRATES OF THE CARRIBEAN movies to AMERICAN WEREWOLF IN LONDON) is assaulted by a student after giving him an F on his test. When the blame shifts to the teacher by the school and tensions rise both in the classroom and his home, one would think this was going to be a FALLING DOWN-style film with the stressed out teacher pushing back.
But THE EXPELLED doesn't go that route. Instead, Anderson is portrayed in a more sympathetic light and given a story of redemption as the school is descended upon by a group of kids wearing hoodies covering up their faces and brandishing weapons. Who are these kids, and why are they killing everyone in their sight? Well, that's not really answered in this film, though it's hinted at. What is for certain is that every moment in the second half of this film is steeped with crisp tension that makes the whole scenario of a group trapped in a school and being stalked feel as if it were the first time you're watching this type of scenario. For writer/director Johannes Roberts to make all of this feel so new speaks to his talent at constructing great characters and putting them in tension-dipped scenarios.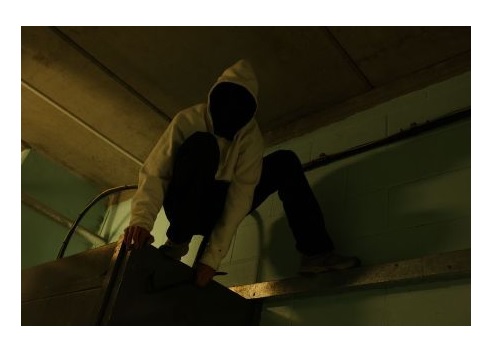 Though it's not gratuitous, THE EXPELLED has its fair share of bloody moments. The film focuses more on the buildup or the shock of having something unexpected happening right after something that is more expected in the horror genre (if that makes any sense). Adding to the creep—o-meter is the design of the killer teens themselves, as the hooded faces are completely darkened out so you can't see anything under there. Are these ghosts of failed kids from the past, or just a bunch of homicidal punks? Either way, this gang of hoodie wearers is downright scary.
So yes, the hoodie has become synonymous with both hipster culture, the protest movement, and a case overflowing with controversy, but THE EXPELLED takes the concept of the unseen face back to the horror genre where it belongs and does so in highly capable and surprisingly fresh ways.
---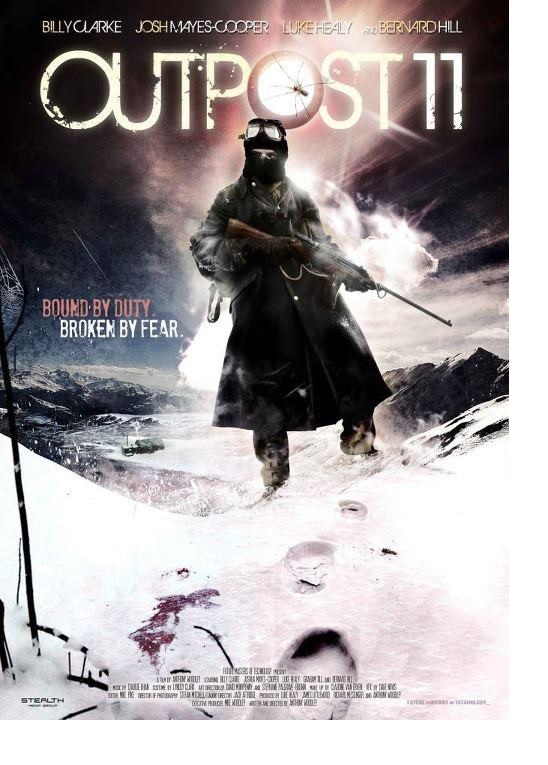 Advance Review: Available in September. Currently touring festivals including the Grimmfest in Manchester UK on July 25th!
OUTPOST 11 (2012)
Directed by Anthony Woodley
Written by Anthony Woodley
Starring Bernard Hill, Billy Clarke, Luke Healey, Josh Mayes-Cooper, Graham Till
Find out more about this film on Facebook here
Reviewed by Ambush Bug
You'll be hard pressed finding a film like OUTPOST 11, which mixes body horror with descent into madness with the military and a tone one might find in a David Lynch film. The somewhat sci fi surreality that the three actors who are stationed at Outpost 11 find themselves in is something akin to hell on Earth both figuratively and literally.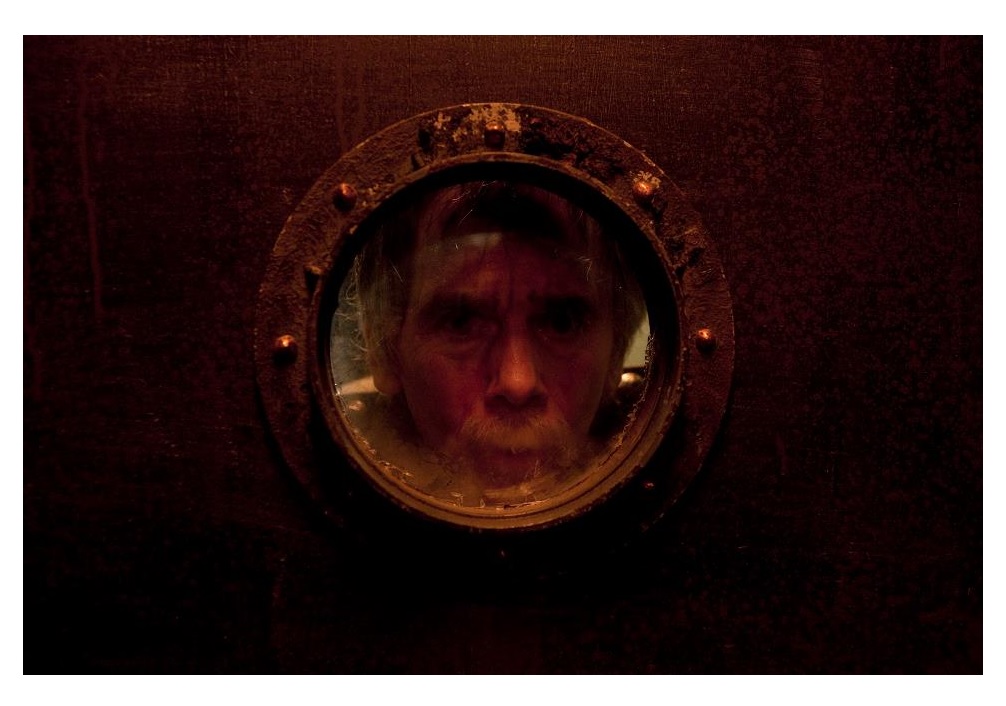 The film opens with newb soldier Albert (Joshua Mayes-Cooper) making the rounds inside a small military outpost in the Arctic Circle. We also meet elder soldier Graham (Billy Clarke), who right off the bat establishes that he dislikes Albert as he complains about every move the young soldier makes. Outside in the chilled tundra the third soldier, middle-aged higher ranking officer Mason (Luke Healy) hunts for food and after downing a wild rabbit, our first dose of weird comes when the rabbit suddenly explodes for no reason. By the time we get to the almost lifelike engine room which scares the hell out of Albert with all of its random sputters and spurts and get a close look at the bizarre forms of spiders which reside in the facility, you realize that this is not a film which will appeal to those who like things spelled out to them.
But for those like me, the ones who love being immersed in imaginative and odd worlds and don't care a lot about the explanations behind the oddness, OUTPOST 11 is going to be one hell of an enjoyable experience. Because it's established early that Clarke is such a weird bastard (which is pretty obvious as he fondles a bump on his hand and masturbates whenever he thinks he's alone in the small facility (and most of the time when he's not) and that weird shit like exploding rabbits, fossilized Arctic spiders, and other eccentricities occur in rapid fashion early on, the tone is set to expect the unexpected in this film. If you're able to ride with that—if that's the type of person you are--then seek out OUTPOST 11. If not, quit your complaining. You've been warned.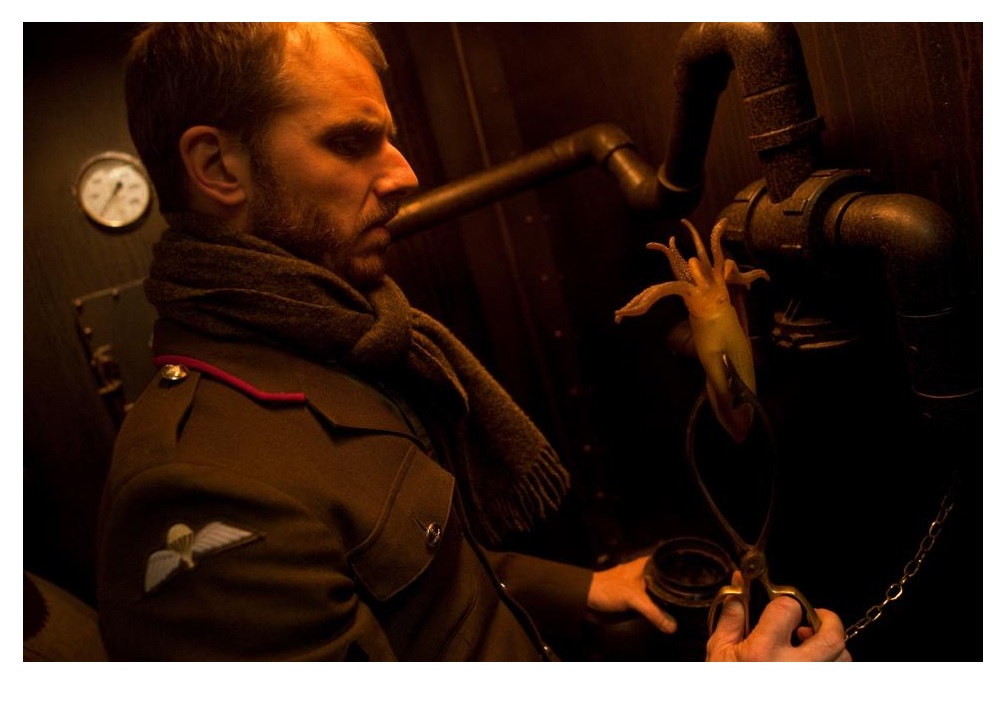 The three actors playing the key parts in this film do a fantastic job of bouncing off of one another in this little room they call home. The aforementioned Graham (Clarke) is the highlight, as his weird and abusive behavior takes center stage. But Healy's Mason does a great job as a sane man in an insane situation and one who is willing to pull the trigger if need be, even if it's aimed at his own temple. Finally, Mayes-Cooper as Albert plays for our sympathy well. We understand how tormented he is by Clarke and feel for him because of it. These three performances are three fantastic looks at three stages of archetypes one might associate with the military: the inexperienced newb, the battle hardened warrior, and the burnt out elder.
Anthony Woodley wrote and directed this odd little nugget of a film and tightrope-walks the line between the absurd and something close to genius—a line Lynch often steps out on. Woodley assigns some kind of sense to all the mania of being alone in this isolated and stark locale, and though the characters are over the top, the situation makes their actions all the more believable given what they have had to endure. The unconventional way things wrap up is another slice of oddness, but somehow fits with it all.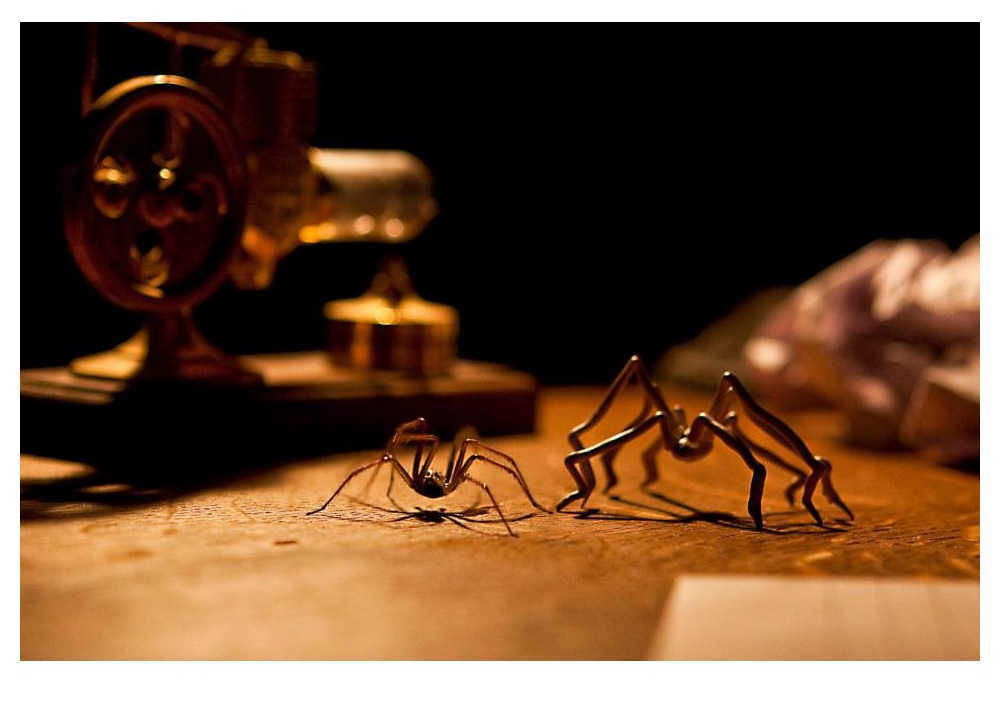 OUTPOST 11 is not a flawless film, but the biggest flaw also is one of the most endearing ones. You could almost set a drinking game to the number of times the boom is in the shot in this film if not for the fact that the players would most assuredly die of alcohol poisoning. I understand that the film was made in a cramped room, but hopefully before this film gets released wide, some CG can be used to edit it out. For a while, I started to think the boom was going to be referenced in the film and just made part of the narrative, but since it wasn't (or at least I didn't notice the reference) I have to assume it's an oversight. Still, there's an old school indie charm to the fact that every now and then a shaky mike is seen hovering just above the actor.
So while some might walk away exclaiming "What the fuck did I just sit through?!?", I found OUTPOST 11 to be thoroughly engrossing. Fans of Lynch and Guy Madden are going to want to seek this one out. It's currently touring fests and looks to be released in the fall. When it does, and if you're of the right open mindset, you're going to want to brave the elements and visit OUTPOST 11 for sure.
---
And finally…The second installment from the Norwegian short horror film series HORROR BIZARRE is called LIEBERMAN. And no, it's not the horrific story of politician Joe Lieberman--it's an equally horrific tale of rape and retribution. Click below for some short horror by way of Norway!
See ya next week, folks!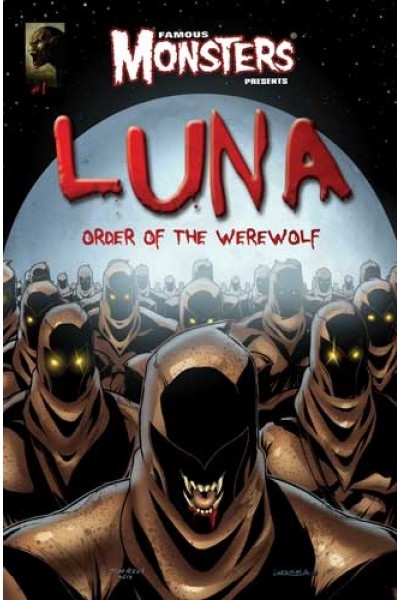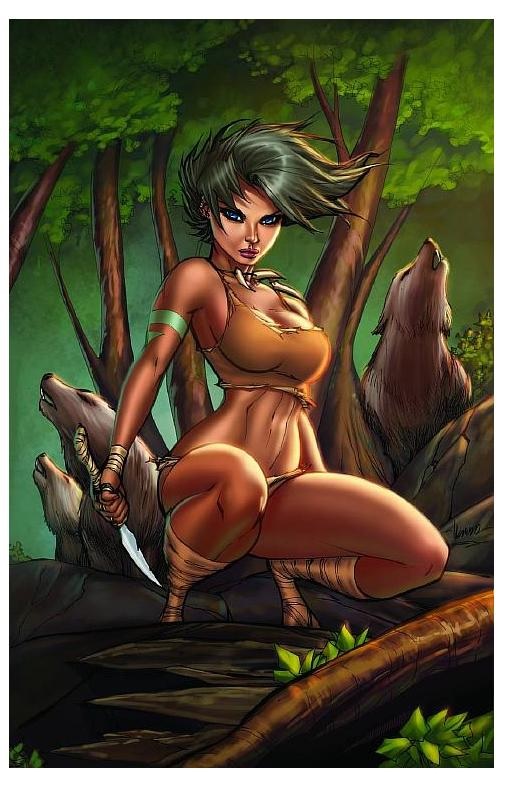 Ambush Bug is Mark L. Miller, original @$$Hole/wordslinger/writer of wrongs/reviewer/interviewer/editor of AICN COMICS for over 12 years & AICN HORROR for 3. He has written comics such as VINCENT PRICE PRESENTS THE TINGLERS & WITCHFINDER GENERAL, THE DEATHSPORT GAMES, & NANNY & HANK (soon to be made into a feature film from Uptown 6 Films). He has co-written FAMOUS MONSTERS OF FILMLAND's LUNA: ORDER OF THE WEREWOLF (to be released in 2013 as a 100-pg original graphic novel). Mark wrote the critically acclaimed GRIMM FAIRY TALES PRESENTS THE JUNGLE BOOK from Zenescope Entertainment & GRIMM FAIRY TALES #76-81. Look for GRIMM FAIRY TALES PRESENTS THE JUNGLE BOOK: LAST OF THE SPECIES available in February-July 2013 and the new UNLEASHED crossover miniseries GRIMM FAIRY TALES PRESENTS WEREWOLVES: THE HUNGER #1-3 available in May-July 2013! Follow Ambush Bug on the Twitter @Mark_L_Miller.
---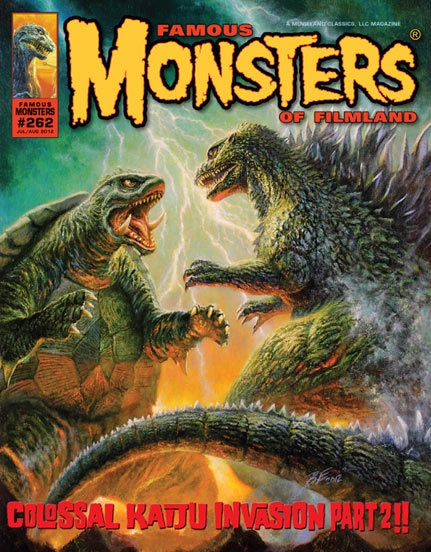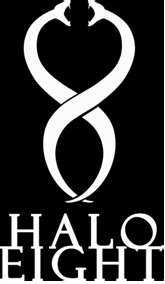 Check out the FAMOUS MONSTERS OF FILMLAND Website for all things horror!


Interested in illustrated films, fringe cinema, and other oddities?
Check out Halo-8 and challenge everything!



---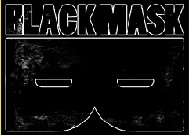 Find out what are BLACK MASK STUDIOS and OCCUPY COMICS here and on Facebook here!





---
Find more AICN HORROR including an archive of previous columns on AICN HORROR's Facebook page!