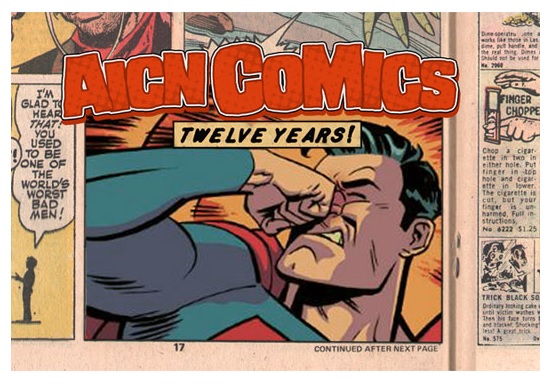 The Pull List

(Click title to go directly to the review)
Advance Review: BALLISTIC #1
DEADPOOL KILLS DEADPOOL #1
THE GREEN HORNET #3
SONIC THE HEDGEHOG #250
WOLVERINE: ORIGIN DVD
ENDANGERED WEAPON B VOL.1
DOCTOR WHO: PRISONERS OF TIME #6
WHAT IF? AVX #1
SATELLITE SAM #1
Advance Review: 7 AGAINST CHAOS OGN
---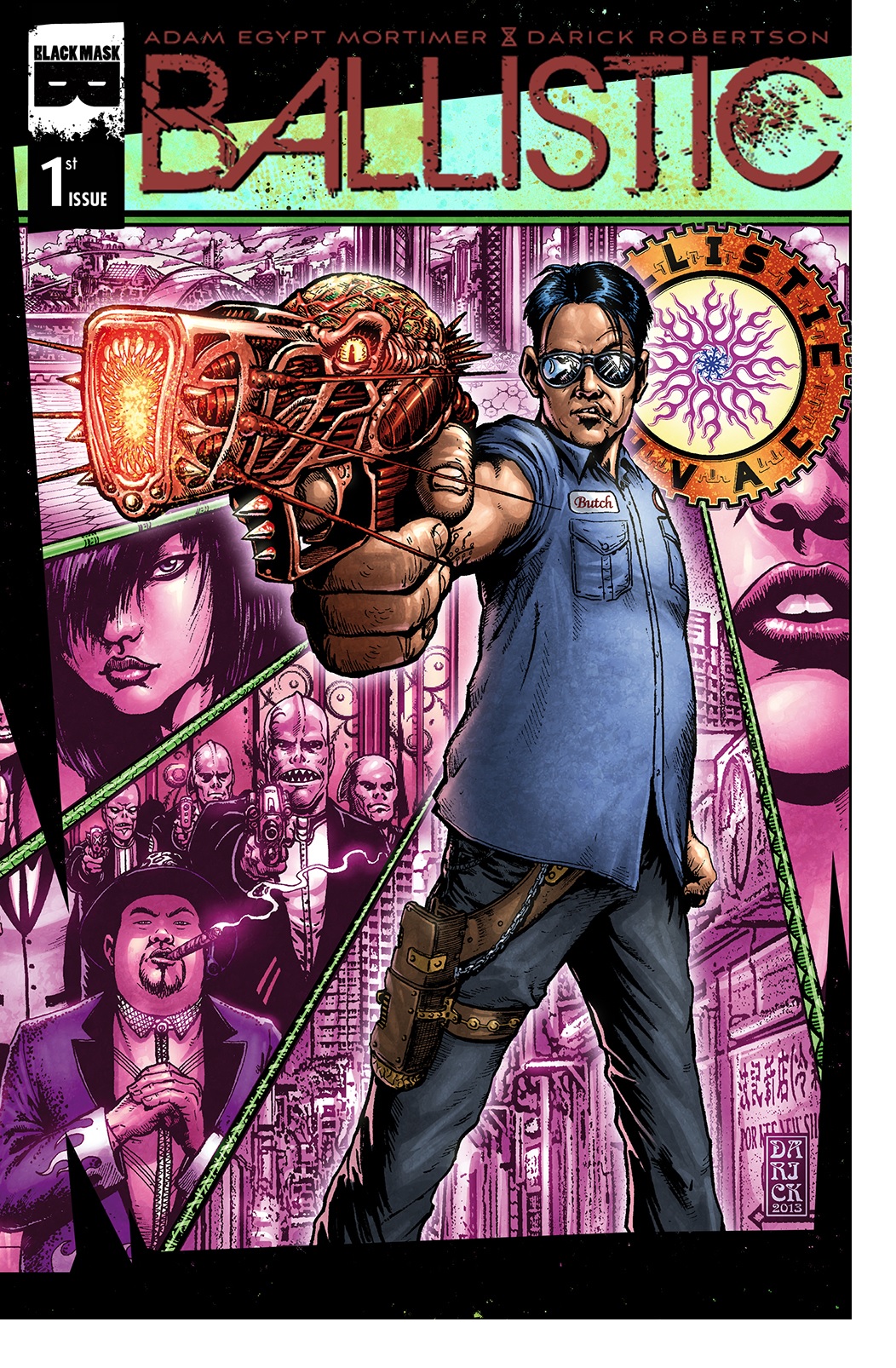 Advance Review: In stores this week!
BALLISTIC #1
Writers: Darick Robertson & Adam Egypt Mortimer
Art: Darick Robertson
Publisher: Black Mask Studios
Reviewer: Ambush Bug
I didn't think it was possible to have my mind blown by a comic until I read BALLISTIC #1. Am I overstating? I don't know, but just minutes after I finished the book, I literally want to go back and read it again (which I will once I finish this review) and absorb the world Darick Robertson and Adam Egypt Mortimer have crafted for their protagonist Butch (an air conditioning repairman) and his talking gun (you read that right) as they make their way through the highrises and low alleys of Repo City State.
As I leafed through the pages of this neo-punk, future crime noir, I couldn't help but feel as if the creators of this book were full of shit, tossing out word salad sayings like "It's fullmetal hot!" But as I got a few pages in, stuff started to click and a world began to materialize. There was some thought behind all of this. A world has been fleshed out, and this AC repairman and his gun are our eyes and ears who would just as soon spit in our faces as hold our hands and explain everything.
And the coolest thing about this book is that after telling us a damn thrilling and engrossing story, Robertson and Mortimer give us a glossary of terms used in each and every page to help those who want to learn more about the story or just want to know what the meanings are of the word jumbles the characters are shouting at one another. The amount of time and effort put into this book astounds me.
The story itself is fascinating as well, as Butch tells the reader and the apple of his eye (a drugged out and vapid girl who recently sold parts of her brain stem to a virtual zombie game) about his fascination with Dillinger and other gunslingers who robbed and became famous in the first half of the book; we then follow him into his first bank robbery, which...doesn't really go as planned. Every step through this expansive metropolitan (pun intended) jungle is fascinating, and Butch makes for a very cool guide through this upside down organic-techno world.
What more can you say about Robertson's art? You've seen it in THE BOYS. You've seen it in TRANSMETROPOLITAN. It's amazing, and he gives it his all here. His hyperdetail gives the organic-techno creations life here in ways that fray the imagination. It's like Seth Fisher and Geoff Darrow by way of David Cronenberg's VIDEODROME. The way flesh and mechanics merge here is something you could only see in comics, but rarely do. This book really does take the concept that comics have no budget and no restraints and rides it raw.
Fans of TRANSMETROPOLITAN will want to pounce on this. Fans of Cronenbergian flesh-tech will want to mainline this stuff. Fans of Grant Morrisonian drug dreams and William S. Burrows beat poetry will fiend for this shit. I'm telling you, get out there and pick up a copy of BALLISTIC now, today, because I guarantee stores didn't know what kind of cool they were ordering and will only find out when it's too late, and you'll be standing there like a junkie on the street crying because you didn't listen to me. BALLISTIC is the next big thing. You've been warned. Now go, buy it and inject it into your brains while I go back for another hit.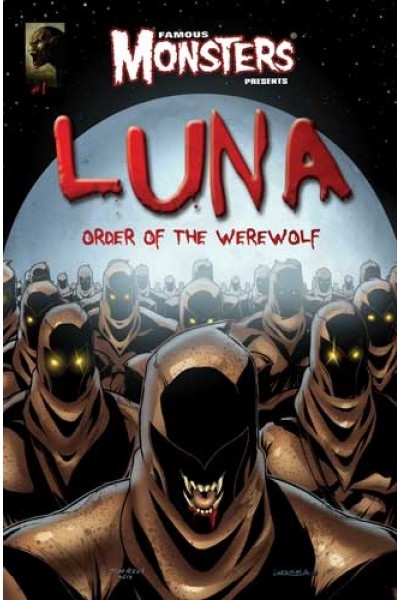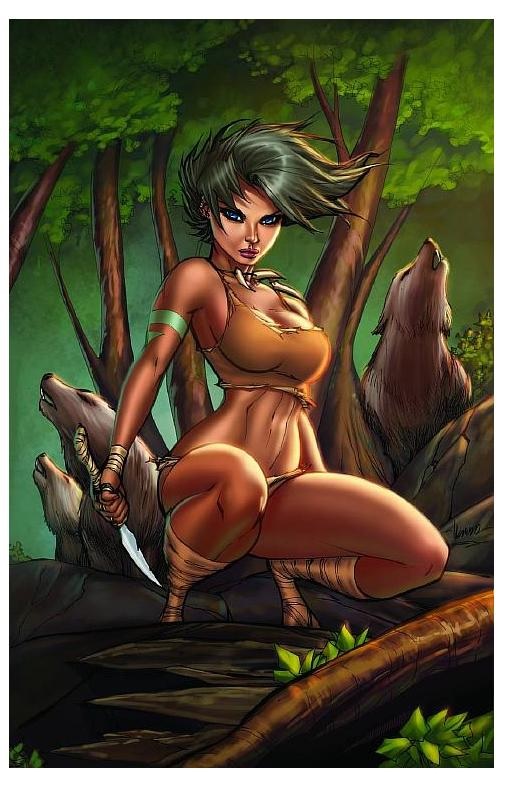 Ambush Bug is Mark L. Miller, original @$$Hole/wordslinger/writer of wrongs/reviewer/interviewer/editor of AICN COMICS for over 12 years & AICN HORROR for 3. He has written comics such as VINCENT PRICE PRESENTS THE TINGLERS & WITCHFINDER GENERAL, THE DEATHSPORT GAMES, & NANNY & HANK (soon to be made into a feature film from Uptown 6 Films). He has co-written FAMOUS MONSTERS OF FILMLAND's LUNA: ORDER OF THE WEREWOLF (to be released in October 2013 as a 100-pg original graphic novel through Hermes Press). Mark wrote the critically acclaimed GRIMM FAIRY TALES PRESENTS THE JUNGLE BOOK from Zenescope Entertainment & GRIMM FAIRY TALES #76-81. Look for GRIMM FAIRY TALES PRESENTS THE JUNGLE BOOK: LAST OF THE SPECIES available in February-July 2013 and the new UNLEASHED crossover miniseries GRIMM FAIRY TALES PRESENTS WEREWOLVES: THE HUNGER #1-3 available in May-July 2013! Follow Ambush Bug on the Twitter @Mark_L_Miller.
---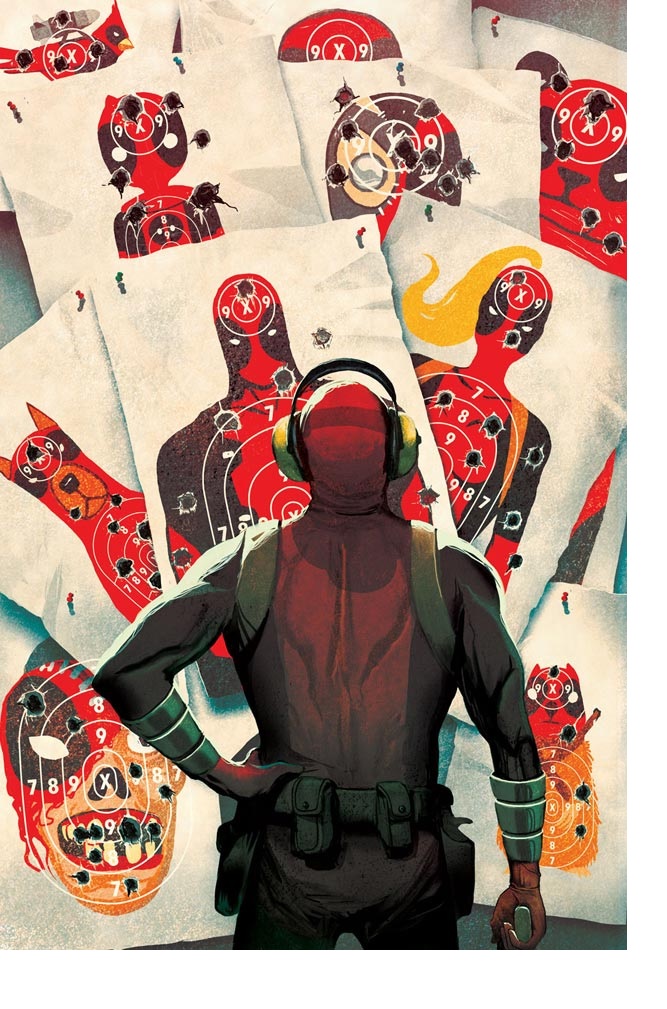 DEADPOOL KILLS DEADPOOL #1
Writer: Cullen Bunn
Art: Salva Espin
Publisher: Marvel Comics
Reviewer: Chris Massari
The Merc With The Mouth seems to be everywhere as of late, going from a cult character to basically mainstream Marvel character. Over the last month or so, Deadpool's presence has increased drastically. There's been the release of the Deadpool video game, a second adaption into the Marvel animated world, the regular Deadpool spots in other books, and now the finale of the DEADPOOL KILLS trilogy with DEADPOOL KILLS DEADPOOL.
For those of you who haven't been turned off completely from the oversaturation of Wade Wilson in the comic market, DEADPOOL KILLS DEADPOOL may be something you'll want to check out.
The first arc of the DEADPOOL KILLS series, DEADPOOL KILLS THE MARVEL UNIVERSE, was unique and a great take on the Deadpool character. It involved lots of dark humor, pretty simple solutions to killing Marvel heroes, and Deadpool's shift from Marvel's clown to calculated killer. However, in the second arc of the DEADPOOL KILLS series, DEADPOOL KILLUSTRATED, I felt it lacked in certain "Deadpool" elements, focusing too much on the dark and less on the lighthearted humor associated with the character. Granted, Bunn wrote Deadpool to be darker, crazy and more "enlightened", but when there's too much of something it can take away from the story in a lot of ways. Too much angst and you get bored; too much humor is never taken seriously. DEADPOOL KILLUSTRATED definitely had plenty of gems. However, I felt it lacked the same level of direction in story and consistency as the first four books. With the start of the new DEADPOOL KILLS series, I'm hoping that Bunn brings that lighthearted crazy back when Marvel 616 Deadpool faces off against "Dreadpool", aka the Deadpool who's been the main protagonist.
In Issue one of DEADPOOL KILLS DEADPOOL, we see that Deadpool has taken another step in his crusade against existence itself by microwaving Headpool, adding another casualty to his list. We also get a new look for Deadpool, which distinguishes him as Dreadpool compared to the regular Deadpool costume. The story then jumps in to meeting the Earth 616 Deadpool, where he is greeted by the Deadpool Corps and other new versions of Deadpools. Without spoiling it for those who haven't yet read the issue, Deadpool Dark meets Deadpools and shit goes down, ending with some wise words from the Multiverse Watcher, who happens to be a huge fanboy of Deadpools.
I don't really have much negative to say about this book, but I also don't have anything positive either. I felt it was just ehh as far as the writing goes. Nothing stands out in this issue; it seems pretty average, which is disappointing because the first series, DEADPOOL KILLS THE MARVEL UNIVERSE, was pretty awesome. I think Cullen Bunn's writing for the series has just come across as average after the first story arc. In the first issue for DEADPOOL KILLS, where you want to really highlight Earth 616 Deadpool and your Dark Deadpool or Dreadpool's personalities, I felt Bunn did that only in a lackluster way. Earth 616 Deadpool wasn't written as humorous, as he has been in DEADPOOL NOW. As for Dreadpool, after the first couple panels he gets overshadowed by everyone else. I mean, why would you cut the main character's time from your last two series to such a limited amount of space in your first book back?
While the writing in DEADPOOL KILLS DEADPOOL was on the average side, the cover art by Mike Del Mundo was excellent, as have been all the covers of the entire DEADPOOL KILLS library. I think every DEADPOOL KILLS cover has been spectacular and just phenomenal so far. For the book art itself, from artist Salva Espin I think he did a great job at capturing the usually cartoonish element you get with Deadpool while still keeping the comic art feel.
If you're a Deadpool fan this is something you'll want to check out, but don't feel too bad if you don't. The video game is more entertaining than this book was. For the first issue of DEADPOOL KILLS DEADPOOL, it's just one of those pass the time kind of books rather than the "holy crap that was awesome I can't wait to read the next one" kind. I really hope the next three issues pick up the pace, because it's only right for this series to go out in some kind of awesome bang. It's was a beautiful idea for a comic series that should be treated as such.
---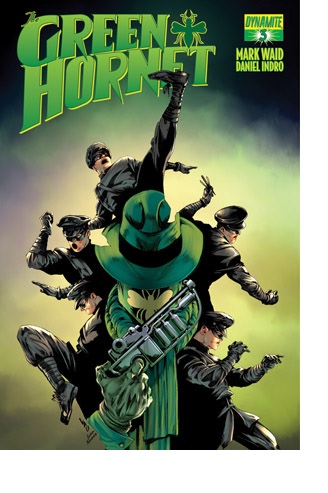 THE GREEN HORNET #3
Writer: Mark Waid
Artist: Daniel Indro
Publisher: Dynamite Entertainment
Reviewer: Masked Man
The writer best known for superhero bravado is turning in a rather tangled web of a Green Hornet tale. The good and the bad of it is this is not a light read. Waid has been building up his world of the Green Hornet for three issues now, and I have to say reading just a single issue is going to leave you high and dry.
As always Brit Reid, AKA the Green Hornet, is using his newspaper to further his goals of cleaning up the crime and corruption of the city. In a move I'd like to see Batman employ more, He has also been schmoozing with the white-collared power brokers of the city as well as throwing his weight around in the underworld as the Green Hornet. Where this will all lead is unsure, as Brit has gotten two offers to run for Mayor and the Green Hornet is becoming more of a criminal than I think Brit ever planned to be. Has the process finally overwhelmed the man? That's what Kato thinks, as he just walked out on their partnership. And that by no means--by no means(!) is the worst out come from Brit's actions in this issue.
Mark Waid is really jumping in full ballz to the Green Hornet here. Unlike his award-winning DAREDEVIL work, which is often very light-hearted, the Green Hornet is much more grim and bureaucratic, though both are well-written with complex layers. At times I feel I need a scorecard to keep track of people and their relationships, as truer intentions will change these relationships. It's too early to say whether or not Waid is successful at all this, but if he is, this is going to be one heck of a tale, which I assume will set the stage for future stories. Just as DAREDEVIL's stories have been built up a previous issues, Waid appears to be doing the same here.
Artist Daniel Indro has been doing a good job on the book as well. Also, I'm starting to get the sense that he is ape-ing Ivan Reis, which isn't wholly a bad thing- Stuart Immonen has made a whole career of it! Many of Indro's figures and faces look very Reis-inspired. Indro's work is also much improved since his FLASH GORDON ZEITGEIST issues, mostly because he's no longer pencil-shading his figures, causing them to look like mud under the heavily saturated coloring, though I still think he could use a good inker. The comparison to Reis would be even more impressive if Joe Prado inked him. Unfortunately, I also think Indro's compositions could be stronger, helping to improve his storytelling, but that's getting a little nitpicky. Bottom line is, Indro's got good stuff and if it ever gets inked, he could be very primetime.
So while not yet a raving success, THE GREEN HORNET is definitely a book to keep your eye on. Once it hits its stride and everything Waid has been putting together really takes affect, look out. For now you just have to settle for a Green Hornet vs. Kato throwdown in the next issue (it sucks, I know- eye roll). Why does it always seem like we want to see these two fight? Probably because it's the one case where everyone would put money on the sidekick!
Learn more about the Masked Man and feel free check out his comic book CINDY LI: THREE OF A KIND and CAPAIN ROCKET at www.Toonocity.com
---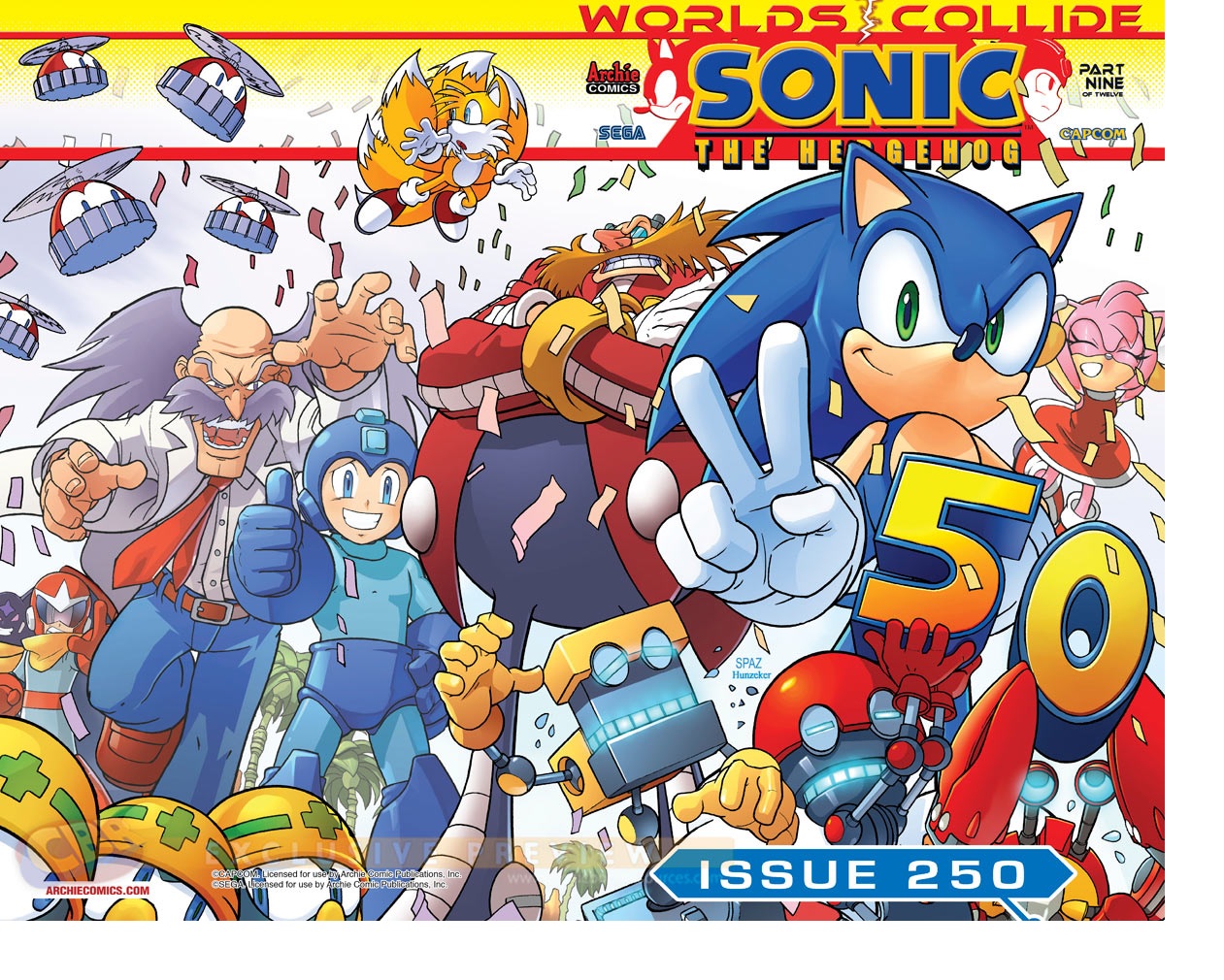 SONIC THE HEDGEHOG #250
Writer: Ian Flynn
Artists: Ben Bates and Gary Martin
Publisher: Archie Comics
Reviewer: Corey Michael Dalton
The SONIC THE HEDGEHOG comic book has reached 250 issues? Wow! In today's world of perpetually cancelled and relaunched titles, that's quite an impressive run. As a video game and comic book fan who has never read a single comic about the spiny speedster, I figured this special, oversized milestone issue might be a good jumping-on point. Boy, was I wrong. What I found in this issue was part nine of a twelve-part crossover with the MEGA MAN comic book that went nowhere and bored me terribly.
The plot for this comic was fairly nonsensical. Basically, it seemed to be a watered-down version of DC's seminal CRISIS ON INFINITE EARTHS. Dr. Eggman (Sonic's foe) and Dr. Wily (Mega Man's nemesis) have joined together and used "Chaos Emeralds" to combine their universes, putting both worlds at risk. We're told that at the end of all of this only one world will live and one world will die. Why? I don't know. It's never really addressed. But at least it gives Sonic, Mega Man, and their seemingly hundreds of foes and allies a vague reason to fight. Speaking of those friends and enemies, large chunks of the comic sacrificed things like plot, characterization, and suspense just to introduce these characters. And when I say "introduce," I mean introduce. Most of the characters never went on to do anything related to the story; they simply appeared for a panel or two accompanied by a sometimes incomprehensible description such as "Vector--Chaotix Detective" or "Stone Man--Self-Repairs", then disappeared again. Reading this issue was like watching a 7-year-old kid with ADHD playing with his toys. The kid would pick up one action figure, rattle off his/her name and power, slam that toy into another unfamiliar toy, then throw both down and do it all over again with the next action figure at hand. If you've ever been subjected to a kid doing that, you'll know why I was less than engaged with this comic. When playing a MEGA MAN game, the ability to acquire, equip, and use his enemies' powers after he defeats them is fun. Reading about "weapon equips" and "weapon gets," though? Not so much.
The art, penciled by Ben Bates in that psuedo-manga style that was popular around a decade ago, is fine. In general it did the job, although there were a few places were the flow of panels confused me. In one sequence, for example, the panels depicting a battle between two ninjas, Espio and Shadow Man, were interspersed with panels depicting fights between other random characters, making the ninja conflict hard to follow. Not that it mattered, of course, because none of those fights had any bearing on the larger storyline.
I was also surprised by the number of non-story pages in this oversized $3.99 issue. There were a couple of paid ads plus 11 house ads, most of them for Sonic or Mega Man-related products. At times, I felt like I was reading this comic just so I could be spoon-fed advertisements for Archie's more expensive collections and $100 subscriptions. In addition, there was an eight-page reprint sequence pulled from an issue SONIC from just two years ago. Although it involved the same MacGuffin (the Chaos Emeralds) as the main story, this excerpt felt relatively unrelated and completely unnecessary. Honestly, it just seemed like a way to fill up eight pages. And if this is the big 250th issue, then why is this only part 9 of 12? Shouldn't the milestone issue contain the climax of the story? It seems odd to me to end your big celebratory crossover in SONIC #251.
Look, I realize that I'm 37 years old and not the intended audience for this comic (I hope.) Still, I was 15 when SONIC THE HEDGEHOG first hit the scene and only 12 when the original MEGA MAN video game was released for the NES. I remember loving the first few MEGA MAN games and liking the SONIC ones, so I definitely have a nostalgic interest in both of those properties. Nonetheless, all of my nostalgic goodwill was exhausted by the end of this issue. I won't be back.
Corey Michael Dalton has written and/or edited trade books, magazine articles, short stories, novels, comics, plays, reviews, websites, blogs, and more. You name it, he's probably written it. Except religious scriptures. He hasn't gotten around to those just yet.
---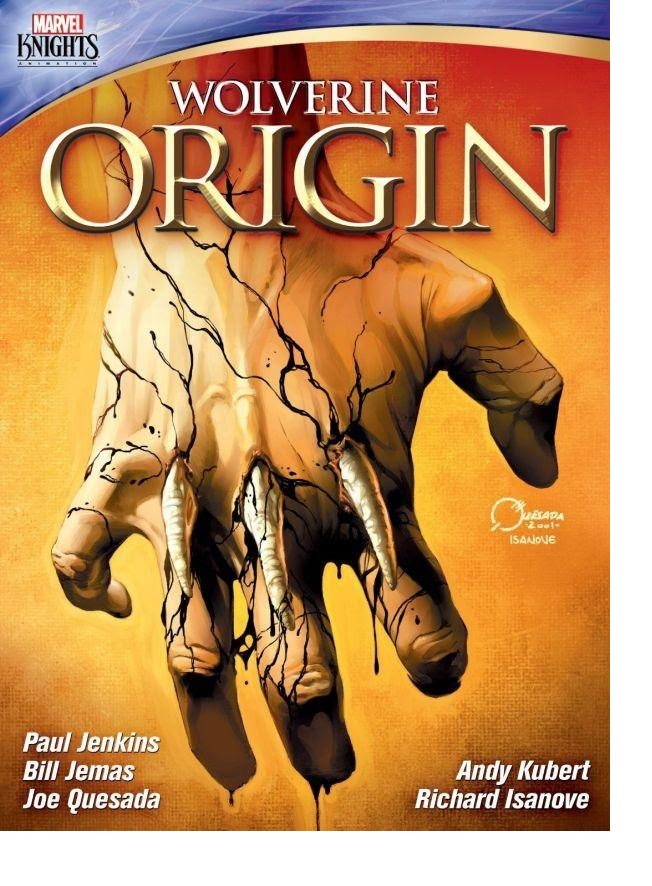 New this week on DVD!
WOLVERINE: ORIGIN DVD
Written by Paul Jenkins, Bill Jemas, Joe Quesada
Art: Andy Kubert & Richard Isanove
Publisher: Marvel Comics/Shout Factory
Reviewer: Ambush Bug
This review contains spoilers, but this is a ten year old comic, so I don't feel so bad about it.
It was pretty cool to revisit WOLVERINE: ORIGIN, a miniseries I actually read when it was first released. Seeing the panels (sort of) come to life was a nice way to catch myself up as I prepare for the new THE WOLVERINE movie (though my expectations are not high). The process of making the panels sort of move is an interesting one. Basically, certain parts of the original art are rendered to make it appear like movement. It reminded me of those old LIQUID TELEVISION shorts on MTV back in the day. And you know what? I really loved that show. So in a THE MAXX cartoon sense, I found the animation equally enjoyable, though I'm somewhat disappointed that after 20 years, there's been relatively no development in this area.
The story itself focuses on (what else?) the secret origin of Wolverine. I don't read the current WOLVERINE series, so I have no idea if this origin is even secret to Logan or if he has his memories back. Either way, this story is a pretty strong one. Still, I think there are some decisions that writer Paul Jenkins made that made it somewhat problematic in a story sense. I know I'm getting into what I would have liked to have seen, but I think the story's biggest moment is when the sickly James Howlett pops his claws. This happens in the second chapter of this six chapter film, and I believe it happens in the first or second issue of the series. The level of intensity never really attains that level of cool after that, and Jenkins tells a lot more story. I kind of wish this would have happened in the last act of the story and there was more lead up to this. Imagine if the book was simply called ORIGIN, with no indication that it is our Logan, and in the final issue, the reveal is the claw pop. Shoulda. Woulda. Coulda.
Nevertheless, the claw pop happens early on and though the rest of the story is fun, mostly because of Kubert's amazing pencils, it never really gets to the level of that key scene wasted in the first issues. James adopts the name Logan. He fights a chef, fights a wolf, howls at the moon, and befriends a lumberjack. There's a showdown with his childhood companion and then the end. All what you expect from a Wolverine book, and done damn well.
Despite my rantings on the placement of the claw pop, I think this is definitely a fun way to read a comic. If you have the comic and have the trade, I'm sure you're OCD enough to need the motion comic, so here it is! The packaging and quality are top notch and what I would expect from the media masters at the Shout Factory. Story issues aside, this is a great get and I recommend all of those Wolverine fans snatch it up.
---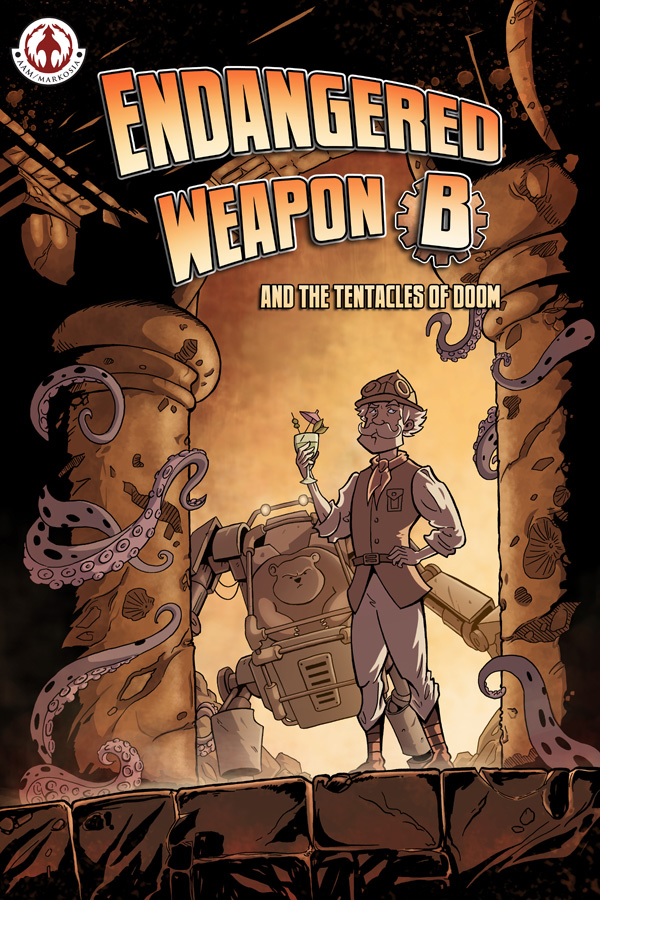 ENDANGERED WEAPON B VOL.1
Writer: David Tallerman
Artist: Bob Molesworth
Publisher: AAM / Markosia Enterprises
Reviewer: Masked Man
And now for something completely different: ENDANGERED WEAPON B. Yes, this series/graphic novel could almost be a sketch from MONTY PYTHON. Or rather, a MONTY PYTHON/Mike Mignola love child. I would recommend taking some medication from the shops down the street with the giant green 'plus' sign on it (if your state is so inclined) before jumping into this book, because quite frankly everything is played rather fast and loose in here (but don't do that--CBS cares).
Now, I'm not sure if I should talk subject or tone first, because both are equally important to the work. My best attempt to describe it all would be this: an anything goes, cartoon logic world where a British explorer will try to exploit any and every piece of occult or scientific doohickey he comes across. Does that make sense? If not read the book, because without a doubt this is an anything goes book, in subject and prose. The book contains three tales of the Professor and his crew as they battle squid ninjas, Frankenstein's Godzilla and space dolphins, though these stories aren't so much told as they just happen. The main logic of all these stories is because, and wouldn't that be funny, for better or worse.
Unfortunately, the one thing missing from the book is charm. As insane as the MONTY PYTHON crew were, or THE MIGHTY BOOSH (who I also just frick'n love) are, they still all come accross as likable people--even the jerks. The Professor, however, is not very likeable and is often just a complete dick for no reason at all--unlike, say, BLACKADDER, who is also a complete dick, yet also sympathetic in his childish desires. His crew, Tilly (the hot Polynesian super genius), Banjo (the grizzly bear in a mecha) and Wiffles (the ninja butler) are little more than window dressing. So far their absurdity is more important than their character, and that is probably the best way to describe this book--absurd.
On the surface, the artwork is very cute and cartoony and fits well with the stories. To a degree it's hard to imagine these characters any other way. Its weakness is storytelling. At worst I had to stare at a few pages trying to figure out what had occurred. Usually, it's just inelegant and not telling the story in the best possible way. One concept that is always being talked about in animation (on a good production, mind you) is 'plus-ing' the material. From script to screen, each person who touches the project should be improving upon (and not changing) the efforts of the last person. So a script should be great, the re-write even better, the story boards better still, the layouts even more awesome, etc, etc. This is something a comic book artist should do as well: don't just draw panels, make the story better.
If you enjoy off the wall things just for the sake of them being off the wall, then this is your book, my friend! For myself, I'd like to see Tallerman work on getting his characters as charming as I'm sure he wants them to be and for Molesworth to work towards story more than gag (which will only improve the gags, I might add, and did). So what does ENDANGERED WEAPON B mean? I'm not sure, but I'm pretty sure it means the same thing MONTY PYTHON and THE MIGHTY BOOSH mean. That, again, is probably a good way to describe this book.
---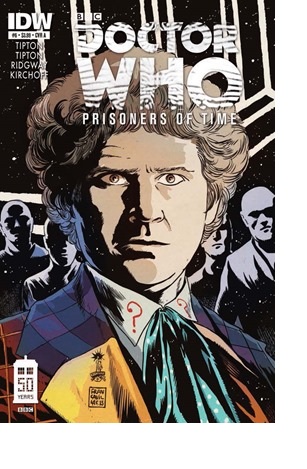 DOCTOR WHO: PRISONERS OF TIME #6
Writers: Scott and David Tipton
Artist: John Ridgway
Publisher: IDW Publishing
Reviewer: Corey Michael Dalton
I've always had a soft spot for Colin Baker's Sixth Doctor. Maybe it's the underdog syndrome speaking, but I feel like he got a raw deal from the heads of the BBC when they prematurely ended his short tenure back in 1986. Yes, his multicolored coat was so loud that even Joseph would have dismissed it as tacky and that blond 'fro was an unfortunate choice, but his prickly demeanor and unstable personality intrigued me. In any case, this issue of DOCTOR WHO: PRISONERS OF TIME hit all the right buttons for me: it played into my not-so-secret liking for the Sixth Doctor, told an imaginative stand-alone story with a couple of surprise villains, and, most importantly, finally moved the overarching storyline of this year-long, 12-issue miniseries forward. Taken as a whole, it's my favorite issue of the series so far.
As the story begins, The Sixth Doctor, Peri, and Frobisher (a shapeshifting, non-TV companion from the '80s who usually looks like a penguin) arrive in Antarctica so Frobisher can chill with some real penguins. Of course, things are not quite as they appear; the threesome is actually on Earth in the year 7214 at a nature preserve in Antarctopolis. After a slight misunderstanding with the local police robots (who reminded me of the Blockheads from Gumby), the Doctor ends up imprisoned in an asylum run by his archenemy The Master. After escaping from his straightjacket using a trick he learned from Houdini, the Doctor encounters some other classic Doctor Who foes, the Autons. Eventually he meets back up with Peri (or does he?) who is promptly captured by the mysterious robed man who has been kidnapping all of the Doctors' companions throughout the previous five issues of this miniseries. But where did Frobisher go? Ah, that's the twist. The Doctor finally has a plan!
The Brothers Tipton get the voices of these particular characters just right. I could practically hear Peri's legendarily terrible American accent when she asks the Doctor, "I don't suppose you have a plan yet, do you?" And it wasn't difficult to pick out the Sixth Doctor's annoyance and arrogance in his response: "I would be insulted at your lack of confidence if I wasn't so accustomed to it." The love/hate relationship between those two is spot on. And the inclusion of Frobisher is an interesting choice for the series because, so far in this miniseries, the writers have only utilized companions that actually appeared on the TV show. I was pleasantly surprised because I remember liking the few Frobisher comic stories I'd read in the past (a couple of them written by a dude named Grant Morrison). Having a shapeshifter along for the ride certainly opens up some new plot devices—and, judging by the comic's end, those devices appear as if they'll have large ramifications for this miniseries as a whole.
The art by John Ridgway is generally excellent. He captures the likenesses of the actors admirably, only falling into the photo-referencing trap that has claimed the Greg Lands of the world in a couple of panels. The fact that he drew the Sixth Doctor's adventures back in the '80s (including the storyline that introduced Frobisher) probably helps. He is certainly familiar with the subject matter and characters. Because he's been in the game a long time, Ridgway's art isn't always as contemporary as other artists', but that fits this retro issue perfectly. His art often reminds me of another of the old-guard comic creators, Jerry Ordway, and that's a good thing. Charlie Kirchoff's colors make Ridgway's art even better. From the desolate blues and whites of Antarctica to the somber darkness of a padded cell, his choice of colors always enhances the mood.
If you're already enjoying this miniseries, you'll love this issue. If you've not been enjoying the series, you'll still probably like this issue. So far, the plots of the individual issues have been a case of rinse/repeat: the Doctor and friends arrive someplace, they have a little adventure, the companions get kidnapped, and the Doctor stands around dumbfounded. Finally in this issue, the Doctor (although not, necessarily, the Sixth Doctor) becomes proactive and makes a move. This is what we've been waiting for!
---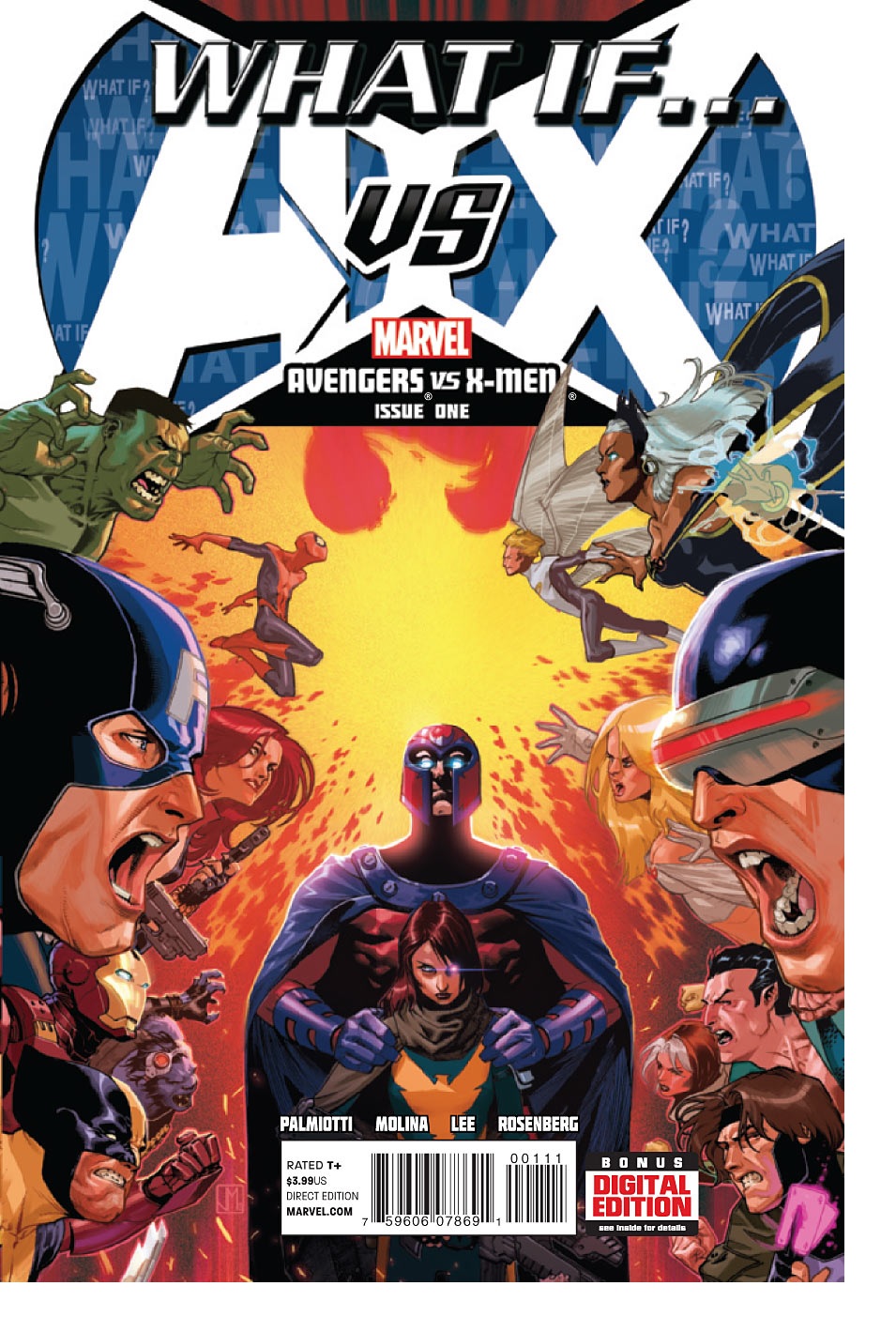 WHAT IF? – AVENGERS VS X-MEN #1
Writer: Jimmy Palmiotti
Art: Jorge Molina
Publisher: Marvel Comics
Reviewer: Henry Higgins is My Homeboy
I Will Always Read This Series.
I unabashedly love Marvel's long-running anthology WHAT IF? Whenever it's cancelled, I grow terribly sad. I hungrily track down each back issue. And, as a whole, the series is reprehensible. There are some genuine good issues of the title here and there (Frank Miller examining a world where Elektra killed Bullseye and the famous Spider-Girl one shot chief among them), but that's not why I read these comics.
No, it's more of a morbid fascination, a genuine excitement at seeing the Marvel universe toyed with on a fundamental level, and regardless of the writing and/or art not being up to snuff, I'm always interested in an alternative to the status quo.
…
Okay, that AND because most of the series is just plain awful. There's an issue where Wolverine eats a baby. I'm not exaggerating, and it's not subtext; Demon Wolverine does a good job, so Madelyne Pryor gives him a baby as a snack. Wolverine then unsheathes his claws for DRAMATIC EFFECT! and then doesn't use them, just eating the baby as if it were a burger. Then he wipes his mouth (because he doesn't just want baby parts getting in his scruff) with his glove. He may even belch. It's been a while since I read that one. But COME ON. That's wonderful. WHAT IF? is the cheesy B-movies of comics. You know exactly what you're paying for, and if you're disappointed, it's your own damn fault.
In recent years, Marvel has shifted WHAT IF? away from a monthly series into an occasional surprise, usually examining the latest "crisis-crossover-mega-super-event" that's befallen our heroes. But this time they're expanding, with an entire miniseries based on a very simple premise. What if Magneto had actually done something during AVENGERS VS. X-MEN?
Well, it's WHAT IF?--we all know it's going to end with everyone dying.
But at times, it's surprisingly well-written. Magneto feels reminiscent of some of his earlier characterization as a stern but caring father figure, and his relationship to Hope during a brief training sequence is light, entertaining, and most importantly, genuine. Unlike other issues, the characters actually feel true to themselves, not just doing X because otherwise we don't get to see Y(Y usually being Spider-Man's untimely death). It goes a long way towards investing the reader into the scenario, and helps push the book forward.
And then it remembers it's an issue of WHAT IF? and Magneto decides to represent the X-Men instead of Cyclops during peace talks because the Avengers will never trust Cyclops for his past actions. Magneto, the former terrorist/mass murderer/despot/actual super-villain, will instead be the face of the X-Men to the Avengers.
I love this. I love that after genuine storytelling, the book just says "Meh, fuck it". I love that Magneto actually says "After everything YOU'VE DONE" to Cyclops, who at this point has just been personally thanked by the President and Captain America on live television. That he's saying this to Cyclops, who has literally been fighting Magneto since puberty. That all of this is covered in THREE PANELS, and ends with Cyclops just going, "Meh, yeah, sure." See, THIS is the WHAT IF? I know and love.
But then, Palmiotti does something unexpected. He makes it kinda work. Not Magneto being the guy to talk to the Avengers (that's still hysterical), but the following conversation. Magneto is much more aggressive in his talks than Cyclops, but also much more erudite. Both sides conflict, and Magneto immediately calls out Wolverine on his obvious plan to kill Hope. And then Spider-Woman calls out Magneto for his previous actions. Unlike other comics (What If and otherwise, for that matter), it's actually the characters defining the events, not the other way around.
And then Wolverine makes a fish joke at Namor and a fight breaks out while Magneto just watches with this shit-eating grin. It's like he remembers all the times he's neutralized Wolverine completely, but is so amused everything that he just sits back and watches.
I fucking love WHAT IF?
Some shit happens, someone dies for no real reason, then explosions while we wait for next issue.
Yes, the issue drops Cyclops (one of the more engaging parts of the original story) to a two bit character and yes, the writing turns dull at times and yes, things still happen because EWWWOOOOO THIS IS NOT THE WORLD YOU KNOW!!!!!! and not for actual reasons, but these are hallmarks of WHAT IF? The best issues of this series manage to tell an exciting new story while forcing a re-examining of the original. This one does one of those things correctly, while bringing in some of that awful, awful WHAT IF? I know I've been missing.
By the end of the issue, you'll share an expression with Magneto (I'll make this quick, because the art didn't really play much for me. At times it can be well put together and flow well, but at others it falls apart or turns into the bland kind of art you find in cheap children's books. Very hit or miss). Maybe it'll be the poorly drawn "Magneto Angry Facetm" from the end, as you curse the names of Marvel, the crew behind this issue, and most definitely me for enjoying it.
Or maybe you'll be like me, wearing the Magneto shit-eating grin, reading a train wreck that's genuinely entertaining at times, and at others so over the top and stupid.
This will never win "Book Of The Year". I don't care. I love it.
---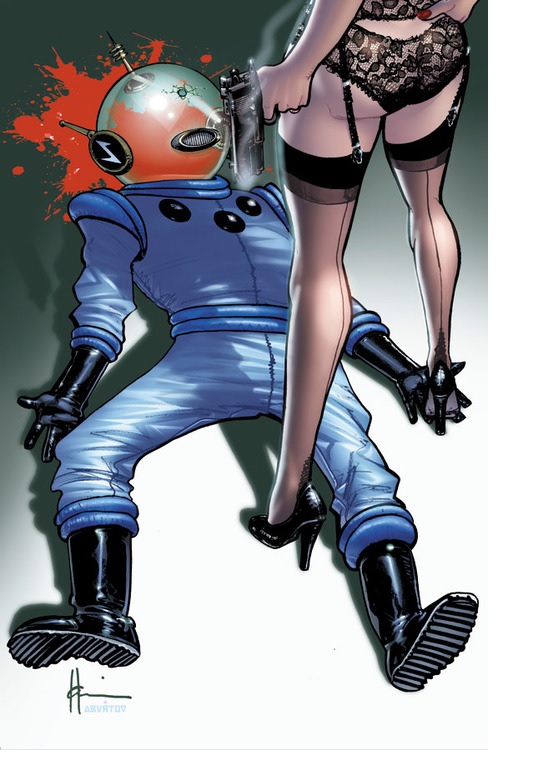 SATELLITE SAM #1
Writer: Matt Fraction
Artist: Howard Chaykin
Publisher: Image Comics
Reviewer: Humphrey Lee
When I first dove into comic books as a just barely still a pre-teen I did so because I was hungry for fantasy and science fiction, as I'm sure is the case for the vast majority of us readers. I grew to truly love the medium, though, when I hit my college years and realized how much more often than not comics were willing to literally be anything and everything they wanted, even beyond just your usual fantastical tales, or superheroes, or piece of hard sci fi, especially if you really looked in the right places. There also tends to be some of smattering of stagnation in the sense that it's easy to find multiples and multiples of titles getting caught up in pop culture zeitgeists. Tons of books on the shelves are currently dealing with the post-apocalypse, whether it be zombie driven or no there's been a wave of "public domain characters gone wild" ever since FABLES hit the scene; we're even seeing an influx of "SCIENCE!" books that revel in the age of technology present and near future we are living in, or playing with Steampunk pasts. Obviously, a significant measure of these books are promoting their own merits and twists and tones and so on, but still, sometimes you see multiples upon multiples of these genres on the shelf and you begin to wonder if we, as a community, aren't half as clever as we think we are sometimes, especially now that pop culture as a whole is looking to the comic book industry as its idea house. Enter a book about a 1950's sci fi television show…
Now, what makes this SATELLITE SAM premiere exciting is that it's…kind of boring, actually. "Boring" is plainly just me using a somewhat loaded word, but what I'm getting at is that in this debut SATELITE SAM isn't wildly flashy or overly graphic or, hell, even gratuitous with any sexy stuff (yet) even though the inside cover is filled with vivacious ladies in lingerie. This debut issue, if anything, just roars through a unique setting with almost procedural-like efficiency. The goal of this issue is to get the reader right into the mindset of how a show like this, a cheese-filled 1950's sci fi episodic, would run. What those that responsible for it making air are like from the money men down to the creators behind the camera and the actors in front of it, even if we are only briefly and sporadically exposed to them as the issue plays out, and then to use these moments as points of interest until the over-arching plot hits you in the face the last few pages. And that's how I know this book is already on to something special: because of how a lot of the panel-to-panel events depicted here, while really being just minutiae – i.e. essentially lots and lots of behind the scenes show-running for this "Satellite Sam" program – it's highly involving in that it's not material you see all the time (in media in general, let alone comic books) and it gives you plenty of little character insights and bits of drama and interactions to hold on to for future issues. It's some inside baseball while also setting up future drama and conflicts that you can already tell some of the characters are going to have just based off the egos we see in just a few panels each.
Authenticity is really what I'm getting at with all of these descriptive terms. As I said, the plot in itself is really simple: There's a show called "Satellite Sam," there's a lot of egos involved, and by the end of the issue Carlyle White – the actor playing the titular character - is found to be dead and his son (and Satellite Sam show runner) Mikey is thrust into filling his father's spacesuit due to some clever last minute script adjustments. Again, the key is authenticity. I'm sold on the setting because of that snappiness and uniqueness. I feel like I did the first time I watched "Good Night and Good Luck" with how it captured the era. And I'm in love with the setting as much as I was when I first started watching "Mad Men" and realized, holy shit, I don't think I've ever really watched a show of this combination of era and industry melded together. And while you get plenty of works in the era SATELLITE SAM is traipsing through and there's no end of media about the behind-the-scenes of the television industry, it's a rare occasion you get both melded together. After two paragraphs of talking about how it's these two things and the execution of them throughout that makes SATELLITE SAM such a drawing read, you can tell I'm super excited about them and the book itself.
A significant proportion of this selling, beyond the dialogue and pacing of course, is Howard Chaykin's artwork. You all know what it is by now, and given what I've said about what this comic sets out to accomplish it's not hard to see how and why Chaykin's art fit in. This is very much an era where the men were men and the women were womanly and the broad-shouldered plus square-jawed framework Chaykin's male figures usually carry combined with the inherent sexiness his female broadcast is a perfect fit for the time period and the gender roles within. This will ring even more true as things only get more gruff with the onstage material and sexier as Mikey White delves more into his father's past, which is littered with shoeboxes full of lovely ladies in leggings. I honestly do not think I ever expected to see a day where a Matt Fraction would work with a Howard Chaykin, just from an aspect of I would not have really seen their creative sensibilities overlapping, but I'm really glad they found their way to each other and this book.
So, yeah, obviously I'm excited here. I invoked the much beloved "Mad Men" earlier, and I think that is a good parallel to how I'm feeling with this book: it compares as to when I watched the pilot of that show before it became the multiple Emmy-winning juggernaut it is today. The writing and direction (i.e. art) of SATELLITE SAM, I feel, is very comparable to what that show brings to the world of television, just now in the world of comics. Plus, on the bright side, much as I enjoy the exploits of Don Draper and crew my focus on that show, what really gets me going about it, is the actual industry it plays around in and how the egos involved butt heads with each other. The soap opera material somewhat ruins the show for me, and I do not really see such a thing rearing its head on a book like SATELLITE SAM, especially given the creative tandem involved and those sensibilities I mentioned earlier. Sex, murder, creative squabbling, and horribly cheesy sci fi programming all wrapped up in a nice little "Red Scare Era" package. If that doesn't pull you into this book's orbit, then I'm sure there's another "the world is a wasteland" piece of fiction coming right your way soon enough. Right now, make mine SATELLIIIIIITE SAMMMMM! Cheers…
Humphrey Lee has been an avid comic book reader going on fifteen years now and a contributor to Ain't It Cool comics for quite a few as well. In fact, reading comics is about all he does in his free time and where all the money from his day job wages goes to - funding his comic book habit so he can talk about them to you, our loyal readers (lucky you). He's a bit of a social networking whore, so you can find him all over the Interwebs on sites like Twitter, The MySpaces, Facebookand a blog where he also mostly talks about comics with his free time because he hasn't the slightest semblance of a life. Sad but true, and he gladly encourages you to add, read, and comment as you will.
---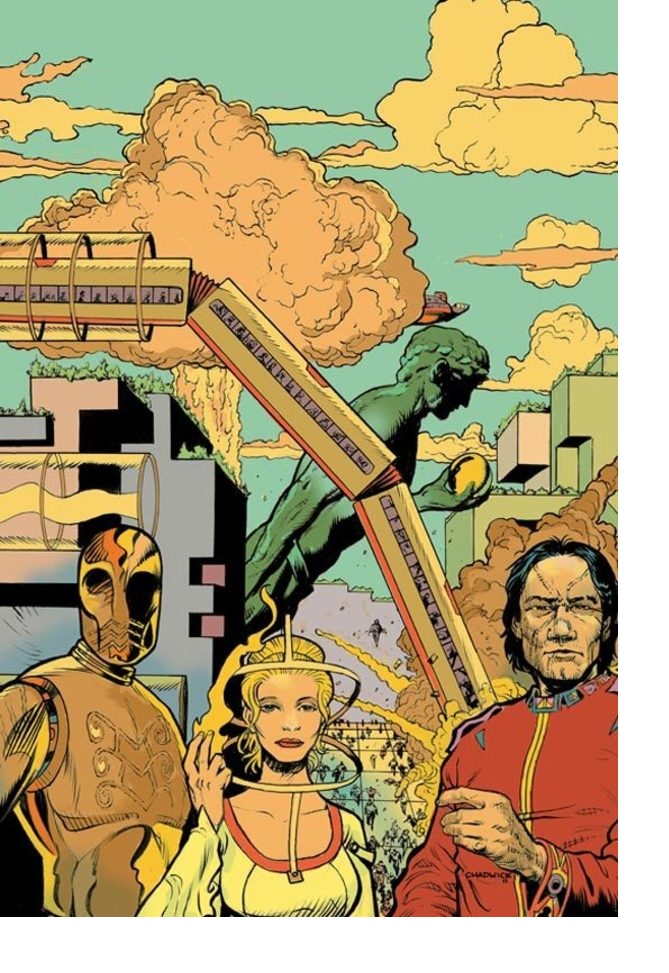 Advance Review: In stores today!
7 AGAINST CHAOS OGN
Writer: Harlan Ellison
Artist: Paul Chadwick
Publisher: DC Comics
Reviewer: Optimous Douche
I've never been "Star Wars" or "Star Trek"; I've always needed both to satiate my limited understanding of the universe - imperial proof balanced with intangible spirituality is my only path. This is what makes Harlan Ellison my writer. A reckless abandon for the known laws of nature delivered in a poetic melody of geek speak. Story, language and art - 7 AGAINST CHAOS is a space opera where high-concept arias replace narration and dialogue.
I won't insult Ellison's legacy by listing it here; besides, the man has a well-documented hatred of the internet so he won't be hurt by lack of introductions. I have to say, if my mind could extrapolate the way Ellison's does I would probably log off more often too. Let's just say, if you profess to love sci fi you've been touched by Ellison. From "Star Trek" to "Babylon 5" to thousands of short stories and essays to, finally, a better rendition of Asimov's I, ROBOT than the sugar-coated Will Smith abortion Hollywood chose to bestow on us instead, we owe a century of stories to Ellison.
These old-school guys don't mess around. 7 AGAINST CHAOS wastes no time in recruiting our 7 agents, then rapidly throwing them at the Chaos. The Chaos is basically the Earth going more schizo than a sorority girl after jello shots. New York suddenly transforming into a desert, the North Pole becoming a mountain larger than the highest peaks of Mars, etc etc…basically events that make 9/11 toddler fare by comparison. The culprit? Time terrorists.
That's the fantastic; the humanity in this balance ironically comes from 7 heroes heralding from all corners of our solar system. We don't know when exactly 7 takes place, but be sure we're not going to see it. Hell, even our kid's kid's kid's kid's kid's kids won't see it. Our 8 planets and that small rock that once had delusions of grandeur have been colonized, incorporated, and populated by an aristocracy of 1 percenters and serfdom. From the French Revolution-like courts of terraformed Venus to the mineshafts of Jupiter's moons, social stratums and economic delineations strike eerily close to those of our blessed 50 states of America. Space travel is as commonplace as going to Starbucks for a mocha frap and all humanity is a hyperbole of what we now know. So it's with relative ease the cloaked leader of the 7, driven on a mission by the soothsaying Crisis Computers, gathers the rest of the team: a 7 foot tall woman from the mining colony of Jupiter with rock-crushing claws instead of hands, an insect-like human who was genetically modified during the last great war of worlds, a recluse genius, a phoenix whose touch sears the skin, a masked man with many similarities to Batman, and last but not least the universe's first sentient robot.
Together the 7 traverse time and space to reach the land before time where an entity is rewriting who the dominant species on the planet will ultimately become. The destination is steeped in sci fi goodness, but as always the journey is the best part. Time travel is not some easy flux capacitor affair; the journey takes its toll as all of space is bent inside a black hole. Once in the land of yesteryear, these characters who have we have grown to love and some of which have fallen in love with each other during their long journey make many ultimate sacrifices.
To give away who is tampering with history and why would give away too much of the book, and I simply won't deny anyone the wonderful surprises await. There were moments of this book I screamed "no" and "don't." My heart raced in time with the 7 during their harrowing experiences, and the Silver Age art is simply a wonder for the eyes. For anyone who claims today's art is an anatomical monstrosity defying human proportions, look at how effortlessly Chadwick makes monstrosities so perfectly human.
There's not much time left for the likes of Ellison. The man was born May 27th, 1934. He and his ilk ushered in a new era where we dreamed for the simple sake of dreaming. These pioneers of the last century didn't understand the words "can't" or "why." They dreamed simply because it was humanity's God-given gift to do so. In a world where we scoff at belief and won't take one step forward until we know the outcome or the ROI, we could learn something from Ellison and his writing. If we can think it, we can do it – we simply need to try.
Optimous Douche has successfully blackmailed BottleImp to draw purty pictures for his graphic novel AVERAGE JOE coming out in 2013 from COM.X. When not on Ain't It Cool, Optimous can be found talking comics and marketing on robpatey.com and just marketing on MaaS360.com.
---
Editing, compiling, imaging, coding, logos & cat-wrangling by Ambush Bug
Proofs, co-edits & common sense provided by Sleazy G
Remember, if you have a comic book you'd like one of the @$$holes to take a look at, click on your favorite reviewer's link and drop us an email.


---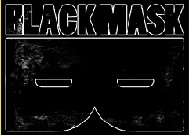 Find out what are BLACK MASK STUDIOS and OCCUPY COMICS here and on Facebook here!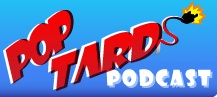 Want more in all things Geek?
Check out PoptardsGo and on Facebook here!




---

Get your copy of highly-anticipated anthology TOME by 44FLOOD here!


---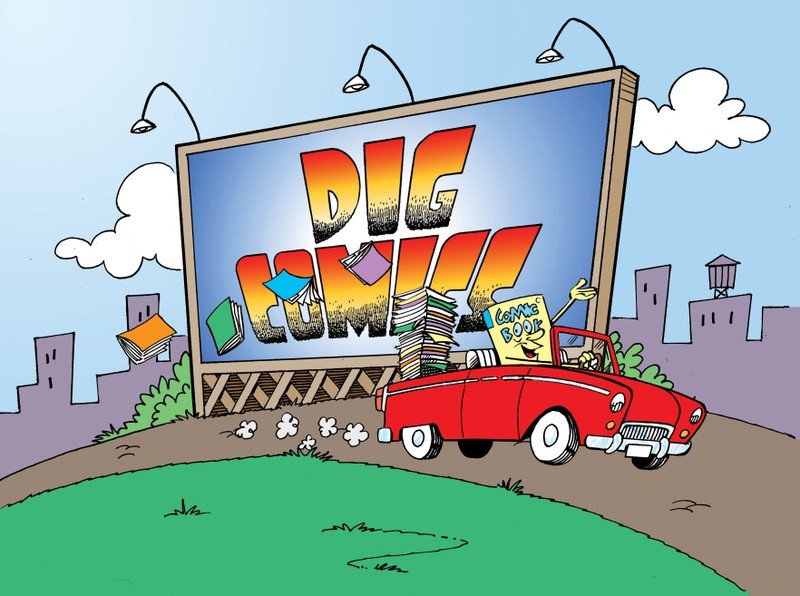 Love comics? So do the folks behind DIG COMICS! Support their Feature Film Kickstarter and share the love by clicking here!

Check out AICN COMICS on Facebook and Comixpedia.org!