Howdy do, everyone, Papa Vinyard here.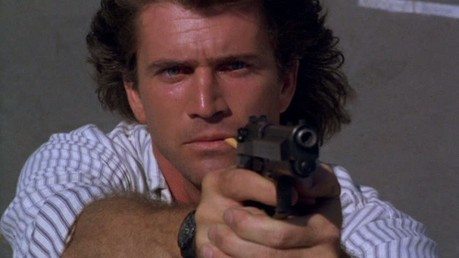 Ohhhh yeahhh. ExBlog, which bills itself as "The Ultimate Blog of 'THE EXPENDABLES' Franchise", reports that unnamed news sources in Bulgaria, where the third entry of the series is gearing up to shoot, have confirmed the casting of Mel Gibson and, more surprisingly, Steven Seagal. They reaffirm the notion that Gibson is lined up to play the villain, while Seagal will join new stars Jackie Chan, Nicolas Cage, Wesley Snipes, and Milla Jovovich, as well as returning cast member Mickey Rourke, on the righteous side of the all-star Expendables. They also mention that Sylvester Stallone is frantically rewriting the film to give each new cast member enough breathing room to truly make an impression in the film, and not just trot across the screen in glorified cameos. Hopefully it doesn't leave the film as tonally-muddled as the last film, and can finally fulfill the franchise's potential of being nothing but wall-to-wall action and tough-guy banter.
It's great that Stallone & Co. seem to have found room in their ranks for the infamously difficult Gibson and Seagal. Gibson, as we all know, hasn't had a great last 10 years; aside from his widely-reported outbursts and failure to get his Judah Maccabee movie off the ground, his first leading role in 7 years (EDGE OF DARKNESS) tanked, and his successive films haven't fared much better (although those who have seen it can attest that GET THE GRINGO deserved a fairer shake than it got). We all remember how he got kicked off THE HANGOVER PART II as a result of all this hooplah, but lest we forget, once upon a time Mel was one of the hottest, most charismatic stars in Hollywood, and it looks like things are finally looking up for the controversial actor/director. I dig the idea of him spinning this notorious image into his screen persona, taking villain roles in this and MACHETE KILLS that are, shall we say, more cartoony and over-the-top than the stuff he's directed.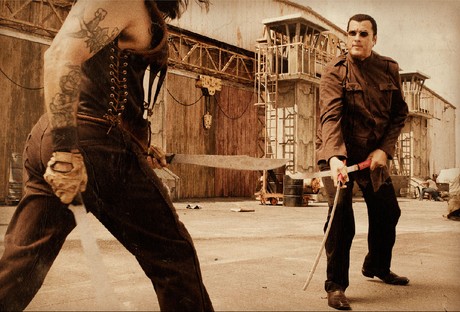 As for Seagal, we'd always heard that the reason he wasn't included in the series thus far was due to conflicts that started with Millenium and Nu Image founder Avi Lerner on MERCENARY FOR JUSTICE. Lerner is still listed as a producer for EXP3NDABLES, so presumably, whatever beef that existed between the two has been squashed. Probably for the best; Seagal was about to become an egregious exception amongst the action stars of the '80s and '90s who had been invited onto the franchise. Can't wait to see how his unique style and delivery fits in amongst the ensemble cast, and, obviously, to see him Aikido-flip some fools right on their asses. No word on whether he'll keep that "Evil Seagal" beard he's been rocking as of late.
And it's great to see that Rourke is back after sitting the second one out to appear in SEVEN PSYCHOPATHS, which he dropped out of anyway. He was always my favorite Expendable. Everyone else kinda struggles to find the right tone for their characters, and he effortlessly stole scenes and spouted one-liners as the one member of the team that simply didn't see the point of risking his life as a mercenary: "I promised myself I'm gonna die for something that counts. I'm gonna die with a woman." I'm thinkin' this time they're gonna find an excuse for him to get his hands dirty in the field. Can't wait.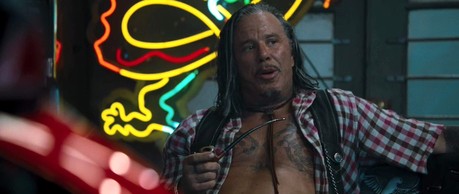 The Patrick Hughes-directed EXPENDABLES 3 gears up to blow you away on August 15, 2014.
-Vincent Zahedi
"Papa Vinyard"
vincentzahedi@gmail.com
Follow Me On Twitter