[thanks MOV]
Glen here...
...with a few fun bits of news from the WHOverse. Docbacker HornOrSilk is also with us this week, taking a look the Prisoners of Fate audio from Big Finish. Next week? Planet of Fire. All I have to say at this time is: Peri bikini! Peri bikini!
More on Prisoners shortly, but first...
DETAILS AND TICKET SALE DATES FOR THIS NOVEMBER'S 50th ANNIVERSARY CELEBRATION IN LONDON
Straight from BBC!
===================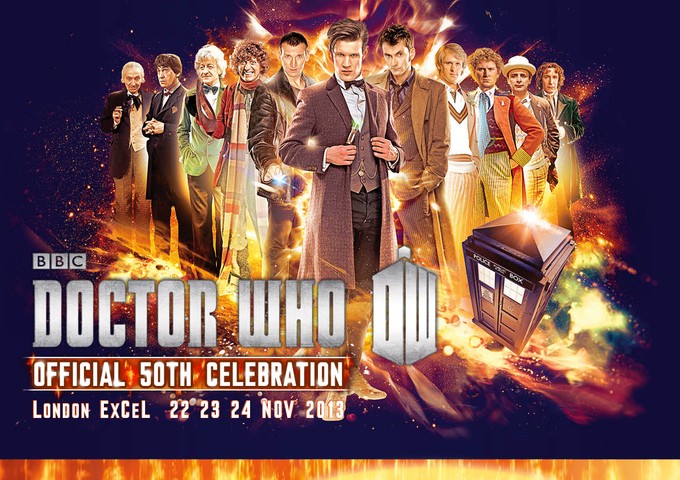 04.07.2013
MATT SMITH LEADS ALL-STAR CAST AT DOCTOR WHO 50th CELEBRATION
Friday 22nd, Saturday 23rd, Sunday 24th November
Tickets on general sale from celebration.doctorwho.tv at 11am on 08 July 2013
On November 23rd, 2013, Doctor Who fans around the world will celebrate the 50th anniversary of the world's longest running sci-fi series. We are delighted to announce that current Doctor – Matt Smith – will attend the only official 50th anniversary Celebration at ExCeL, London alongside special guests confirmed so far: Tom Baker*, Colin Baker and Sylvester McCoy who have also played the iconic role of the Doctor. The event on the 22nd, 23rd and 24th November is a must for the whole family to celebrate their love of all things Doctor Who, with an exciting range of activities to suit all ages. Keep your eyes peeled for further announcements of high profile guests in the coming weeks.
Matt Smith says, "The event this year will be an extra special occasion for me, I'm truly looking forward to a huge celebration with the fans in the lead up to the 50th anniversary episode."
Ticket holders to this once-in-a-lifetime event will have access to a whole range of activities including:
· Guaranteed seats to two theatre panel shows featuring star guests from 50 years of Doctor Who.
· Guaranteed seats in a spectacular special effects show hosted by Doctor Who's special effects guru Danny Hargreaves.
· Activities in the main halls including: stunt workshops with Doctor Who stunt co-ordinator Crispin Layfield and stunt double Gordon Seed, audio and visual effect workshops, on-stage panels with cast members, walk-like-a-monster master-classes with Doctor Who's official monster choreographer Ailsa Burke, quizzes and games for fans young and old and plenty more to ensure the whole family have an amazing day out celebrating Doctor Who.
All of the above will be available to guests who purchase a standard ticket to the event. Tickets go on general sale at 11am on Monday 8th July 2013 from celebration.doctorwho.tv. Standard tickets are priced at £45 for adults and £20 for kids, while a family ticket will cost £104** (two adults and two children***). Tickets cover entry to the Celebration for one day.
There is also an option to purchase a limited edition TARDIS ticket. This ticket guarantees front row seats to the theatre shows, a private lounge for use all day, drinks and light refreshments and a special goodie bag with exclusive merchandise which can be collected on the day guests attend. TARDIS tickets are priced at £95.50 for adults, £44.25 for children and £218 for a family****.
To ensure every visitor gets access to the best experience, when buying tickets online they will have the option to choose one of two streams – Ice Warrior or Weeping Angel – which will reserve each guest a seat for that day's shows in the theatre.
Visitors to the Celebration will also have the opportunity to visit signature and photo booths where they can meet their heroes from 50 years of Doctor Who (photos with Matt Smith should be booked in advance via the website). These opportunities will be available at a fee and subject to availability.
In addition to the Celebration, further activity is being planned for the Saturday evening and will be announced soon.
For more information on the Celebration and a Plan Your Day guide, visit celebration.doctorwho.tv. To hear who else will be making the journey to this once-in-a-lifetime occasion at ExCeL in November subscribe to the doctorwho.tv newsletter and follow us on twitter at www.twitter.com/dwcelebration.
*Tom Baker is only able to attend the Doctor Who Celebration on Saturday 23rd November
**Prices shown for standard tickets exclude booking fee
***Children under five can attend for free, but must be able to sit on a parents lap during the theatre shows as seats are pre-allocated
****Prices shown for TARDIS tickets include booking fee
===================
I'm so there.
My six year old son came up to me holding a Cyberman, and then proceeded to inform me that the particular variant of Cyberman he was holding was one of the 'older Cybermen' - and that they've made newer Cybermen since then. Strange thing is, he's only watched one DW episode - Dinosaurs on a Spaceship - so I'm not sure how he's amassing all of this knowledge. As such, it'll be fun/interesting to see how he responds to the 50th Convention...
CHECK OUT THESE NIFTY TOY RELEASES FROM UNDERGROUND TOYS
Here's a Comic Con exclusive Ace (via ArticulationTimes). I'm glad they indicated who she was supposed to be, as one sure couldn't tell that figure was supposed to represent Sophie Aldred based on that hamish face sculpting. She looks like an angry, middle-aged cafeteria lady here. WTF?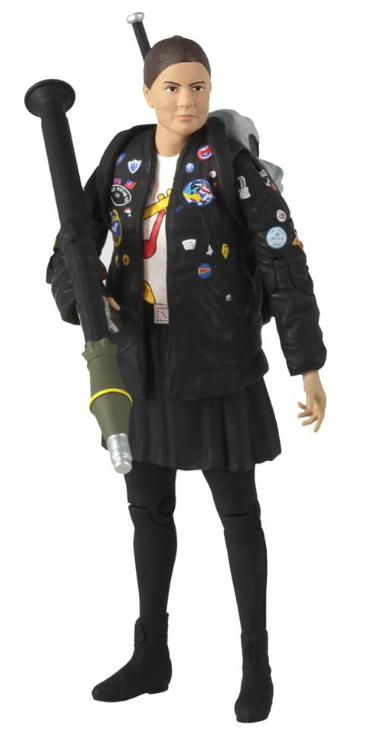 Also via ArticulationTimes come these new diorama playsets. They're both groovy - I rather like the Dalek one more...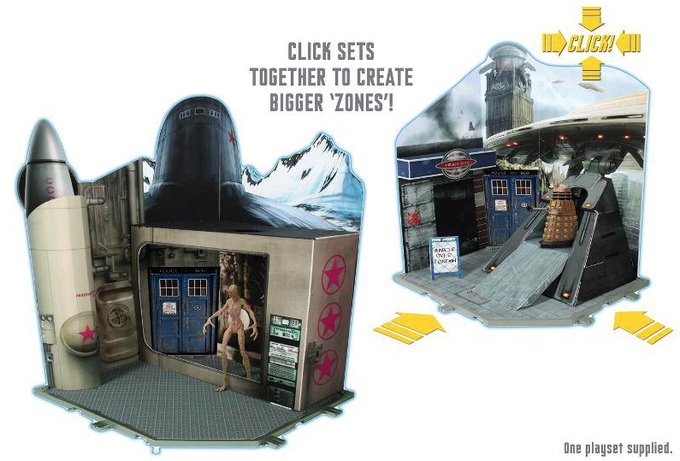 Click the AT links above for more pics, and pre-ordering information.
?????????????????????????????????????????????
DOCBACKER HORNORSILK REVIEWS Prisoners of Fate Big Finish Audio
=======================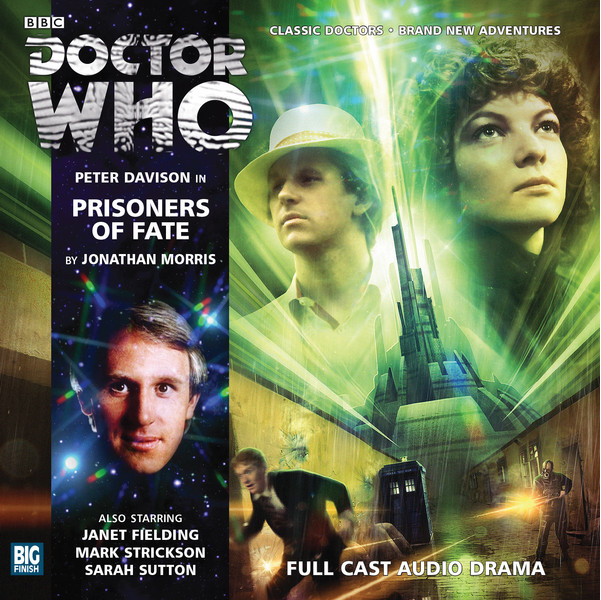 Big Finish 174 – Prisoners of Fate
By Jonathan Morris
Due to the nature of this story, I am going to have to give a few brief spoilers in order to discuss it. As with all of my reviews, I hope not to reveal too much. I will try to keep all but a few spoilers vague, but one of them must be brought up if I am going to discuss the positives and negatives of this story. So you have been warned.
Having said that, this story combines two interesting plot ideas, each which I think would have worked better if done individually instead of being combined together. When they come together here, they get in the way of each other, and the full possibilities of each are not effectively brought out here.
The first plot deals with Nyssa. She is the lead companion for this story, and the overarching story here is all hers. For those who have not been following the BF audios, this is an older Nyssa, who had met up again with the Doctor many years after she left him. She has children of her own. But, before this adventure, in an earlier audio story, she had regained her youth, so instead of being in her fifties, she is physically around twenty. She is, in this way, like the Doctor: someone who is much older than she looks. Sadly, this similarity with the Doctor has not been brought out, though her de-aging plays a part of the story here.
When Nyssa had met up again with the Doctor, she had left her family in search for a permanent cure for Richter's Syndrome. She expected she would return once she had done so. But, as this story reveals, this never happened. When the TARDIS lands on Valderon, she finds herself further along her time line: twenty five years had passed. Her children are adults, and she finds out from her son, Adric, she never returned. Everyone thought she had died. Her husband is dead, and her daughter is in suspended animation, so that Richter's Syndrome would not kill her. Once Nyssa learns this, from Adric, she knows she cannot go back in time, that the time-line has been established, and she is a prisoner to the fate made for her and her family. She is upset about this. She becomes so distraught, she does something entirely out of character, causing the central "problem" of the story. This, I think, is one of the problems I have with the story – Nyssa does not act right, she does not act like the Nyssa which has done so much with the Doctor, both in her solo adventures with the Doctor, as well as with the wisdom she should have gained in her older-age. Being a prisoner of fate, and having to deal with the impact of her adventures with the Doctor on her and her family is an interesting enough story, and I think it would have worked better if that remained a story by itself.
The second plot element of this adventure, and the one which is the big "spoiler" I can't avoid, is that we learn the Doctor once had a different TARDIS, a Type 50, which apparently he used while on Gallifrey before he took off with Susan and had stolen "Sexy." This TARDIS is technically superior to "Sexy," and indeed, gains a will of its own, breaking free from Time Lord control. It wanted freedom and adventures of its own, indeed, it wanted to have them with the Doctor. It is hurt and angry it was "abandoned." But its adventures did not go too well, and it ended up somewhat trapped on Valderon. When the Doctor arrived on the planet, the TARDIS decides its time to regain its freedom through the Doctor, but also, wants to make the Doctor pay for his abandonment of it. It strikes out at the Doctor, wanting him to feel the pain and sorrow it felt when he took "Sexy" instead of it. And yet there is a side of it which still wants to be with the Doctor, to adventure with him. It wanted to prove to the Doctor he should have chosen it instead of "Sexy." And Nyssa and her fate becomes the means by which the TARDIS does this.
This idea of a jealous TARDIS is quite interesting. It knows a lot of what is going to happen to the Doctor. It probably knows of the Time War and wanted off of Gallifrey to avoid that fate. It is an interesting story and I think it could have developed better. The TARDIS gains its powers based upon paradoxes. One of them I felt was rather weak, and as soon as I heard it, I immediately knew how it could be solved, so much so I didn't know how it would be a "paradox." A little more work as a story all on its own, without the Nyssa-story element, and I think this would have worked and ended up a superior story by itself. It is a little too much trying to deal with two big plot themes in one.
However, as New Who has shown us, the Doctor almost chose a different TARDIS. Is there a connection between this story and the TARDIS the Doctor almost took? Unless we are told otherwise, I think this is the best way to take the two stories together. This jealous TARDIS must know it was almost taken, until Clara got in the way. Too bad Big Finish can't do audios relating to the New Who series, not only because I think a companion chronicle with Clara would be good, but it would allow this connection to be fully fleshed out.
Both of the plots of this story are good, but again, neither are as good as they could have been if allowed to develop independently. The Nyssa plot is the better executed of the two, but I was disappointed in how it ended. I would say more, but saying more would be a big spoiler, and I won't do that here. The TARDIS story was good, just, it needed more work, more thought, to take such a good concept and do it justice. Its execution was too simplistic. There are nice elements to it, especially in how the TARDIS is able to communicate, but again, it's as if we got ¾ of a good idea brought to execution. The two stories together are overkill, and hurt both, because it requires things like Nyssa acting out of character to be brought together. And, because of how this story is set up, it also severely limits the parts for Tegan and Turlough (though, as secondary characters in this story, their parts do play important roles here, so some thought was brought out to try to give each something to do despite being otherwise side-characters to this story).
The acting and direction throughout is competent (but not equal to the highest quality of Big Finish audios). It sometimes feels "by the book" in direction, but that's ok. It works.
I would rate this 7/10. I feel the two plot elements of the story, on their own, could have been made into 9/10 individually, but nonetheless, at least the elements of the story are interesting if under-executed.
-- HornOrSilk
=======================
-------------------
Glen Oliver
"Merrick"
- e-mail
- Twitter
- Google +
[[[[[ A LIST OF PREVIOUS DOCBACKS CAN BE FOUND HERE!! ]]]]]
DOCBACK CODE OF CONDUCT
1) a Docback should be about completely open and free discourse regarding all things WHO with, obviously, some variation on subject matter from time to time - the real world intervenes, discussions of other shows are inevitable, etc.)...
2) matters of SPOILAGE should be handled with thoughtful consideration and sensitivity. Posts containing SPOILERS should clearly state that a SPOILER exists in its topic/headline and should never state the spoiler itself . "** SPOILER ** Regarding Clara" is OK, for example. "** SPOILER about that Motorcycle" is fine. **SPOILER** Why did everyone die?" Is NOT good.
And, above all...
3) converse, agree, disagree, and question as much as you want - but the freedom to do so is NOT a license to be rude, crass, disrespectful, or uncivilized in any way. Not remaining courteous and civil, as well as TROLLING or undertaking sensational efforts to ignite controversy, will result in banning. Lack of courtesy may receive one (1) warning before a ban is instigated. Obvious Trolling or Spamming will result in summary banning with no warning. One word posts intended to bump-up any Docback's figures on AICN's "Top Talkbacks" sidebar will be considered actionable Spam - they not only complicate efforts to access Docback from mobile devices, but impede readers' abilities to follow or engage in flowing conversation.
In short, it's easy. Be excellent to each other. Now party on...