Howdy do, everyone, Papa Vinyard here.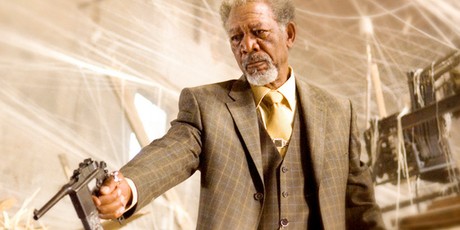 We have word, via TheWrap, that the ever-prolific, impeccably-voiced Morgan Freeman is in talks to join Scarlett Johansson in the next Luc Besson-directed flick, LUCY. If he jumps on, Freeman will play a professor/mentor to Johansson's titular character, who must deal with some newfound superhuman abilities after accidentally absorbing a bunch of crazy drugs she was muling.
Between Mathilda, NIKITA, Leeloo, Angel-A, and even Joan of Arc, Besson has shown his knack for portraying badass female protagonists, and Freeman's addition only makes the setup a little more enticing. Aside from his more famous gigs feeding Bruce Wayne (and Bane) tech and narrating commercials and documentaries, Freeman appeared in a similar mentor capacity in the Besson-written/produced UNLEASHED (a.k.a. DANNY THE DOG). It was an archetypal role, but Freeman spun it into a strong emotional anchor for that film, one of the better Besson joints of the past decade. If he can provide a similarly grounding presence here, then we might be in for another NIKITA-level actioner in another year or so.
-Vincent Zahedi
"Papa Vinyard"
vincentzahedi@gmail.com
Follow Me On Twitter