Howdy do, everyone, Papa Vinyard here.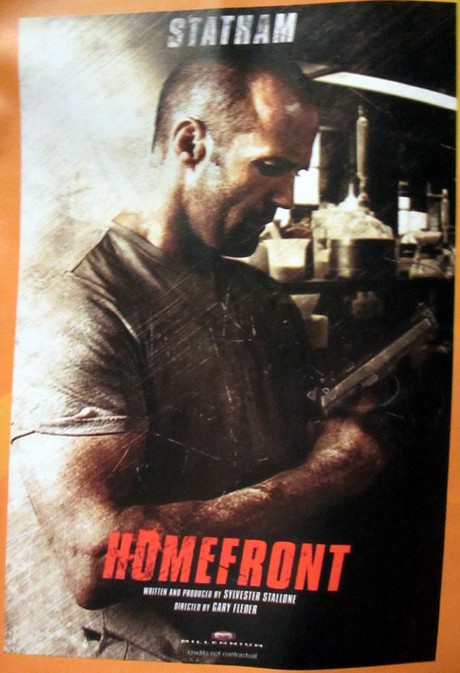 Deadline has announced that Open Road Films (END OF WATCH, THE GREY) and Endgame Releasing (LOOPER, SIDE EFFECTS) are set to distribute the new Jason Statham flick HOMEFRONT this October. The actioner has Statham playing a former DEA agent who takes his daughter and settles down in a small town to get away from it all. And they live happily ever after…nah, just fuckin' with you, shit goes down and Statham has to kick some ass (reluctantly, of course). Gary Fleder (KISS THE GIRLS, RUNAWAY JURY) directed the film, his first since the Dennis Quaid football flick THE EXPRESS back in '08.
While Fleder and even Statham (who, between PARKER, SAFE, KILLER ELITE, and BLITZ is far from the hit-maker he used to be) are not much to garner excitement about, it is a few other names that make me think this could be a noteworthy actioner. The first is Sylvester Stallone, who wrote, but is not starring, in the flick; he hasn't written anything that didn't feature a part for him since STAYING ALIVE 30 years ago. While you can chastise his writing on films like that, RHINESTONE, DRIVEN, and OVER THE TOP, he is still the scribe responsible for all six ROCKY flicks, the RAMBO series, CLIFFHANGER, COBRA, and even the two EXPENDABLES'. He can put together a pretty rip-roarin' guys' flick, when he feels like it, and the stuff he's given Statham to work with in THE EXPENDABLES 1 and 2 shows an understanding for the actor's penchant for effortlessly mixing humor and toughness. The mere fact that Stallone wrote the flick solely for Statham shows an impressive lack of ego (I doubt the marketing will even mention Sly) that is admirable for a star of his legendary status.
The supporting cast is also pretty friggin' above average for a Statham-er. You got Winona Ryder, an old crush of many male (and female) moviephiles who isn't in nearly enough stuff, Kate Bosworth, Frank Grillo (who was great last year in both THE GREY and END OF WATCH), and James motha-fuckin' Franco as the primary antagonist. Even though his habits are absolutely anything besides predictable (check out his makeshift marketing for THIS IS THE END), I definitely thought Franco was at a point in his career where he'd consider appearing in a Jason Statham action flick to be beneath him. I love how left-field his casting seems, and I can't imagine his drug-dealer role will be some stock villain; it's very much within the realm of possibility that he'll steal the whole shebang-a-bang from underneath his costars, and, as evidenced in this pic below, it seems like he and Statham had a good time on the shoot. This is all optimistic speculation until we see a trailer, but I am way keener on this most recent solo outing for Statham than I've been since maybe CRANK 2: HIGH VOLTAGE.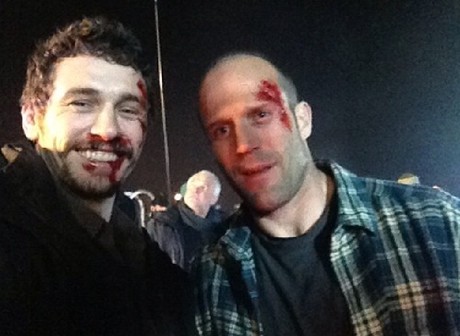 HOMEFRONT drops on October 4th.
-Vincent Zahedi
"Papa Vinyard"
vincentzahedi@gmail.com
Follow Me On Twitter