Ahoy, squirts! Quint here with today's Behind the Scenes Picture.
Who ya' gonna call? Ivan Reitman and a big 1:1 scale terror dog that's who! Happy Friday, folks. Figured I'd end this week with a bang by sharing this super awesome picture from one of the cornerstones of my childhood.
Ghostbusters can never be repeated and I kind of love that. It was made at the perfect time with the perfect cast and with the perfect style of effects technology. I'm not doubting there can be great horror comedies made in a similar style these days (in fact next week's This Is The End has a bit of that Ghostbusters tone to it), but the formula that made Ghostbusters a success was a one-off. I even like the sequel, but you can tell there's something missing. The movie is pure lightning in a bottle.
Below you'll see Ivan Reitman checking out the Terror Dog as it makes a mess in Rick Moranis' apartment. "Okay, who brought the dog?"
Thanks to the great Michael Gross for this shot. You should go friend him on Facebook… he is the man who designed the Ghostbusters symbol afterall, which would make him the coolest person on your facebook page. Enjoy!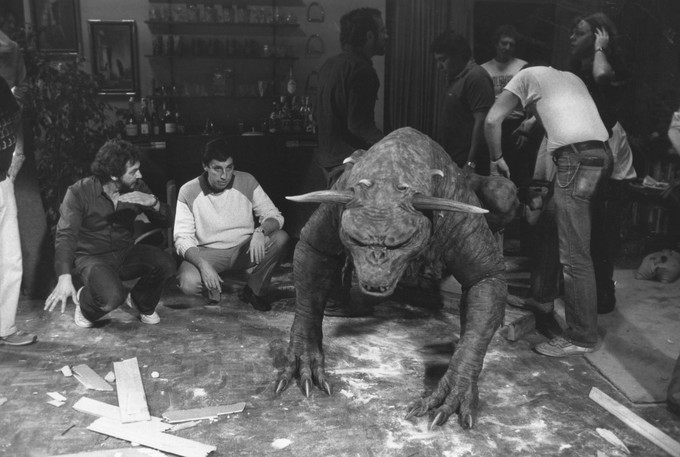 If you have a behind the scenes shot you'd like to submit to this column, you can email me at quint@aintitcool.com.
The BTS pic column returns Monday with a grand old Hollywood shot.
-Eric Vespe
"Quint"
quint@aintitcool.com
Follow Me On Twitter
I've got a lot of maintenance work to do on the previous BTS articles, but you can visit two pages worth of images (beware of some broken links thanks to the last server shift): Click here to visit Page One and Click here to visit Page Two