Howdy do, everyone, Papa Vinyard here.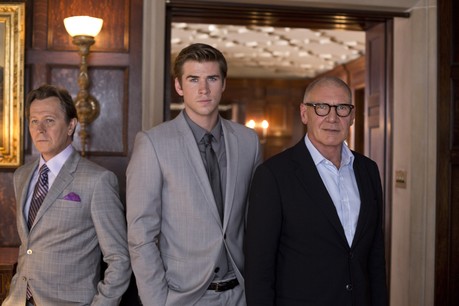 Relativity has dropped this new trailer for Robert Luketic's upcoming corporate-espionage thriller, PARANOIA. The film stars Liam Hemsworth as a Brooklynite who, in a Gatsby-esque effort to escape the "bridge-and-tunnel" label thrown on him by Amber Heard, takes a job with Gary Oldman's megarich CEO to spy on his rival, played by Harrison Ford (like you wouldn't do much worse to get in Heard's good graces). Needless to say, the handsome schlub gets in over his head, and he has to use his tech skills to outsmart his seriously advantaged superiors.
While Luketic's credits, including LEGALLY BLONDE, MONSTER-IN-LAW, and the Katherine Heigl flicks THE UGLY TRUTH and KILLERS, don't exactly inspire confidence in his ability to create high-stakes tension, the trailer looks solid enough, and the cast has already sold me my ticket. Oldman and Ford (who's freakin' BALD!) look like they're having fun with their slimey roles, especially in their scenes together, and you could do a lot worse with hot, young upstarts than Hemsworth and Heard. Add to that supporting roles for Richard Dreyfuss, Julian McMahon, and Josh Holloway (I love seeing Sawyer in mainstream stuff), and you have the makings of a fun, over-the-top, late-summer nail-biter, if nothing else.
If the Relativity plays their cards right, the TV spots for this one could make "AND NOW I'M STANDING ON YOUR NECK!" the new "I ALREADY WORK AROUND THE CLOCK!!"
PARANOIA opens August 16th.
-Vincent Zahedi
"Papa Vinyard"
vincentzahedi@gmail.com
Follow Me On Twitter