Well Geeks the HARRY POTTER buzz is beginning to sound like a nest of hornets, real surround-sound, buzzing at us from all directions at once. It's sort of got that Prequel-Xmen-LOTR interest level generating rumors/news of all kinds... sort of, but not quite. Also of interest to some of you out there, our Irish reporter Ozymandias has changed E-mail addresses to: ozymandias@dublin.com make a note of that and send your scoops to this new mailbox. And in conclusion Ozy has sent Father Geek a bit on Aardman's future plans that is included at the end of all this Harry Potter info. Make sure a check it out... Hi people... Edgard here, back from different places like Belgium for example which has the worst soccer team in the history of bad teams (hey I have the right to say so, I am from there). Anyway, let's stop a bit with this Euro Soccer Crap and let's get back to funnier business : movies !! Here are different news on the HARRY POTTER film from different Euro-AICN collaborators... What can I say ? Tim Roth ?? Robbie Coltrane ?? Mmmmh... let's wait & see... From William Wallace first...
While the search for a young actor to portray Harry Potter continues, the filmmakers are also busy scouting locations for the movie. According to press speculation, Lochaber on the west coast of Scotland could be lined up to become a future Mecca for film fans. Inverailort Castle, near the village of Lochailort, is being considered as Hogwarts School of Witchcraft and Wizardry and additional shooting may take place on the nearby West Highland railway line and in the surrounding glens.
Cheers,
William Wallace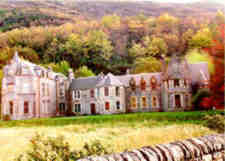 HARRY NOTE: The Above Picture is of this place mentioned above!!!
Then Ozymandias (always there) :
First off you will notice the new mail address ozymandias@dublin.com - as Edgard will testify my old @ireland.com address was chewing up too many sent mails, or not sending them at all so I've abandoned it in favour of this one - it will be my new permanent address.
Now to business.......
Guys, after the Maggie Smith bit I brought you last week today I have a tidbit that's even jucier.... From Popcorn and the PA:
"Tim Roth and Robbie Coltrane are in line to star in the much-anticipated film adaptation of 'Harry Potter And The Sorcerer's Stone'. The 39-year-old Roth is in talks to play the nefarious potions teacher Professor Snape, while Coltrane is in negotiations to play the big friendly giant groundskeeper Hagrid. The film, to be directed by Chris Columbus ('Bicentennial Man'), looks like being a gift from the gods for British actors. The producers are determined to cast an unknown Brit in the lead role of the 11-year-old trainee wizard, while Maggie Smith is also in talks to play a key role (presumably Professor MacGonagall). If Roth accepts terms to play Professor Snape, he'll divide his time between 'Harry Potter' and his sophomore directing job, an adaptation of 'King Lear' by Harold Pinter."
These news items were also confirmed by Muad'dib...
Doing my usual rounds on the news websites my old fav Ananova comes up with this:
British actor Tim Roth is in talks to play Professor Snape in the forthcoming film based on children's book character Harry Potter. Roth, nominated for an Oscar for his role in Rob Roy, is lined up for the Warner Bros film Harry Potter and the Sorcerer's Stone, according to Variety. Snape is a mysterious teacher at Hogwarts School of Witchcraft and Wizardry, where 11-year-old Harry is sent after he discovers that he is the orphaned offspring of two powerful wizards. The character of Snape recurs through the first three books in the series, so it is likely that Roth will put in multi-picture appearances. Roth is the second actor in talks to enlist in the film. Maggie Smith is already considering a role.
Not 20 mins after I sent you the Tim Roth story I find this on the same source: Robbie Coltrane is the latest big name lined up to play one of the leading roles in the movie version of Harry Potter and the Sorcerer's Stone. The 49-year-old, who made his breakthrough playing a tough police criminologist in the thriller series Cracker, has become a firm favourite since playing Russian black marketeer Valentin Dmitrovich Zukovsky in two 007 adventures. He is now in negotiations for the prize of £250,000, to play the large friendly giant Hagrid, the game keeper at Harry Potter's school Hogwarts, who gets kicked out under mysterious circumstances. Dame Maggie Smith is also considering a plum part in the movie as the school's headmistress so long as she can re-arrange her current West End stage commitments. The search meanwhile is still on for the British youngster to play Harry Potter. The families of 2,000 boys have written to the film's makers who say they will be seeing to 5,000 before making a final decision.
So this makes 3 cast members then if any of them are definate.
Muad'Dib
Well, here's Ozymandias with another bit of news on a slightly different subject...
Hey guys,
I know this has been touted for a long time but haven't seen it spelt out quite as explicitly as this....
From Popcorn:
"Aardman Animation is about to see its first feature film, 'Chicken Run', released in cinemas around the world in the next two weeks, but the acclaimed company is already moving forward with plans for its second and third movies. As reported at Popcorn in March, the third movie to come from the Aardman/DreamWorks partnership will involve the animation company's prize assets, Wallace and Gromit.
The movie will be made after its second feature, a mockumentary-style retelling of Aesop's fable 'The Tortoise And The Hare', scheduled for release in 2002. Wallace And Gromit will then follow in 2004. Nick Park has revealed, though, that he will begin work on the script when 'Tortoise' goes into production."
L8r,
Ozymandias at the Penthouse Suite, Ozymandias Towers, Dublin, Ireland.
Edgard back just to say: That's it for today... don't forget to send us (at euroaicn@yahoo.com all your news, thoughts, secrets, love letters,....