Ahoy, squirts! Quint here. I've now seen The Kings of Summer twice and it's an odd little movie. In a good way, I promise. The tone shifts from the dramatic to the ridiculous at a drop of a hat, we pop in and out of the adolescent minds of the leads (which explains why Nick Offerman is wielding sais in the below poster) which blurs the line between reality and fantasy and all that surrounds a rather simple tale of teenager rebelling against their parents by running away to live in the woods.
There's a bit of a throwback feel to this movie, lots of nods to John Hughes, Stand By Me and other '80s classics, so it's only fitting that they have come up with an art poster, done in a very Drew Struzan style.
We get to debut that really cool poster below. The artist responsible is Mr. Adam Schickling (check out his website here) and if he keeps making work this good I'm sure we'll be seeing a lot from him in the coming years.
Check it out: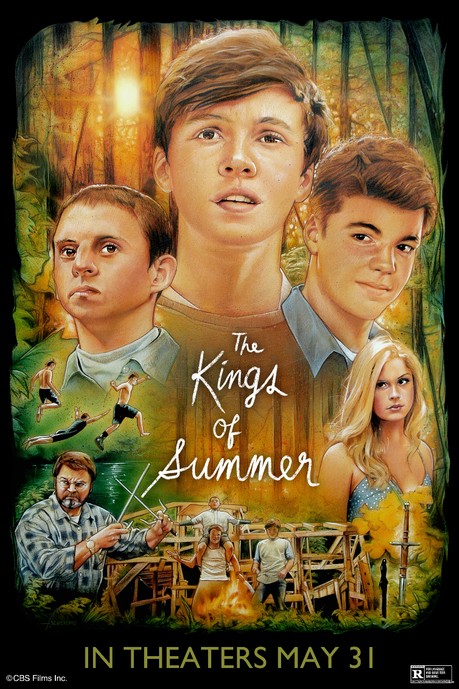 As a sidenote, Kings of Summer director Jordan Vogt-Roberts told me last night that Schickling was hired after they saw his Episode 7 fan art (which can be seen here). Interesting tidbit that shows being a big fanboy can pay off!
The flick comes out in limited release (NY and LA) tomorrow and spreads across the US next week. Check it out if it comes to a theater near you, whydontcha?
-Eric Vespe
"Quint"
quint@aintitcool.com
Follow Me On Twitter