Howdy do, everyone, it's Papa Vinyard here.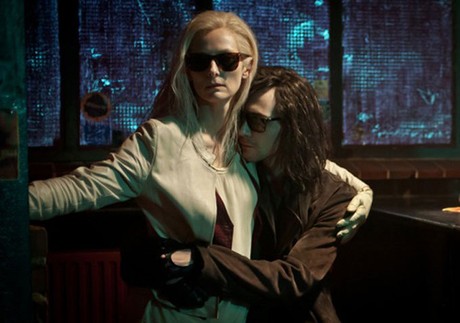 Jim Jarmusch has made a name for himself with idiosyncratic indie work that is usually low-key, quiet, and, more often than not, cool as ice. He has a deep relationship with music, using John Lurie as an actor and composer in several films, working with Neil Young on the doc YEAR OF THE HORSE as well as his amazingly oddball western DEAD MAN, along with utilizing Tom Waits, Iggy Pop, Joe Strummer, The RZA, and Screamin' Jay Hawkins in his casts. He's never dealt with the supernatural before, so it's super-exciting to see him handle a vampire flick with his upcoming ONLY LOVERS LEFT ALIVE, which Sony Pictures Classics picked up leading up to its debut at Cannes tomorrow. Just as Neil Jordan injected some life into the dead horse that is the modern-day vampire movie, I'll bet Jarmusch's take on it will be, if nothing else, totally and utterly his own.
Critics have never been overly kind to the quirky, self-indulging director, often criticizing him for his humdrum, non-eventful sort of narratives and deadpan humor. It is unsurprising that early word from the film follows suit; Jordan Hoffman tweeted that, regarding Jarmusch, "he's in his own orbit now." But Jarmusch's name, as well as the star power of the cast that includes Tilda Swinton, Tom Hiddleston, Mia Wasikowska, John Hurt, Anton Yelchin, and Jeffrey Wright, was probably enough for Sony to think this was a smart buy. God knows wild horses couldn't drag me away whenever this thing finally comes out.
Via Sony Pictures Classics: ONLY LOVERS LEFT ALIVE takes place against the romantic desolation of Detroit and Tangier and follows an underground musician, deeply depressed by the direction of human activities, who reunites with his resilient and enigmatic lover. Their love story has already endured several centuries at least, but their debauched idyll is soon disrupted by her wild and uncontrollable younger sister.
Cool. Sold.
-Vincent Zahedi
"Papa Vinyard"
vincentzahedi@gmail.com
Follow Me On Twitter