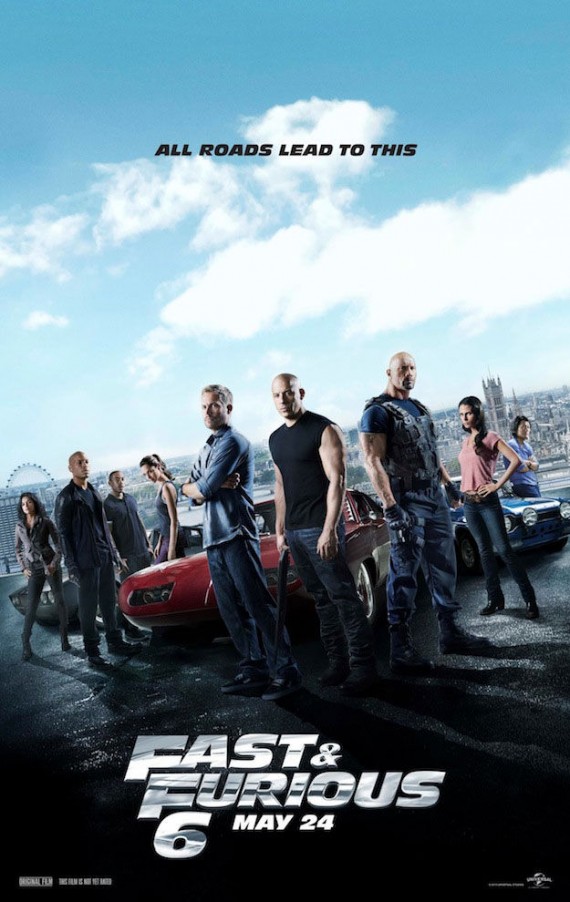 Nordling here.
The FAST AND FURIOUS movies used to be considered guilty pleasures. No more. For me, now they are simply pleasures; these action-packed movies give us surprisingly compelling stories and characters, and some of the most outrageous stunts seen on screen since the heyday of Hal Needham. FAST FIVE broke from the mold and turned the series into a multinational, grand scale action franchise, and gave us real character development amidst the vehicular destruction. I've been a fan since the beginning, but what director Justin Lin has done with this series seems almost miraculous in retrospect; he gave this seemingly gearhead car chase franchise respectability.
FAST AND FURIOUS 6 continues that trend, and while I still prefer the Brazilian chaos of FAST FIVE, this one tries its best to top that film in every way, and mostly succeeds, especially in the stuntwork and the action sequences. If I prefer the previous film, it's mostly because of the breath of fresh air that was injected into the series that FAST FIVE engineered, and not anything derogatory against 6, which has some of the most incredible car chase scenes that I think have ever been filmed. That's a bold statement, but once you see it, I think there's a good chance you might agree.
Since the events of FAST FIVE, Dom Torretto's (Vin Diesel) crew has been living the high life across the globe; Brian (Paul Walker) and Mia (Jordana Brewster) have a new baby boy to take care of, while Roman (Tyrese Gibson) is jetsetting all over the world. Han (Sung Kang) and Gisele (Gal Gadot) talk about settling down, perhaps in Tokyo. Tej (Chris "Ludacris" Bridges) still fiddles with car tech, and Dom lives with Elena (Elsa Pataky), but he can't seem to get dead Letty (Michelle Rodriguez) out of his mind.
Meanwhile, Hobbs (Dwayne Johnson) is chasing down a formidable driving crew, headed by Owen Shaw (Luke Evans). His crew is stealing government technology to sell to the highest bidder, and Hobbs and his partner Riley (Gina Carano) can't seem to crack the case or find Shaw's crew. But he knows of one man who can - Dom Torretto. When Hobbs discovers that Letty may still be alive, he contacts Dom and the old crew to come in and find Shaw. For the crew, it's an opportunity for full pardons, but for Dom it's a chance to find out what really happened to Letty, and if she can be saved.
What follows is an action fan's dream - action sequences so well choreographed and executed that there should be an Oscar for this kind of thing. From a car chase through the streets of Moscow, to a race through London, to a freeway chase of total destructive chaos, all the way to the insane climax, FAST AND FURIOUS 6 is relentless in its thrills and intensity. But it's also just plain fun. The dialogue is funny, the characters are likable, and the crazier the action gets, the more we are invested. I never expected full on character development in a FAST AND FURIOUS movie, but there it is - at this point, we care about Dom and his ragged family of car misfits and we want to see them succeed. Dwayne Johnson's Hobbs is just as fun this time around as well; in FAST FIVE he was mostly the antagonist but this time he and Vin Diesel have a camaraderie that is contagious.
Fact is, it's just a lot of fun spending time with these people. Complicated they are not, and these movies will never be accused of being pretentious, that's for certain. But I admire movies that call their target and hit it, and FAST AND FURIOUS 6 hits it almost every time. The fight scenes are riveting, especially one between Rodrigues and Carano that almost approaches the level of insanity of the Johnson/Diesel fight of FAST FIVE, and if it doesn't quite get there it's because watching Diesel and Johnson go at it was akin to seeing King Kong and Godzilla do battle, and Carano and Rodriguez's fight is just a little more subdued. But I admire an action franchise that lets the women play just as much as the men do, and brings something for everyone.
Yes, there are a few plotholes here and there, and Luke Evans isn't as charismatic a villain as he probably should be, but the outrageous action scenes more than make up for that. Plus, since we care about Dom, Hobbs, and the crew, the audience will eagerly root for them regardless. Paul Walker's still a bit of an empty vessel in FAST AND FURIOUS 6, but he has something to do - everyone in the cast is given their own special moment. Vin Diesel's gravelly voice gets a lot of play here, and I loved the callback to the original movie when a street race between two beloved characters becomes a character moment that works as well as any emotional moment of dialogue. But there's something so earnest about these movies; the bigger the FAST AND FURIOUS movies get, the more they remember their characters and where they came from, which isn't something most franchises of this size do well.
The climax of FAST AND FURIOUS 6 definitely sets us for another go-round for this series, and with Justin Lin exiting and James Wan taking over directorial duties, I am concerned if FAST 7 will reach the heights that these movies hit under Lin's helm. Wan's got some surprisingly big shoes to fill, because Justin Lin really puts himself in the upper echelon of action directors here. Each scene is directed and shot with a clear and concise geography, and there's little shaky-cam to confuse and botch up the scenery. I'm not sure what the summer will have for us by way of action, but the bar has been raised with FAST AND FURIOUS 6. When May started, we had IRON MAN 3 and STAR TREK INTO DARKNESS to contend with, but this little engine that could blew past both of those movies for me. FAST AND FURIOUS 6 is well-shot, well-acted, funny, and thrilling, and I can't wait to see it again.
Nordling, out.