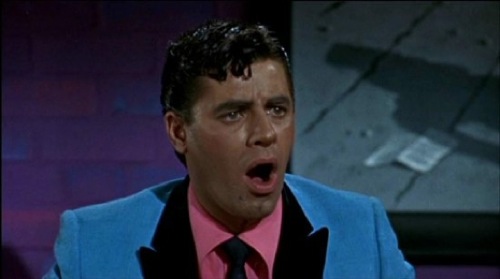 Beaks here...
Yes, it's entirely appropriate for the first Jerry Lewis star vehicle in decades to make its premiere at this year's Cannes Film Festival; after all, the French have famously been among the most ardent supporters of the funnyman's films over the last half century. But, damn it, Lewis is first and foremost an American treasure; his partnership with Dean Martin produced a number of terrifically entertaining movies, while his solo work - particularly in the early '60s - is as innovative as it is hilarious. THE NUTTY PROFESSOR, THE BELLBOY and THE LADIES MAN are three of my all-time favorite comedies, showcasing Lewis at his manic, visually inventive best. That the eighty-seven-year-old legend is back making movies again is cause for celebration.
I was fortunate enough to spend a little time on the set of MAX ROSE, which is a small drama about an elderly jazz musician (Lewis) who makes an alarming discovery about his wife soon after she passes. Having sacrificed his promising career for the sake of his marriage, Max is now confronted with the unsettling fact that his wife might've been in love with another man. Written and directed by Daniel Noah, the film also features Claire Bloom, Mort Sahl, Dean Stockwell, Kevin Pollack and Kerry Bish. Pretty amazing cast, right?
I have an interview with Lewis I'll be able to share with you at a later date. For now, let's check out the first clip from the film, which premieres on Thursday, May 23rd.