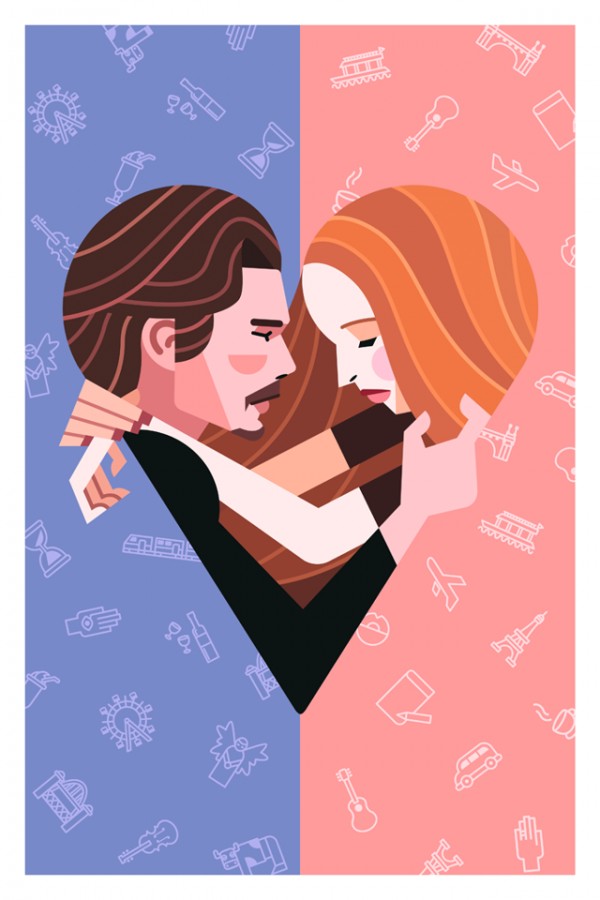 Hey folks, Harry here... It killed me to miss BEFORE MIDNIGHT at SXSW this year. Watching BEFORE SUNRISE the year before I created AICN, was one of those film experiences that made you wish you had an outlet to express the love you felt for a film beyond just a friend or two. I wanted the world to know how much I loved that film, how it perfectly captured the spark of romance like nothing else. BEFORE SUNSET came 9 years later and I fell gobsmacked in love with where that took their love. BEFORE MIDNIGHT had incredible buzz - and when I told Yoko how excited I was, she said she'd never seen the other two films of Rick's... and I decided right then and there that I would somehow set up a BEFORE Trilogy screening.
My original pitch to Linklater on this screening was to screen BEFORE SUNRISE before sunrise and exit in time to see the sun rise. Then screen BEFORE SUNSET in time to exit and watch the sun set. And then screen BEFORE MIDNIGHT with just enough time to be home just before the strike of midnight. To structure events throughout the day - to inspire the trilogy attendees to spend the day with the person they loved, to go to a local art museum, to have romantic breakfasts, lunches and dinners, to hike around Town Lake, to swim in Barton Springs... to spend the day romantically set in the city that continues to inspire Linklater to share his love upon the screen. To spend a day romantically entwined with this, what will most likely go down as the greatest romantic trilogy of all time. Thus far.
Linklater loved it. So we set it into motion. Working with The Austin Film Society, The Marchesa Theater and local businesses - we've made it a little less ardurous.
This Sunday, May 19th 2013 at The Marchesa Hall & Theatre beginning at 11am, we'll be screening BEFORE SUNRISE, take a break, then at 4pm we'll screen BEFORE SUNSET, take a break, then at 9pm we'll wrap up with BEFORE MIDNIGHT.
This is a very rare treat. According to Richard, this is the very first time that the films will be screened like this - and The Austin Film Society has done a brilliant job of reaching out to local Austin romantic hotspots to customize a series of offers that attendees can take advantage of all week long, not just this Sunday.
Now, I know... it isn't VALENTINE'S DAY - but since when does Hallmark have to manufacture an excuse to spend time with the person you love. This is a paid event, but all the money is going into the event and to the charity functions that the Austin Film Society supports - so it's all to a great cause!
Go to The Austin Film Society's special BEFORE trilogy event page to purchase your tickets, which are going quite - and let's fill this trilogy with loving people that love cinematic romance! OH - and there's a contest. But I'll let you discover that at the AFS page! Heh. We'll be having a blast at this!!!