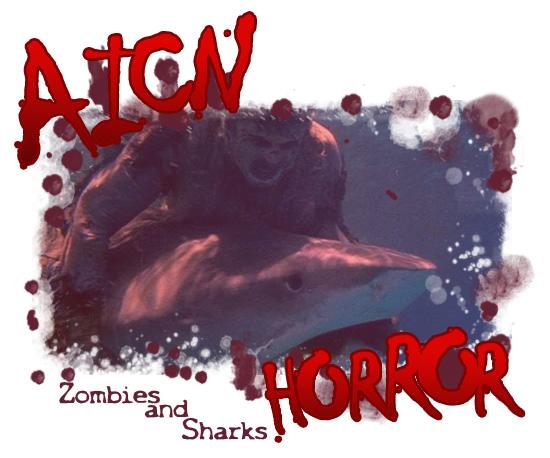 Logo by Kristian Horn
What the &#$% is ZOMBIES & SHARKS?
---
Greetings, all. Ambush Bug here with another AICN HORROR: ZOMBIES & SHARKS column. I've got more horror reviews for you this week, but as always, before that…there's this!
---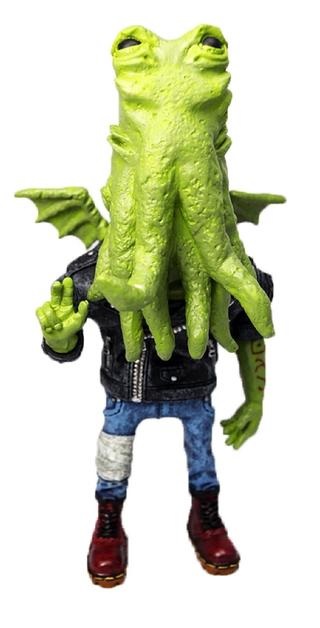 Those of you wondering what to get that Lovecraft fan you know who's got it all might want to check out this little guy. Meet Oi! Cthulhu, an action figure made by Mighty Jaxx. This punk rock squid-beast from the foul regions stands 6 inches tall. Who wouldn't want this little guy standing above your desk watching over you as you do the work of the Dark Lords?
Find out how to get this awesome figure here at Aggronautix!
---
Always looking for new cool blogs to follow, especially ones covering horror, I stumbled upon this one called
Living 24 FPS
from Marc Weiner which seems to cover quite a lot of horror. If interested, follow the link for a whole lot of interesting words about genre films.
---


Next up are a couple of awesome pics from the new film THE FACTORY. This film is currently in production, but you can bet your sweet auntie's bippy that I'll be checking this one out when it does become available.
Here's the ominous official synopsis:
When a realtor shows an old New York factory building to a group of would-be investors, they are unwittingly caught in its tragic and sinister history.
Click on the images on the right and left to see these exclusive behind-the-scenes and making of pics bigger and better and
you can find out more about this film on its Facebook page here!
---
On with the horror reviews!
Today on AICN HORROR

(Click title to go directly to the feature)
PETER CUSHING: A LIFE IN FILM Novel
A NIGHTMARE ON ELM STREET COLLECTION Retro-review: WES CRAVEN'S NEW NIGHTMARE (1994)
Short Cuts: HEARTSHOT (2013)
It Came From My Shelf: ZOLTAN: HOUND OF DRACULA (1978)
ALIEN AGENDA: PROJECT GREY (2007)
HAYRIDE (2012)
THE DEPRAVED (2011)
Advance Review: CANNON FODDER (2012)
And finally…A NIGHTMARE ON MY STREET!
---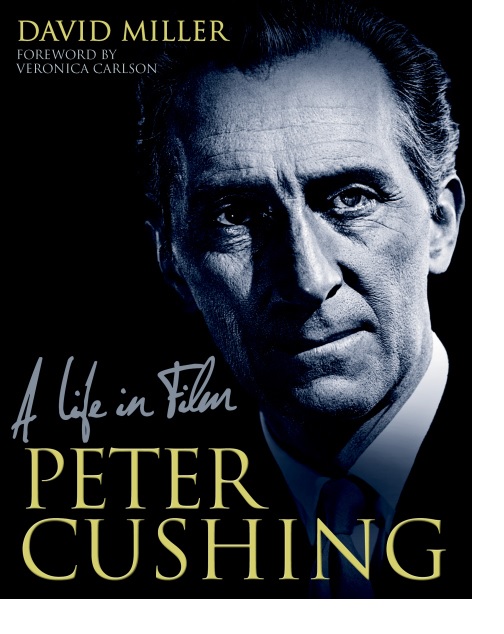 New book from Titan Books!
PETER CUSHING: A LIFE IN FILM (2013)
Written by David Miller
Reviewed by Dr. Loomis
We all know Peter Cushing was an awesome man who had an awesome career. But it's hard to wrap your head around just how awesome the man and the career were until you get your hands on a book like this – a book which encapsulates said awesomeness in one glossy-paged, photo-packed, anecdote-filled package.
With PETER CUSHING: A LIFE IN FILM, David Miller has assembled as thorough an examination of Cushing's acting career as you're likely to find. The book reaches all the way back to Cushing's days treading the boards for various stage productions and moves through the numerous television and silver screen projects he took on before hitting his stride in the Hammer horror films. His body of work is vast and impressive even if you remove the iconic characters he's most closely associated with. With those characters included, though, it's a career that is nearly unprecedented.
While Cushing didn't always play a nice guy onscreen, it's made clear by the recollections of the copious amounts of peers who speak on his behalf that he was considered one of the nicest, kindest gentlemen of his profession. It's also evident that the man cared deeply about his work, and did all he could to make every project as good as it could be. His attention to detail and his efforts to produce the best performance possible from himself and from his co-stars are well documented here.
Filled with fascinating behind-the-scenes stories, illustrated with photos ranging from staged publicity shots to candid set photos, there's something of interest on each and every page. It's maybe not the kind of book you read all the way through, but it's great to have around to dip into every now and then, or to serve as a companion for whatever Cushing film you have queued up for the evening.
Peter Cushing was a true treasure, and this book is a wonderful archive, reference piece and tribute, all rolled into one.
PETER CUSHING: A LIFE IN FILM by David Miller is now available.
"Dr. Loomis" is Blu Gilliand, a freelance writer whose work has appeared in the fright-filled pages of DARK SCRIBE, DARK DISCOVERIES, SHROUD MAGAZINE, FEARnet.com and Horror World, among others. He also runs his own blog, October Country, devoted to horror and crime fiction. Feel free to stalk him on Twitter (@BluGilliand) at your own risk.
---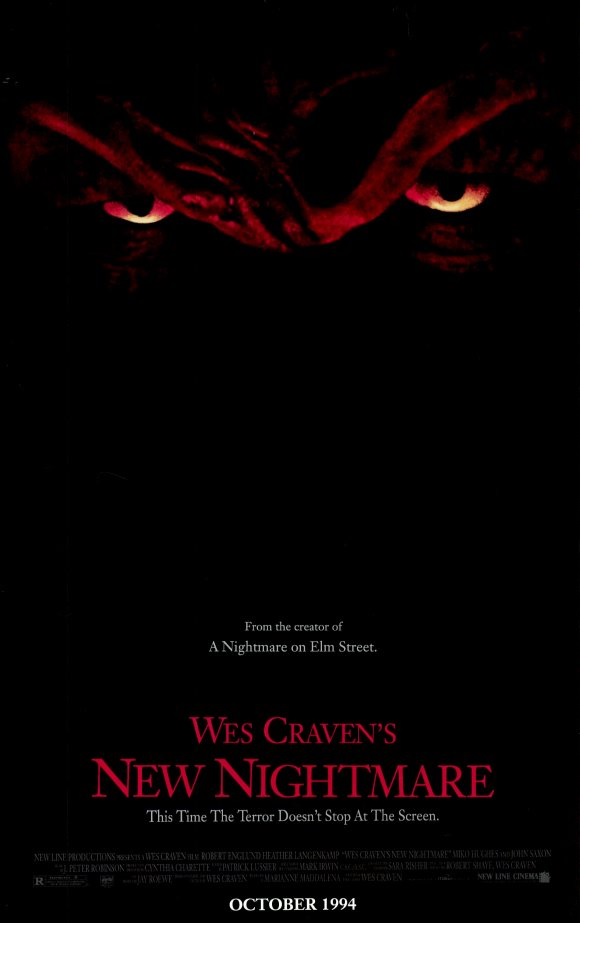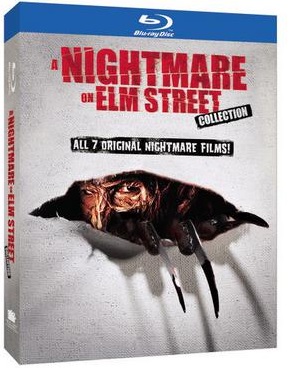 Retro-review: New on BluRay (Covering all seven films of the collection: Part 7 of 7 (Find this film on Netflix here!)!
WES CRAVEN'S NEW NIGHTMARE (1994)
Directed by Wes Craven
Written by Wes Craven
Starring Robert Englund, Heather Langenkamp, Wes Craven, Miko Hughes, Matt Winston, Rob LaBelle, David Newsom, Marianne Maddalena, Robert Shaye, John Saxon, Lin Shaye
Retro-reviewed by Ambush Bug
Finishing up my retrospective on the first 7 A NIGHTMARE ON ELM STREET films released on BluRay recently, this time around, I'll be focusing my attention to WES CRAVEN'S NEW NIGHTMARE. While the A NIGHTMARE ON ELM STREET remake is not in the set, I plan on finishing my NIGHTMARE block next week looking at that film. But first, let's gander at Freddy's creator and his return to Elm Street.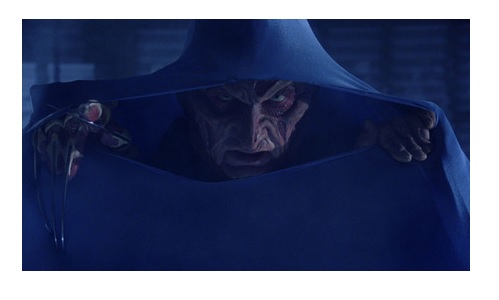 Though by far not the worst of the A NIGHTMARE ON ELM STREET series, it definitely is the one that took the most risks. With this restart to the series New Line was hoping the man behind Freddy, Wes Craven, would inject some new life in the character which began to sag with age as the sequels went on. In doing so, Wes begins the meta-textual stage in his career looking at the subject through a movie within a movie lens. This is something Wes would expand upon with SCREAM, which comes out two years later, but it is here that Wes not only tries to continue his dissection of dreams, but also tried to say something about storytelling in general and how stories, like dreams, can often have a life of their own.
Without getting too heady, NEW NIGHTMARE follows the original NIGHTMARE star Heather Langenkamp who plays herself as she begins to have increasingly horrific nightmares. Soon she finds that her son, Miko Hughes, is suffering from these nightmares as well, stating that "the bad old man" in his dreams is telling him to do things. As the antagonist from the NIGHTMARE films begins to seep more and more into Heather's life, she uncovers that Wes (paying himself) is writing a new NIGHTMARE film which is taking a life of its own in the real world. Scenes play out of Wes' story just as he is writing them, and given that Wes excels most in horror, this is nothing but trouble for Heather and her son.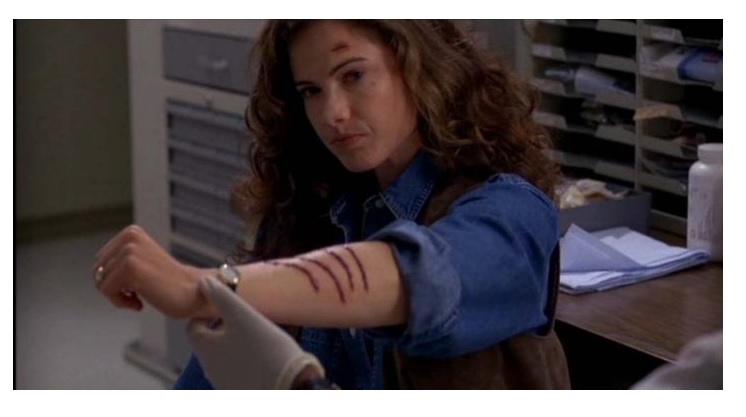 Langenkamp is pretty good here playing herself. At times in both NIGHTMARE 1 and 3, her line delivery was often pretty flat, but here it seems Wes was able to pull some emotion from her. Wes and New Line producer Robert Shaye play themselves as well, which is a fun peek behind the curtain, though both roles highlight how they shouldn't quit their day jobs for acting. The real treat is seeing Robert Englund play himself, tormented by Freddy in nightmares of his own. I wish more of the film would have focused on Englund and given him an opportunity to shine. An actor plagued by the role he had been type-cast to play has been done before, but never with this popular a character. I would have loved to see the struggle Robert faced as an actor with authentic talent who is overshadowed by one specific role.
But that's not the story Wes wanted to tell here. Instead, themes from THE DREAM CHILD are revisited as Freddy tries to possess little Dylan (Miko Hughes, who also played the psycho kid Gage from PET SEMETARY). Shades of THE EXORCIST and PET SEMETARY occur as Heather is distraught seeing her son being taken over by some kind of dream manifestation. For the most part, this drama pays off well. There's a specific scene that takes place in a hospital later in the film which is one of the film's best as an isolated Dylan attacks his mother and, in a scene that is repeated from the first NIGHTMARE film's beginning, his nanny is shredded right in front of Dylan and the nursing staff, dragged across the wall and ceiling, and killed.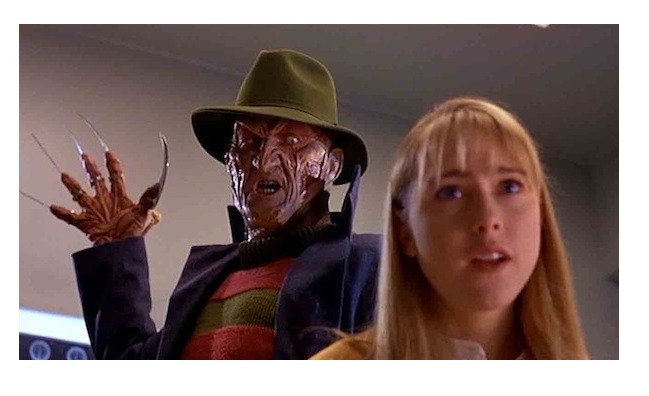 Freddy is much more menacing in this film. Not a lot of one liners and more mood, though there are scenes where Freddy is shown without the use of shadow which definitely pops the bubble of mystique. The final sequence inside the dream is disappointing, as the film resorts to tactics we had seen before in the sequels and were more FX heavy. Had Craven maintained the level of unease and simplicity that occurs in the first portions of the film, I believe this would have been a stronger attempt. But as the credits rolled, it felt as if this was just another FX-heavy climax, more focused on spectacle than depth.
Still, if you're looking for a good A NIGHTMARE ON ELM STREET film, WES CRAVEN'S NEW NIGHTMARE is much better than most of the sequels. I have to give them props for trying new things and listening to fans who complained about the bad stand-up comedian Freddy had become in the sequels. This Freddy is menacing and much more deadly; it's the one fans of the original had been screaming for. Too bad the climax goes the easy route rather than the cerebral one Wes treats us to throughout most of the film.
All in all, this BluRay collection is a must for any horror fan. It seems the collection was released before from Best Buy, but still, it is a great way to pick up all of your old nightmares in one stop. Great special features, such as interviews with creators and actors and behind the scenes FX work for each film, can be found here as well as most of the videos that accompanied the movies. If you're a fan of the NIGHTMARE series, this is the set you've been dreaming of.
---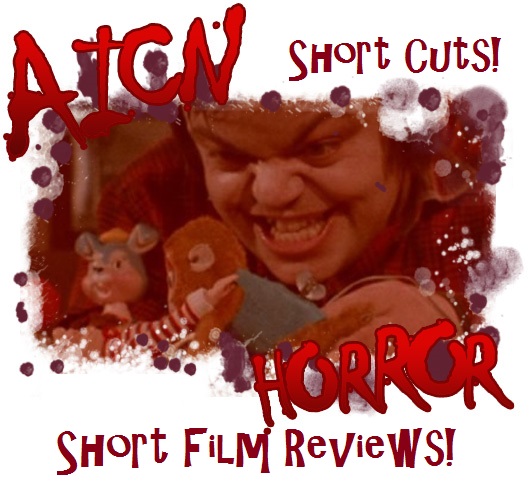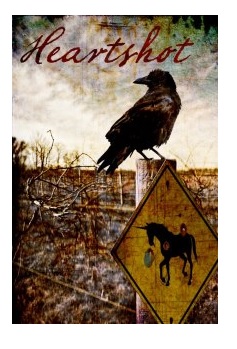 Short Cuts: Short film review! Recently played at H.P. Lovecraft Film Festival & Cthulhucon - Portland, OR!
HEARTSHOT (2013)
Directed by Thomas Nicol
Written by Thomas Nicol, Joe Taylor
Starring Steven M. Keen, William Kephart, Chris Lukeman, Cara Maurizi, Elin Skottene, Mike Trippiedi
Find out more about this film on Facebook here
Reviewed by Ambush Bug
This little short is pretty awesome. It centers on a bleak future world where science has gone a bit wonky and lab experiments wander about the uninhabited lands and acclimate to the environments. In this world, a doctor hunts unicorns with a crossbow in the forests in order to pay for his drug habit…
Yes, you read that last line correctly.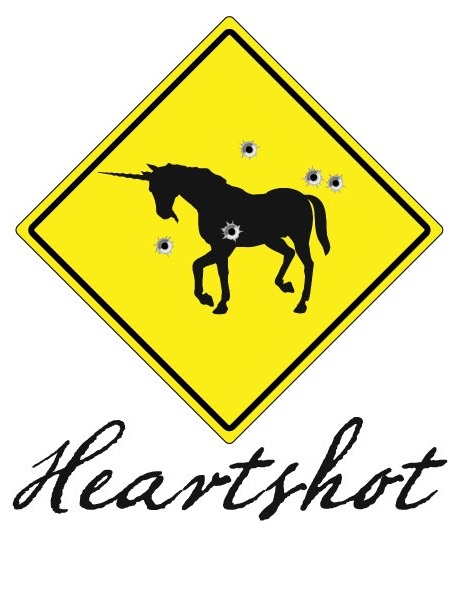 What this short film has is cool ideas. Genetically altered horses wander the earth freely now, elusive and valuable to those who want them. The unicorns were created by scientists as presents for rich little girls who had everything. Attracted to the scent of a little girl, the unicorn is tempted out in the open when the hunter hangs a little girl's dress on a tree branch and then killed for their hide and horn. But just as this doctor thinks he's on the brink of desperation, a little girl in need shows up on his doorstep needing help which proves to be the drug addicted doctor's last chance for retribution.
Though the budget is low, director Thomas Nicol uses his camera well in making the best of the bleak and forested scenery. This is a good looking short, shot professionally and with a skilled eye. The story is complex as well, and covers a lot of ground in the 30 minute running time. HEARTSHOT is one of the more impressive short films I've seen in quite a while in terms of creative ideas and ingenuity in bringing them to life believably on a low budget. Some of the later creature effects make the final minutes of this film very cool. If you have a chance to catch HEARTSHOT at any horror film fests, be sure to do so. You won't be disappointed.
---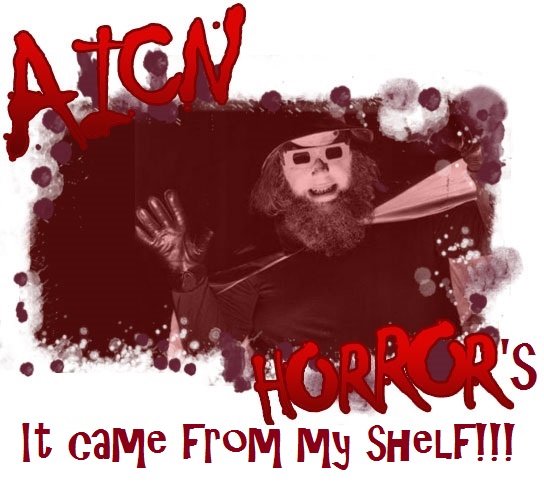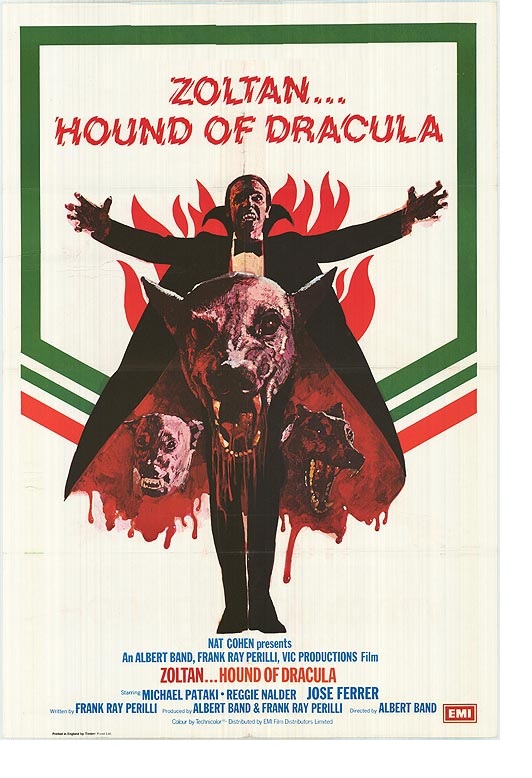 Find this film on Netflix here!
ZOLTAN: HOUND OF DRACULA (1978)
ZOLTAN: DRACULA'S DOG, ZOLTAN: ZOMBIE HOUND OF DRACULA
Directed by Albert Band
Written by Frank Ray Perilli
Starring Michael Pataki, José Ferrer, Arlene Martel, Jan Shutan, Libby Chase, John Levin, Reggie Nalder, Cleo Harrington, Tom Gerrard,
Retro-reviewed by Ambush Bug
So through the years I've amassed quite a collection of horror films that I've been meaning to get to and write about, but with the influx of new horror films coming in on a weekly basis, I just can't seem to find the time to get to them. So in order to fight the tide, I am going to try to randomly pick a horror film from my collection to review. Sometimes it will have something to do with current events, relate in some way to a current film release, or even serve as a way to honor films requested for review in the talkbacks. Basically, this section will serve as a grab bag of shit that isn't necessarily newly available or maybe it isn't available at all, but still talks about films that some may have seen, some may have missed, and some may have wished they could unsee. So I'm honoring the late great Dr. Creep in the logo above since he introduced me to horror at a very young age watching his horror matinees on Columbus , Ohio television. I present the first installment of IT CAME FROM MY SHELF!!!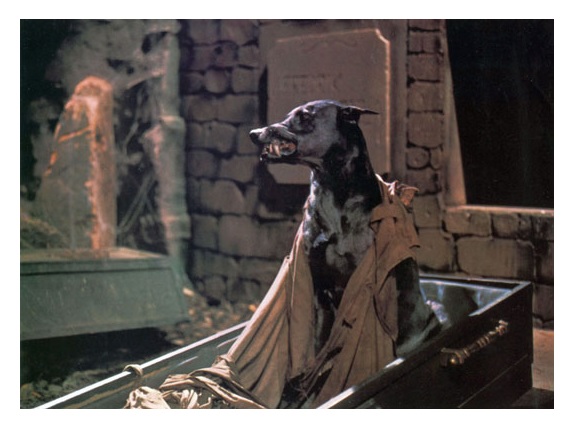 For years I'd heard of ZOLTAN: HOUND OF DRACULA. It's a film I've jokingly referred to in cinematic conversations in the past, and most didn't know what the hell I was talking about. Though I hadn't seen the film, it was a movie I had heard of and wanted to see given my love for movies of the weird. And this movie certainly qualifies. Though it was years before CUJO would burst into the scene, ZOLTAN wasn't the only hound horror film around. A year before its release, THE PACK was a pretty big hit about a pack of wild dogs attacking their masters on an island. We can't forget the haunting HOUND OF THE BASKERVILLES' various representations on screen. And then there was TRAPPED with James Brolin, another hound horror film I have but haven't seen yet. Given that MAN'S BEST FRIEND, Alice Cooper's MONSTER DOG, and more recently THE BREED with Michelle Rodriguez are films I haven't seen or covered yet on AICN HORROR, maybe a dog-centric horror column is in order some time soon.
But we're here to talk about ZOLTAN: HOUND OF DRACULA, definitely one of the weirdest hound horror films in the pack. The film opens when an underground tomb is uncovered in Transylvania and a curious and clueless construction worker enters and pulls a stake out of a body under a sheet. Sure enough, it's Zoltan under that sheet and after he leaps from the casket and tears out the construction worker's throat, drinking his blood, he proceeds to let loose his half-human, half-vampire handler (played by SALEM'S LOT's vamp Reggie Nalder) and go on a search which takes him half the world away to America to find Dracula's last descendant, played by HALLOWEEN 4 and ROCKY IV's Michael Pataki who is a mild mannered family man, yet occasionally has bizarre déjà vu about his ancestors. Playing the Van Helsing-type character in this film investigating the tomb and the murderous trail Zoltan leaves in his wake is THE SWARM and DUNE actor Jose Ferrer (father of Miguel Ferrer), who adds more heft to the acting talent in this film.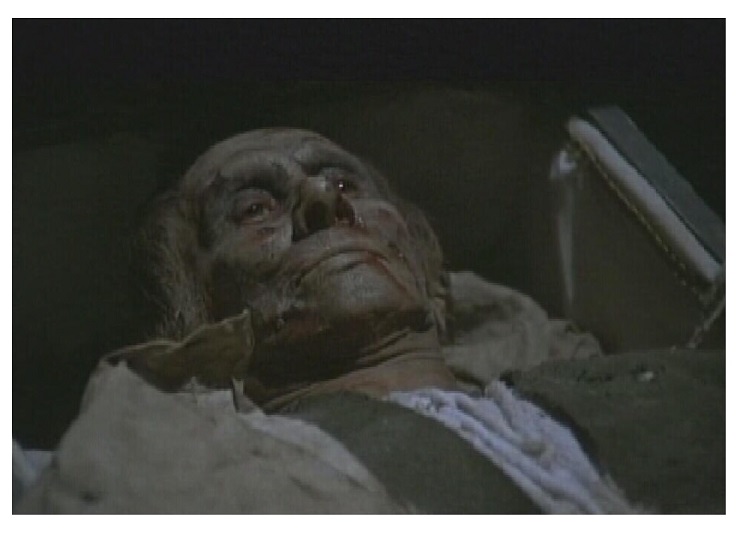 There's a lot of fun to be had here as we as the viewer are privy to Zoltan's flashbacks about his relationship with Dracula in the past and how he was turned into a devil dog of Dracula. The hound playing Zoltan is never named in the film, but kudos to the pooch for convincingly snarling and attacking unsuspecting campers and other things that cross his path. It's both fun and disturbing seeing Zoltan gather a pack of hounds and converting them into vampires throughout the story. Though it was a bit much to see Zoltan convert a poor little puppy, there is a payoff to this at the very end of the film which makes for the cutest little vampire puppy you will ever see in the history of ever!
Another fun fact is that future effects guru Stan Winston did the visual effects for the ZOLTAN. Though this isn't an effects-heavy film since dogs already have pronounced canines and aren't really in need of fangs, there is a pretty sweet looking fake bat, and again the Dracula puppy in the end is pretty ingenious (plus it's so damn cute!). That said, ZOLTAN probably wasn't on Winston's best of reel, I imagine, but it's still fun to see some of his early work.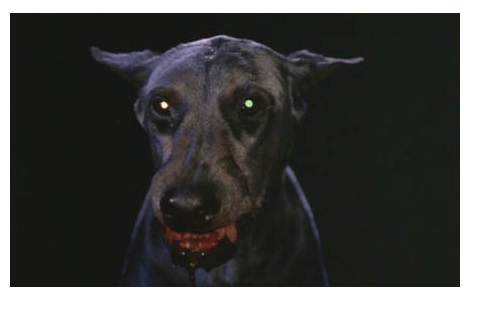 Though the story is pretty goofy, everyone in this cast plays things deathly serious throughout. Director Albert Band is the father of director Charles Band and composer Richard Band. Though there are definite moments of schlock, especially the flashback scenes, Band fills the film with heavier moments such as the children dealing with the death of their puppy and the dog attack on the family.
All in all, I was prepared for something pretty cheesy with ZOLTAN: HOUND OF DRACULA given the title, but was impressed by the way the story was handled by the talented cast and filmmakers behind the scenes. Sure it's fun to laugh at, but the film goes deeper than I thought it would and has some resonant moments that will strike a chord with animal lovers like myself. The film is available on DVD and Netflix and even can be found in its entirety on Youtube if you look for it.
---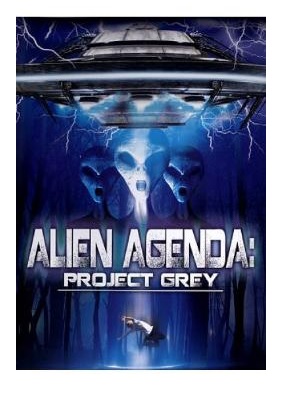 New on DVD from Chemical Burn Entertainment!
ALIEN AGENDA: PROJECT GREY (2007)
Directed by Christian Blaze, Crystal-Dawn Rosales
Written by Christian Blaze, Crystal-Dawn Rosales
Starring Christian Blaze, Justin Stillwell, Allison Warnyca, T.J. Riley, Mitzi Jones, Nneka Croal, Todd Hann
Find out more about this film here and on Facebook here
Reviewed by Ambush Bug
ALIEN AGENDA: PROJECT GREY is one of those films that really aims high, but things like a lack of budget and an inexperienced cast are ever-present to weigh it down. The film starts out poetically enough, stating that "Every truth has a shade of grey." Cool phrase with the double entendre that the Grey Aliens are the type of alien ET-ing around this film, and showing that at the very least some thought went into the scripting process.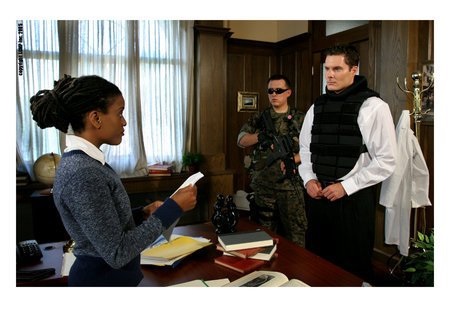 Unfortunately, as I have already stated, the budget is low here, meaning that for the most part this film feels like a bunch of friends were used instead of real actors. The main character played by Christian Blaze (who also co-directed and co-wrote the film) does a decent job, but the rest of the cast deliver their lines pretty lifelessly. The filmmaker decides to follow around people lamely trying to party, proving that acting like you are having fun and actually having fun are two totally different things. This makes for some tedious scenes making my fast forward finger heavy.
It doesn't help that the computer-generated imagery of the film proves to be pretty badly rendered. A scene with an alien repeating the line "Fear is good." might be horrific on the page, but animated crudely and it becomes a laughable scene. Again, the thought and script were there, but the computer animation just didn't match up, making the message lost in translation.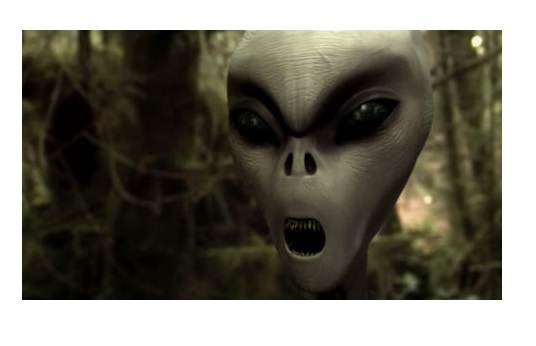 The film tries to be a conspiracy theory flick showing a government cover-up of the aliens' presence and their operations to implant technology into their arms. This is another avenue that would have made for an interesting film, but again with the actor's delivery and rudimentary animation, it makes for a hard sell.
In the end, ALIEN AGENDA: PROJECT GREY falls in the "could have been good given a bigger budget and more talented folks behind the scenes" category. With a pretty strong script, I was able to look past a lot of the film's deficiencies, but I'm more lenient that most and I feel most of the readers of this column wouldn't have the patience for it.
---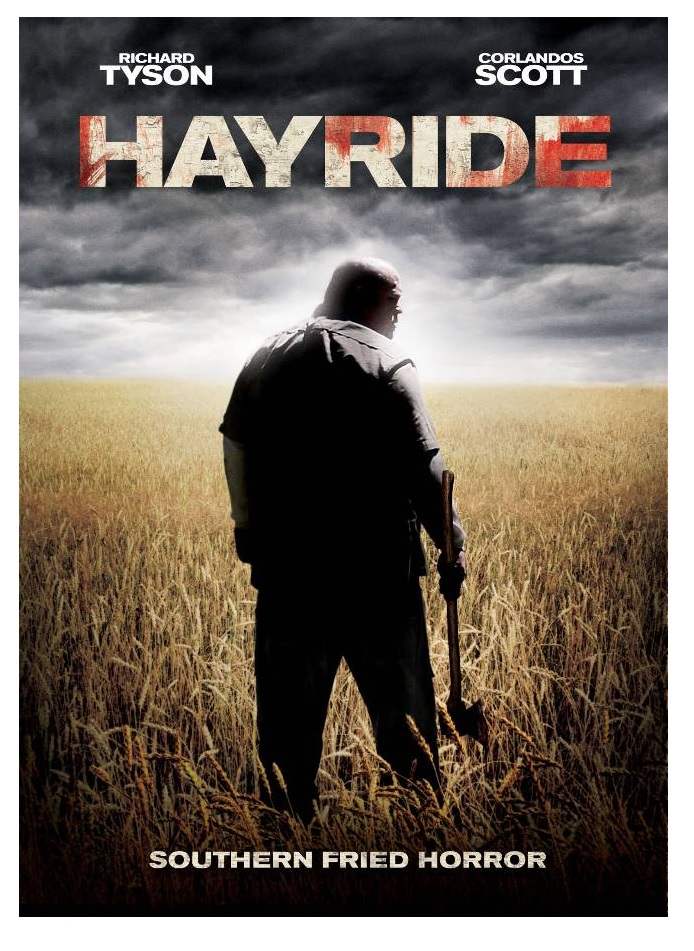 New this week on DVD from Midnight Releasing (Find this film on Netflix here!)!
HAYRIDE (2012)
Directed by Terron R. Parsons
Written by Terron R. Parsons
Starring Richard Tyson, Corlandos Scott, JD Evermore, Sherri Eakin, Jeremy Ivy, Jeremy Sande, Corlandos Scott, Kara Riann Brown, Shannon Box, Randy Hicks
Find out more about this film on Facebook here
Reviewed by Ambush Bug
Here's another low budgeter which aims high, yet is more successful than most in bringing home the scares. Films like DEAD ALIVE, EVIL DEAD, HILLS HAVE EYES, and the like were made on an ultra-low budget and still able to terrorize the audience, so I don't write off films when I see that they don't have multi-million dollar backing. Still, bad acting and a bad script can kill a film of any budget. Mix bad acting, bad script, and low budget together and you have a whole lotta bad. Still, though the acting is pretty amateur and the story isn't all too original, I think HAYRIDE has enough charm to be interesting to some more forgiving horror fans.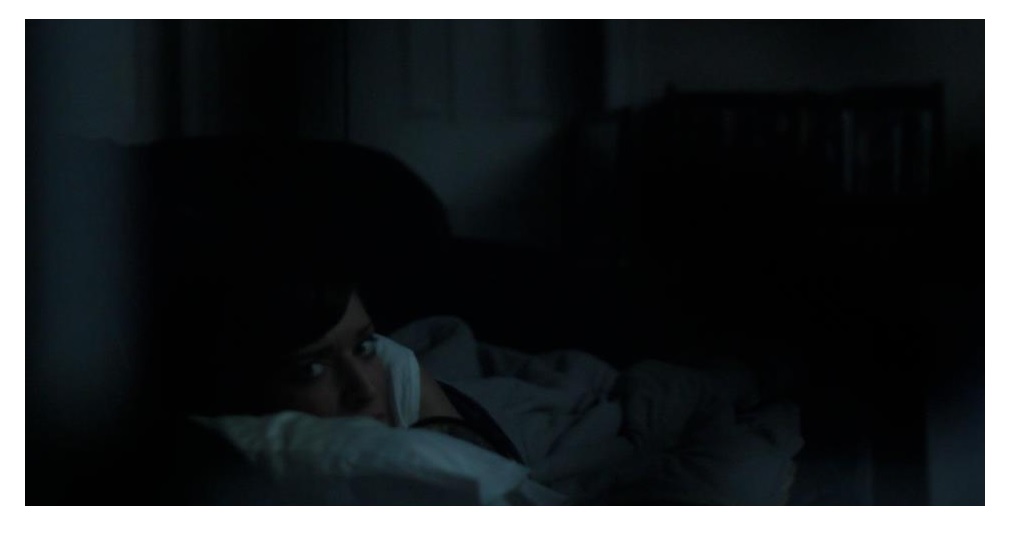 The film centers around a hayride haunted house sort of place which a small town looks forward to every year. A young man and his girlfriend return to his uncle's home to help him with putting the whole shebang together. What they don't know is that a serial killer has escaped while being transported to prison and is sitting in as one of the killers in the hayride. Contrived? Yep. Something we've seen before in films like FUNHOUSE? Sure. But still, it makes for a fun setup.
THREE O'CLOCK HIGH bully Richard Tyson leads a cast of people you've never heard of. It's pretty amazing that after all of these years, Tyson still looks a lot like he did as a high schooler. Here, he plays the crusty uncle who is in love with bringing the scary to his small town and does so with childish glee. Though some of these heart to heart talks with his nephews which he adopted after their parents died teeter on being sappy, it's believable coming from Tyson's mouth.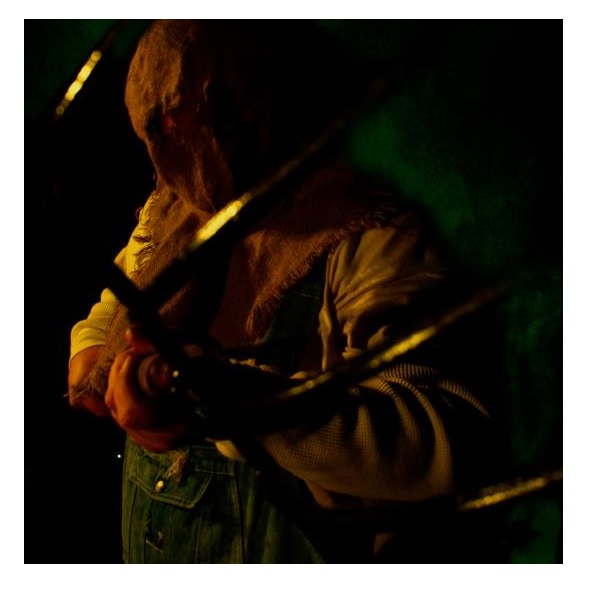 Unfortunately, the kills in HAYRIDE are pretty uninspired as the budget doesn't really lend much for that type of creativity. The script does make up for it a bit with a few twists that one wouldn't expect from a this type of low fi horror film, which made parts of this film a pleasant surprise.
Still, this film is pretty rough. Despite some clever twists, the film itself kind of peters about for an hour before remembering it's a horror film and rushes a bunch of kills at you to make up for it in the last half hour. HAYRIDE has some heart to it, which ends up saving it from being unwatchable.
---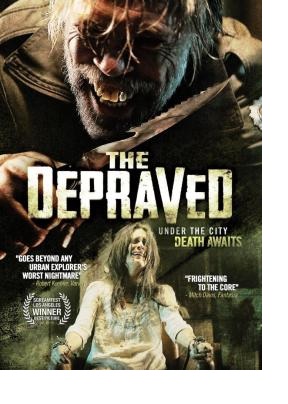 Coming soon from Uncork'd Entertainment!
THE DEPRAVED (2011)
aka URBAN EXPLORER
Directed by Andy Fetscher
Written by Martin Thau
Starring Nathalie Kelley, Nick Eversman, Max Riemelt, Brenda Koo, Catherine De Léan and Klaus Stiglmeier
Find out more about this film here and on Facebook here
Reviewed by Ambush Bug
This is a vicious little movie. A few parts THE DESCENT with a little Nazi terror tossed in and you've got THE DEPRAVED (which toured as URBAN EXPLORER in festivals). Personally, though URBAN EXPLORER sounds a bit like a Dwayne "The Rock" Johnson movie vehicle, I feel it rings much truer to the story itself than the more generic THE DEPRAVED, but what the hell do I know.<br.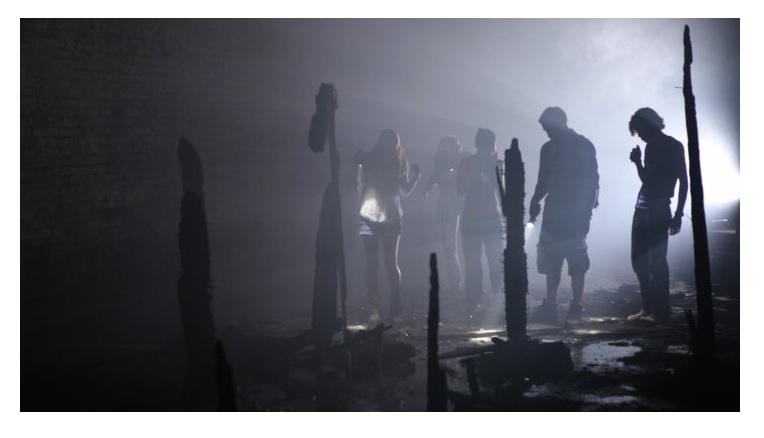 Whatever it's called, the film is a tense little number, following a group of tourists looking for thrills in Berlin. What they find is a less than legal underground tour experience where a guide leads them through the miles of tunnels that lay underneath the streets of Berlin, many of which have not been explored in decades. Sounds like the set up for a pretty effective horror film involving dark unknowns and claustrophobic spaces, and maybe some sadistic neo-Nazis who aren't too friendly to those just passing through to post interesting photos on Facebook. The group runs into a shady character and his dog while exploring, and after checking out some Nazi propaganda paintings that line the walls of the tunnels, they decide enough is enough and it's time to go back. But when their guide falls and cracks his ass open, the terror really begins.
What is most effective in THE DEPRAVED is the horrific environment the action takes place. The setting is a labyrinth, filled with tight spaces, uneven floors and walls, and all sorts of leaky pipes, cracked surfaces, and spooky ambiance. Even if a crusty leftover from WWII didn't show up to make the novice explorers' lives a living hell, it is a horrific place to set a movie.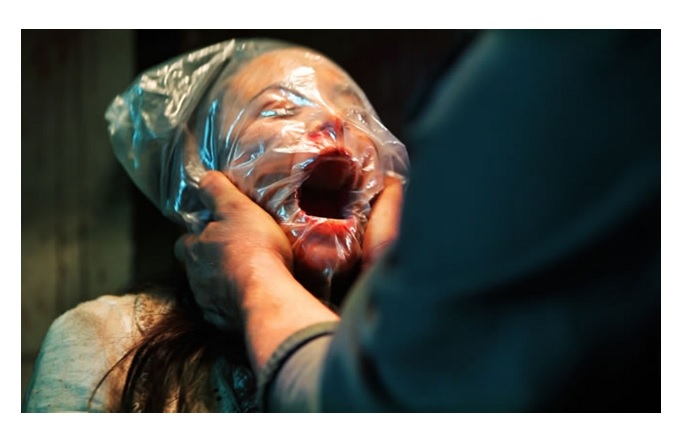 The other plus is that the aforementioned Nazi, played by Klaus Stiglmeier, is one sadistic bastard. Smart on his feet and full of resentment towards anyone who doesn't believe in "the cause", he is fully ready to skin anyone alive who crosses his path for his own sadistic pleasures (and does so a few times in this film). Like a Nazi Chainsaw family, the sadist lives amongst trophies of his past victims, hoarding piles of leftover wallets, ID's, phones, and other belongings he was able to vulture from his victim's corpses. Stiglmeier portrays this Nazi with cackling glee; his rough, wrinkled face and spaced out teeth make for a truly horrific villain.
THE DEPRAVED is not necessarily breaking new ground, but riffs off of things like TCM and THE DESCENT pretty well, while utilizing the thrill-seeking sadist vibe we saw in the first two HOSTEL films. Though it isn't for the squeamish, the director Andy Fetscher's camera doesn't linger on the torture and gore and focuses more on making the environment feel dangerous and tense. In that, I think THE DEPRAVED is a film worth exploring for those who want a little less sadism and a little more evil ambiance in their terror.
---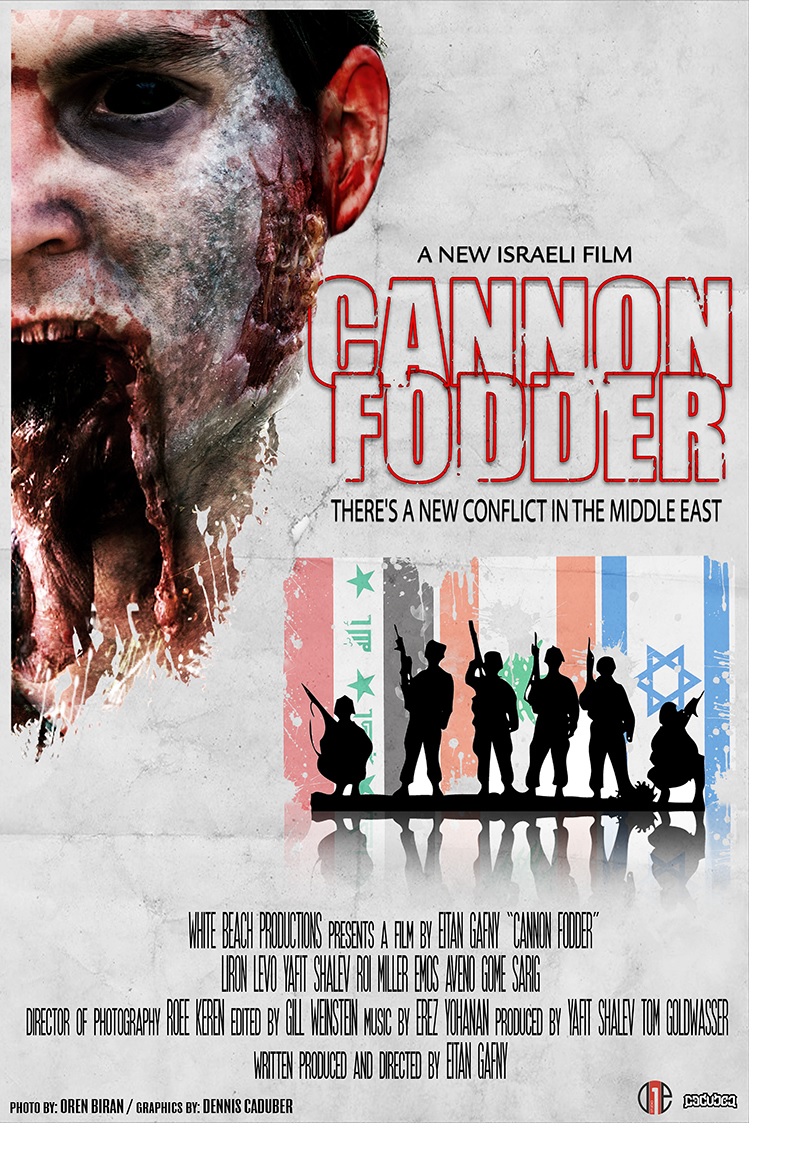 Advance Review! Touring fests; next playing at Crypticon in Seattle!
CANNON FODDER (2012)
Directed by Eitan Gafny
Written by Eitan Gafny, Amit Lior
Starring Emos Ayeno, Liron Levo, Roi Miller, Gome Sarig, Yafit Shalev,
Find out more about this film on Facebook here
Reviewed by Ambush Bug
I always find it interesting to watch foreign films when they try to make their version of a Hollywood movie. This is not meant to be a put-down to foreign filmmakers. More often than not, my favorite horror films of the year are often ones made outside of American borders. Still, when it comes to films like Israel's CANNON FODDER, the first zombie film ever to be made in the country, one can't help but feel as if most of the influence comes from 80's actioners more than anything else. But just when you think this is just an 80's action movie through another country's lens, this movie ingeniously shows what it's really about.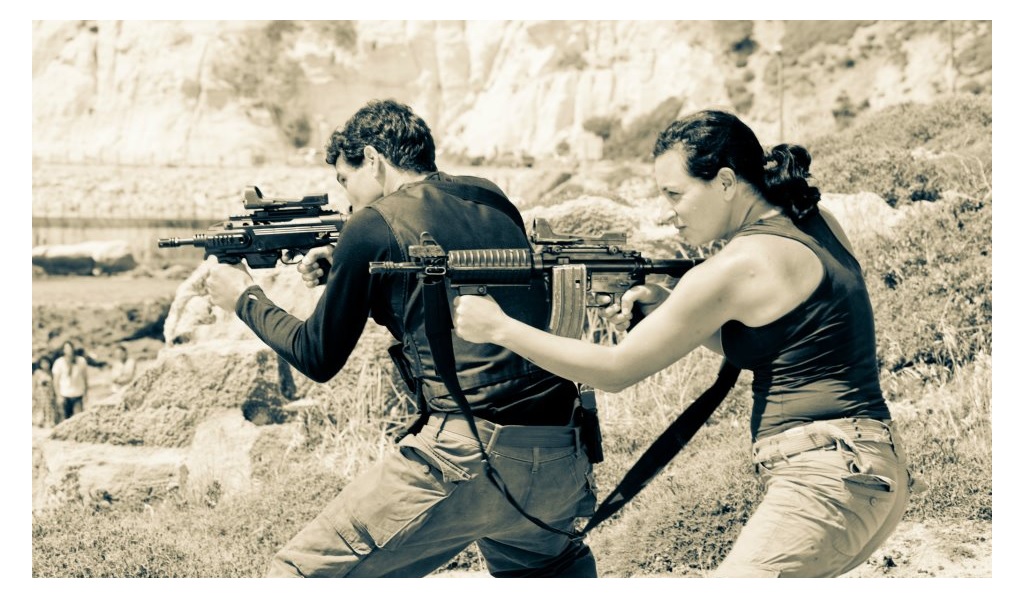 This makes for an interesting viewing experience. CANNON FODDER borrows heavily from the Rambo films, and Swarzeneggar's PREDATOR, as a group of black ops types are ordered to cross the Israeli border into Palestine to acquire a doctor. No more info is given to Doron (played by Liron Levo), who leads the group of grunts who are too busy being surly by tossing out racist slurs, chewing toothpicks, and cocking and recocking their guns in the transport over the border to question the lack of intel on their target. Turns out this doctor has created a plague of biblical proportions, causing the dead to rise and threatening to cross the border of Palestine over to Israel and the group are being sent into a zombie hot zone without knowing it.
Though the characters are stock performances from a million other 80's action films, the greatness in this film lies in the message it holds. Sure, one might look at the predicament and see that this Israeli film might be propaganda making the Palestinians the cause of the zombie apocalypse, but look a bit deeper and it highlights a bigger threat that unites the two warring fractions against a common enemy: the zombies. As the group finds a lone Palestinian woman survivor, they are forced to ignore their differences and rely on one another to survive. Though it's a horror film, there's a kind of beauty in that I can definitely appreciate.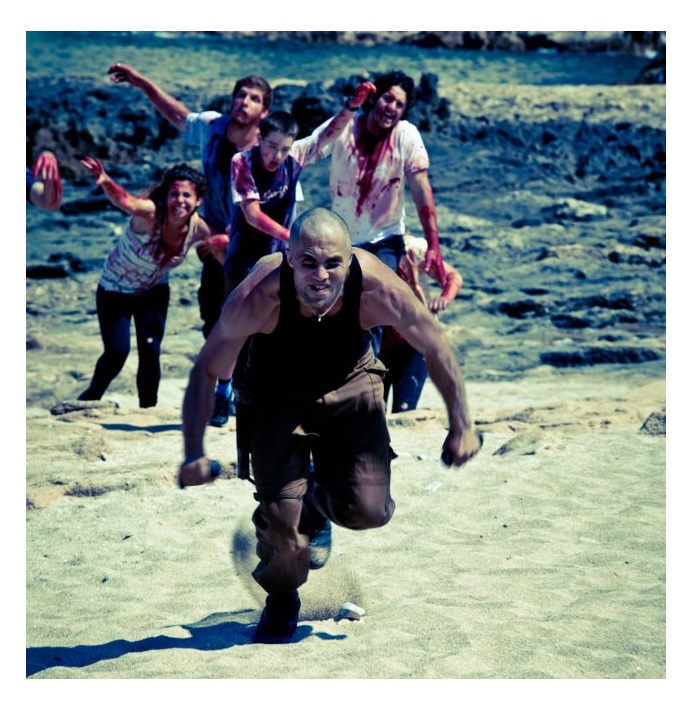 The film itself is dynamically directed and well acted. The gore is there, but it's not gratuitous or spectacle, though heads are split and blown apart when necessary. There are some nice action bits, but really, they isn't anything I haven't seen in a ton of other action or zombie films.
What makes CANNON FODDER stand out is the message it contains underneath. More so than any other movie monster, the zombie has proven time and again to be the one capable of the most thematic depth. They can represent the consumer, the homeless, those stricken with AIDS, or even man's fear of death itself. Here, oddly enough, the zombies represent athe hope for peace and that shared love of life that unites even the most bitter of enemies. Touring the festival circuit, CANNON FODDER is a zombie film I can't help but cheer for with the thematic depths of its message and for the loads of action tropes and mayhem riddled throughout.
---
And finally…as I finished up my A NIGHTMARE ON ELM STREET BluRay reviews this week, I realized I never posted this Freddy-inspired tune. Though it's an unofficial song it's arguably the one everyone remembers the most. Marvel at the jazzy freshness of this fan-made video of A NIGHTMARE ON MY STREET made from clips from the films!
See ya next week, folks!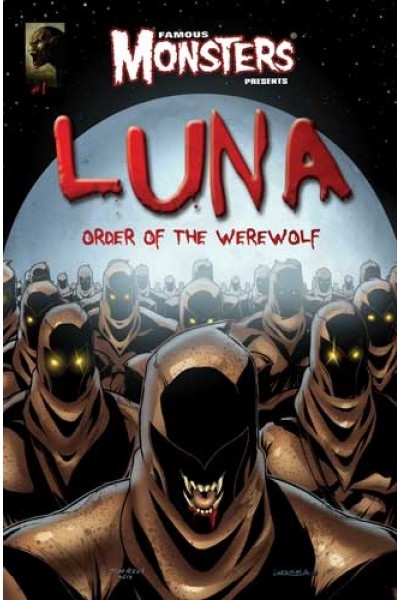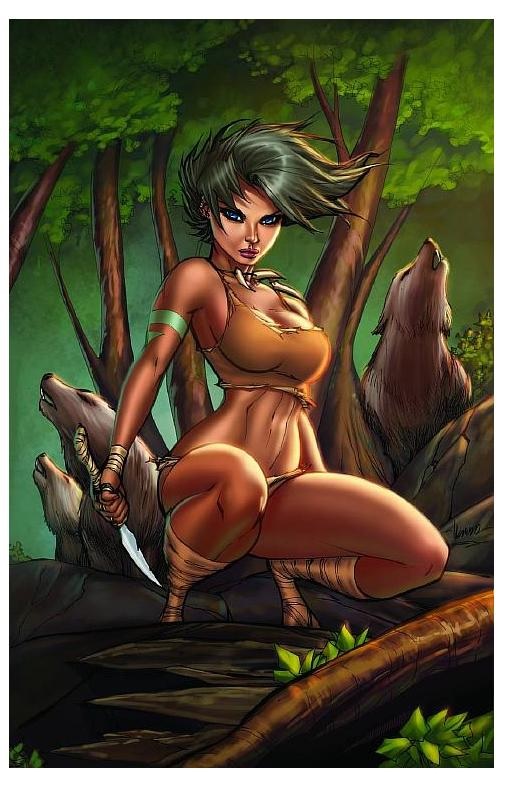 Ambush Bug is Mark L. Miller, original @$$Hole/wordslinger/writer of wrongs/reviewer/interviewer/editor of AICN COMICS for over 12 years & AICN HORROR for 3. He has written comics such as VINCENT PRICE PRESENTS THE TINGLERS & WITCHFINDER GENERAL, THE DEATHSPORT GAMES, & NANNY & HANK (soon to be made into a feature film from Uptown 6 Films). He has co-written FAMOUS MONSTERS OF FILMLAND's LUNA: ORDER OF THE WEREWOLF (to be released in 2013 as a 100-pg original graphic novel). Mark wrote the critically acclaimed GRIMM FAIRY TALES PRESENTS THE JUNGLE BOOK from Zenescope Entertainment & GRIMM FAIRY TALES #76-81. Look for GRIMM FAIRY TALES PRESENTS THE JUNGLE BOOK: LAST OF THE SPECIES available in February-July 2013 and the new UNLEASHED crossover miniseries GRIMM FAIRY TALES PRESENTS WEREWOLVES: THE HUNGER #1-3 available in May-July 2013! Follow Ambush Bug on the Twitter @Mark_L_Miller.
---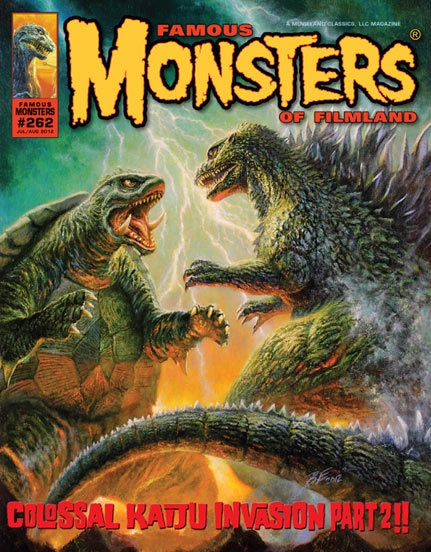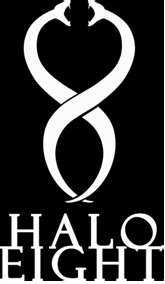 Check out the FAMOUS MONSTERS OF FILMLAND Website for all things horror!


Interested in illustrated films, fringe cinema, and other oddities?
Check out Halo-8 and challenge everything!



---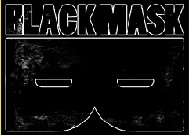 Find out what are BLACK MASK STUDIOS and OCCUPY COMICS here and on Facebook here!





---
Find more AICN HORROR including an archive of previous columns on AICN HORROR's Facebook page!