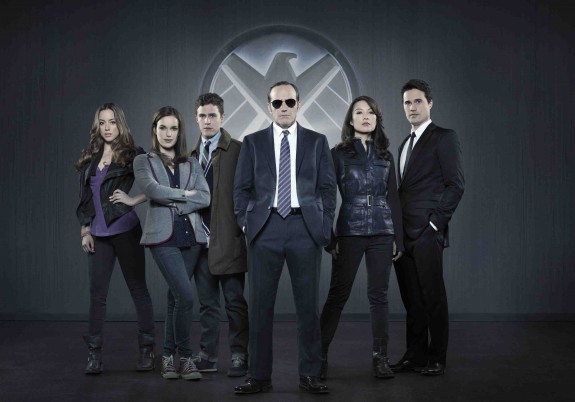 "Agents of SHIELD," from "Avengers" writer-director Joss Whedon, is going to series, ABC announced late Friday.
The big promo for the series (above) first ran during Sunday's seaon finale of "Once Upon A Time."
Whedon co-wrote and directed the "SHIELD" pilot, in which Clark Gregg reprises his "Iron Man"/"Thor"/"Avengers" role: Nick Fury's right hand, senior SHIELD agent Phil Coulson.
Whedon, who wrote or co-wrote "Toy Story," "Speed," "Alien: Resurrection" and "Cabin in the Woods," wrote and directed "Serenity" and "Doctor Horrible's Sing-Along Blog." He is also the creator of the acclaimed TV series "Buffy the Vampire Slayer," "Angel," "Firefly" and "Dollhouse." His next big-screen directorial efforts are "Much Ado About Nothing" and "The Avengers 2."
We still don't know if ABC will air it in the fall or make us wait till midseason. ABC announces its 2013-14 slate on Tuesday.
ABC describes:
Clark Gregg reprises his role of Agent Phil Coulson from Marvel's feature films as he assembles a small, highly select group of Agents from the worldwide law-enforcement organization known as S.H.I.E.L.D. Together they investigate the new, the strange, and the unknown across the globe, protecting the ordinary from the extraordinary. Coulson's team consists of Agent Grant Ward (Brett Dalton), highly trained in combat and espionage, Agent Melinda May (Ming-Na Wen) expert pilot and martial artist, Agent Leo Fitz (Iain De Caestecker); brilliant engineer and Agent Jemma Simmons (Elizabeth Henstridge) genius bio-chemist. Joining them on their journey into mystery is new recruit and computer hacker Skye (Chloe Bennet). From Executive Producers Joss Whedon ("Marvel's The Avengers," "Buffy the Vampire Slayer"); Jed Whedon & Maurissa Tancharoen, "Marvel's Agents of S.H.I.E.L.D." pilot co-writers ("Dollhouse," "Dr.Horrible's Sing-Along Blog"); Jeffrey Bell ("Angel," "Alias"); and Jeph Loeb ("Smallville") comes Marvel's first TV series. "Marvel's Agents of S.H.I.E.L.D." is produced by ABC Studios and Marvel Television.