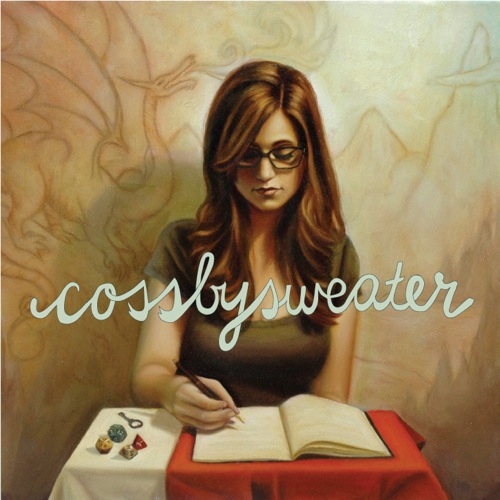 Beaks here...
Allison Goertz aka Cossbysweater has written some of the catchiest songs about nerdy topics since Paul McCartney and Wings gave us "Magneto and Titanium Man". Over the last year, she's composed tunes about THE HOBBIT, FREAKS AND GEEKS, THE JERK, ARRESTED DEVELOPMENT and other pop cultural obsessions, pouring her soul into the subject matter with an unabashedness that goes far beyond novelty songwriting. It's a genuine engagement with romance, heartbreak and all that other good/awful stuff via the dorky media we ravenously consume. You haven't touched the depth of Milhouse's existential angst until you've heard Cossbysweater plaintively address it.
I was a fan of Goertz's music before we got shitfaced and talked Bond movies last year, but when you drain six martinis with someone, a bond forms. Since then, she's sold out Largo, recorded a album and shot a lovely video with director Wendy McColm. The album came out this week, and the video premiered online today, so this is the opportune time to encourage you to check out her music if you haven't already (I encountered a lot of AICN readers at Goertz's Nerdist show last Saturday, so I know there's a good deal of overlap here.) Here's the video...
And here's where you can purchase the CD. Folks like Peter Jackson, Patton Oswalt and Mike Scully are fans. You should be, too! And keep your eyes peeled for Goertz on the new season of ARRESTED DEVELOPMENT when it premieres later this month on Netflix.