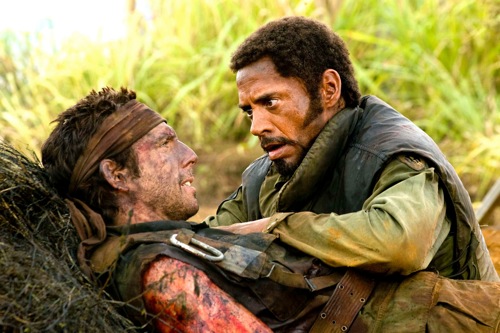 Beaks here...
For some reason, Robert Downey Jr. is hot to make a PINOCCHIO movie. He actually pitched the idea to Warner Bros a while back, and got Tim Burton attached to direct. The screenplay, originally written by Bryan Fuller and reworked by Jane Goldman, apparently sticks close to the original intent of Carlo Collodi's tale, with Downey envisioning Geppetto as a cross between Chico Marx and Jake LaMotta (and we all know how much kids love Jake LaMotta). It sounds... interesting?
In any event, development hit a snag when Burton was forced to drop out recently. During the IRON MAN 3 press junket, Downey suggested Ben Stiller might be a decent replacement. What seemed like idle chatter a week ago is now, according to Deadline, actually happening. Ben Stiller is in talks to direct Robert Downey Jr. in PINOCCHIO!
There have been several live-action versions of PINOCCHIO over the years, and almost all of them are completely fucked up (Roberto Benigni's film verges on child abuse). Downey and Stiller aren't the most well-adjusted fellows, so I'm curious to see what they do to this enduring story of a marionette who wants to be a real boy. Personally, I hope they incorporate elements from the finest take on this enchanting material, THE EROTIC ADVENTURES OF PINOCCHIO, starring Dyanne Thorne. As the poster proclaimed, "It's not his nose that grows..."
This video is NSFW.