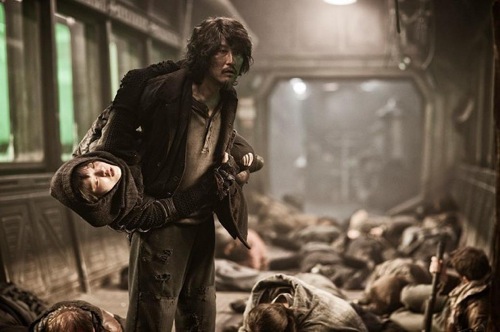 Beaks here...
One 2013 film that's been flying under the radar is Bong Joon-ho's SNOWPIERCER. Based on a graphic novel by Benjamin Legrand and Jacques Lob, the 2031-set film takes place on a train carrying the sole surivors of an ice age. This is Bong's first English-language film, and if it's anywhere near the level of MEMORIES OF MURDER, THE HOST or MOTHER, it could be one of the best films of year.
Bong's assembled a tremendous cast for this one: Chris Evans, John Hurt, Ed Harris, Tilda Swinton, Jamie Bell, Octavia Spencer, Alison Pill, Ewan Bremner and, of course, the great Song Kang-ho. There's no release date yet, which makes me wonder if this might get held until 2014 in the U.S.
In any event, here's a brief behind-the-scenes featurette that at least gives you a sense of the visual style being employed by Bong.