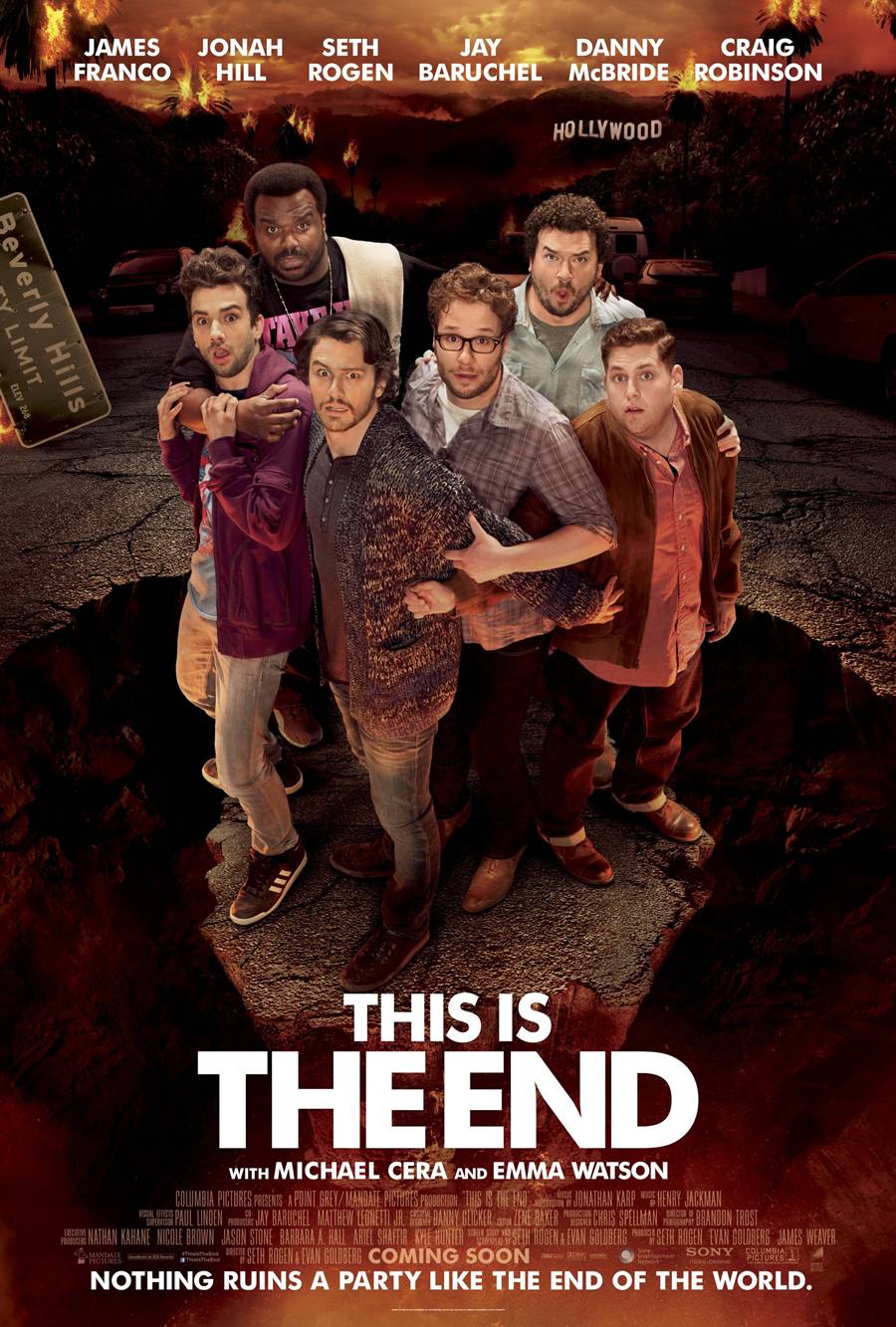 Nordling here.
On Tuesday night, I saw PAIN & GAIN (review forthcoming) but just down the hall I saw a bunch of young whippersnappers linging up for another secret screening. It was there I saw Sancho, who gladly informed me that they were seeing THIS IS THE END, this summer's Franco/Rogen/Baruchel/Hill/Robinson/McBride apocalyptic comedy. Unfortunately I couldn't get access to that screening, as I was probably over 20+ years older than the demographic hand-picked audience, but Sancho said he'd happily send in a review.
Apparently Sancho really dug it, because he got me the review pretty quickly. And yes, before all the cries of potted shrubbery take place in Talkback, I know this reviewer. No Anthophyta is he. Here's his spoiler-free review:
Hey Nordling, I attended an early screening of THIS IS THE END in Houston. I can't remember the last time I got to see a movie this early before its actual release date since ATACK THE BLOCK (by the way was one of my favorite screenings ever). When the red band trailer came out I knew it was a must see for the summer. Most trailers for comedy movies and scary movies give up most of its goods in the marketing. Which is a shame because it does affect the punchline or comedic surprise in most movies. Lucky for us, there's still tons of surprises in store.

The original short Jay and Seth vs. The Apocalypse just had Jay Baruchel and Seth Rogen as the only survivors of the end of the world. Through the years it evolved into having more actors and a change of scenery. The story is pretty simple, The movie starts with Seth picking up Jay from the airport. Jay isn't very fond of L.A. and pretty much hates Seth's friends. So the idea of going to James Franco's party sounds like hell for Jay. Which leads to a bunch of funny situations between the cast.

I won't go into deep analysis of each part of the movie but for the most part, the movie worked. Every actor does their job acting as what people would think they would act. Franco has the money and "art". Jonah does his schtick, Danny acts like an asshole, and Jay is the straight one or so it seems until he realizes he is still stuck with everyone else for the apocalypse for a reason. This is the end might be the funniest movie since PINEAPPLE EXPRESS from Seth and his gang of collaborators. People who love those type of movies will enjoy this.

The things that didn't work are few. There's some scenes in the beginning of the party that could have been made funnier with so many comedian cameos there and some bits of the movie where the improve is flat or goes on a little too long. It never ruins the experience although I would have loved to see more funny gore by Greg Nicotero (I was surprised to see him in the credits)

Hopefully this review shed a little more light on what's in store from the minds of Seth Rogen and Evan Goldberg. There is one cameo I hope that is not leaked by people online or through wikipedia. I haven't seen it online yet so lets hope its stays that way (p.s. its not Thanos). THIS IS THE END is the movie you would expect a bunch of friends would make for their audience unlike that bad after taste of GROWN UPS.
If the cameo that Sancho is referring to is the one in the trailer, sorry, bud, too late. Hell, it's on the damn poster. THIS IS THE END opens June 12th.
Nordling, out.