A few days back we saw a shiny new trailer for STAR TREK INTO DARKNESS which gave us our first substantive look at a big, big, unnice looking Starfleet-ilk spaceship which has it out for Enterprise.
Via STAR TREK's mobile app yesterday, The Powers That Be now bring us an even clearer sense of that vessel - the USS Vengeance.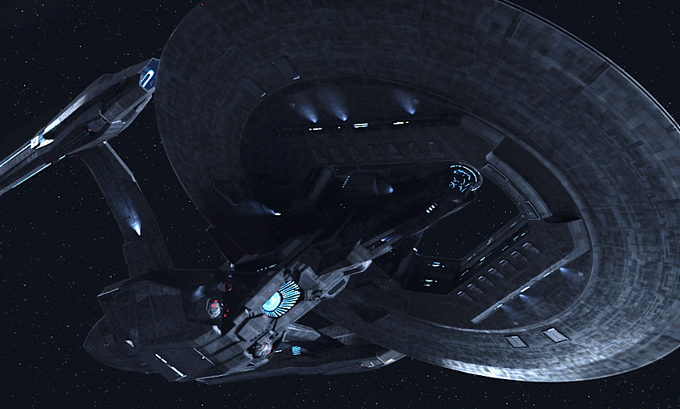 Given those persistent rumors regarding the true identity of Cumberbatch's character...and the fact that he evidently flies around in this monster...one has to wonder if...perhaps...this ship's name isn't a play on words/homage to the original subtitle of STAR TREK II back in 1982: THE VENGEANCE OF KHAN. I have no absolute knowledge that this is the case...just pointing out one dynamic which may be at play here.
As for the design itself? I can see a touch of Picard's Enterprise E (STAR TREK's FIRST CONTACT/INSURRECTION/NEMESIS) - and that saucer section harkens back to THE NEXT GENERATION's Enterprise D. Which means nothing at all, but is in keeping with the rumored 'next level' nature of the vessel.
We've glimpsed this ship's bridge in numerous Cumber-centric trailer shots, but this pic of JJ on set has afforded us our best look to date (pretty sure this bridge matches the Vengeance above). This one's EMBIGGENABLE!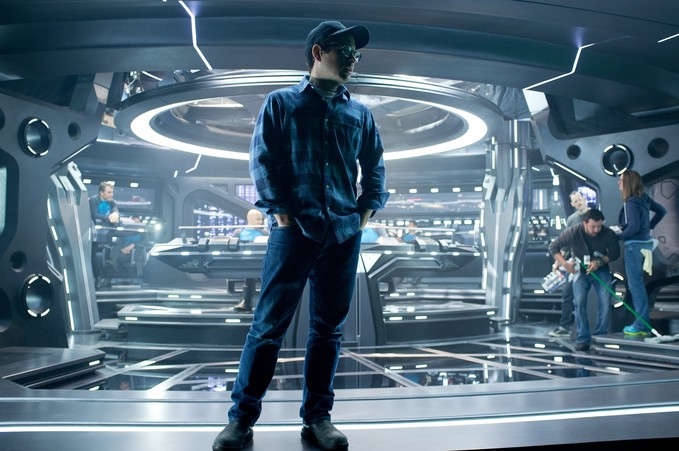 Meanwhile, a new Japanese spot offers a few sequences we've yet to come across. TrekMovie put it on YouTube - and here it is!
-------------------
Glen Oliver
"Merrick"
- e-mail
- Twitter
- Google +