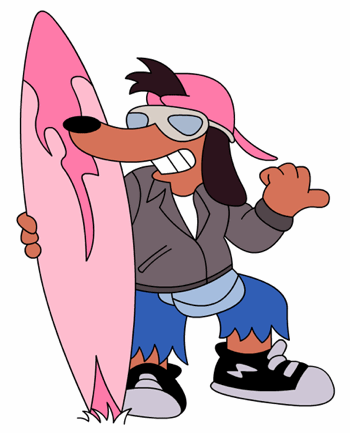 Beaks here...
It's important to remember that Kathryn Bigelow's POINT BREAK isn't going anywhere. You'll be able to watch it over and over on Blu-ray until you cross the line, at which point you've gotta go down. Now that we've got that out of the way... this is 100% pure horseshit.
POINT BREAK is a lightning-in-a-bottle movie. It's a full-throttle '90s action flick about surfers who rob banks while wearing masks of former U.S. Presidents. It is as soulful as it is stupid - and I mean that as a genuine compliment. It is one of two movies we'll show our children when they ask us, "Why was Patrick Swayze such a big deal?"
I have no quarrel with remakes, but, from a business perspective, I don't understand why you'd fuck with POINT BREAK. Everything that people love about it is specific to the era in which it was made. And if your big idea is to substitute extreme sports for surfing, your film is essentially a punch line from a sixteen-year-old episode of THE SIMPSONS. This is pandering, and your target demo is going to sniff it out right away. Also, unless you wind up falling back on surfing, you've rendered the title completely meaningless. Nice work.
Veteran cinematographer and occasional director Ericson Core will be at the helm for this pricey exercise in futility. He'll be working from a screenplay by Kurt Wimmer, a writer I like despite his involvement in 2012's most unecessary remake, TOTAL RECALL. The whole "extreme sports" angle completely kills my interest in the movie, but someone on Twitter had a halfway decent suggestion for the leads: Joseph Gordon-Levitt as Johnny Utah and Brad Pitt as Bodhi. Unfortunately, the producers will probably take the Colin Farrell route. In fact, they'll probably cast Colin Farrell.
If you copy-and-paste the press release, it looks like this...
LOS ANGELES, CA., APRIL 10, 2013 – Ericson Core ("Invincible") will direct the feature film remake of the classic 1991 action-thriller POINT BREAK for Alcon Entertainment, it was announced by Alcon co-founders and co-CEO's Broderick Johnson and Andrew Kosove.

Kosove and Johnson will produce along with Michael DeLuca, John Baldecchi, Chris Taylor and Kurt Wimmer ("Salt," "Law Abiding Citizen," upcoming "Total Recall"), who also wrote the screenplay. RGM Media principal Devesh Chetty and investor John McMurrick, Chairman of Marloss Entertainment, will serve as Executive Producers.

The new version of the film is set in the world of international extreme sports, and like the original involves an undercover FBI agent infiltrating a criminal ring. The filmmakers are keeping other plot points under wraps.

Known for his cinematography work on the box office success "The Fast and the Furious" for Universal Pictures and "Daredevil" for 20th Century Fox, Core made his directorial debut with Disney's "Invincible" starring Mark Wahlberg.

The Kathryn Bigelow original, starring Keanu Reeves, Patrick Swayze and Gary Busey, was produced by Largo Entertainment and released by Fox. The film went on to become an instant classic and remains beloved by the youth culture around the world.

Principal photography is set to begin at the end of the year. Alcon will release through its output deal with Warner Bros.

Alcon principals Kosove and Johnson secured rights to the project from RGM Media, John McMurrick and Chris Taylor in 2011. In addition to the feature rights, Alcon has also secured television and gaming rights to POINT BREAK.

Core is repped by David Gersh at the Gersh Agency.