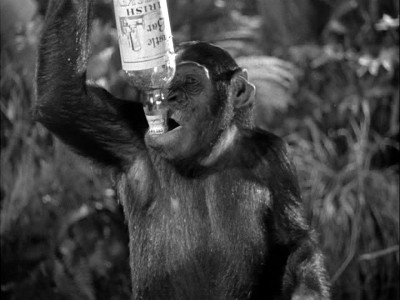 Beaks here...
How long has TARZAN been in development at Warner Bros? Well, here's a link to my now ten-year-old (and now unreadable) interview with John August, where we discussed his participation in the studio's development of a new, modernized TARZAN film. That film never came to pass... nor did the Guillermo del Toro version a few years later... nor did Stephen Sommer's version... nor did Craig Brewer's version...
And now, according to Deadline, the David Yates version is falling apart. This iteration got further down the road than most. Alexander Skarsgard had been cast as the titular Lord of the Apes, Jessica Chastain was in talks to play Jane, and Samuel L. Jackson was attached to play a Civil War veteran seeking redemption for his role in the massacre of Native Americans. The story centered on Tarzan and the Civil War vet teaming up to fight a Congolese warlord who controls a massive diamond mine. I'm not sure how much of this screenplay belonged to Brewer and how much was derived from Adam Cozad's (JACK RYAN) draft, but the project was promising enough to get some great, heavily-in-demand actors interested.
And that's the problem. When a film's development drags on for too long, these actors find other things to do. So when a 2013 start date began to look unlikely, the actors (and their representation) got a little antsy. Fleming's story also blames an inflated budget for the film's development woes; he doesn't quote a figure, but I'm sure, for a franchise launch like this, it was well north of $100 million.
With the production office allegedly getting shut down, this would appear to signal the end of Yates's run on TARZAN; however, Fleming reports that WB is sticking with the HARRY POTTERs 5-7b director for the time being. Given his vast television background, Yates is, practically speaking, a solid choice: he's adaptable, able to work quickly, and not prone to fussiness. He may not be a visionary, but he can tell a ripping good yarn. I'm fine with that, and I imagine WB is, too... for the right price. Perhaps they can convince the shaggy mastermind of Hugh Hudson's GREYSTOKE: THE LEGEND OF TARZAN, P.H. Vazak, to bang out a serviceable script.