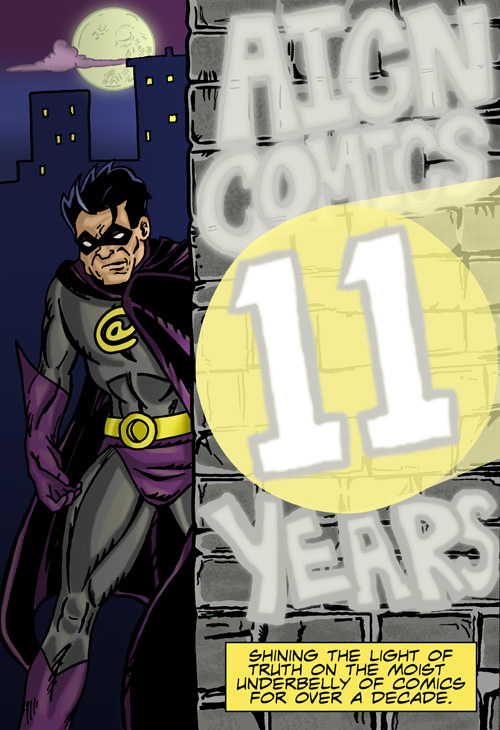 The Pull List

(Click title to go directly to the review)
Advance Review: TWELVE REASONS TO DIE #1
ACTION COMICS #19
HARBINGER WARS #1
INDESTRUCTIBLE HULK #6
Indie Jones presents THE LONGHUNTERS #4
DEADPOOL #7
SWAMP THING #19
UBER #0
Advance Review: THEREMIN #1
Masked Man's The Good, The Bad, & The Ugly!
---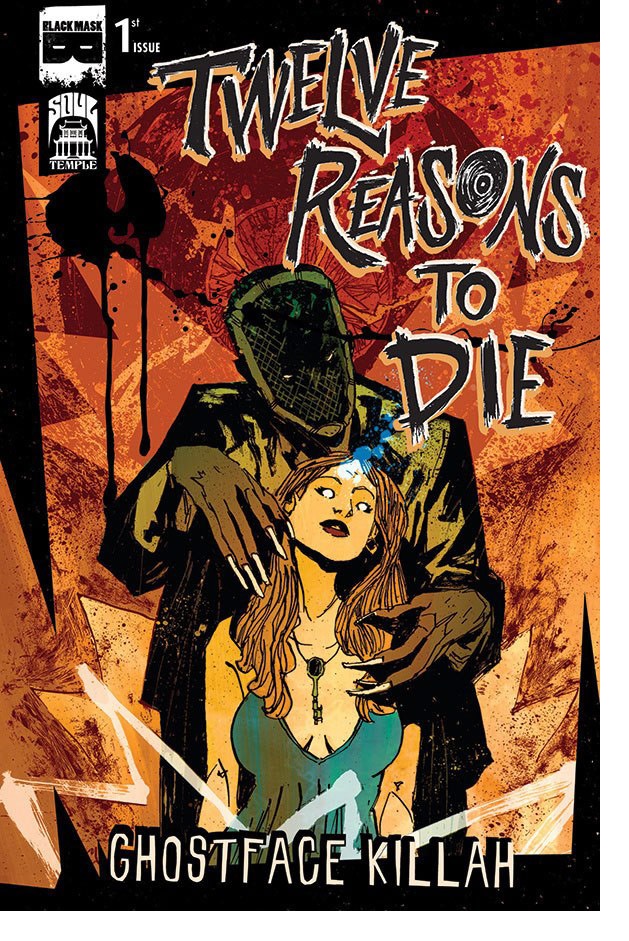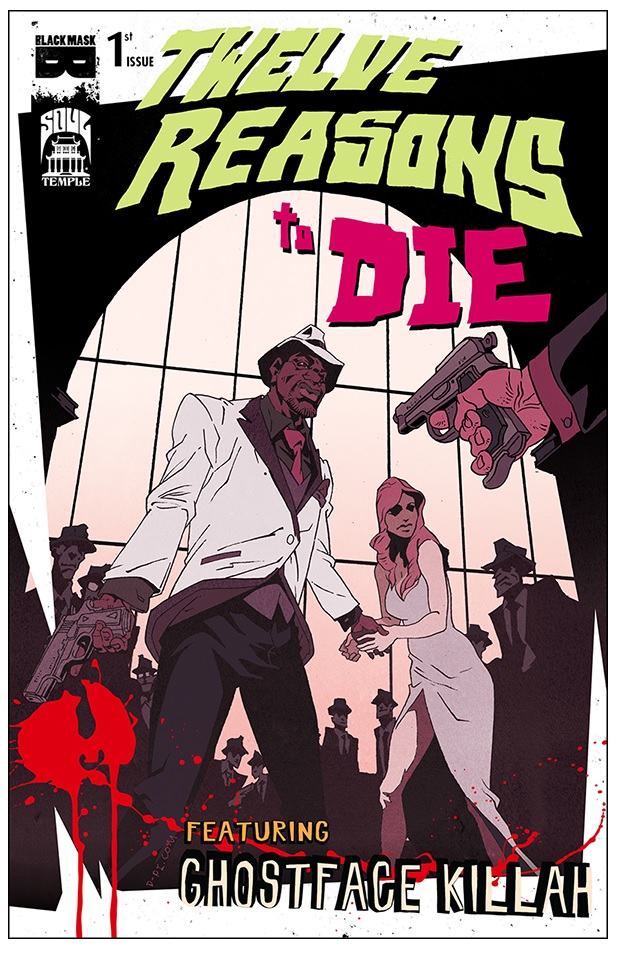 Advance Review: In stores May 29th!
TWELVE REASONS TO DIE #1
Writers: Ghostface Killah, Adrian Younge (creators), Adrian Younge, Ce Garcia, Matt Rosenberg (story), Matthew Rosenberg, Patrick Kindlon (writers)
Illustrators: Breno Tamura, Gus Storms, Kyle Strahm, Joe Infurnari
Publisher: Black Mask
Reviewer: Ambush Bug
Any fan of Ghostface Killah's work understands the rap artist's love for comics, kung fu, and other genre coolness. Ghostface's first foray into comes in the form of TWELVE REASONS TO DIE, a new high concept/high quality comic from the company behind the upcoming OCCUPY COMICS book, Black Mask. This being the comic company's first release, they must think they have something special here and after reading it, I now know why they put this at the top of their release list.
The story is an expansive one that doesn't really show all of its cards until the last page of issue one. What appears to be four unrelated vignettes come together by the end of this issue and to be fair to this book, I'll talk about all four of them.
Opening with a history lesson of sorts, we walk through the years when organized crime was formed starting back before Mussolini's time in power. The story offers an interesting slant of the highs and lows, the goods, the bads, and the fuglies of the mob, ending with a run in with the wrong gangsta (who just so happens to looks a lot like Ghostface himself). We then switch to a run in with a thug and a creepy ass herd of sheep that ends even creepier. Finally we zip to an auction where a man acquires a collection of rare records. Bringing his spoils to his benefactor, we finally see all of the threads come together as it is revealed that the record is one of a set tied to many significant and gruesome deaths. And thus, an intricate and complex plot unfolds.
TWELVE REASONS TO DIE starts with a bang, but leaves with enough to entice a return for the next issue with the promise of these themes being explored in future issues of this 9 issue series. The selection of artists is fantastic in this issue, as each seem to match the tone. Some of them, such as the first installment by Breno Tamura and the final installment by Gus Storms have a very gritty Klaus Jansen feel by way of the nourish panels of Shawn Martinbrough, while the flashback scenes are more experimental and surreal from Kyle Strahm & Joe Infurnari. The story reads fast and left me longing for the second issue, if only to soak in the varied and gorgeous artwork.
I feel as if only the tip of the iceberg has been revealed in this first issue with much ass kicking, gore plattering, and just plain cool shit to come. So far we have creepy sheep, a haunted record collection, and the mob—three things I'd never thing I'd thread together in the same sentence, but somehow, some way, it all works out to be pretty damn intriguing.
TWELVE REASONS TO DIE #1 will be released late next month. It's a powerful lead from what looks to be a powerhouse company in Black Mask with creators such as Steve Niles and Darek Robertson taking the creative reigns with upcoming titles. I'll be keeping a close eye on what Ghostface and his crew have in store for us with TWELVE REASONS TO DIE. With this first issue, so far, it's so so good.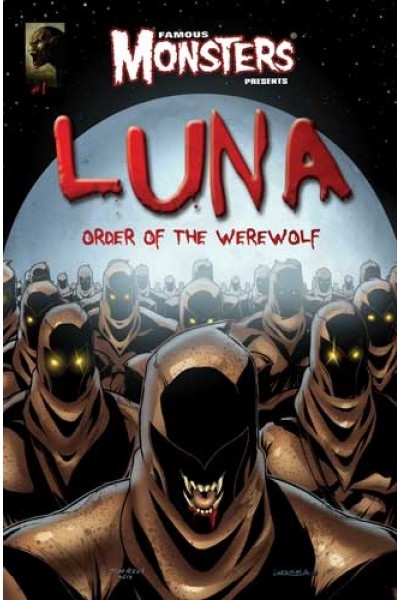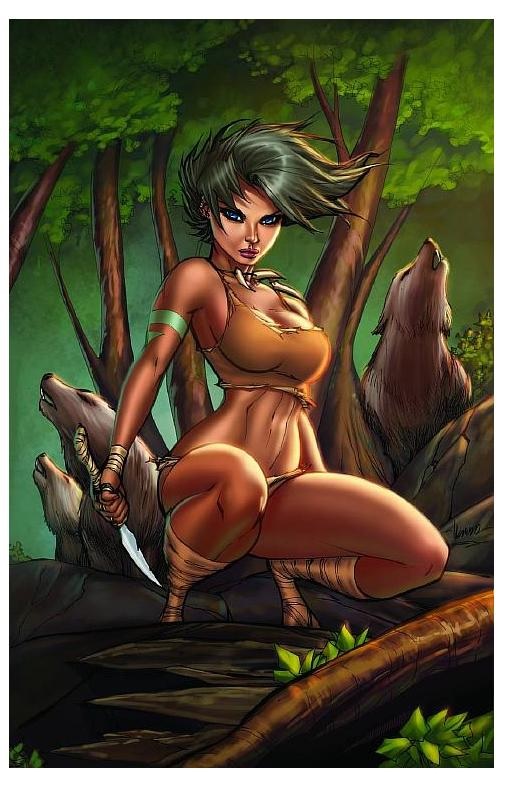 Ambush Bug is Mark L. Miller, original @$$Hole/wordslinger/writer of wrongs/reviewer/interviewer/editor of AICN COMICS for over 12 years & AICN HORROR for 3. He has written comics such as VINCENT PRICE PRESENTS THE TINGLERS & WITCHFINDER GENERAL, THE DEATHSPORT GAMES, & NANNY & HANK (soon to be made into a feature film from Uptown 6 Films). He has co-written FAMOUS MONSTERS OF FILMLAND's LUNA: ORDER OF THE WEREWOLF (to be released in 2013 as a 100-pg original graphic novel). Mark wrote the critically acclaimed GRIMM FAIRY TALES PRESENTS THE JUNGLE BOOK from Zenescope Entertainment & GRIMM FAIRY TALES #76-81. Look for GRIMM FAIRY TALES PRESENTS THE JUNGLE BOOK: LAST OF THE SPECIES available in February-July 2013 and the new UNLEASHED crossover miniseries GRIMM FAIRY TALES PRESENTS WEREWOLVES: THE HUNGER #1-3 available in May-July 2013! Follow Ambush Bug on the Twitter @Mark_L_Miller.
---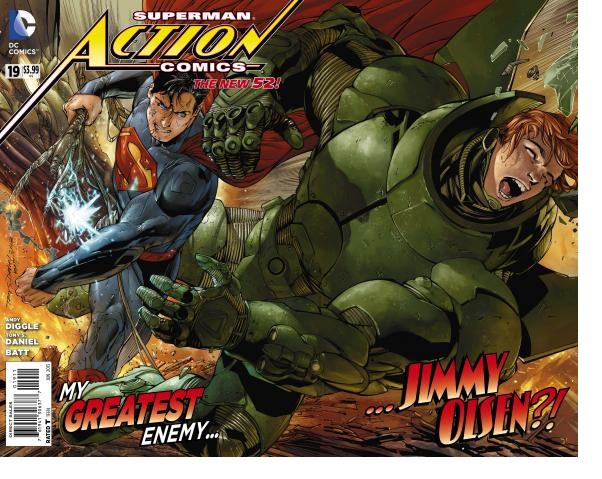 ACTION COMICS #19
Writer: Andy Diggle
Artist: Tony S. Daniel
Publisher: DC Comics
Review: Mighty Mouth
After reading ACTION COMICS #19, I found myself in a state of both absolute delight and sheer frustration. (I know it's a little vague, but hang in there).
If, like me, you haven't enjoyed much of the New 52's handling of Superman thus far, ACTION COMICS #19 is the equivalent of having a prayer answered. I'd even go so far as to say, I'd be overjoyed if DC issued an official statement to fans that they should disregard all previous New 52 Superman stories and take this as a fresh new start for the Man of Steel-- a reboot for the reboot, if you will.
From the first five pages alone it's evident that writer Andy Diggle gets it. His take on the cast is simply spot on. Diggle manages to make relations between Clark and Lois feel familiar and yet renewed at once. There is just something right about those two bringing some much-needed sexual tension to this book. When Clark sheds his disguise and takes to the air as Superman, Diggle does it again. He portrays Superman with a reverence for the character's classic demeanor, but also makes it clear as crystal why you don't tug on Superman's cape. The Man of Steel's thought captions sum it up best: "I tried to be reasonable. Didn't throw the first punch. I'll throw the last". As if nailing Big Blue and his femme fatale wasn't enough, Lex Luthor is also given his due. Diggle's Luthor isn't just an evil genius, he's downright intimidating. By the issue's end you get a good understanding why Superman's greatest adversary is some guy with no hair.
In the event that you're not familiar with the magnificent artwork of Tony S. Daniel, let me just say you are in for a real treat here. Daniel's art really allows Superman to soar in every sense of the word. His characters are detailed and vibrant as ever, and his action sequences hold nothing back. Even when the story's focus is on mundane things, these panels almost leap off the page and have little trouble seizing your attention. Well done, Mr. Daniel.
So with all of these positive things to say, why would I feel even the minutest amount of vexation with ACTION #19? I'll tell you why: I just learned that Diggle is already off this title. The details of his quitting the book aren't exactly clear. Who knows if this is a case of a new opportunity or editor interference; regardless, it still stinks out loud. Just when you thought it was safe to look up in the sky again, this crap happens.
Oh well; here's hoping the much-needed kick in the cape Diggle brought to ACTION COMICS continues in his absence. At least Daniel is sticking around for the time being.
Godspeed, Andy--you are already missed.
---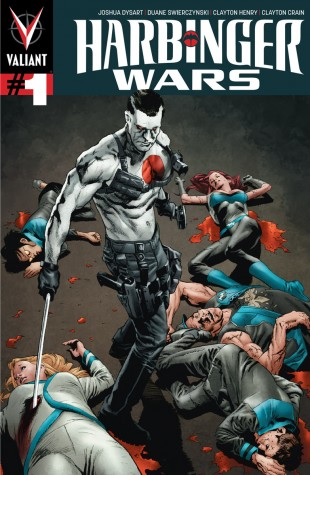 HARBINGER WARS #1
Writers: Joshua Dysart, Duane Swiercyznski
Artists: Clayton Henry, Clayton Crain, Mico Suyan
Publisher: Valiant Entertainment
Reviewer: Optimous Douche
A week or two ago I railed on the lack of inspiration in STORMWATCH--a team that used to be comprised of really cool powers doing bad-ass stuff that has essentially been neutered by continuity. I have a message for DC right now: read the "official" introduction of the new Psiots in HARBINGER WARS #1 and try to buy the rights to this team. They are the coolest set of powers in town and this is the damned coolest book because it finally brings together two other big buckets of awesome sauce: Team Harbinger and the super powered messiah Bloodshot.
As fans we bemoan crossovers, but really we're the last that should complain. Crossovers are the zenith of fan service, while they truly shun new readers. It's an amalgam of characters we love doing something epic. The trick is not to make a crossover required reading. Where the Big 2 fall down, as we've seen with the current AGE OF ULTRON, is when the crossover hijacks an entire fucking universe in the pursuit of the coveted upsell. And don't give me any "well, they did AU issues." Nuh-uh, asking me to skip a month of a title is a worse sin than causing confusion because of crossover aversion.
HARBINGER WARS remembers this cardinal crossover rule. Of course, I haven't read the issues to come yet, so we'll see if the Valiant boys can make those issues make sense sans HARBINGER WARS. I have the utmost faith, though, since for two iterations spanning the course of twenty plus years they have NEVER failed me.
All right, let's talk about what actually is and what's not, versus my fanboy soothsaying. I'm going to talk to Valiant fans, because if you're coming in raw to Valiant turn the right the fuck around. I refuse to let you into our party, and frankly it's for your own good. This is story is the perfect conclusion to the last arcs of BLOODSHOT and HARBINGER.
BLOODSHOT needed a place to end. We learned a Kardashian asston about this guy in the first arc. It was a discovery of self despite the perpetual mind wiping and implanted fagazi lives courtesy of Project Rising Spirit. It was then a brisk well-paced discovery of self, with a little help from his nanite sentient blood (nice upgrade from V1.0, BTW). Arc 2, though, was taking a hella long time to get in and out of one building. But we needed to be introduced to the Psiots and the fact Toyo Harada isn't the only evil bastard to be packing next gen Harbinger-powered humans. It was good, but again was milking it a little.
HARBINGER needed someplace to go. The introduction to this tale of anti-heroes was an origin for the ages. Pete Stanchek is a train-wreck of emotions with the power to change the course of humanity with his limitless mind. The morality grays this book paints are morosely beautiful. Kris, Pete's victim of mind rape, is tied to the team of the damned or the land of the dead, plus she bears the unenviable responsibility of being the only one who can control Pete. Her dedication to humanity is to be commended. Even the villain Toyo Harada makes one question whether evil means actually means evil ways. After escaping Toyo's initial grasp, arc two became a teammate magnet attracting the likes of the nerdly Zephyr the floater, Torque the true embodiment of Brodouche, and Flamingo the stripper with a heart of gold and supernova-level ignition. But again, they were just escaping from Toyo the whole time. They needed something new – they needed a purpose grander than mere survival.
HARBINGER WARS pushes booth books in their needed directions while simultaneously amping up the threat between the world's largest corporate superpowers. Opening with the aforementioned Psiots, we learn how deeply entrenched Project Rising Spirit is within the American Government. You know you're dealing with true power when, after unleashing a zombie plague on Chinese soil, the only questions is "why weren't you making it for Uncle Sam?" And of course they have to justify the four teen superpowers sent in to clean it up: Cronos, team leader and giver and takether of life, Telic the girl who can see a few minutes from now, Hive the kid who will absorb and retain the mind of those he touches , and Traveler, the boy who can blink between space.
Before getting to Harbinger and Bloodshot's places in all this, now would be good time to talk art: perfect. Three artists is usually a sloppier experience than Kirstie Alley after a jog, but Valiant wisely chose to let each artist handle one of the three team experiences. The coolest part was that since none of the stories actually meet until the end, each artist could switch up mid-page as the story shifted without one clunky moment. And honestly, I can't pick a favorite; they all deliver the appropriate mood of each story.
And all three stories are starkly different while still serving the same narrative. Harbinger's part is morosely fun, as the Bleeding Monk basically delivers Pete his ultimate destiny of having to topple Harada and play the Pied Piper of Psiots. The fun part comes from Torque, of course. Bloodshot's story collides when he runs into the Psiots with his merry band of mutants we saw him freeing last month. Looks like he is developing a bit of a messiah complex as well.
If I didn't love this book enough, it also made me view the Valiant universe from a completely different angle. If you read HARBINGER, Harada is clearly a bad dude from the team's point of view. Here, though, his treatment towards his team of eggbreakers seems almost noble when compared to the head-bomb implanting slavery imposed by Project Rising Spirit. When Harada confronts BLOODSHOT at the end, you almost wouldn't blame BS for taking up the offer to work together. Given who Rai's granddaddy was working for till now, Harada's nefarious methods would still make him employer of the year.
All right, I've spoiled the hell out of this book and I'm sorry. Just know that great dialog and seeing my descriptions executed by great storytellers still awaits you…along with that pretty, pretty art. If you're a Valiant Virgin and didn't heed my warning before, I hope I entreated with you to go buy some trades to imbibe the maturity and majesty that is just this small corner of the Valiant universe.
Optimous Douche has successfully blackmailed BottleImp to draw purty pictures for his graphic novel AVERAGE JOE coming out in 2013 from COM.X. When not on Ain't It Cool, Optimous can be found talking comics and marketing on robpatey.com and just marketing on MaaS360.com.
---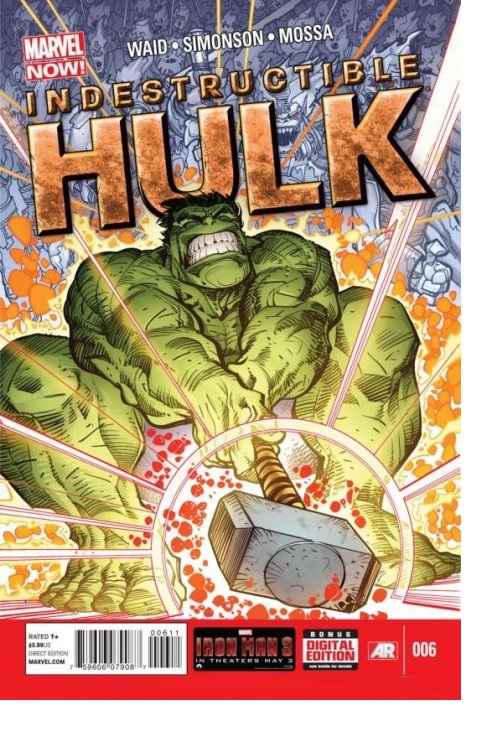 INDESTRUCTIBLE HULK #6
Writer: Mark Waid
Art: Walter Simonson
Publisher: Marvel Comics
Reviewer: Mad Mercutio
I picked up INDESTRUCTIBLE HULK #6 hoping to find some magic. I have read most of the run that Simonson did on THOR all those years ago, and like most people, at least people with discerning taste, I thought it was fantastic. We all know that he basically saved the character from cancellation by both writing and drawing the series and taking it to new heights. When I found out that he was to join Mark Waid on HULK, I was interested. When I found out that he would be drawing a story with Thor as a guest star, I knew I had to pick it up.
I've seen some Simonson stuff recently and was not super impressed. For me it was missing some of the clarity that his old work had, but when he drew Thor in this issue, it was spot on. Maybe that had to do with the fact that Thor was in this issue in his old fighting togs. There is just something about a Simonson-rendered Thor in his old suit that makes me happy. I found most of the art pretty solid, but for some reason Simonson's Hulk did not impress. I like the way he drew the other characters; it just seemed that his Hulk was a little sloppy, almost more like a sketch than a final drawing. It sounds weird to say that it was a small concern since it is Hulk's book, but the rest of the issue was just that entertaining. It is good to see that he is still working. Personally, I feel like he still holds his own in today's comic world and it is great to see such a respected and old school artist still working.
With Mark Waid on writing detail, I knew the story would be good. Bruce Banner and his crew (he is working for SHIELD now) head to Jotunheim to mine some valuable minerals. The reason that we get to see an old school Thor in this issue is that it appears that to get there, they may have traveled back in time. And then there is a frost giant smackdown in which Thor gets batted around and Hulk makes his appearance. I found the premise for the story interesting. It definitely had plenty of action, and it ended with a great little cliffhanger that will have me coming back from more. Read no more if you do not want to know the spoiler for the end of the issue, but here goes: Hulk was able to lift Thor's hammer. The next issue is just called "Whosoever," so of course it will be explained there, but it's always impressive when a character is able to lift Mjolnir. It's a short list as to who has been worthy to lift it. To me, the most notable was Captain America, and that just seemed fitting. The Hulk seems less worthy, so seeing how this will all be explained will be worth the price of admission. A great issue by great talent.
---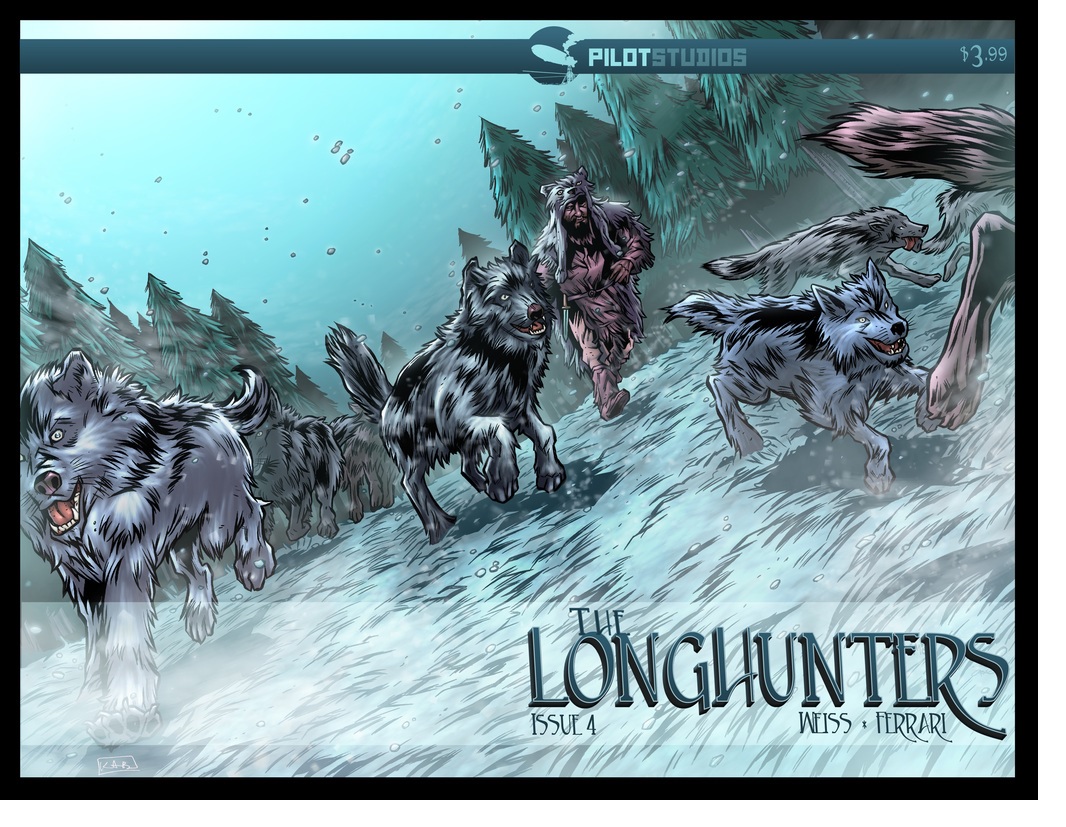 THE LONGHUNTERS #4
Writer: Buck Weiss
Illustrator: Ben Ferrari
Publisher: Pilot Studios
Reviewer: Mr. Pasty
One of the appeals of indie comics is the ability to discover new and exciting stories from guys who want to tell them without having them passed through the filters of "creative supervision" at some of the bigger publishing houses. Not that it's always a bad thing, mind you, as some offerings could benefit from a nip and a tuck, but you know the finished product is what the creator intended. What does that mean for a book like THE LONGHUNTERS? Well, that depends on your taste in storytelling. Writer Buck Weiss is a conduit for illustrator Ben Ferrari, who comes billed as creator of this frontier epic revolving around a group of mountain men wandering the untamed North American landscape of the early 1800s." If that kind of setting doesn't appeal to you, you're probably not going to get much out of THE LONGHUNTERS. This era is not unfamiliar territory, and I'm reminded of the excellent EX OCCULTUS from Saint James comics, but it also hasn't been run into the ground like the western/zombie/nazi books.
On the surface, this is a story that might come off as a bit primitive (wolf whisperer?), as it follows one man's transformation from trapper to avenging angel in the middle of the wilderness. The pacing is slow but methodical, and you have a lot of care and attention put into the man vs. nature struggle. If you can accept the fact that muscular superheroes won't be talking tough and flying through the air to save a bunch of big-breasted bimbos, then you will realize there's nothing primitive about it. In fact, it's probably more evolved than a lot of the junk on the shelves today that paint by numbers and give you 15 pages of pin ups. Ferrari's illustrations don't have the kind of detail or polish you would hope for in a book set in the mountains, which by default are beautiful and majestic, but he does have a great sense of perspective and his frames do a remarkable job of seamlessly advancing the narrative.
THE LONGHUNTERS might get unfairly compared to DANCES WITH WOLVES, but for me it more closely resembles DEATH HUNT, only this time the trapper is hunting the posse and not the other way around. Weiss sprinkles in a touch of supernatural and metaphysical elements, but also leaves them open to interpretation, so as a reader I never felt like I was being force fed. If you dig American history, outdoor adventures or just good storytelling, then you'll probably enjoy THE LONGHUNTERS as much as I did.
Web heads who can't get enough of Mr. Pasty's word vomit are encouraged to watch him operate as Nostradumbass over at MMaMania.com here. Love, hate and Mafia Wars requests should be directed here.
---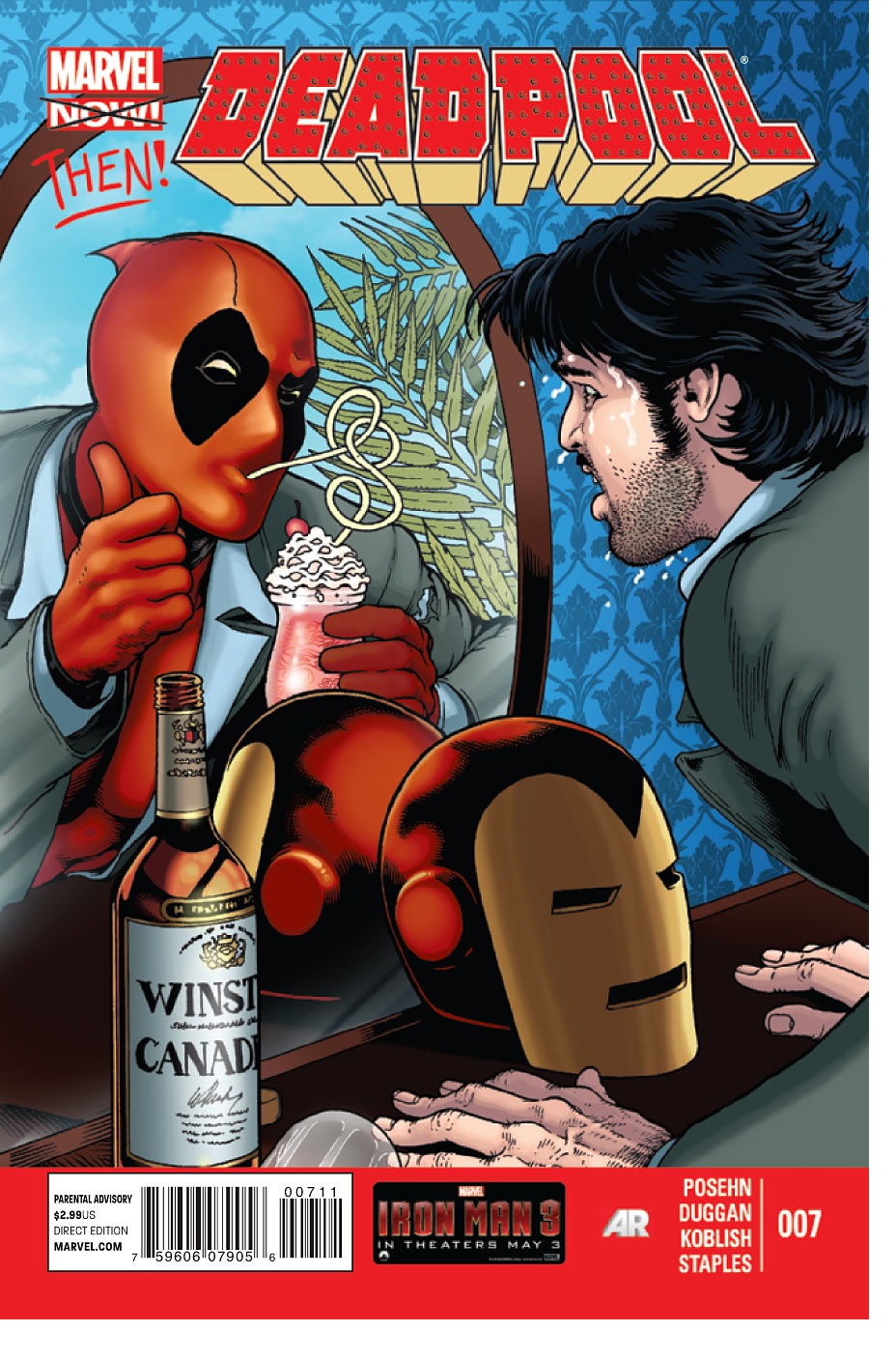 DEADPOOL #7
Writers: Brian Posehn & Jerry Duggan
Artist: Scott Koblish
Publisher: Marvel Then
Reviewer: Optimous Douche
We all have guilty pleasures in life, and DEADPOOL is mine. He's gone through many iterations over the years, but no matter how dire his circumstances he always retains a healthy dose of snark and flippancy towards the doings around him.
My fellow @$$hole Spoiler Alert podcasters call me the curmudgeon of our little circle because I often balk at the jokey titles, the ones that follow the Catskills comedian bar-um-pum cadence. I realized after reading the past seven issues of DEADPOOL I don't actually hate humor. I hate stupid hokey humor; if it's biting and at the cost of others sign me the fuck up. I don't hate joy; I simply find it in the dark recesses of the human soul, the place where humor is often inspired from the flaws of others.
DEADPOOL under Posehn's pen has been an exercise in pure satire since issue 1. The first arc that completed with issue 6 had DEADPOOL battling the legion of dead Presidents. It wasn't just all Taft stuck in a bathtub jokes, the overarching theme was, dare I say….smart? Once arisen from their shallow graves, the Presidents decide to take over America, because…well…we all fucked it up. Granted certain moments were silly, and I'm never a huge fan of breaking the fourth wall, but just like when I go to a live comedy show I'll allow for a few duds if the rest is gold.
With DEADPOOL #7 Posehn and Duggan provide some cannibalistic satire with rapid-fire shots at the very medium they publish in. Right from the cover the boys decide there are no sacred calves by scratching out the NOW under MARVEL with a well-placed THEN. That's right, kids—Deadpool, for whatever reason, goes back in time 30 years to…well…just because…stop asking so many god damn questions.
It all kicks off in what the box outs refer to as the end of comic's Golden Age, i.e. the early 1980's. Think about it: even though it's not the official Golden Age, with all of the reboots and resets it might as well be. The book actually opens sans Deadpool in the offices of the Daily Bugle. Peter Parker basically comes in and confesses his entire secret identity while J. Jonah is ranting about something or other. It's a great nod to those days before Peter was a super scientist and kind long Johnson about town; these are the days when he was just an ignored dork. It's also where Scott Koblish shows some amazing pencil talent being able to recreate that era with flawless detail and moderate zipitone.
I knew we were veering into my brand of mean-spirited humor when Flash Thompson pulls up to take Pete to lunch and parks in a handicapped spot. Of course, Flash is callous as Peter alludes to his faux pas, but Deadpool's quip as he drives off with Flash's "Smokey and the Bandit"-style T-Top firmly dictates why this title is not for the crowd that drinks from the well of political correctness.
Flash forward and we finally get to the main story; not a critique, just a fact. I honestly could have lived in the land of clever lampoon for the whole book without a "story." Essentially, the omnipotent Deadpool is back in the Reagan era to sign a contract with a devil (not THE devil). The contract is a hit of sorts, and here we see insensitivity layer number 425 inserted into the book.
Alcoholism is no laughing matter--until Deadpool gets a hold of it, that is. Basically Deadpool, after almost creaming Power Pack in his Z-something, is whisked away by this sleazy porn producer-looking demon to sunny Cali, where he is contracted to get Iron Man off the wagon.
Why does the demon look for Iron Man to become a scotch-soaked rust bucket? Basically, it's in the best interests of a group of oh so 80's-looking super villains looking to scorch the West Coast in a nuclear blaze. Here is where the gang shows a bit of confusion about history, or simply they are too young to remember, but it showed a definitive wrinkle in time. 3 Mile Island happened in the spring of '79. If this in fact the 80s everyone was already terrified of the billowing stacks. If it's late 70s, then Power Pack would have been zygotes. Again, not a big deal and I wouldn't kick the book out of bed for blowing crackers (or something like that). This is just a caution for when one decides to dabble with the space-time continuum.
There's a moralistic light at the end of the tunnel after a few more well-placed guffaws, which frankly surprised the living shit out of me. Iron Man gets drunk, but Tony doesn't. Then after getting bamboozled by Deadpool, our demon friend is whisked back to hell and we get our final "oh, I feel bad about laughing at this" moment with Deadpool asking the demon to say hi to Uncle Ben.
This is a ballsy book for Marvel to produce, especially with one final cameo by a certain mutant from the 90s looking for a mechanical arm. It's the finger that points out every white elephant in the room. It's also mean and without remorse, but utterly fucking hilarious. If you're the type of person that can laugh at your own and others' misfortunes, then DEADPOOL is a siren's song beckoning you to read more.<br
---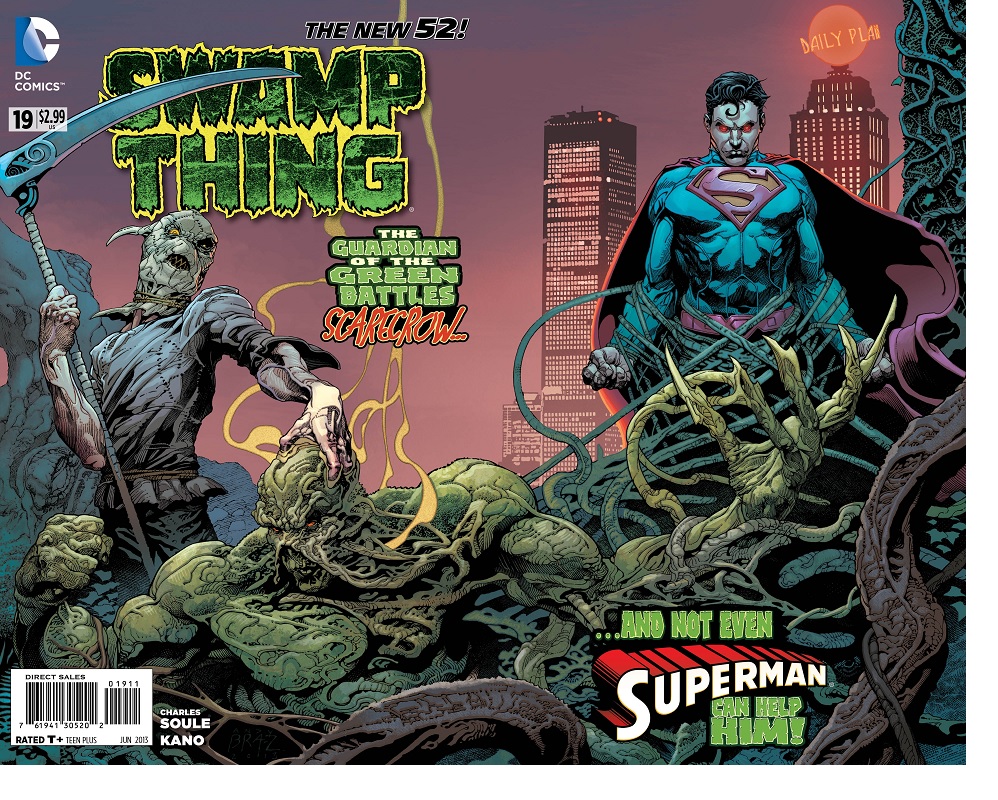 SWAMP THING #19
Writer: Charles Soule
Artist: Kano
Publisher: DC Comics
Reviewer: Humphrey Lee
I don't believe it's one of those things I need to go into full disclosure mode on since I've reviewed the book a couple times around here, but I've been a pretty big pusher of 27, the Image title that has really been the most notable book of writer Charles Soule, the man who now has the rather thankless job of continuing where Scott Snyder left off on his stellar run on this title. That aforementioned book is also the reason why I was feeling good vibes over the announcement of his takeover of this title. 27, I have felt, has a really interesting, genre-blending take on the mystical and pushing it into the "real world", whatever that means in comic books. After the gigantic, time-spanning, continuity-embracing (and somewhat rewriting) blowout that was the Rotworld Saga, I've really been feeling some grounding is what the plant doctor (that catches fire and runs into a swamp) ordered. And, just like my faith in Charles Soule, my notion was well founded, as this "changing of the guard" issue showed.
Right off the bat there's an internal monologue going on with Alec Holland, still coming to grips with his decision to be enveloped by the Green and become the Swamp Thing for the actual first time. Balance this with the loss of Abby and I think couple dozen internal boxes we get to kick off this issue go a long way with breaking down this Swamp Thing's special brand of humanity and how it's worn down a bit between all these factors. Obviously, this has always been the primary device of stories with this character for thirty years now, so we're not really treading new ground here, but it's well executed and is simply enjoyable to get back to considering the year and a half run of calamity after calamity that dominated this book since its return. But thankfully while Soule is watering these roots he's planting other seeds, literally (yay plant puns!!).
The other part that I really appreciate in this issue are the villains, and by that I mean they're not Anton Arcane, because I am fucking tired of Anton Arcane when it comes to this title. I like the twist of Swampy running into a pretty human-as-they-come villain such as the Scarecrow and it going terribly wrong because of the kid gloves approach he takes to dealing with him. It sets up another trope of the mistaken hero-on-hero fight for the next issue as one of Dr. Crane's gases causes some rather rampant growth all over Metropolis, but it's been a while since we've seen this (at least that I know of) with the Swamp Thing. Besides, it's not exactly quite the same thing as Swampy beating down the doors of Batman's town to get Abby back like way back when; this is a horribly odd case of mistaken intentions and it involves the Big Blue Boy Scout. I'm sure these shenanigans will be delightfully, er, shenaniganny, but I also expect nothing to be done "typically" by this creative crew; they've already earned that trust. Meanwhile, as the opening alluded to while Alec Holland was getting all up in his headspace, he was also dealing with the ecological "miracle" left behind by a being/person/maybe a fucked up space thing (comics!!) known only as the "Seeder." In this issue it's just an oasis built up in the desert which leads to some already warlike factions fighting over such an important piece of land, so who knows where this will lead and conflict (or maybe even ally?) with the Swamp Thing as this run progresses. Either way, it's a mysteriously solid plot point to build off.
Now, as for the person responsible for bringing all this to visual life, I have to say I'm as impressed with what Kano does on this book as I am Soule, maybe even moreso in that most of my experience with his art is on those more human and grounded books, like some work on GOTHAM CENTRAL and IRON FIST and so on. Watching him work on a character so broad in power stroke was actually kind of a revelation, as it has the lushness and detail that Yanick Paquette was just bringing to the book but it has that roughness around the edges of the line work that I felt was lacking from that art, gorgeous as it was. The gore and visceralness was there, but it didn't have that gritty lens to it, which Kano's work most definitely does. And it definitely compliments what Soule is working here in that more grounded sense, but you can also feel that something vicious is looming on the horizon. And I feel perfectly confident in saying I think this creative team has the moxy to really progress the character, both in how his philosophical dilemma with his humanity unfolds and how the character becomes an important figurehead and guardian on Earth and maybe even in the scope of the DCU given their talents. Lord knows the company could use all the help it can get in that regard (but that's an entirely different kind of horror story to be discussed elsewhere). In short and in conclusion: the book still rocks; continue/start to buy at your leisure. Cheers…
Humphrey Lee has been an avid comic book reader going on fifteen years now and a contributor to Ain't It Cool comics for quite a few as well. In fact, reading comics is about all he does in his free time and where all the money from his day job wages goes to - funding his comic book habit so he can talk about them to you, our loyal readers (lucky you). He's a bit of a social networking whore, so you can find him all over the Interwebs on sites like Twitter, The MySpaces, Facebookand a blog where he also mostly talks about comics with his free time because he hasn't the slightest semblance of a life. Sad but true, and he gladly encourages you to add, read, and comment as you will.
---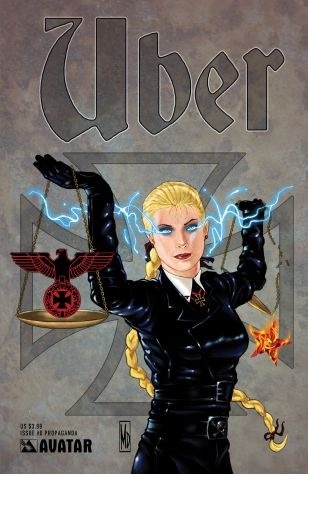 UBER #0
Writer: Kieron Gillen
Artist: Caanan White
Publisher: Avatar Press
Reviewer: The Dean
You may want to clear some time in your schedule before digging into this one. There's a quiet intelligence to most of Gillen's work that can more or less be enjoyed to whatever level the reader so chooses, but I suspect UBER #0 will discourage many readers who simply want to read, enjoy, and move on, because you'll likely need to keep a journal with you to make sense of this unfocused head-scratcher. The notion of super-powered Nazis wreaking havoc may seem redundant, and frankly it is, but this isn't some recycled CAPTAIN AMERICA plot. Gillen uses these terrors of the Third Reich to explore their deeper effects on the people involved in or impacted by their existence in a way that's fresh, earnest, but unnecessarily challenging in this debut issue.
As for the story itself, it's Germany 1945 and WWII is drawing to a close. In this history, however, the Nazis are about to launch one last ditch effort to turn the tides of the war, or at least ensure that if they lose, so does everyone else. Enter Nazis with superpowers. Pretty basic in some ways, but it becomes far more complicated as we're introduced to more and more characters and fragments of plotlines that suggest it's not the super Nazis we should be concerned with, but what these symbols, characters, and the era in general say about us and how we handle things like power or the horrors of war. It's a cool idea, and I do believe Gillen will get his story there sooner or later, but did I get all that from reading the issue? No. Sadly, it took Gillen's letter to us at the end of the issue to understand what UBER is looking to accomplish, and once you go back and read it again some of that does become clearer, but I don't think we should need to have it explained to us in order to get such an essential objective.
UBER looks to be one of Gillen's more ambitious projects to date, and the impeccable research and development that went into creating this story is blatantly obvious as you read it, so maybe a choppy and oversized preview wasn't the best way to whet reader's appetites. It's certainly not all bad, though. Artistically, Gillen and White may not be as interesting a pair as Gillen and McKelvie, but White certainly handles brutality well, and he makes every display of power from these Nazis exceptionally awful. There's also a precision behind UBER that makes everything seem very important, as though we should be keeping notes with dates, times, and events, but what's more significant is that it creates an air of anxiety that makes everything seem so authentically dangerous in this world. The little narration we get is a cold, austere type of field report, completely devoid of emotion, making it all that much more disturbing, and leaving it up to the reader to examine these actions and ask what they're saying about the act, the characters, and ourselves (once you find out that that's what Gillen wants us to do, of course).
So yes, UBER #0 is jerky and needlessly confusing, but all is not lost. In its ever-changing focus from one character to the next, we get little time to get acquainted with one before we're on to another, but what's there is intriguing, and if we had just kept the spotlight on one or two characters instead of seemingly all of them, this would probably have been a glowing review. I believe UBER will wind up being a very interesting series, and trust that Gillen will turn this around pretty quickly, but unfortunately, I have a hard time seeing anyone but Gillen fans sticking around after this issue.
---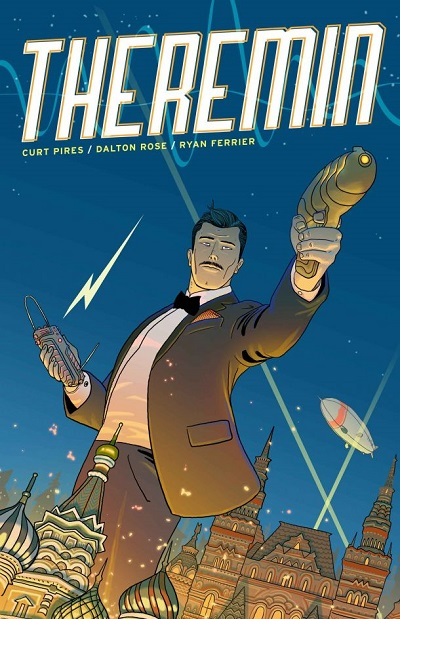 Advance Review: In stores soon!
THEREMIN #1
Writer: Curt Pires
Artist: Dalton Rose
Publisher: Monkeybrain Comics
Reviewer: Optimous Douche
Research, time and love went into this tale about fracturing the universe through a musical instrument that seemingly requires no talent yet exacting precision.
Confused? I was too when writer Curt Pires reached out to me. I've heard the theremin a multitude of times, and you probably have as well. It has provided the soundtrack to a huge hunk of sci-fi movies over the years. Think the grandfather to the Casio synthesizer. However, it operates completely sans keys or strings. Here's how Wikipedia describes it: "The theremin is rare among musical instruments in that it is played without physical contact. The musician stands in front of the instrument and moves his or her hands in the proximity of two metal antennas."
Now, what does this have to with comics? In a very Grant Morrison-like twist of plot, Pires takes this seemingly innocuous piece of musicality and uses it to open the doors of time. Then, in a very Harry Turtledove way of rewriting history, Pires takes real world events, makes them infinitely cooler than what really happened, and finally changes the course of mankind…kind of. <br
Using Leon Theremin as his protagonist, Pires transforms a Siberian science geek into a temporal James Bond. The book begins with the end, meaning we get to see the moment Vladimir Lenin bites it. Most said his death came from syphilis or a stroke, but Pires postulates a different theory: what if Vladimir was killed by his own think tank, who are able to witness the madness he would unleash upon the world unchecked?
I'm a big fan of "history" explored through conspiracy theory--probably because a piece of me believes the kooks and whackos of the world, while my conservative side says "nope--no underlying thread, the world is what the world is on the surface." It's a very confusing and non-committal way to live; I don't recommend to anyone. The only virtue is that it allows me to read stories like this without the propensity to balk.
So if you believe Lenin died of a stroke and that science is used for good and not evil just keep walking along to the next review.
Pires delivers with exacting precision the days after the first World War, when Russia pooled scientists together to protect their borders through automation. And sure enough, my old friend Wilkipedia tells me that's what the real Theremin was working on when he discovered his touchless musical contraption.
Now in the real world, that's as far as it went…a cool new way to make music. But THEREMIN (the comic) sends our young scientist to the Red, a place between places, where man can walk into different time periods like stepping through a door. When showcasing his new technology to Lenin, together the two see a very dark tomorrow and a fire growing in Lenin's belly to prevent it.
I have little doubt Pires will find cool ways to fill the middle of this series; he's given Theremin (the man) a very debonair but also nerdy cadence about his speech and mannerisms. Basically, his inner dialog is an interesting way to read the world that was. Also, Pires throws in some very cool super forces that were, but wield weapons that have never been, to serve as antagonists.
All things are not perfect, though, in the land of harmonics; Rose's pencils, sadly, are not up to snuff. He has a fine feel for sequential storytelling, but the lines are way too rough and vague for a standard price of admission. I look at a comic this way: you're paying for one third art, one third dialog (voice), and one third plot. Yes, there are exceptions like silent comics, so in those instances just divide my formula by half if the silence makes sense thematically (if it doesn't, though, you were one third ripped off – nuff said?).
Now THEREMIN is only .99, so in this case I say buy buy buy. Were this a full pricer, though, I would say Rose needs to spend more time on detail before coming back to the big show.
---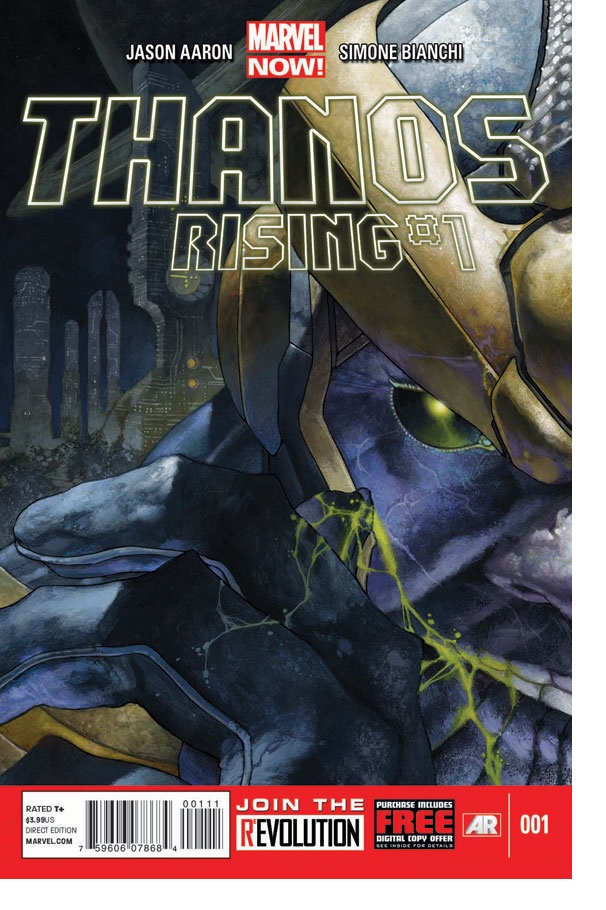 THE GOOD:
THANOS RISING #1
Marvel Comics
Ok, origin miniseries are tough to do, mainly because most of the cool characters have had their origins beaten like dead horses (sorry, DC, but I'm really not up for another Batman origin), or no one really cares about the characters (sorry, Marvel, but I just don't care that much about Morbius). Oddly enough, Thanos is a cool character whose origin hasn't been beaten like a dead horse. Heck, I've been a fan of his since the INFINITY GAUNTLET days and I haven't come across his origin once (did I miss one?). So even without the Avengers movie tie-in I'm interested. And while we all know where we are going--Thanos becomes a bad guy--that doesn't mean the trip can't be interesting, especially fueled by Simone Bianchi crazy HEAVY METAL-ish artwork. It works really well with Marvel's Jack Kirby/Jim Starlin sci-fi world, though I find it amusing that Thanos hasn't changed his fashion sense since he was ten. For the most part Aaron does a really good job keeping what could be a fairly straightforward villain's origin interesting with parental issues, a strange child egging him on, and a bunch of dead children. This looks to be a very good run.-
Masked Man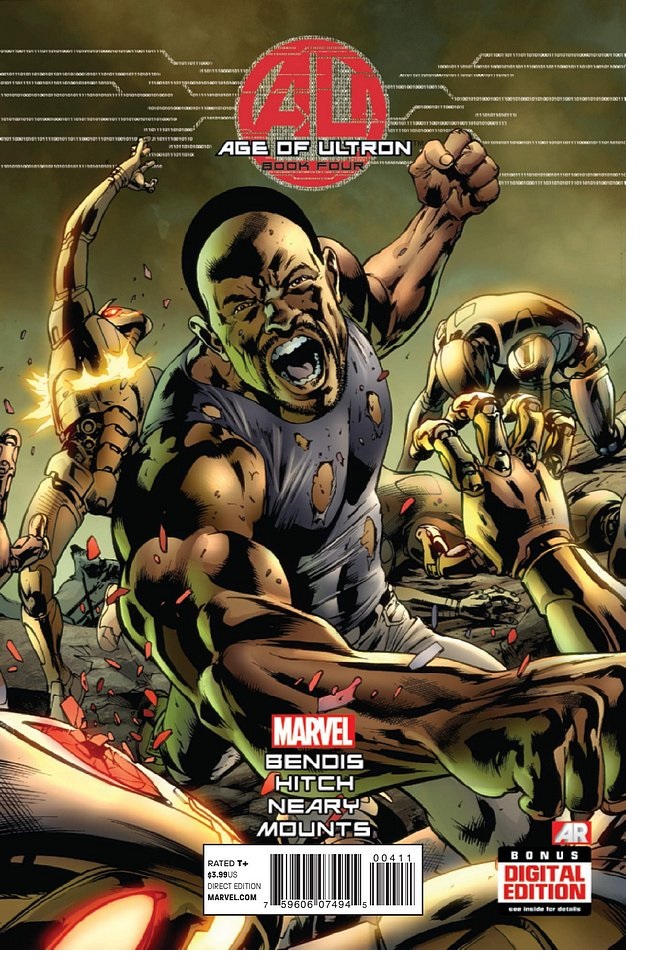 The Bad:
AGE OF ULTRON #4
Marvel Comics
This comic has surprisingly taken a step backwards. As the action kicks up, all drama is sucked out with a continuation of drab and dreary execution of the plot. Even the big reveal about Ultron in this issue had no impact, because it was like stating a fact as opposed to revealing something (FYI, not talking about Vision, who was revealed in issue #3). Bendis never posed the question of where Ultron is, so when he tells it's not that big of a deal- I mean, this is a sci-fi/superhero book, after all. Then instead of showing how everyone gets to the Savage Land in a meaningful way, we are just treated to more pointless rumble scenes. Heck, three characters were killed in this issue and nothing was done to make me care. But worse still is that Hitch's artwork has slipped. Despite the attention to detail, it's like he's phoning it in. Everything has a rushed look to it and nothing is as refined as it was in the earlier issues. I had to stare at that Red Hulk/Taskmaster panel for like an hour trying to figure out what happened (the random Ultron head blocking the action didn't help much). So as we near the halfway point of this series, it's really starting to leave a bad taste in my mouth.-
Masked Man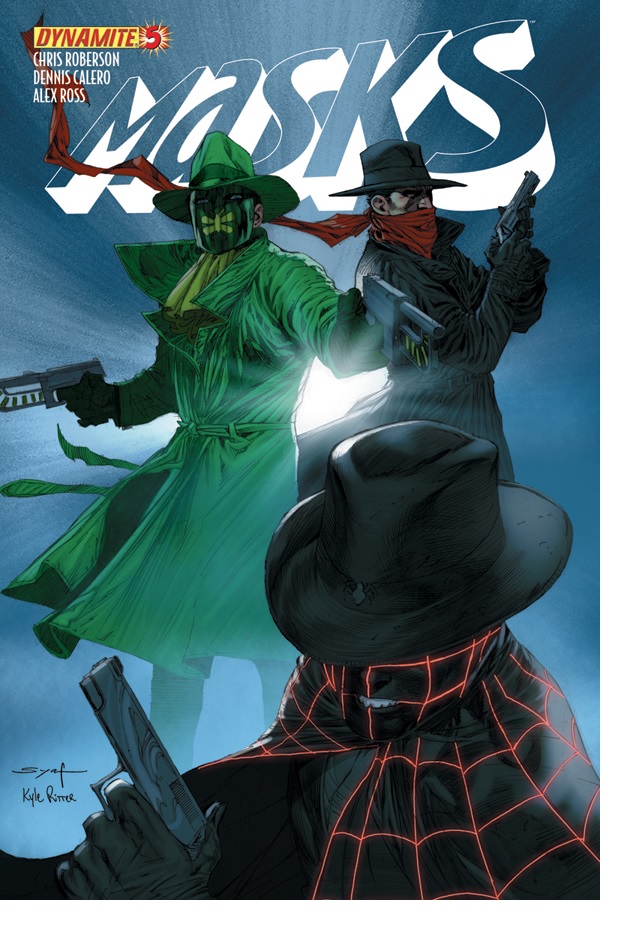 The Ugly:
MASKS #5
Dynamite Entertainment
Last time I reviewed MASKS, Dynamite's major pulp fiction crossover, I was quite disappointed in the artwork. To my dismay, two issues later there has been no improvement. The backgrounds all still look like halfhearted tracings of photographs or generic Photoshop gradients. Most of the panels are close-ups that fail to illustrate the story in any meaningful way. Heck, I can't even tell how many people are involved in a fight scene, or even standing in room (is that supposed to be the Green Lama?). Writer Chris Roberson has been telling a good story overall, but this issue's scenes and dialogue are just a bit too choppy. Text boxes explaining settings and characters would be nice. Did you know that the Black Terror has been in three issues now and his name has never been mentioned once? I guess that's not too bad, because the Green Lama and Miss Fury have been in four issues, and theirs have never come up either! I'm also a little lost on the logistics of Zorro here. Why didn't the evil police officers just shoot him? I have to say I'm really disappointed in this ugly book. -
Masked Man
---
Editing, compiling, imaging, coding, logos & cat-wrangling by Ambush Bug
Proofs, co-edits & common sense provided by Sleazy G
Remember, if you have a comic book you'd like one of the @$$holes to take a look at, click on your favorite reviewer's link and drop us an email.


---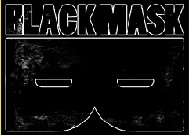 Find out what are BLACK MASK STUDIOS and OCCUPY COMICS here and on Facebook here!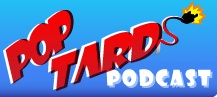 Want more in all things Geek?
Check out PoptardsGo and on Facebook here!




---

Get your copy of highly-anticipated anthology TOME by 44FLOOD today on their Kickstarter!

Check out AICN COMICS on Facebook and Comixpedia.org!