UPDATE 5 APRIL 10:28am CST USA
The question of whether or not 9th Doctor Christopher Eccleston would appear in the 50th Anniversary blowout has been answered. Per THIS piece over at DOCTOR WHO news...
Chris met with Steven Moffat a couple of times to talk about Steven's plans for the Doctor Who 50th anniversary episode. After careful thought, Chris decided not to be in the episode. He wishes the team all the best.
DWN notes: An appearance from the Ninth Doctor in the story may still be possible using archive footage from the series.
==================
Glen here...
With a quick look at The Rings of Akhaten, the latest installment of DOCTOR WHO Season/Series 7B. More on this below. But first, a great deal of WHOish news is afoot. Here's a fair sampling...
AS WE'VE PREVIOUSLY MENTIONED, EXECUTIVE PRODUCER CAROLINE SKINNER IS LEAVING DOCTOR WHO...
Click HERE to see BBC's job listing for her position. We should freak-out BBC, gather all Docbackers under one umbrella, and apply as a single entity!
BTS SHOTS FROM THE 50th ANNIVERSARY EPISODE...
...have been hitting coming down throughout the week. You've likely seen these already, but just in case...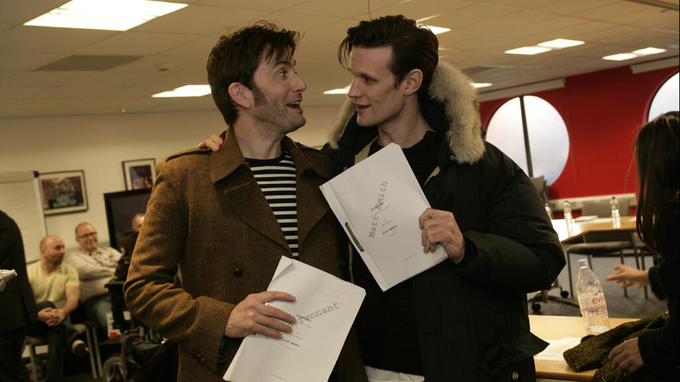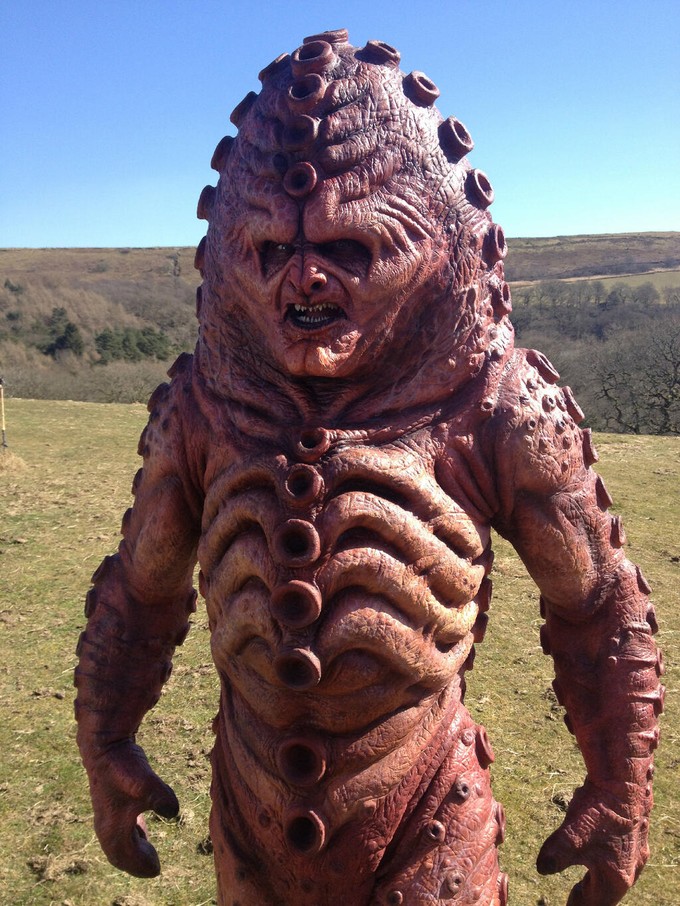 GLEN & KEN'S WHOTININNIES PODCAST RETURNS
Last week's Bells of Saint John installment can be found HERE or HERE, in which we revisit the departure of Amy and Rory and our reservations surrounding it, discuss The Snowmen Christmas special, posit a theory about Jenna-Louise Coleman's Clara character, ponder if The Moff is setting up his own 'brand' (a la Ridley Scott or Michael Bay), and, of course, dig into The Bells of Saint John.
This week's installment finds...
*** Ken and I taking on The Rings of Akhaten
** arguing snarkily about the science of 1980's FLASH GORDON movie (this connection will become far more clear once you've seen Rings)
** a rapidly flying and lethal looking stinging insect attempting to buzz my head while I'm tied to the computer with his headset/mic chord
** the brief return of an old WHOTININNIES favorite
** further Brian Blessed reverb
** Ken and I completely and embarrassingly unable to recall the name of The Vigil, DARK CITY/HELLRAISERish characters who show up this week...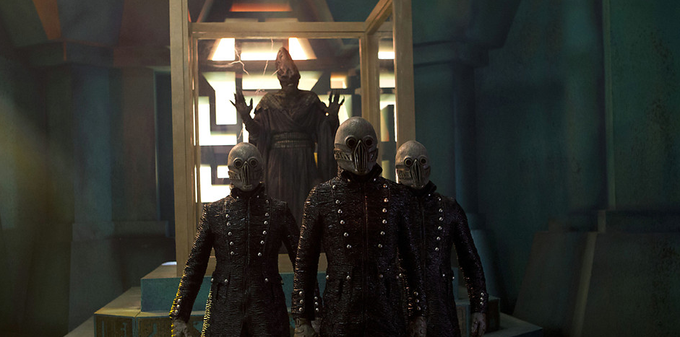 ** and more!
You can find this newest WHOTININNIES HERE!
SUMMER FALLS EBOOK NOW AVAILABLE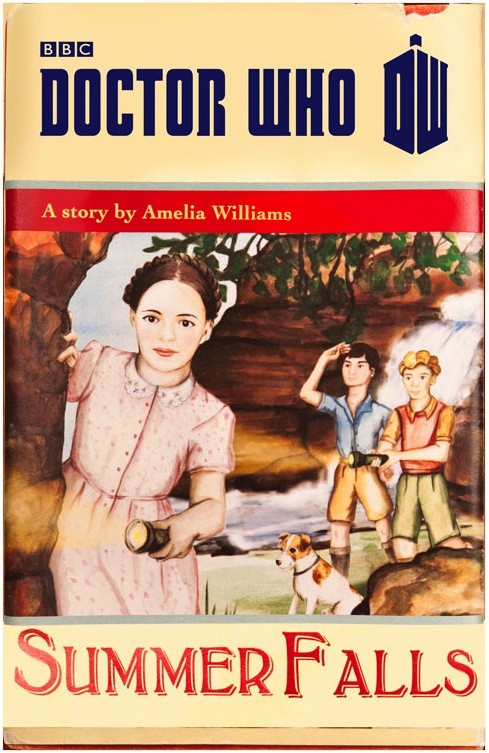 Authored by Amelia Pond, as seen in last week's The Bells of Saint John, the story is described thusly by its publisher...
In the seaside village of Watchcombe, young Kate is determined to make the most of her last week of summer holiday. But when she discovers a mysterious painting entitled 'The Lord of Winter' in a charity shop, it leads her on an adventure she never could have planned. Kate soon realises the old seacape, painted long ago by an eccentric local artist, is actually a puzzle. And with the help of some bizarre new acquaintances – including a museum curator's magical cat, a miserable neighbour, and a lonely boy – she plans on solving it.

And then, one morning Kate wakes up to a world changed forever. For the Lord of Winter is coming – and Kate has a very important decision to make.

I've glanced through the title and it seems interesting, although I haven't gotten far enough in to see how two noteworthy allusions above payoff:
1) do the pointed references to 'Winter' in any way cross connect to the 'Winter is coming...' line featured in the recent The Snowmen Christmas Special?
2) Does the reference to Fall (title/season) in any way connect to 'Fall of the Eleventh'? as heard in the final moments of DOCTOR WHO Season/Series 6?
Find out HERE!
THERE'S AN AWESOME DOCTOR WHO BOOK SIGNING IN THE UK THIS WEEKEND!!
To commemorate the 50th Anniversary of DOCTOR WHO, BBC Books is re-issuing 11 DOCTOR WHO novels...one for each Doctor...repackaged with new intros and covers...and branded for the 50th. More on these in the coming weeks, but for the moment, WHOvians should know that, this Saturday, there's an awesome book signing afoot. Damn it...I'd so love to meet Terrance Dicks. WE NEED (COST EFFECTIVE) TELEPORTERS, DAMN IT!
Here are some details. PLEASE NOTE that if you're unable to attend, you can contact the store to request signed copies! More below...
Waterstones Piccadilly celebrates Doctor Who's 50th Anniversary with Steve Cole, Terrance Dicks, Ben Aaronovitch, Justin Richards, Jonathan Morris and Gary Russell

Saturday 6th April at 3pm

Don't miss the chance to hear these authors discuss their classic Dr. Who novels and the world of the Doctor at this very special event.

If you are unable to attend please contact the store to request signed copies – 02078512400 or events@piccadilly.waterstones.co.uk

This event is ticketed, tickets are £3 redeemable against the price of one of the books on the day, tickets can be booked in person in Waterstones Piccadilly, via www.facebook.com/waterstones (subject to booking fee), or by phone 02078512400. Tickets will also be available on the day, please arrive early to avoid disappointment.
BBC SOUTH AFRICA (!?!?) REVEALS UPCOMING DOCTOR WHO S7B EPISODE STORY POINTS AND AND TITLES
Revealed HERE, and further contextualized by THIS post at BleedingCool.
The Rings of Akhaten: The Doctor whisks Clara off to the planet Akhaten, where the inhabitants are holding a ceremony that demands a sacrifice…

Cold War: On a damaged Russian submarine in 1983, a frozen alien warrior is waking up – just as the TARDIS materialises.

Hide: Something terrifying is hiding in Caliburn House, and the Doctor finds himself part of the ghost hunt.

Journey to the Centre of the Tardis: The Tardis has crashed, Clara is lost inside, and the Doctor has 30 minutes before his ship explodes!

The Crimson Horror: Something ghastly is afoot in Victorian Yorkshire, as bodies are found with their skin a waxy, glowing red.

Nightmare In Silver: Hedgewick's World of Wonders: the perfect theme park day out – and ground zero for a deadly silver resurrection.

The Funeral Of River Song: Someone is kidnapping the Doctor's friends, leading him towards the one place in all of time and space that he should never go.

NOTE that the title of the final episode is rumored only, per Bleeding Cool.
THERE ONCE WAS A DOCTOR WHO ANIMATED SERIES PROPOSED...
BBC passed, but here is some artwork from that pitch.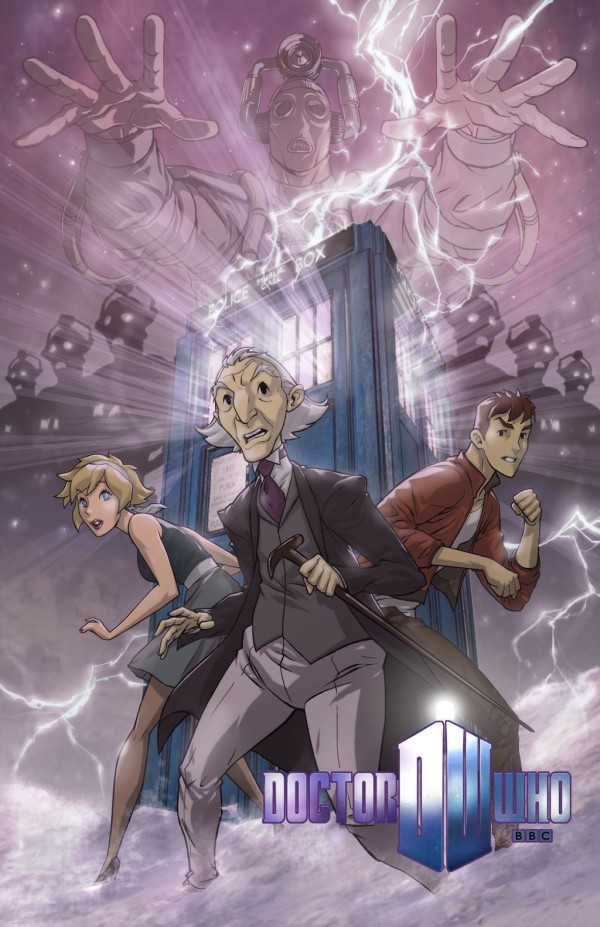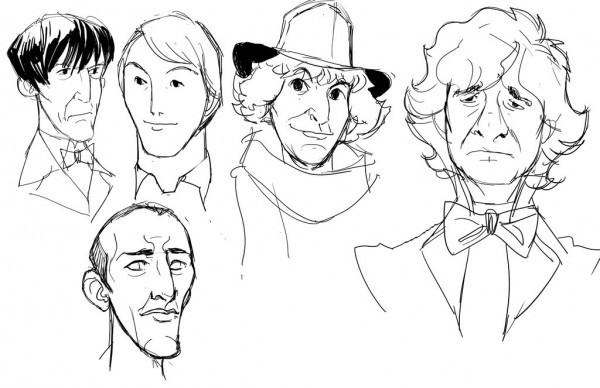 More HERE!
LINDALEE ROSE RETURNS
Longtime readers may recall little Lindalee Rose, who started reviewing contemporary DOCTOR WHO episodes online when she was 4 1/2. Well, nuWHO's back...and so is Lindalee...with new videos which come to us via the fine folks over at Beyond The Marquee.
Here's a look at Lindealee's set-up and swag...
..here's Lindalee on fish fingers & custard...
..and here's Lindalee's take on The Bells of Saint John, last week's S7B opener.
Beyond The Marquee will be posting further insights and exploits from Lindalee in the coming weeks and months, so be sure to keep checking for updates!
DOCBACKER HORNORSILK REVIEWS THE SEEDS OF WAR BIG FINISH AUDIO
=======================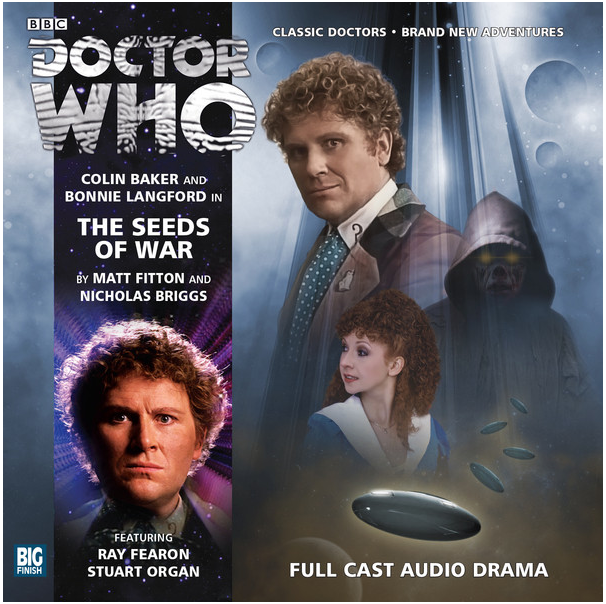 Big Finish 171 – The Seeds of War
By Matt Fitton and Nicholas Briggs
With this release, we round off the latest of three Sixth Doctor/Mel stories. Here, the Doctor faces off with a foe called "The Eminence," a gaseous entity which can turn people into its soldiers, "The Infinite Warriors." Even if it does not turn you into an "Infinite Warrior," once they get into your mind, they have a way to control you.
In this story, the Earth and all its colonies have been at war with the Eminence. When they looked like they were losing, suddenly the Eminence "retreated" and it looked like the Earth has won. The Doctor, however, believes they have a different plan. Can he stop it? And what about his prior contact with the Eminence? How is he going to overcome their control over him?
The first thing I have to say about this story is that there is an aspect of it which annoys me. It's seen as a given we will be very interested in the Eminence, and that we will want to hear the backstory to his story once the adventure is over. The Doctor, in one line, even says "that's a story for later." It's as if it is all a big plug for another audio. And the ending makes yet another plug: Big Finish thinks we will be so excited with this villain, we will look forward to another encounter with them, and so we have a "we will fight you again, Doctor" line which demonstrates this conceit. (Big Finish has already said they are looking at doing an Eighth Doctor story with the Eminence).
I do not know about others, but I didn't find the Eminence that interesting here. Other parts of the story, especially early on, are interesting, but the villain itself did nothing for me. I think an element of it was the conceit behind them. It's better to show instead of tell. It's better to let fans develop an interest in them instead of acting like we should all be interested in them. Don't do multiple stories with a new villain unless the fans actually react positively to them. Let them develop organically instead of forced. That is how I think the best foes work. Here, there might be some interesting elements, but not enough to get me excited for more stories. I think we saw something similar, and better, already done on screen with The Unquiet Dead.
Another problem I am starting to have with Big Finish is seeing Beth Chalmers in everything. I have nothing against her, but I do think, once she has been used to make a companion for the Doctor, secondary roles for her should diminish. Every story it seems has her doing parts; sometimes she has big parts, sometimes small ones. Come on Big Finish, are you running out of people who will do work for you? I would think not! So why reuse someone like this so much now?
Yet despite those complaints, there are elements of this story which are good. The opening episode is interesting. It reminds me, in part, of Paradise Towers, except here, the great architectural marvel is about to be torn down. This causes all kinds of problems for the Doctor and Mel. Things are not working, and when they finally encounter someone else, it's those involved in its demolition. Another aspect of the story I like is its scope: that is, there is a sense of this being in the future, with space and space travel as actually having a valuable place for a story. We often do not get this in Doctor Who, for obvious reasons.
Nonetheless, I will rate this story a 7/1 (I thought about giving it a 6/10; but I just didn't think it was that bad). It's not exceptional, but it does what it needs to do. And it is for this reason I find myself annoyed at the conceit behind the Eminence. If they are supposed to be so interesting, their debut story should have shown it. Colin Baker and Bonnie Langford, both, do well – despite what people think, I've always found Mel to be a suitable companion, especially for the Sixth Doctor. They didn't do her justice on screen, but Big Finish has helped give her more credibility, and I'm glad for that.
-- HornOrSilk
======================
THE RINGS OF AKHATEN (SPOILER FREE REVIEW)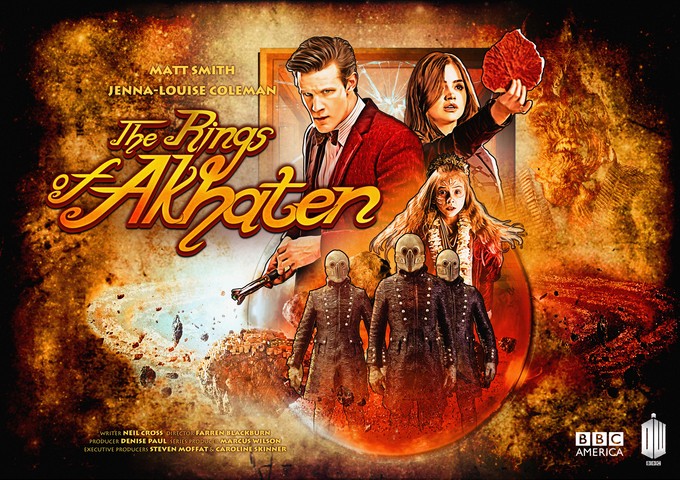 If one considers last week's S7B opener The Bells of Saint John in the context of Matt Smith's first-ever episode, The Eleventh Hour, then The Rings of Akhaten might be seen as S7B's equivalent to its successor, The Beast Below.
In both cases, an exceptionally strong opening mission statement is followed by a crisp and deliberate pivot - a pointed assertion that sometimes undisciplined and whimsical fantasy will also be integrated into DOCTOR WHO's universe. In both Beast and Rings, said fanciful elements are counterbalanced by a sobering emotional undercurrent. Beast considered edgy issues like enslavement, extinction, and the potential loss of our moral compasses when the chips are down. Rings takes on the vampirical nature of religion - and emerges as a cautionary and bittersweet tale about the hazards of too fully surrendering ourselves to ideals or belief structures.
In the case of Beast, this fanciful-yet-sobering approach met with controversial and arguably mixed results. I imagine the response to Rings could be quite similar. It's intents are lofty - sometimes ideas land and sometimes they don't - and the episode never feels altogether focused stylistically. This said, Rings throws us a Doctor moment rivaling The Pandorica Opens (you'll know it when you see it)' this one sequence alone will almost certainly emerge as the movement for which this episode...and perhaps even S7 as a whole...is chiefly remembered. It also goes a long way towards counterbalancing the prevailing awkwardness and funk running throughout the rest of the story.
What kind of 'awkwardness' and 'funk'?
On more than a few occasions, Rings evokes the John Nathan-Turner-era 'classic' DOCTOR WHOs - and not its better qualities. There's definitely a pointed conceit and vision and ambition at play here, but the necessary resources simply aren't in place to pull it off. Rings feels a bit more low rent than one might expect for Moffat-era WHO, which has, on the whole, remained exceptionally well produced. This may've simply been a case of the production biting off more than it can chew - a malady which befalls nearly every television series from time to time. I don't mean this as a snarky bit of nastiness AT ALL, but...in all seriousness...I could've sworn I saw a set piece wobble when a character falls against it. A cardinal sin? Not at all, but this does suggest that the physical mounting of this particular production was hamstrung somewhere along the way, and at times such shortcoming might pull viewers out of the immediacy of a moment, thus dampening the effect of the whole.
Part of the blame for Rings' atmospheric struggle can heaped upon Director of Photography Dale McCready (MERLIN, BEING HUMAN), whose lensing of Rings never equals or bests recent photographic contributions to the show from the likes of Simon Dennis (whose excellent work we saw in Bells last week) or Stephan Pehrsson (Moffat-era WHO's most frequent DoP). In fact, Rings doesn't even align with with McCready's own shooting of Season/Series 6's Curse of the Black Spot. Here, McCready seems to be hazardously dismissive of the potential cheapness of certain moments, as opposed to shooting scenes in a manner which strategically obscures Rings' more notable budgetary challenges. Further accentuating these symptoms is some rather lovely effects work featured in the show's final quarter, which feels and looks sweeping, cinematic, and poetic, and are very much in line with the quality we've come to expect from current DW. Resulting in, for want of a better phrase, something of a distracting aesthetic discontinuity. Part of the show looks, frankly, rather 'eh.' Part of it looks dazzling. It doesn't feel like a whole.
One of Rings' more interesting traits is its reliance on music - how score is incorporated into the story itself, and even how our characters relate to that score. We saw glimpse of this in Murray Gold's arrangement of the Siren song in Curse of the Black Spot (specifically in how her song integrated with score during an action scene) - that conceit is expanded upon a bit here. The acknowledgment of (and approach to) music in Moffat's WHOverse has been consistently fascinating and imaginative, and there are still numerous ways in which the relationship between score/character/action might be further explored. Besides the aforementioned Curse of the Black Spot, music (within the WHOverse itself - not merely as a 'just' a score) has played a vital role in A Christmas Carol, Rings, and figures prominently (although in a very different way) into next week's Cold War. There may be one or two other examples I can't recall at the moment. One has to wonder if Team Moffat will settle for merely poking at these stylistic conceits for in the name of experimentation, or if they might be slowly priming us for some grander level of musical integration further down the line.
Murray Gold's work here is notable-to-exceptional, introducing a number of themes and a few martial movements which suggest classic John Williams. His reliance on nuWHO's now-iconic themes and throughlines is somewhat minimized in Rings, thanks in no small part to the newer music (and its interesting usage) mentioned above. A nice and inventive change of pace all the way around.
Emilia Jones' pivotal guest appearance as Merry brings amazing depth and grounding to the proceedings, in a role which could've easily played as sappy or 'cute.' She skillfully finds the 'truthful' pulse of moments which could've easily become silly, and holds her ground quite assertively against Hurricane JennMatt . Which is likely no small task for any actor, I should think, much less a younger one. I expect Jones will be around and on screens for many years to come.

Rings serves as a perfect expansion opportunity for Jenna-Louise Coleman's thrice introduced companion character - she even gets some time to herself on a teeny, tiny side-story. One might conceivably argue that her character (Clara) does not respond with a level of wonder commensurate with the world and circumstances into which she's placed in this episode. Answering this point, I rather suspect there may be more than meets the eye regarding her (arguably) muted reaction. We'll see.
Direction by Farren Balckburn (what a badass name) is quite similar to his showing in The Doctor, the Widow, and the Wardrobe (DOCTOR WHO's 2011 Christmas Special) - it's wholly capable but never full-bore engaging or immersive. There's a detached quality to his approach which doesn't help to override the misfires in McCready's photography, resulting in a one-two punch which forces an overall result which feels a tad more muted than it should have.
The script from LUTHER writer/creator Neil Cross is ambitious and visionary. Evoking 60s STAR TREK and the strongest of vintage WHO, Cross manages to smoothly convey ideas which are relevant to our contemporary world and human condition without ever doing so obviously. While the above snags sometimes prevent Rings from soaring as highly and freely as it could have/should have, Cross and Team Moffat deserve credit for at least attempting to take on an undertaking of such size, complexity, and thematic. It's far better to swing and miss, than to never reach for the ball at all. Cross returns to the show with Hide, a few episodes down the line; we can only hope that his involvement with WHO might someday lead to the integration of LUTHER lead Idris Elba into the WHOverse. My God...how insanely badass could that be? Idris Elba as a Master? As a Timelord? As a...dare I say it...Doctor? Yeah...I'll go ahead and say that.
While The Rings of Akhaten may end up being a tad bumpy for some viewers' tastes (and I very much look forward to seeing reader reactions in the Docback below), it's never a complete failure either. For every stumble it clears a hurdle, resulting in a race which is never actually won, but is filled with plenty of admirable competitive spirit.
NEXT WEEK: Mark Gatiss' Cold War - transmitting next Saturday. It came together very, very nicely. I look forward to telling you more about it. Stay tuned...
The Rings of Akhaten transmits Saturday April 6 on BBC America, BBC One, and Space.
-------------------
Glen Oliver
"Merrick"
- e-mail
- Twitter
- Google +
[[[[[ A LIST OF PREVIOUS DOCBACKS CAN BE FOUND HERE!! ]]]]]
DOCBACK CODE OF CONDUCT
1) a Docback should be about completely open and free discourse regarding all things WHO with, obviously, some variation on subject matter from time to time - the real world intervenes, discussions of other shows are inevitable, etc.)...
2) matters of SPOILAGE should be handled with thoughtful consideration and sensitivity. Posts containing SPOILERS should clearly state that a SPOILER exists in its topic/headline and should never state the spoiler itself . "** SPOILER ** Regarding Clara" is OK, for example. "** SPOILER about that Motorcycle" is fine. **SPOILER** Why did everyone die?" Is NOT good.
And, above all...
3) converse, agree, disagree, and question as much as you want - but the freedom to do so is NOT a license to be rude, crass, disrespectful, or uncivilized in any way. Not remaining courteous and civil, as well as TROLLING or undertaking sensational efforts to ignite controversy, will result in banning. Lack of courtesy may receive one (1) warning before a ban is instigated. Obvious Trolling or Spamming will result in summary banning with no warning. One word posts intended to bump-up any Docback's figures on AICN's "Top Talkbacks" sidebar will be considered actionable Spam - they not only complicate efforts to access Docback from mobile devices, but impede readers' abilities to follow or engage in flowing conversation.
In short, it's easy. Be excellent to each other. Now party on...