Word is original "Walking Dead" showrunner Frank Darabont got the boot midway through season two because AMC didn't like the first season-two episode he wrote (indeed, most of that episode wound up on the cutting room floor).
Now comes word that a big chunk of third season finale -- script credited to outgoing showrunner Glen Mazzara -- was scrapped and reshot from a new script written (without onscreen credit) by Scott Gimple, who takes over as the series' showrunner starting with season four.
The reshot scenes were those that focused on the locked room containing tied-up Andrea and the mortally-wounded Milton.
Dallas Roberts, who played Milton, compared and contrasted the Mazzara and Girmple versions of the script for Entertainment Weekly:
Originally, the beating scene that started the episode wasn't there. Originally, I showed up and was led into the room where Andrea was and I took the tools out – the instruments of torture that were laid on the table — and then he shot me in the stomach, completely unexpectedly. And then I was left to bleed out in the same idea basically — you're going to kill her now. There was a lot more of Milton trying to open the door and him trying to free her from the chains. And then there was a section where he was going to wrap the chain around the neck and try to choke her to death before he turned so she wouldn't have to deal with Walker Milton, or Biter Milton, as it were.

And then at the end of that, it was just Tyreese and someone else who found her. Rick and Daryl and Michonne weren't there. So it was essentially the same idea, except you saw me taking chunks out of Laurie Holden in that version. And then they called us back a few months later to reshoot it and made all those changes. So now you're not sure if I've gotten her until after that door opens, and I think that's probably why they did it.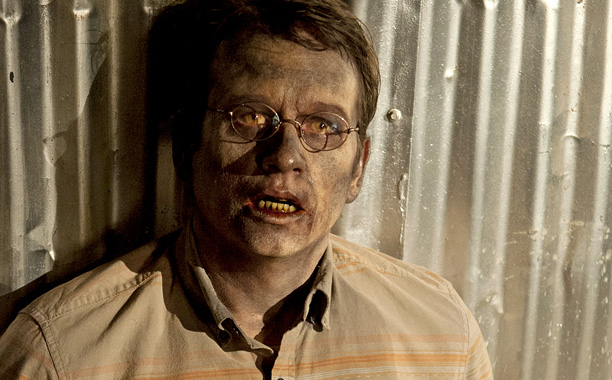 While in the broadcast version Milton permanently lost his trademark eyeglasses during The Governor's opening-scene enhanced interrogation, the publicity stills showing a bespectacled zombie Milton are actually from the discarded Mazzara version.
Gimple, hired by Darabont at the start of season two, wrote two of this year's most acclaimed episodes: "Clear," featuring the three-years-later return of Lennie James as Morgan Jones; and "This Sorrowful Life," depicting the final exit of Michael Rooker's Merle Dixon.
Find all of EW's debrief of Roberts here.