UPDATE 23 MARCH!!
Here's the freshly issued Season/Series 7 prequel. A sweet little piece - one can really sense the weariness of the Doctor character -as well as his indomitable, sometimes childish youth. DOCTOR WHO returns next Saturday, March 30, with The Bells of Saint John.
==========================
[via MOV]
Glen here...
I probably misused the Garthok phrase in my headline, but...whatever.
So, in a Docback first, it took so long to round up and format all the WHO news which came our way this this week that I didn't have a chance to complete my write up of the newly resotred Reign of Terror (Hartnell, Story #8). In short, my perception of the episode hasn't changed much since MY INITIAL WRITE_UP OF IT, and I was also a tad underwhelmed by the newly rendered animation incorporated to complete loing-missing episodes. More details soon, but in the meantime...here's the highlights of this week's DOCTOR WHO news.
And, remember, next week we'll be shifting gears and returning to a heavier focus on DOCTOR WHO S7B. I may feasibly run write-ups of 'classic' WHO goodness (including HornOrSilk's Big Finish reviews, and hopefully some comic exploration, etc.) in separate mini-Docbacks during the S7B run, as participants in current WHO Docbacks tend to focus most heavily on the newer stuff, and I thought it might be easier for readers to contribute thoughts (and focus on topics) if the two eras ('classic' and 'new') were temporarily divorced for purposes of discussion. Or, would I be wrong? Feel free to drop me a line or chime in via the Docbacks below. Whatever you guys want.
So here we go. I likely missed something, and if I did feel free to link it in the discussions below. In no particualr order...
FOR THOSE WHO'VE YET TO BEHOLD IT...
BBC has issued a new trailer for DOCTOR WHO Season/Series 7B.
...and...
MEANWHILE...BBC AMERICA HAS ITS OWN DOCTOR WHO SEASON/SERIES 7B TRAILER
...via EW.
DOCTOR WHO IS ON THE COVER OF THE CURRENT ENTERTAINMENT WEEKLY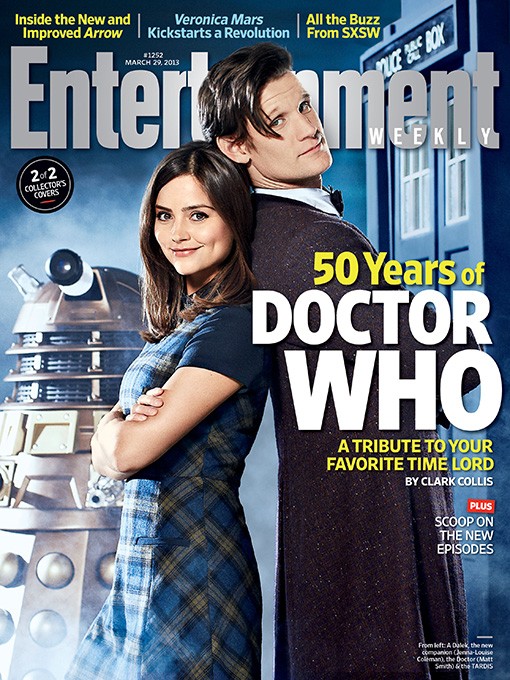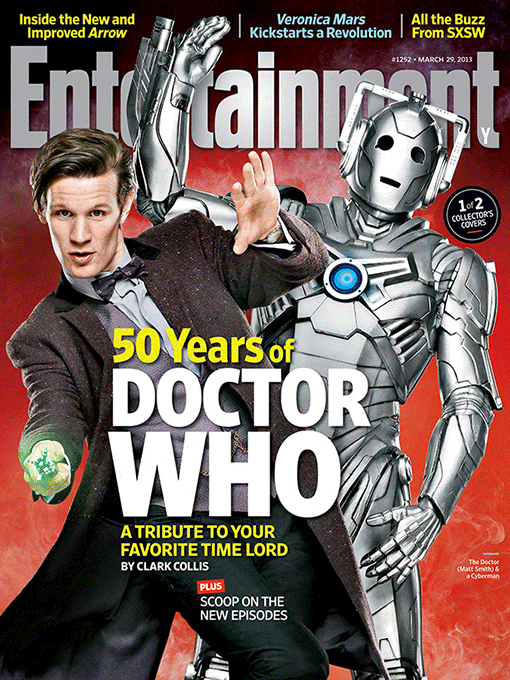 It's now in stores, and can also be had digitally via iOS apps (through Apple's Newsstand) and more.
EW also has a lovely clip from The Bells of Saint John, which can be found HERE.
A VERY NICE PIECE SAYING GOODBYE TO BBC'S TELEVISION CENTER
The spiritual heart of BBC, and an oh-so-important player in the history of DOCTOR WHO. Times they are a' changin', but HERE's a thoughtful write-up and remembrance. BBC's take on the matter can be found HERE. If you know of more remembrances, please drop in links below.
NEW DOCTOR WHO SOUNDTRACK RELEASES COMING
To commemmorate the show's 50th Aniversary, Silva Screen is issuing previously unreleased scores for vitnage DOCTOR WHO stories, beginning with The Caves of Androzani (Davison, Story #135)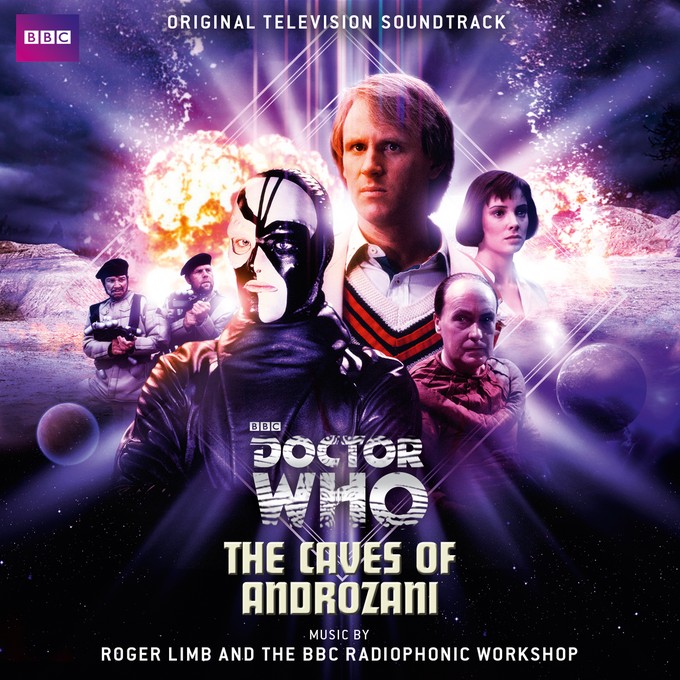 As I've previously indicated, I'm not a huge fan of earlier DOCTOR WHO scores...they often sound very lazy and uninspired and plinky to me (sometimes even grating), even when factoring in the imitated materials and time composers had to work with. This said, I think it's super-cool Silva is doing this, for historical purposes if nothing else. More details HERE.
More details HERE.
MATT SMITH APPEARED ON JONATHAN ROSS SATURDAY MARCH 16
...and brought a clip from an upcoming episode. Here's video of all!
PLOT DETAILS FOR THE FIRST BATCH OF SEASON/SERIES 7B EPISODES + HIGHER-RES VERSIONS OF THE NEW S7B POSTER ART
BBC has issued story points for the first four episodes of the forthcoming Season/Series 7B. I've included the previously released 'movie-poster'-style promo art for each episode, but have now rendered them EMBIGGENABLE (just click!)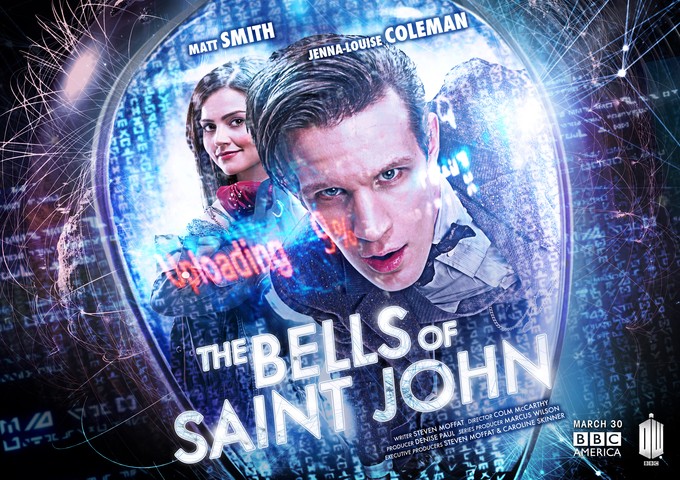 The Bells of Saint John - Episode 6

The Doctor's search for Clara Oswald brings him to modern day London, where Wi-Fi is everywhere. Humanity lives in a Wi-Fi soup. But something dangerous is lurking in the signals, picking off minds and imprisoning them. As Clara becomes the target of this insidious menace, the Doctor races to save her and the world from an ancient enemy. Episode credits: Written by Steven Moffat, directed by Colm McCarthy (Ripper Street, The Tudors), and produced by Denise Paul (Taggart).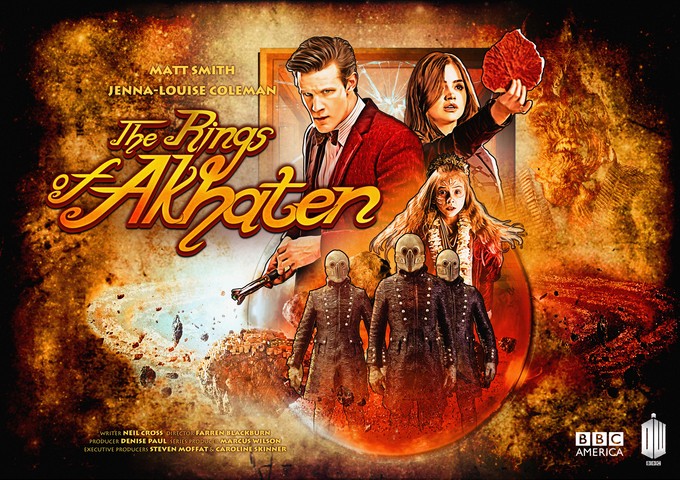 The Rings of Akhaten - Episode 7

Clara wants to see something awesome, so the Doctor whisks her off to the inhabited rings of the planet Akhaten, where the Festival of Offerings is in full swing. Clara meets the young Queen of Years as the pilgrims and natives ready for the ceremony. But something is stirring in the pyramid, and a sacrifice will be demanded. Episode credits: Written by Neil Cross (Mama, Luther), directed by Farren Blackburn (Luther, The Fades) and produced by Denise Paul.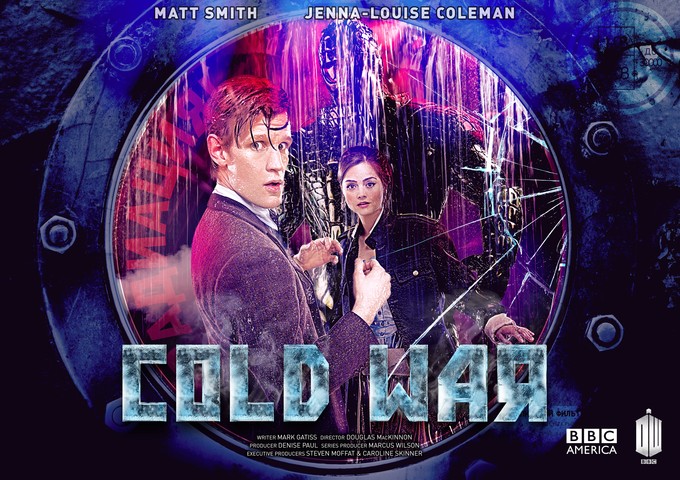 Cold War - Episode 8

The Doctor and Clara land on a damaged Russian Submarine in 1983 as it spirals out of control into the ocean depths. An alien creature is loose on board, having escaped from a block of Arctic ice. With tempers flaring and a cargo of nuclear weapons on board, it's not just the crew but the whole of humanity at stake! Episode credits: Written by Mark Gatiss (Sherlock) and directed by Douglas Mackinnon (Silent Witness).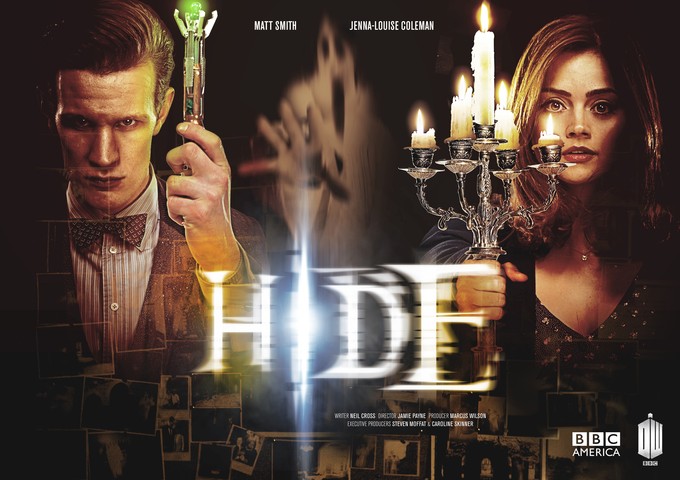 Hide - Episode 9

Clara and the Doctor arrive at Caliburn House, a haunted mansion sat alone on a desolate moor. Within its walls, a ghost hunting Professor and a gifted psychic are searching for the Witch of the Well. Her apparition appears throughout the history of the building, but is she really a ghost? And what is chasing her? Episode credits: Written by Neil Cross and directed by Jamie Payne (The Hour, Call the Midwife).
MATT SMITH COMMENTS ON DOCTOR WHO'S 50th ANNIVERSARY SCRIPT
Matt Smith teased and discussed THE 50th Anniversary Episode in a discussion with Radio Times, which can be found HERE.
"I read it and I clapped at the end. I think it's hilarious and I think it's epic and I think it's vast. I'm telling you nothing more. But you will not be disappointed. I think it's going to be the biggest, the best, the most inventive, the most exciting year for the show. The script delivers on all those points that you want it to for where the show is at this time. It's brilliant."
So, is this a one hour script? A two hour script? And, above all, how badass is it in actuality? Hugely fascinating...soooo, soooo eager to glean more!
BBC RELEASES PROMO IMAGES FROM THE FIRST FEW SERIES 7B EPISODES
Click the image to jump to BBCA's gallery, which features further shots.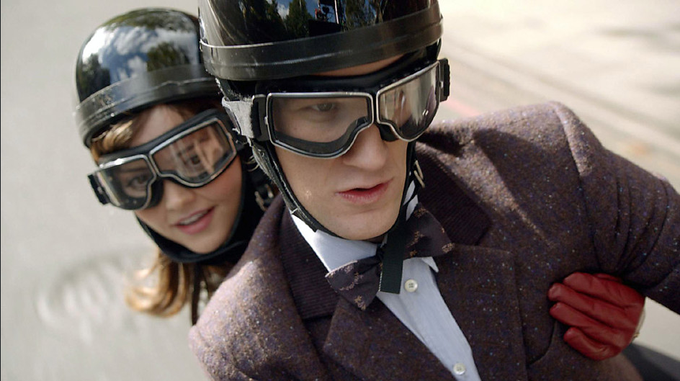 THERE'S A SERIES 7B PREQUEL MINISODE HITTING SATURDAY MARCH 22
Per BBC! I'll embed it into the Docback as soon as it becomes available.
DOCBACKER HORNORSILK REVIEWS THE BIG FINISH AUDIO WAR AGAINST THE LAAN
This one's written by Nicolas Briggs, the reigning voice of the Daleks/Cybermen, who'll also show up as an Ice Warrior in the upcoming Mark Gatiss scripted Cold War! As always, a tip of the hat to our friend HornOrSilk for making these insightful reviews possible.
=======================================
Fourth Doctor Adventures 2.03. War Against the Laan
Written By: Nicholas Briggs
This story continues right after the last, and so should be seen as the second part of a two-part story. While I think you could begin here, ignoring the previous audio, and work your way into understanding what is going on, much would be lost and it is best to begin with The Sands of Life.

The Big Finish description of this audio best explains it, and I think I will give their own description here:
"The Doctor, Romana and newly elected President Sheridan Moorkurk take on the all-consuming powers of business tycoon Cuthbert and his vast Conglomerate. But the situation goes beyond a struggle for political power. Cuthbert is intent on revenge on creatures he feels have attacked his interests. But when his revenge looks like leading to inter-species war, the Doctor knows the stakes couldn't be higher."
Even though the story takes place immediately after the last, I immediately sensed differences with its predecessor. The Doctor is, for example, interested in hard boiled eggs in this one. While it creates a narrative which lasts throughout the story, I felt, as a side theme, it was a misfire (though only a slight misfire). Tom Baker seems to be more "phoning it in" with this audio than the last – which surprises me, because I expect he was doing the same with both. It's not bad, but it isn't Tom at his best.
Cuthbert, played by David Warner, continues to play a villainous CEO who is, for the most part, played in such a way to keep a sense of mystery to him. At one point, he tells the Doctor, "You have no idea who or what I really am, Doctor." There is more to him than meets the eye. We get that but, to prevent too much coming out now, it seems David Warner is being kept from going "all out" with his portrayal of Cuthbert so he can do so later, with hopefully great value. Right now, he plays the role like Tom does the Doctor: satisfactory, but seemingly phoning it in. But I think this is a directorial decision so as to give his character depth when we encounter him again. It's clear he has an idea of time travel, but what does it mean to him? Probably more than we see here. Certainly, the Doctor knows there is more to him, because he does not "belong."
We do get more of Sheridan Moorkurk here than the last story. She is an interesting character because she knows her position: she would like to be able to do more, but she can't. She has to defer, in part, to Cuthbert. She allies herself with the Doctor, but she also knows she can't distance herself from Cuthbert. It's a great idea for a character. It shows how difficult political power can be. Was she right in what she did? Obviously, not, and I expect there will be ramifications from this. Nonetheless, one can understand why she does what she does, to keep herself in the good favor of Cuthbert. She isn't fully in control and she has to keep herself in the proper position, hoping to do good while recognizing much of the good she would do she can't without losing her position of power. Who is willing to give it up once they have it? Few indeed.
I would be hard pressed to say Mary Tamm, forcing herself to do these audios, is phoning it in. She does a good job, but is not great here. The direction in general is, as the story itself, acceptable but not great. It is enjoyable, but not exceptional, as Mary Tamm as Romana is here.
The Laan themselves are not a real exciting creation. There are elements of many sci-fi topes with them (the Sandworms of Dune, for example), but the Laan, despite providing the incentive for the story, really are secondary to it. I find them rather boring. They don't seem to get the harm they are causing to others, but seek to harm none. The harm the cause leads others to attack them, causing them to misunderstand the intention of others. Ok, I get it. It works, but it is not exceptional.
There is also a parrot in the TARDIS. I'm interested in this. Will it change shape to become a cabbage before the season is over? I hope so. Just for the fun of it.
I will give this a 7/10. It's not bad, not great, something easily missed but if you listen to it, it is enjoyable enough. But, be warned, its title is rather deceptive.
-- HornOrSilk
=======================================
-------------------
Glen Oliver
"Merrick"
- e-mail
- Twitter
- Google +
[[[[[ A LIST OF PREVIOUS DOCBACKS CAN BE FOUND HERE!! ]]]]]
DOCBACK CODE OF CONDUCT
1) a Docback should be about completely open and free discourse regarding all things WHO with, obviously, some variation on subject matter from time to time - the real world intervenes, discussions of other shows are inevitable, etc.)...

2) matters of SPOILAGE should be handled with thoughtful consideration and sensitivity. Posts containing SPOILERS should clearly state that a SPOILER exists in its topic/headline and should never state the spoiler itself . "** SPOILER ** Regarding Rory" is OK, for example. "** SPOILER ** Battle of Zarathustra" is fine as well. " **SPOILER** Why did everyone die?" Is NOT good.
And, above all...

3) converse, agree, disagree, and question as much as you want - but the freedom to do so is NOT a license to be rude, crass, disrespectful, or uncivilized in any way. Not remaining courteous and civil, as well as TROLLING or undertaking sensational efforts to ignite controversy, will result in banning. Lack of courtesy may receive one (1) warning before a ban is instigated. Obvious Trolling or Spamming will result in summary banning with no warning. One word posts intended to bump-up any Docback's figures on AICN's "Top Talkbacks" sidebar will be considered actionable Spam - they not only complicate efforts to access Docback from mobile devices, but impede readers' abilities to follow or engage in flowing conversation.
In short, it's easy. Be excellent to each other. Now party on...