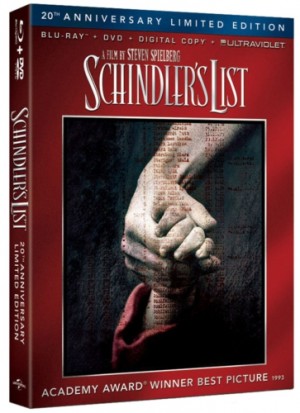 The Kidd here...
There's no question that SCHINDLER'S LIST is in the discussion when you're talking about Steven Spielberg's greatest film in his illustrious career, and, now for the first time, this cinematic masterpiece is on Blu-ray for its 20th Anniversary.
Beginning at 12:01 a.m. EST on Wednesday, March 13, I'll start accepting your emails for nearly 24 hours to win one of these Blu-ray Combo Packs. I have pre-selected FIVE random times throughout the day, and, if your email comes to closest to that one of those designated moments, then you have a copy of SCHINDLER'S LIST to add to the Spielberg section of your Blu-ray collection.
You need to send in your name and your mailing address in the body of an email to Contests@AintItCool.com with the following subject line exactly (in all CAPS):
SCHINDLER'S LIST
This contest is open to residents of both the U.S. and Canada, and this contest will close at 11:59 p.m. EST on Wednesday night.
Just make sure you have everything I'm asking for, or your entry won't count... and you can only enter once. Duplicate entries means they both get tossed.
Good luck to you all, and thanks to Universal Studios Home Entertainment for setting this up with us.
-Billy Donnelly
"The Infamous Billy The Kidd"
Follow me on Twitter.
Like me on Facebook.