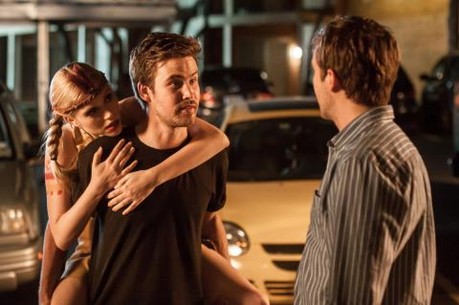 I've been a fan of Bryan Poyser since his directorial debut, DEAR PILLOW, so I was very pleased that his successful follow up, THE LOVERS OF HATE got the attention of a larger audience. With so much momentum, I have been eagerly anticipating his latest effort THE BOUNCEBACK. It's strange to admit that some of the overt, yet earnest raunch of DEAR PILLOW is probably what got me on board in the first place, and with THE BOUNCBACK Poyser takes that same sensibility and applies it to a nicely well-rounded romantic comedy.

The story starts with our lead actor and actress masturbating to memories of their first date, only for it to be revealed that she, Ashley bell's Cathy, is in NYC while he, Michael Stahl- David's Stan, is in LA. After their mutual climax, the opening credits roll against the backdrop of a photo montage showing the couples' progression past that first date through to their eventual separation when professional aspirations take them to their respective coasts.

During a bit of Facestalking, Stan learns of Cathy's weekend plans to visit Austin. Plane tickets are astronomical, but Stan makes the rash decision to take a weekend trip of his own to Austin secretly hoping he will cross paths with his ex.

When Stan and Cathy arrive, they each discover that their best friends, who were also a couple, have recently called it quits. As they drive away from the airport separately with their respective pals (Sara Paxton as the audacious Kara and Zach Cregger as the wise-cracking Jeff), they are both lectured on how they need to also leave their exes in the past. Stan keeps his true intentions for the weekend a secret, while Cathy admits to Kara's dismay how much she misses Stan.

Both parties embark on a night on the town. Though their paths never quite cross, a bit of madness ensues as each of them meets a new romantic prospect while carefully navigating near run ins and text messages games with their exes.

THE BOUNCEBACK is a really fresh take on the traditional romantic comedy. Poyser's straightforward style compliments a somewhat complex story about love and friendship. Writers David DeGrow Shotwell and Steven Walters have created a group of characters that are singular and vastly different, yet they completely click with one another. It also helps that the performances are stellar all around. Bell's demure yet playful take on Cathy is spot on while Paxton's raunchy cool-chick Kara is way too much fun. Michael Stahl-David's straight man to Cregger's outrageous Jeff are both perfectly played as well.

For Austinites, the film is chalk-full of local haunts and even features the infamous institution of Air sex. You read that right. Air sex. We've all performed/witnessed air guitar, now just remove the guitar and insert (heehee) simulated sex instead. With the air. It's a true phenomenon that has been going on in Austin for several years now complete with tournaments and fabulous prizes. In THE BOUNCEBACK, Jeff is vying for the Air Sex Championship and the competition even becomes a satisfying plot point.

Overall, the film is an incredibly fun and invigorating film. Though there was one point where the should we or should 't we contact one another dance between the leads grew slightly tiresome, an ironic payoff at the end made the whole build up work.

I hope everyone gets a chance to see this film. If you are in Austin for SXSW, THE BOUNCBACK is screening again on 3/10 at 9:45pm at The Alamo Drafthouse on Slaughter Lane, on 3/15 at 9:15pm at The Stateside Theatre, and 3/16 at 4:00pm at The Rollins Theatre at The Long Center.

I'll be back with an interview with director Bryan Poyser as well as some of the cast of THE BOUNCEBACK later.

Until then...


- Rebecca Elliott
"Annette Kellerman"