And so it's begun. It's SXSW time and I am back with a quick preview of three films I had the opportunity to view before the real madness begins!


LOVES HER GUN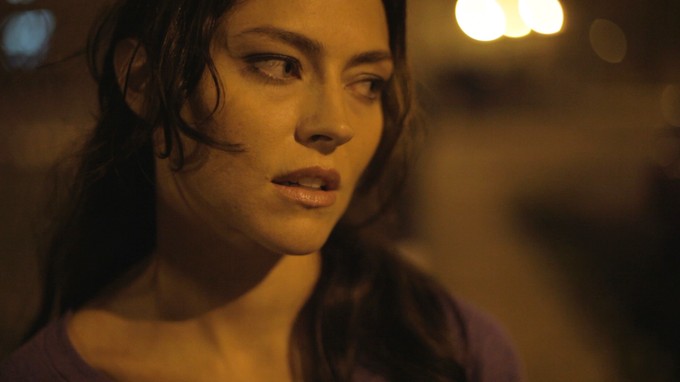 Geoff Marslett's LOVES HER GUN tells the story of Allie, a beautiful twenty-something from Brooklyn. She has the cool address, the avant-guard musician friends, and a selfish loser boyfriend. All the makings for a fabulous yet unfulfilled Williamsburg hipster life. That is until Allie finds herself victim of a random violent crime that forces her to suddenly reassess her current situation and make the bold choice to join her musician friends on their cross country road trip back to their hometown of Austin, TX. Deeply frightened by the assault she endured, Allie leaves her east coast existence without any of her possessions, much less a game plan. Fortunately, Austin welcomes her with open arms (and vacant couches), and Allie embarks on a fresh life in a new city.

Before too long, however, Allie discovers that escaping to another state doesn't mean you leave your demons behind. As she goes through the motions of taking a job, joining a new social circle, and even negotiating a not-so-welcome love triangle, the fear of being a victim again continues to haunt her. Poor girl lives in constant fear of the next attack. When a friend suggests that she arm herself and learn to shoot (it's Texas, y'all!), the film starts to take on a darker, more ominous edge. Though Allie is empowered through her new found firearm skills, we learn soon enough that toting a gun doesn't erase your fear.

LOVES HER GUN is a great little movie. Though the crux of the story is pretty dang melancholy, director Geoff Marslett nicely balances the dark stuff with lots of fun sequences illustrating Allie's "Austin indoctrination." Floating the river, frequenting dive bars, and skinny dipping parties are just a few of the lighter moments that save the film from drowning in the dire. Likewise, cinematographer Amy Bench keeps the film visually fresh incorporating time lapse and even underwater footage that provides a bit of whimsy. Though a lot of the film is hand held, the look is stable and not at all shaky. Like Allie's current plight, the film has a sort of meandering feel that fits just right without making it seem like the story is going nowhere. Her natural progression through various situations, good and bad, registers as real and not overly orchestrated.

This uncontrived mood is probably due to the fact that a majority of the dialogue is improvised. Thankfully, Marslett's use of improv coaxes some lovely, understated performances from leads Trieste Kelly Dunn and Francisco Barreiro. Where some films with improvised dialogue languish without a script, Marslett has managed to pull some remarkable parlance from the other main players Ashley Spillers and Melissa Bisagni as well. The organic nature of the performances help make each character likable in their own way. Actually, if there is one character that isn't super likable, it would be Allie, and this is a compliment to Dunn. She does a proficient job of showing the complexity of her character's emotional state, which ironically succeeds in making her less sympathetic in the end.

LOVES HER GUN has its world premiere at SXSW 2013 on Monday, March 11 at 1:45PM at the Topfer Theatre at ZACH. It will also be screening on Tuesday, March 12 at 11:15AM at the Alamo Village and Friday, March 15 at 4:00PM at the Topfer Theatre at ZACH.

I'll be following my review very soon with an interview with director Geoff Marslett and co-writer/producer Lauren Modery.
EUPHONIA



EUPHONIA is an interesting quasi-experimental narrative film. Instead of utilizing avant-gard visuals, however, director Danny Madden utilizes a "found sound" concept that serves not only as great amusement but as a clever plot device as well. Now, I'll admit that experimental films usually don't appeal to me. They almost always come off as a bit pretentious and self-indulgent for my taste, and lack of a plot is what usually seals the deal for me. EUPHONIA, however, blends narrative and experimental in a way that is quite enjoyable, and the 60 minute running time actually left me wanting more.

The story revolves around a teenage boy (played by Madden's brother Will) who is drudging through his mundane day-to-day responsibilities. He wears a sad red vest to his job at a big box store, his family life appears to be non-existent, and save for the occasional note passed from the cute girl in English class, school is a total bore. He is just generally disconnected- so much so that we don't even find out his name for the duration of the film. When he happens upon a digital recorder in the electronics section at work, however, he begins to come out of his shell and suddenly the world around him comes alive.

Our guy first puts his new recording device to the test on a downtown outing with a pal. Street performers, blaring sirens, traffic, and even unrequited advances to some teenage girls prove to be an amazing mix of soundbites. As each sound scape blends from one to the next, it is obvious that although the sights are great, the sounds are even better. Soon our protagonist is experimenting with everything from junkyard rubbish to vacuum cleaners, all the while recording his findings with his favorite new toy. Just when the film threatens to stall as an interesting montage of clever audio only, a real narrative thankfully takes form when it becomes apparent that our main character's affinity for his recorder is evolving into more of an obsession- and even a borderline dependency.

I hate to give away any more than that, but I will say that a fun twist with the "found sound" in the third act truly elevates the film and saves it from just being another weird blip in the experimental genre. Also, Madden's selection of audio clips including bits from Star Wars, George Carlin stand up, and even opera singers nicely round out the cacophony and help lighten the mood when needed. Did I mention that the film is beautifully shot too? Well, it is, even though the visuals here definitely take a back seat to the sound. The style is fairly simple which works well for providing a solid backdrop for listening. Will Madden's performance is nicely subtle, but definitely amps up when his character's relationship to his technology begins to get the best of him.

Overall, I really dug EUPHONIA. It's a fascinating film that deftly combines sound experimentation and simple narrative. If you will be in Austin for SXSW and want to check it out, EUPHONIA is screening on Saturday, March 9 at 7:00PM at the Rollins Theatre at The Long Center, Tuesday, March 12 at 11:00AM at the Alamo Ritz, and Wednesday, March 13 at 4:30PM at the Alamo Village.


HEY BARTENDER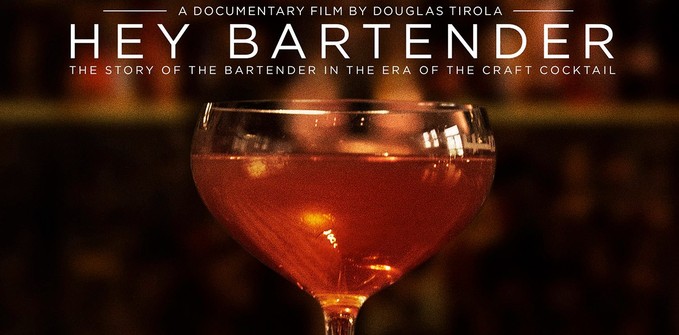 Like many AICN readers, I enjoy a good drink. Though I am mainly a Guinness girl, every now and then I like to try a fancy cocktail. For so many years, however, I associated the word "cocktail" with those sugary drinks with umbrellas only girly girls drink. Even though they didn't agree with my palate anyway, the ridicule of ordering "girl" drinks was somehow even harder to stomach. As I grew older and wiser (?) and learned to trust the bartender, I realized there were actually a few drinky drinks I enjoyed. Like a docent in a museum, a great bartender leads you through all the selections and points you in the right direction. Furthermore, a great bartender is a psychologist/chemist of sorts. He or she reads your personality plus what you desire and then creates the perfect concoction right before your eyes. HEY BARTENDER is a documentary that pays homage to the age-old trade and also sheds light on the recent resurgence in the craft of the specialty cocktail and the "mixologists" who create them.

The documentary begins in customary style, introducing us to several bartenders varying from the old-guard celebrity down to the struggling hometown pub owner. In between, we get to meet Steve Schneider, an apprentice at NYC's famed Employee's Only. With his tattooed body and handlebar mustache, Schneider's pure passion for the craft and his loyalty to his employers demonstrates immediately the serious commitment mixologists have for their profession. On the other end of the spectrum, we meet another Steve. Steve "Carpi" Carpenteri who left the lucrative, yet soul-crushing daily grind at Citibank to open his own neighborhood restaurant/pub. Though Steve is by no means a craft bartender, it is amusing to see that he can identify who was at his bar the previous night by smelling the shot glasses left in the kitchen. A litany of other bartending luminaries appear on screen one after another attesting to the historical and social significance of mixing drinks.

The film touches somewhat briefly on the history of the bartending trade via several historians including "King Cocktail" Dale DeGroff. DeGroff not only poured drinks for decades at NYC's famed Rainbow Room, he is also the proprietor of The Museum of The American Cocktail. In the bartending world, Dale DeGroff is a household name and is considered to be the godfather of the modern day cocktail. DeGroff and the other experts talk about the importance and status of the bartender in centuries past, how career bartenders fled to other countries during prohibition, and how the GI bill affected the once revered profession when societal status became more congruous with a college degree instead of a hard work ethic.

Though several bartender success stories interweave throughout the film and form a sort of framework for a narrative, it is the stories of the aforementioned "Steves" that take center stage. We see Steve Schneider, the up and comer, working his way through the ranks from "apprentice bartender" to "principle apprentice bartender" with the ultimate goal of "principle bartender" looming large in the distance. The back story of the mustachioed former military man paired with his current rock star status at Employees Only makes for some very entertaining documentary film making. On the other end of the spectrum, Steve Carpenteri's sincere struggle to hang on to his financially failing neighborhood pub/restaurant provides a decent dose of heartbreak. Steve is resistant to the cocktail trend and makes several sad attempts utilizing other gimmicks to help keep his establishment afloat.

The climax of the documentary occurs at bartending's biggest event The Tale of The Cocktail. Held annually in New Orleans, The Tale of The Cocktail is the industry's pinncacle event and features seminars, competitions, and even an awards ceremony. As Steve Schneider and the team of Employees Only vie for the industry's top award, World's Finest Cocktail Bar, Steve Carpenteri attends as a last ditch effort to reinvigorate himself and learn a few tricks from the masters of the trade.

HEY BARTENDER is a fun and informative documentary. Though sometimes the shear number of people introduced on screen is a bit overwhelming, director Douglas Tirola does a great job ultimately honing all the footage into a cohesive narrative within the documentary. Though I would've loved to have seen a bit more about the history of bartending, his use of stock footage and accounts from the experts still provides a good idea of the cultural importance of a profession that used to be regarded as the royalty of the working class. Cinematographer Charles Poekel beautifully captures drink after drink concocted by featured mixologists, luxuriating in each and every drop of the colorful libations. The style is very straightforward without any special visual tricks, but the passion the bartenders have for their craft is perfectly illustrated.

HEY BARTENDER will have its world premiere at the SXSW Film Festival on 3/9 at 7:00pm at the Stateside Theatre. The film will also be screening on 3/11 at 4:15pm at the Alamo on Slaughter Lane and 3/14 at 9:30pm at the Alamo Ritz.

Thanks for reading. I'll be checking in with more from SXSW soon!
- Rebecca Elliott
"Annette Kellerman"