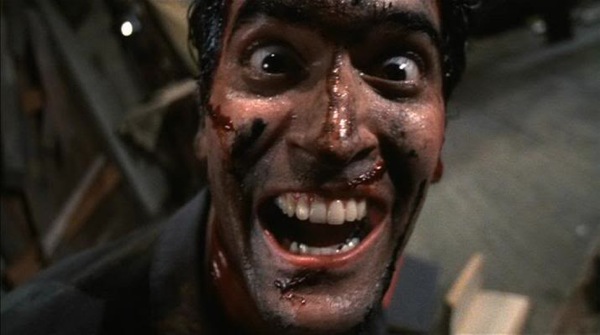 Beaks here...
I interviewed Sam Raimi two weeks ago at the press day for OZ: THE GREAT AND POWERFUL - which is [embargoed]! At the end of the interview, I asked if he was proud that Fede Alvarez's forthcoming remake of THE EVIL DEAD had encountered MPAA trouble (Alvarez's film had to be cut to get an R; Raimi's original was rated X). He was! From there, he gave me something of a canned answer, the kind he probably dished out to every other journalist who brought up THE EVIL DEAD that day. Still, I felt he was holding something back...
Well, if he was, he unleashed it today. At a "Meet the Filmmakers" event in London for OZ (h/t to BleedingCool), Raimi responded to an onslaught of EVIL DEAD questions thusly:
I would love to make EVIL DEAD 4. My brother and I plan to work on this script this summer.
Give me some sugar, baby.
Sam Raimi has never written a film with his brother Ted, so I'm guessing he'll be teaming with Ivan (who co-wrote ARMY OF DARKNESS, DARKMAN, SPIDER-MAN 3 and DRAG ME TO HELL). Either way, I ain't gonna lie: seeing as how Sam's at the height of his directorial powers right now (ahem), I would love to see him go nuts on one last EVIL DEAD movie. My guess is that he'll start with the post-apocalyptic Rip Van Winkle finale from the director's cut of ARMY OF DARKNESS, and proceed to abuse Bruce Campbell with impunity for the next ninety minutes.
I worship Raimi. EVIL DEAD 2 is one of my favorite movies. Let's do this.