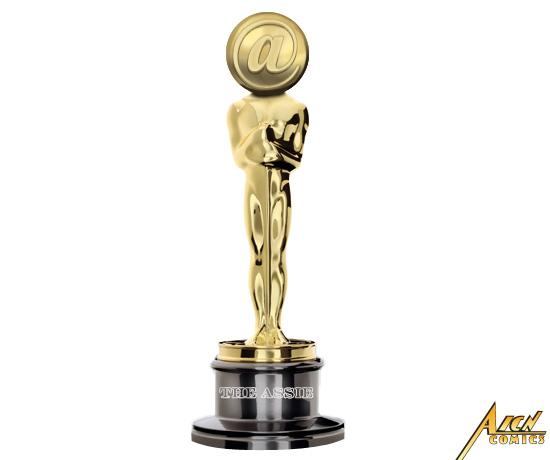 Logo by Kristian Horn
@@@ AICN COMICS @@@
@@@ 7th ANNUAL @$$IE AWARDS! @@@
---
Welcome, all, to the 9th Annual AICN COMICS @$$IE AWARDS, where comics' best and brightest are recognized for stellar performances in comic bookdom. I'm Ambush Bug. There was a time when we could fit all of the @$$ies into one lengthy column, but the @$$Holes' ranks have grown too big for that. Most BEST OF… lists are posted around the first of the year, but we think ours is special, so while those outside of the know celebrate the time of the Oscar, we here at AICN COMICS celebrate the time of the coveted @$$ie Award. For the next week, every day the @$$Holes will present their picks in 12 categories for the best of the best in comics. So sit back, crack the knuckles in your browsing hand, and scroll down as the @$$Holes pick the @$$ies!
And the @$$ie goes to…

(Click title to go directly to the reviewers picks)
Best Crossover/Event!
Favorite Superhero!
Best Ongoing Series!
---
Best Crossover/Event!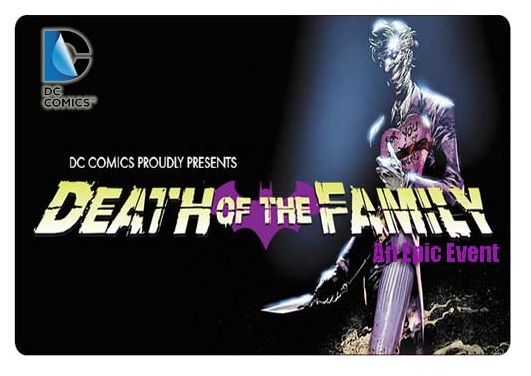 Humphrey Lee
:
"Death of the Family" (BATMAN Books, DC Comics)
Take my justification for "Best Moment" spread it over several follow-up issues that have been almost as stellar, and you've got me actually invested in a Big Two comic book event. Snyder's Joker is about as menacing as it comes, and I absolutely love the next level of disturbing that he and Capullo and the rest of the gang have taken his obsession with the Bat. The legitimate fear and dread that is going on in the ranks of the Bat-family as they muddle through the possibility that Joker may know who they really are also adds a significant level of horror to this tale. Usually my investment in such big hype storylines is trying a couple issues and watching even significantly lowered expectations go unmet, but I would be lying if I said I wasn't as invested in this storyline as I've been in any high quality comic book story I've read over the past several years.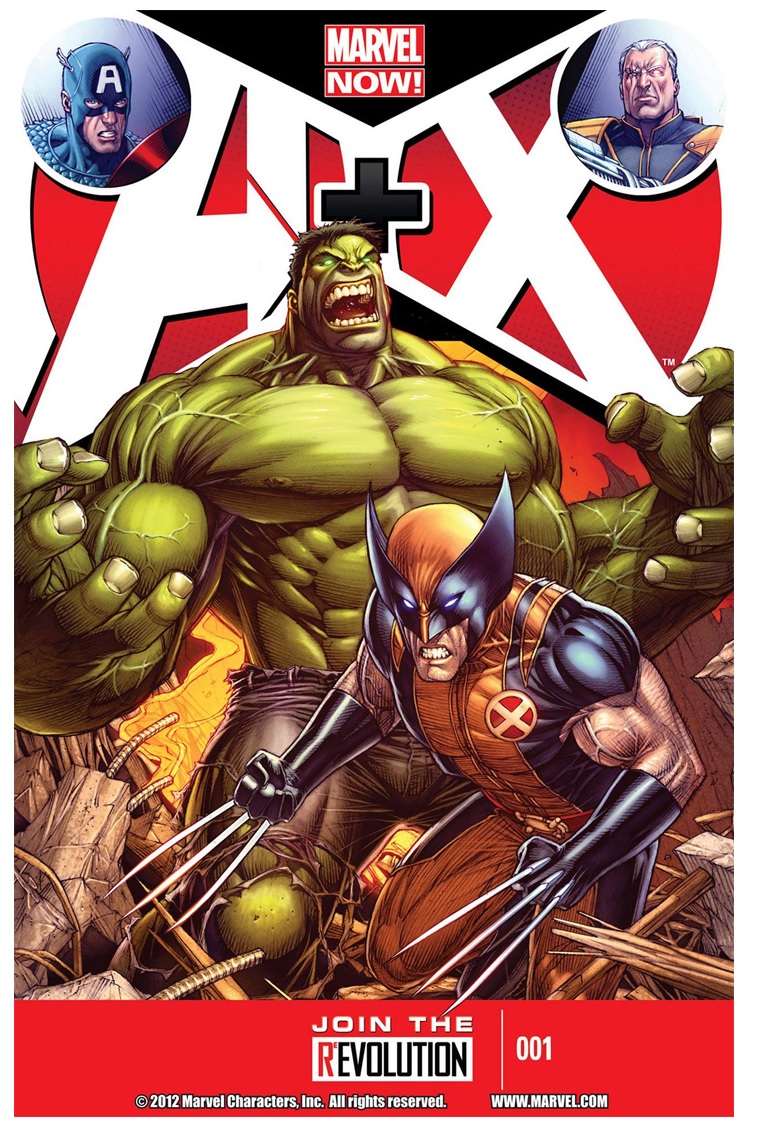 Henry Higgins is My Homeboy
:
A+X (Marvel Comics)
This is kind of a cheap call, but to be honest? Only a few issues in, it's my favourite crossover of the year. AVENGERS VS X-MEN has moments of being really really really good, but it never really delivers. I didn't much care for BATMAN: NIGHT OF THE OWLS. It didn't really feel like a Batman story to me, or at least the kind of Batman I enjoy reading, what with Batman punching zombies in half and fighting his long lost brother on top of a plane. And I've already talked about Marvel NOW in this column, and I really want to tell everyone to go read A+X somewhere in here. I'm in love with this comic.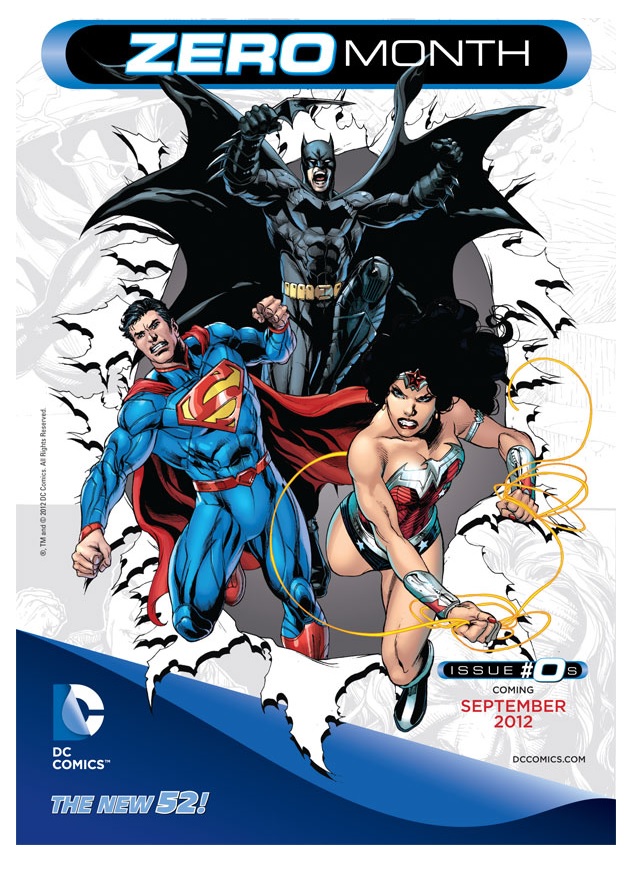 Matt Adler
:
Zero Month (DC Comics)
This was a tough category for me, as I have not really been a fan of the events or crossovers of the past few years. Typically, they are massive bloated affairs that drown out the individual voices of the authors (see AVENGERS VS. X-MEN) or they involve books I'm not interested in reading. The nice thing about DC's Zero Month, as an event, is that it didn't require you to read any more books than those you felt like picking up. That made me more willing to try new books than a caption that says, "To be continued in Random Title I Don't Read #27!" And it still had a compelling thematic crosscurrent, that of telling stories from the characters' pasts, that provided enough of a hook to be a jumping on point. Consequently, I tried several series, including SWORD OF SORCERY, SUPERBOY, ANIMAL MAN, PHANTOM STRANGER, and TALON, which I wouldn't have otherwise. And that should be the ultimate goal of any event.

Vroom Socko
:
COMICS UNDERGROUND
This roughly quarterly event is easily the most fun I had this year comic book-wise. As events go it's pretty straightforward: on a particular Thursday in Portland at the Jack London Bar, comic book creators come together with copies of their work in PowerPoint format, and they narrate their work to an appreciative audience. This past year featured guests like Jen Van Meter, Jonathan Case, Erika Moen, Jeff Parker, Matt Bors, and Mike Allred, and each one brought their A-game. Fun was had by all, creator and audience alike. What? Is there a different definition of "EVENT" you had in mind?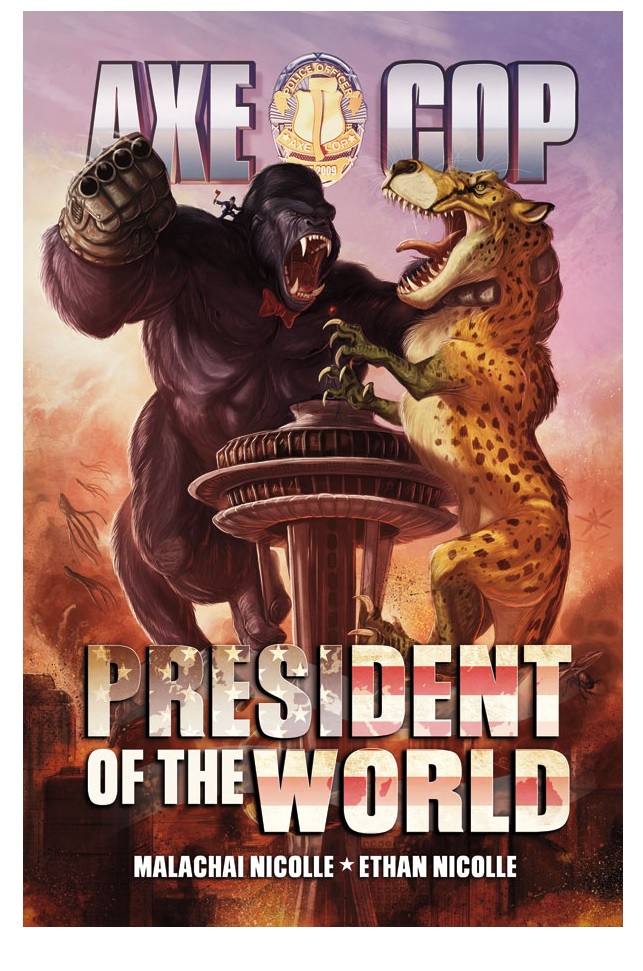 MajinFu
:
AXE COP: PRESIDENT OF THE WORLD (Dark Horse Comics)
Glorious. There are no other words to more aptly describe this series: it is the very definition of glory. "President of the World" raises the stakes for Axe Cop and friends to an insurmountable level. You may be a fan of the original comic, but the shift to print has inevitably led the duo of Ethan Nicolle (artist) and his little brother Malachai (author) to an unbelievably more epic tale than we've seen before. In case you can't tell by that cover, this book is unabashedly fun, effortlessly hilarious, and infinitely creative. Rarely do I find a comic where I literally have NO idea what's going to happen with every turn of the page, and that lack of predictability makes each new twist all the more shocking and humorous, so spoiling any details of the story would be wrong. It's all the inventions of a genius young mind anyway, so trying to explain it second-hand would be an exercise as futile as fitting a tyrannosaurus rex into a photo booth.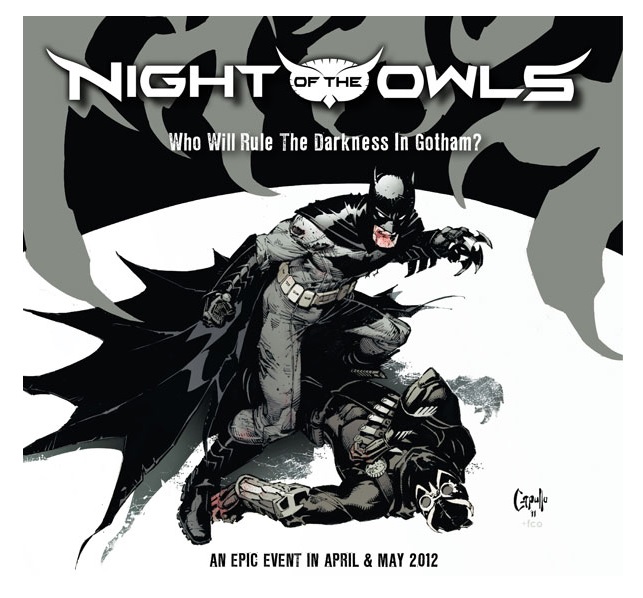 The Writing Rambler
:
"Night of the Owls" (BATMAN books, DC Comics)
So yeah, I know. I spend most of my choices here ranting about how "Death of The Family" is the best thing since sliced bread and then I ignore it for the obvious choice of 2012's best event. Now, one could chalk this up to the very debatable point that I am an idiot who has no idea what he's talking about, but for me "Night of the Owls" and the entire "Court of Owls" storyline was simply amazing. Scott Snyder spent the majority of 2012 keeping readers glued to the pages of BATMAN and he did it without using any of the Dark Knight's main foes as the antagonist. Snyder kicked off this first crossover event of the New 52 by introducing a new, secret history to Gotham and it was fresh, exciting and everything you'd want a great Batman story to be. I have no doubt that as "Death of the Family" plows its way into 2013 it will be remembered as anything less than one of the best Batman stories ever told. But I think it's only fair to give the "Court of Owls"/"Night of The Owls" event the respect it so deserved in 2012.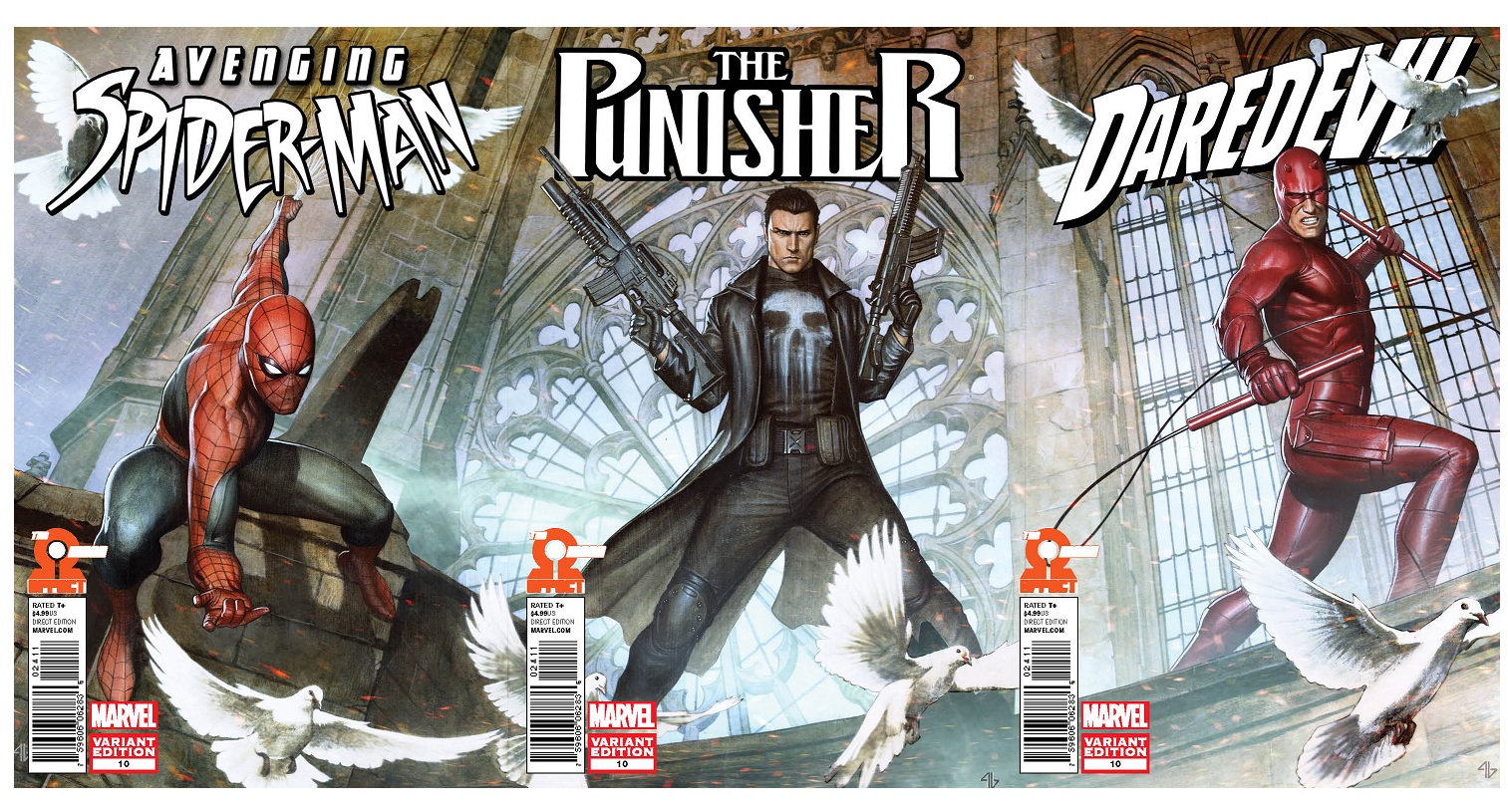 The Dean
:
THE OMEGA EFFECT (THE AMAZING SPIDER-MAN, DAREDEVIL, THE PUNISHER, Marvel Comics)
It sort of fizzled out at the end, but THE OMEGA EFFECT crossover was short, to the point, and entertaining, making it the only crossover or event in 2012 that can claim all three. I loved "Court of Owls," and "Death of the Family" is still going strong, but each of them bled somewhat unnecessarily into other titles, and the less you make me buy issues I don't really feel like buying, the happier I am. So this @$$ie goes to THE OMEGA EFFECT largely on principle: readers only had to buy one or two issues from outside of their regular reading habits, the characters were represented accurately to their respective titles by all writers involved, and it went as quickly as it came, with the events of each issue progressing the individual character's main storyline in their own monthly. I had been reading THE AMAZING SPIDER-MAN, DAREDEVIL, and THE PUNISHER already, but I think this would have gotten me on board all three if I hadn't been already, and at the end of the day, that's what a good crossover is supposed to do.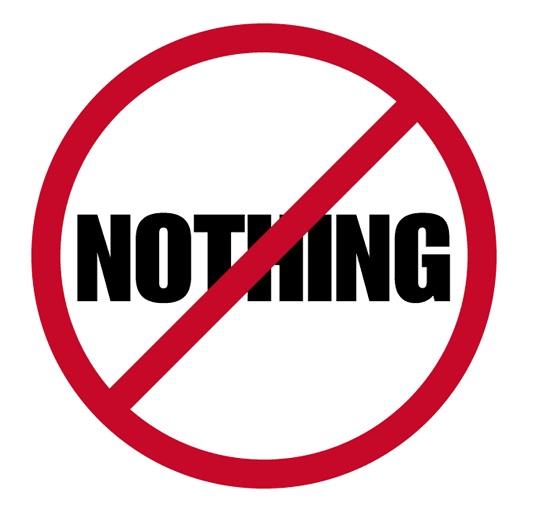 BottleImp
:
None!
It used to be that a major crossover event was a rare occurrence in the comic book world, but now it seems like the Big Two shit one or two out every year. Worse, these so-called "events" have become transparent attempts to get their aging fan base to spend more money, rather than using the concept to explore new ideas, or better yet, attract new readers. AVENGERS VS. X-MEN was ultimately pointless, and while DC's "New 52" may have had potential, it quickly collapsed into a mess of editorial confusion. I'll have my superhero comics a la carte, thanks.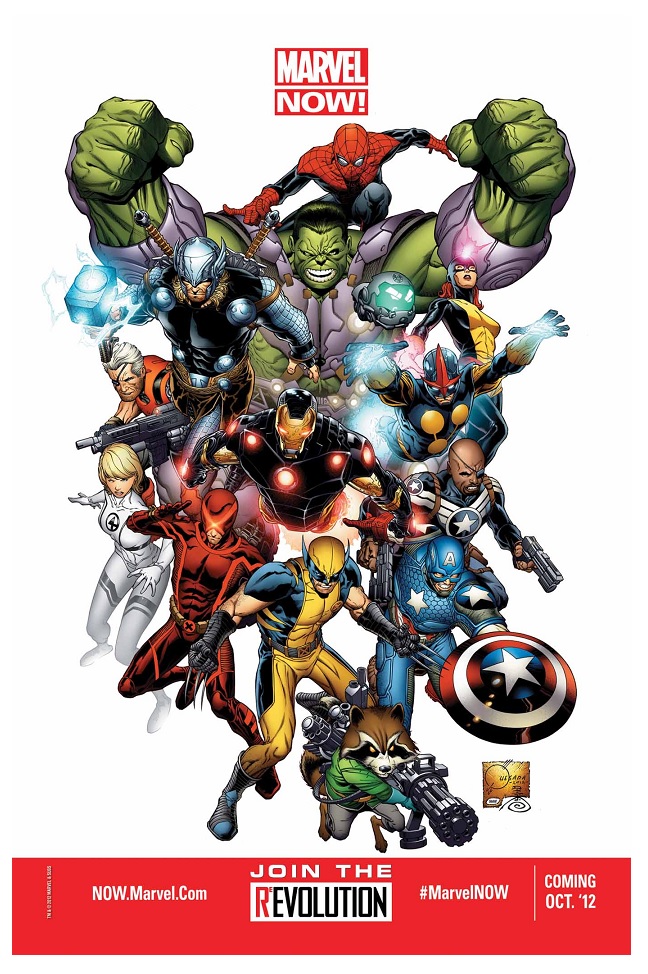 Optimous Douche
:
MARVEL NOW! (Marvel Comics)
Again, I'm cheating, but with this one event my MARVEL buying has increased at least five-fold. I never touched a THOR until it seeped out of the mind of Aaron. I didn't give two shits about the Avengers until they extended the olive branch to more mutants than just Hank McCoy. ALL NEW X-MEN is the best thing that's happened to muties since 1963. Say what you want about the build-up and necessity of MARVEL NOW, but it's very hard to argue the results.
---
Favorite Superhero!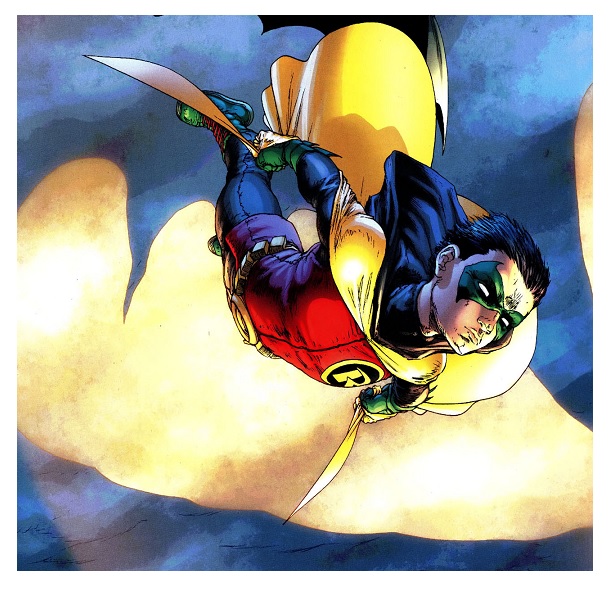 Optimous Douche
:
Damian Wayne/Robin (BATMAN & ROBIN, BATMAN, DC Comics)
Year after year this kid continues to charm the pants off me (hey, get off my column, Sandusky). There we go--that's better. Yes, I've loved Damian since the beginning, but I loved his one-note delivery of petulance, which simply wasn't enough complexity to annoint him a coveted @$$ie. This year, though, Morrison and Tomasi added a new layer to Damian as a little boy lost. His propensity to please his parents' polar opposite expectations has left him grappling throughout 2012 between his innate nature and doing what's right.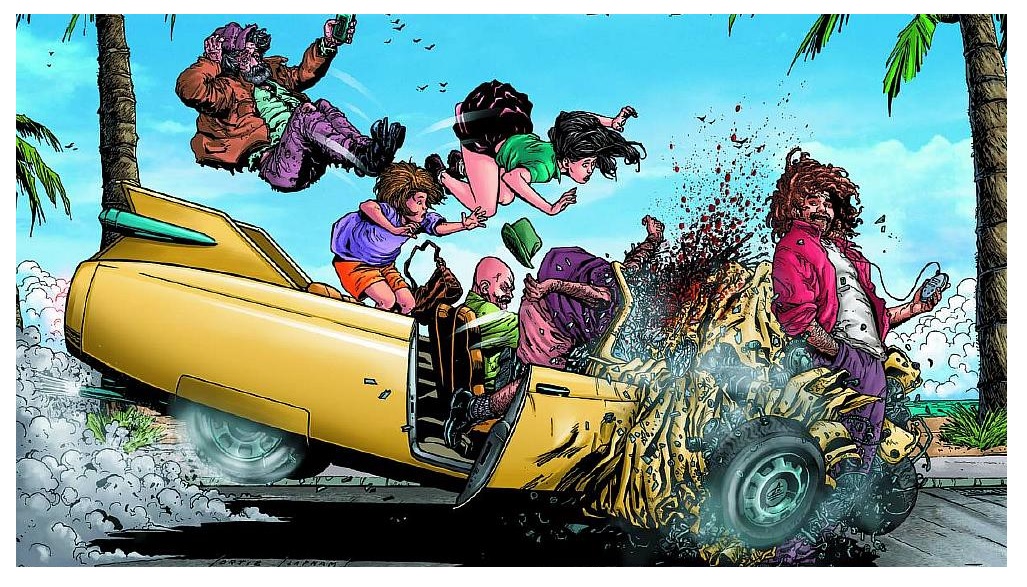 Ambush Bug
:
Dan the Unharmable (DAN THE UNHARMABLE, Avatar Press)
Maybe it's the slacker in me, or my affinity for THE BIG LEBOWSKI, that attracts me to David Lapham's lazy detective book DAN THE UNHARMABLE. From his "no shits given" attitude to his love of classic rock to his porn star moustache and fucked up hair style, Dan's the kind of hero I'd love to sit down and have a beer with. Lapham has guided him through some pretty sordid cases, but every one of them is met with a shrug as if it's no real big deal. That Lapham can still make me care about the character despite his apathy is a testament to his writing and the character himself, who under his unharmable exterior is really an all around good guy.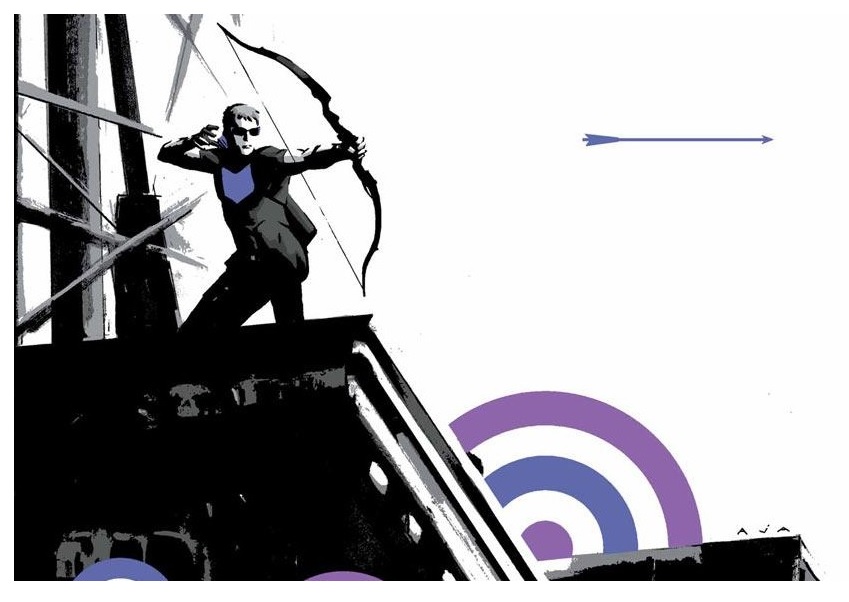 Humphrey Lee
:
Hawkguy…I mean, Hawkeye (HAWKEYE, Marvel Comics)
One, take a moment to see how many of my fellow @$$holes made the same joke. I'm thinking of setting the over/under at three. Done? Okay. Just to set the stage, the HAWKEYE book and what Fraction and Aja and Pulido have done has been nothing short of amazing, to the point that I almost made it my Best Ongoing. The action, the energy, the design--everything has been amazing, but a lot of what this book does right also lays at the feet of what they have done with the character. This environment is a good one for the arrow-slinger, putting a man who occasionally has to go toe-to-toe with gods on the street level and rubbing shoulders with everyday people he isn't quite sure how to react to and how they will react to him. Put a bad guy in his face and he'll put an arrow in their shoulder and a foot in their ass, but put some troubled teen (or, in the majority case of this book, a privileged teen who may or may not have a crush on him) in his way and he loses all cognition. Between the hilarious ways he kicks ass, gets his ass kicked, and gets his head all turned around by the people around him, this has been a good year for the "Avengers Movie Breakout Character" (their words, not mine, but true enough).
Henry Higgins is My Homeboy
:
Hawkeye (HAWKEYE, Marvel Comics)
I never much cared for Hawkeye. I always saw him as the boring Captain America with an attitude, the token powerless character who "can make a difference". But, well, I was mistaken. Under Fraction's pen, Hawkeye has truly become the "That Guy" of super heroes. He's just a working stiff whose job happens to be "Avenger". He wants to watch TV, but can't figure out how to set it up. He has to organize his quiver of trick arrows. He goes to bar-be-ques. He likes dogs. And despite all of this, he's still an amazing hero, quick with his bow and even quicker with a plan (which you sort of need to be good at if you're always improvising and need to think of something fast). Hawkeye – The single most improved superhero of the past twelve months.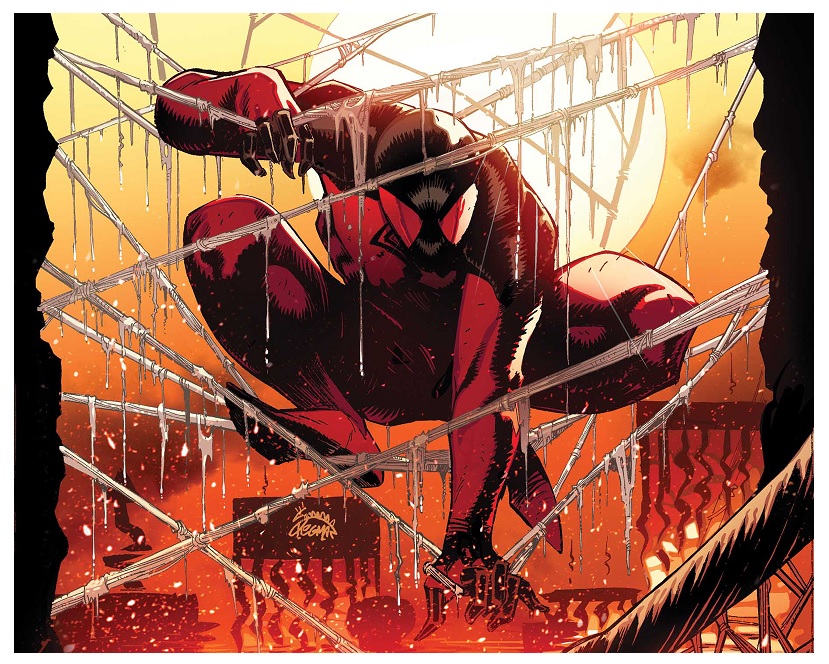 Matt Adler
:
Scarlet Spider (SCARLET SPIDER, Marvel Comics)
No, it's not Ben Reilly. It's Kaine, the twisted clone of Spider-Man, who started off as a murderer but now seeks to redeem himself. This path was started by J.M. DeMatteis, but has been ably continued in the hands of Chris Yost in the new SCARLET SPIDER series. The thing that makes Kaine so compelling is that he gives us a glimpse into what Peter Parker might have been if he hadn't been raised in the loving home of Ben and May Parker. He's been through so much, from being abandoned by his creator Miles Warren AKA The Jackal to suffering through the agony of clone degeneration (though that's now been cured), that you can't help but feel sorry for the guy. And seeing him trying to make a fresh start, but still wrestling with being a reluctant hero, makes you want to root for him. Make no mistake though, he'll never be Peter Parker; for one thing, he's still a little too comfortable with killing (though now he directs his aggression towards the bad guys). But those differences are a big part of why Kaine can't be dismissed as just a Spider-Man knock-off.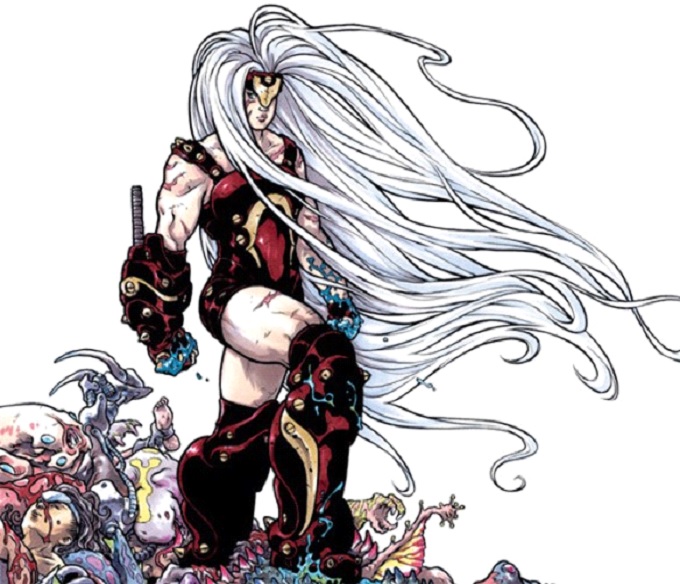 MajinFu
:
Glory (GLORY, Image Comics)
Glory is a heroine for the 21st century. If She-Hulk were invented by Jaime Hernandez, she'd probably be something like Glory: she's older than most people's grandparents and somehow less mature than your little sibling. Maybe it has something to do with her parents still hounding her, or the drama her mixed heritage entails, but Glory has some very human problems that make her story completely enthralling. It may seem silly for such a powerful figure to have such human insecurities and seemingly trivial worries, but they're all relatable and they make perfect sense in the context of the story. Glory has the scars, physical and emotional, that just about any reader can understand, making her hugely sympathetic. Considering she's a half-alien amazon with a killer body, that's quite a feat. She's also got an amazing supporting cast, from her various family members to a little girl named Riley, all of whom provide new angles and subtleties to further illuminate Glory's dynamic personality.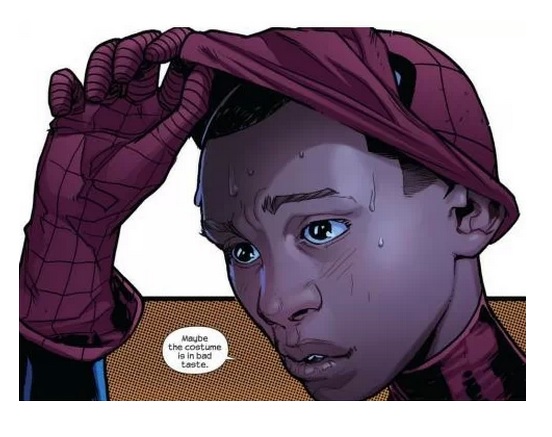 The Writing Rambler
:
Ultimate Spider-Man/Miles Morales (ULTIMATE COMICS SPIDER-MAN, Marvel Comics)
This is actually Miles' second year for me as Favorite Hero, and I think he deserves it even more this year. I absolutely love what is being done with Miles' story in ULTIMATE SPIDER-MAN. Miles has grown up a lot this year as he carries on the mantle of Spider-Man in the Ultimate universe. He's had to deal with issues like having a father who hates the super powered community, an uncle who tried to force him into a life of crime and on top of that, President Captain America made him a card carrying member of The Ultimates. Ohh, and let's not forget him learning of alternate universes and going on the adventure of a lifetime with his hero Peter Parker in the mini series SPIDER-MEN. Overall it's been a year of growth for Miles, and with Brian Michael Bendis masterfully giving us a story of a young boy truly coming into his own as a hero its been a great year at that. We live in an odd time if you're a SPIDER-MAN fan. Both versions of Peter Parker are now gone, and while I personally hope Doc Ock's SUPERIOR SPIDER-MAN stint is quick-lived, I am more than happy accepting Miles as Peter's permanent replacement in the Ultimate Marvel universe.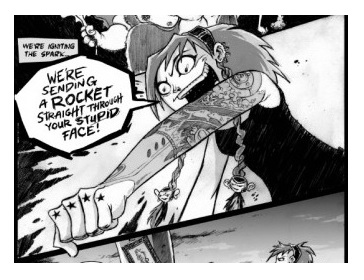 Lyzard
:
Anya (ELDRITCH)
I named Anya my favorite character last year, and despite lacking "superpowers" per se, she remained my favorite hero when ELDRITCH wrapped up this year. Batman, Hawkeye, and Black Widow all lack superpowers, though they do have money, archery skills, and superior fighting ability. But Anya has to face monsters just as villainous as some of their foes and do it all with just her slightly above average intellect and ignorance of what truly to fear.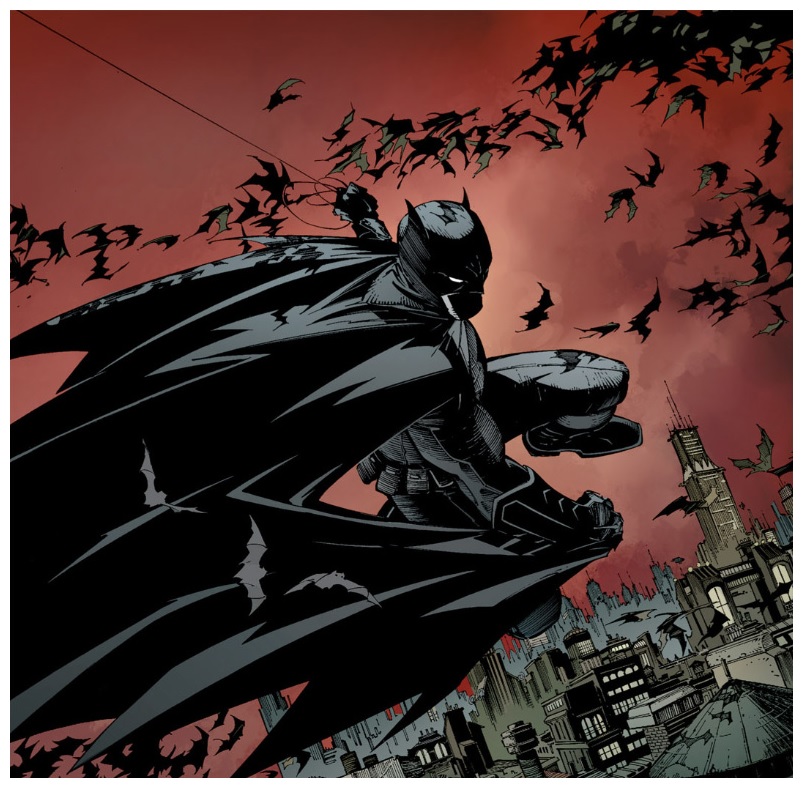 The Dean
:
Batman (BATMAN, DETECTIVE COMICS, many others, DC Comics)
I've changed my mind on this so many times now, and I might just be going with the easy pick here, but Batman was hard to beat in 2012. He came out of the New 52 relatively unaltered, with most of his titles being among DC's best, and we got what I thought was a great conclusion to Nolan's Dark Knight trilogy to top it all off. The various Bat logos were, and continue to be, everywhere you look and it'd be much more difficult to pick up a disappointing Batman product out there than probably any of the other major players with comic series and merchandise galore. So with great comics, some really cool animated features, and a blockbuster conclusion to one of the better film trilogies of all time, I'm confident in saying Batman was my favorite superhero of last year…I'm pretty sure he was my favorite…actually…no, it was Batman, definitely Batman.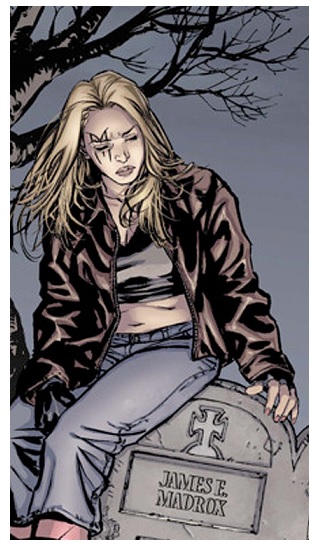 BottleImp
:
Layla Miller (X-FACTOR, Marvel Comics)
Layla Miller, the girl—whoops, I mean the woman—who knows stuff, has emerged from her beginnings as a mysterious cipher to become a slightly less mysterious leading player in the comedy-drama that is X-FACTOR. This past year Peter David gave the readers more of what makes Layla tick and how she deals with her incomplete knowledge of the future, culminating in the excellent "Run Layla Run" story from issue #240. Her previously cold demeanor has been radically humanized, and now that she's got both technological gadgets and magical know-how (courtesy of Dr. Doom), Layla has become the ace-in-the-hole of the X-Factor team, and of the series as well.
---
Best Ongoing Series!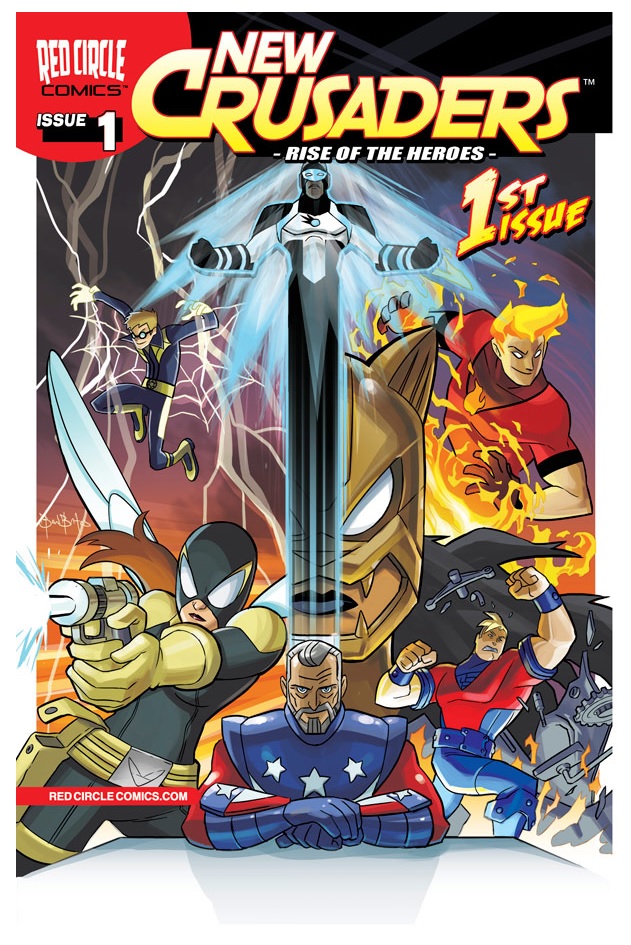 BottleImp
:
NEW CRUSADERS ( Archie Comics/Red Circle Comics)
Even though this series is still just a fledgling, I have to award NEW CRUSADERS the coveted spot of Best Ongoing Comic simply because out of all the books on the stands right now, this is the one that best captures the spirit of excitement and fun that I find lacking in many modern comics. Writer Ian Flynn and his team of artists have managed to adapt years' worth of continuity and characters that have resisted rebooting for decades and make them seem as fresh and new as the best, breakthrough superhero titles that have shined upon the comic book landscape. For a long time comic books fought against the label of juvenilia, but at a cost of making most titles palpable only to the older readers. NEW CRUSADERS thankfully brings the medium back to its roots with story and art that can—and should—be enjoyed by readers of all ages.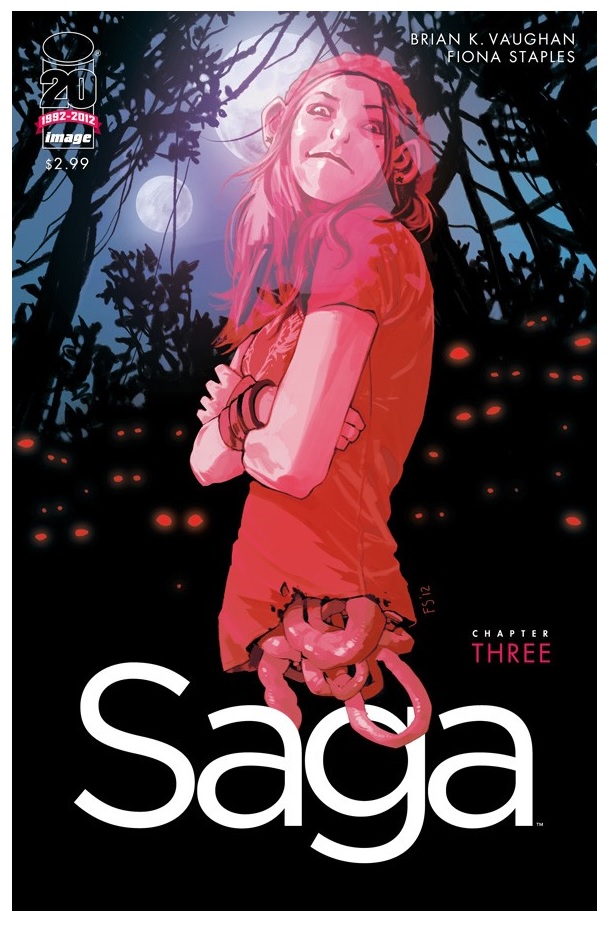 Optimous Douche
:
SAGA (Image Comics)
I base this criteria off of one and only one criteria - what book can I not wait to read? Forget reviews, forget comps...basically, what book makes me shirk all responsibility to get my next fix? SAGA fits the bill month after month. I enjoy many books for many different reasons, but SAGA is the place I can satiate all my thirsts for great art, story and dialog in one fell swoop. Yes, I'm an unashamed sci fi junkie, but I know plenty of people who HATE sci fi, but love SAGA. This is a direct testament to Vaughan's ability to humanize characters even if they are from a galaxy far, far away.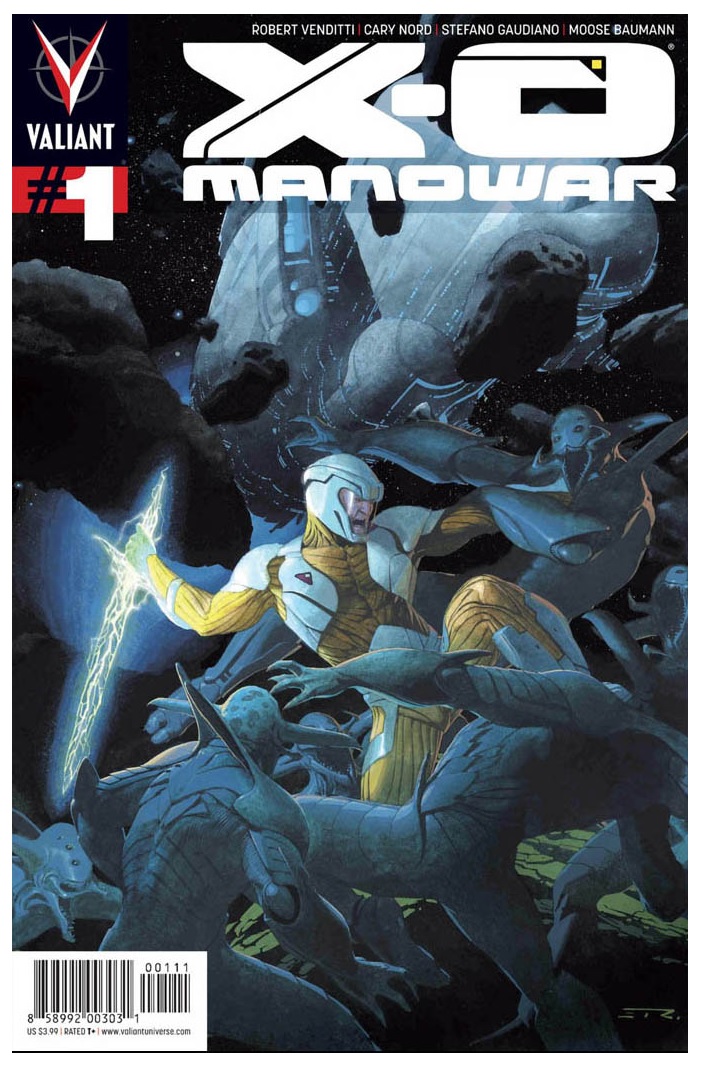 Ambush Bug
:
X-O MANOWAR (Valiant Entertainment)
Equal parts Iron Man and Thor, Aric Dacia--better known as the wearer of the X-O armor--proves to be an amazing read each and every issue. From the beginning of this series, I knew I was in for something good from Robert Venditti, but I had no idea it would blow me away with spectacular characterization, exciting storylines, vivid imagery, and dialog that, like Aric, cuts to the core. Aric is one of the coolest characters in comics, not because on the art or the writing or the character, but because of all three, which makes it my favorite ongoing comic of the year. It's the comic I first read when I get home from the store and the one I think about and compare all the other comics to as I read the rest. Just stellar comic bookin' all around.
Humphrey Lee
:
SAGA (Image Comics)
I really do not know what I can say about this series that a lot of other, similar stop-bys on the internet haven't already (probably) said about this book. I absolutely love pretty much every aspect of this book: the endearing and oddball characters, the intergalactic setting with the star-crossed lovers angle driving the direction, the humor, and the glorious, glorious art design. After just a couple issues it was already arguably the best title I was reading a month; after a handful of them I now selfishly want this title to hit at least a hundred issues. Great storytelling, sublime art, and all the bells and whistles with which a top-tier comic book should be adorned. The only downside to this book is that this time next year I have a feeling I'll have to think of more ways with which to sing its praises as I'm sure there's a high chance it'll be in this space yet again.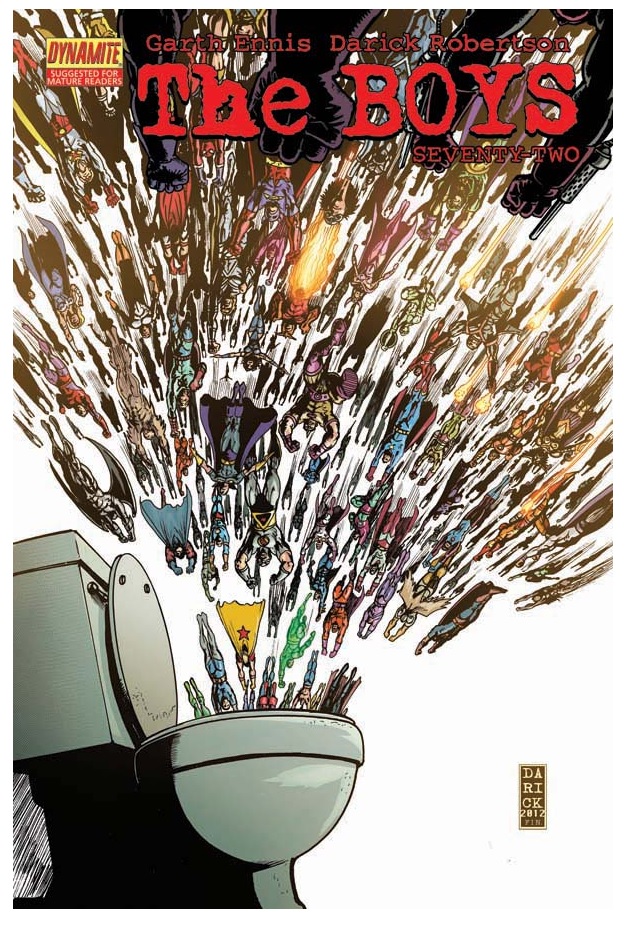 Henry Higgins is My Homeboy
:
THE BOYS (Dynamite Entertainment)
So, two pronged answer, I'll try to keep it brief. THE BOYS concluded with a bittersweet ending, following an all out war with the Supers and an even more devastating secret one. Heroes were killed, schemes were undone, and at the end, Ennis ended one of his most consistently enjoyable titles on a high note.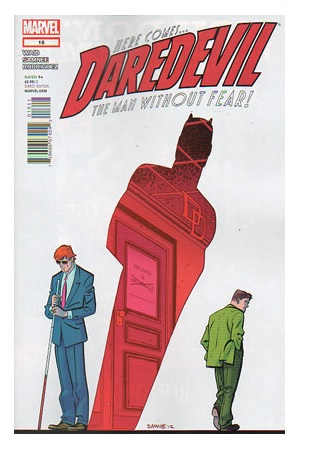 Matt Adler
:
DAREDEVIL (Marvel Comics)
It's one thing to have a top-notch writer like Mark Waid helming a series; it's a trickier proposition to maintain a top-notch art team as well. There are inevitably going to be changes, whether due to an artist's speed, or a departure for another project, or any number of other eventualities. So credit has to go to editor Steve Wacker, who has consistently made sure that DAREDEVIL has had gorgeous art to go along with the compelling stories, whether it's drawn by Paolo Rivera, Marcos Martin, or the book's latest penciller the talented Chris Samnee, who was previously best known for his work on THOR: THE MIGHTY AVENGER. For his part, Waid has delivered a vision of Daredevil that we haven't seen in many a year: the stakes are still high, the action still intense, but for the first time in a long time, Daredevil is FUN, and Waid has managed to keep it up for 22 issues and counting, proving that while there is a place for despair and dysfunction, it doesn't have to overwhelm a series in order to keep it fresh and relevant.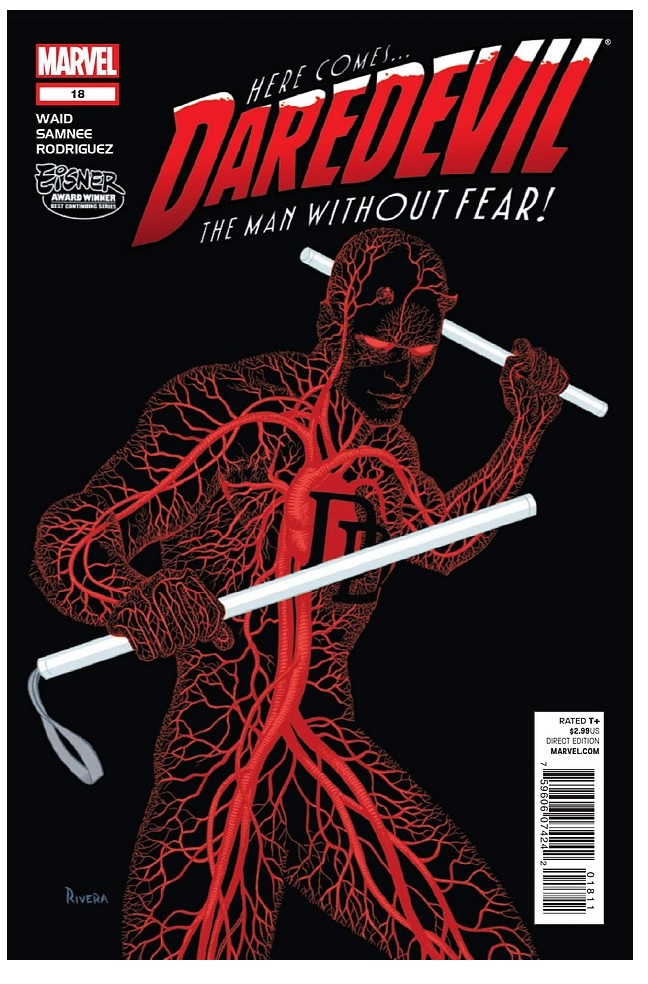 Masked Man
:
DAREDEVIL (Marvel Comics)
So WARLORD OF MARS is decent, MARS ATTACKS is fun, AQUAMAN is good, JUSTICE LEAGUE is inane, THE SHADOW is good, THE AVENGERS is pretty boring, SWORD OF SORCERY is dull, and THOR GOD OF THUNDER has gotten great, but none of them have gotten me to sit up from the couch like DAREDEVIL. Mark Waid has been knocking out a solid superhero adventure story here for a while now, but it wasn't until this latest storyline, starting in issue #16, that things have gotten amazing! You may recall issue #17 was my choice for best issue of the year, which focused on Matt and Foggy's friendship. Then Daredevil leapt off a building into the night sky, only to realize he didn't have his billy club (a true Holy $h!t moment if there ever was one). His psycho ex-wife came to play, a new super-villain appeared with a cool twist on an old super power, with a really sick way of victimizing people, and his friends are turning on him, and Daredevil is just barely keeping his wits together in a effort to save the day! Wow, Mr. Waid, just wow. Oh, and lest I forget, Chris Samnee's artwork, which is always clean and interesting, has been improving with each issue. This is why I buy superhero books: bugnuts crazy fun with one lone decent character trying to do the right thing with superpowers…oh, and a skin tight costume :p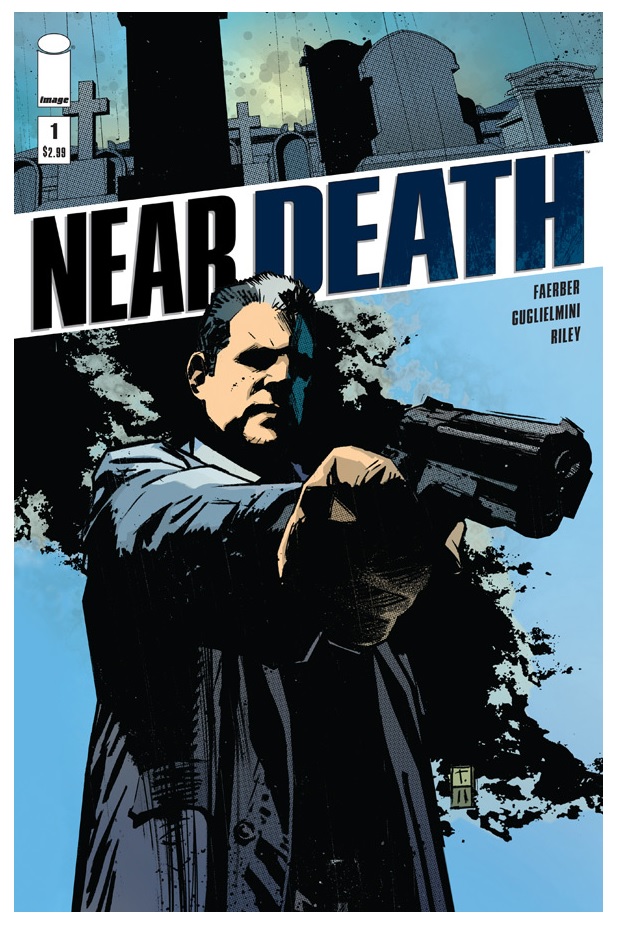 Vroom Socko
:
NEAR DEATH (Image Comics)
This Jay Faerber-written/Simone Guglielmini-illustrated comic was clearly too good for this world. The saga of a hitman who, after being clinically dead then coming back, decides to protect lives rather than take them, this book reads like what would happen if Richard Stark's Parker became John D. MacDonald's Travis McGee. It's hard, brutal, and amazingly enough self-contained. That's right: each issue is one individual story, and each story builds upon the other. It's old-school comics done with modern sensibilities, and goddamn is it a great read. Unfortunately, the series is currently "on hiatus." Maybe if we're lucky enough, we'll see it return in 2013. Maybe...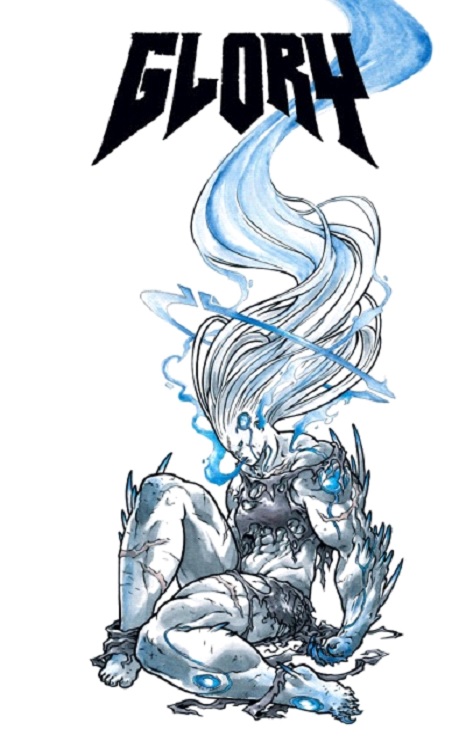 MajinFu
:
GLORY (Image Comics)
I'm as surprised as you are that a reboot is my comic of the year, but it definitely deserves all the praise and more. You could conceivably switch this out for PROPHET, as either book has been absolutely stellar. Image has done an excellent job of rebooting Robert Liefeld's Extreme line-up, resulting in two books that I absolutely can't wait to read every month. Ultimately, I decided to go with GLORY because it offers a more consistent vision via Ross Campbell's wonderfully expressive pictures. It's a really, really pretty book. Glory also contains some profound character work, coupled with several of the most brutally intense action sequences I've seen in a comic this year. The introduction of Glory's sister Nanaja in issue #29 and their brawl in the following issue really kicked this book up a notch as well. The siblings have a great dynamic that should make for some exceptionally engaging material in the new year. Check this book out. You won't regret it.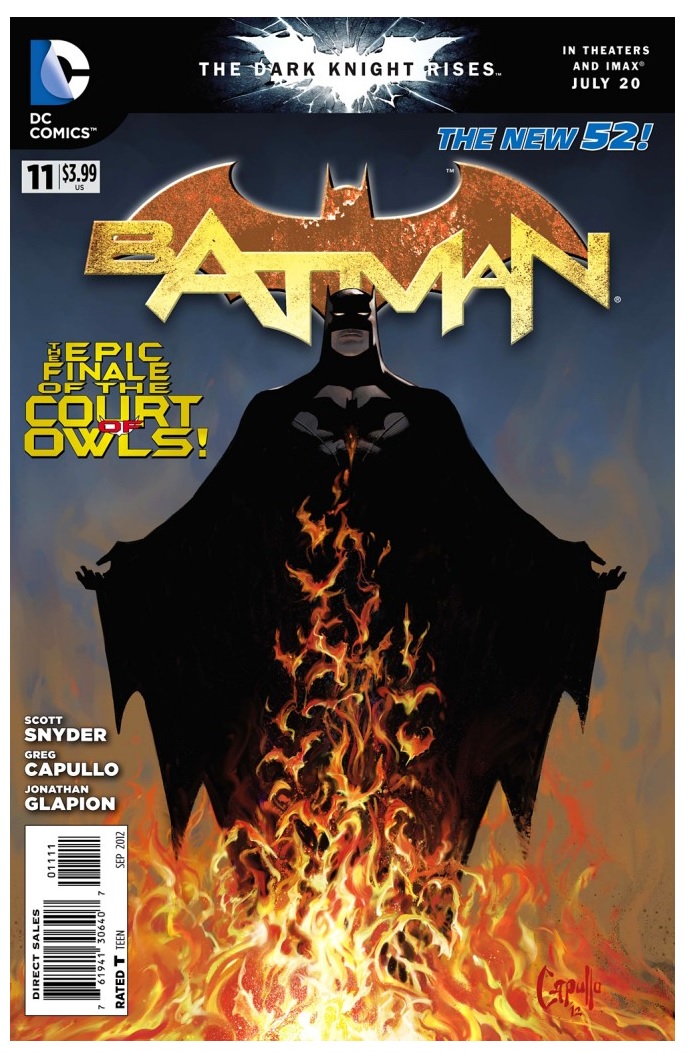 The Writing Rambler
:
BATMAN (DC Comics)
Honestly, what else is there to say about Batman that hasn't been said already? If you're not reading this book than you are missing out on one of the best Batman runs that there has ever been and one of the most enjoyable comics currently out today. Do yourself a favor: stop reading my rambling nonsense here and go pick up this book. If you don't like it then there's just probably something wrong with you.
Lyzard
:
JL8 (webcomic)
This web comic has been getting a lot more attention recently and rightly so. As I said in my review, if you didn't like the changes with the DC's New 52, then JL8 was the perfect combination of originality and tradition. Yale Stewart's character study is a loving homage brought to life by his own creative flair, having characters react appropriately in situations never seen before.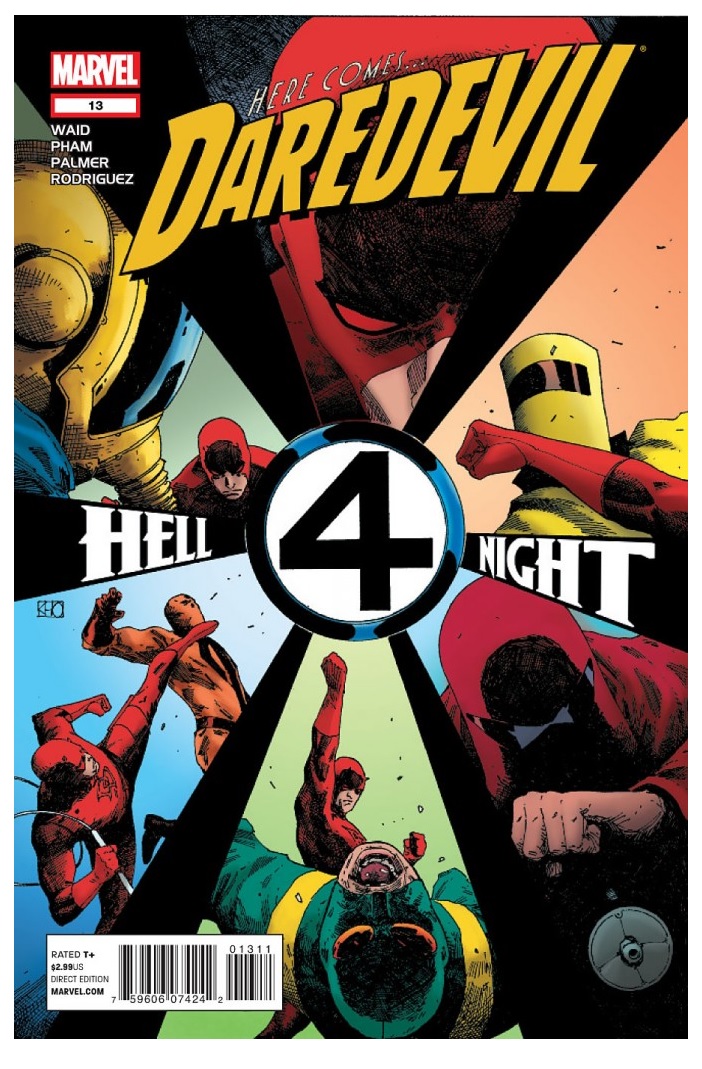 The Dean
:
DAREDEVIL (Marvel Comics)
When Superior Spider-Man made his first appearance in DAREDEVIL #21, my local comic shop sold out of it quickly, before I was able to get my hands on a copy. I was crushed. Not because I cared about having the first appearance of the new Spider-Man, I realized, but because I absolutely love Waid and Samnee's run on DAREDEVIL. It was then that I knew this was the one series I just couldn't have done without this past year, making it a clear choice as my pick for the best ongoing title. Matt's life is still pretty crummy, but Waid changed his entire outlook on life, making DARDEVIL a little brighter, a little happier, but even more complex. Usually writers have to go the other way to feign depth, but Waid's proven that superheroes don't have to be brooding and vengeful nowadays to be mature, credible characters. It's cleverly written, beautifully drawn, and hasn't disappointed in twenty-two issues, so buy it for Superior Spider-Man if you must, but I guarantee you'll stick around for the superior comic: DAREDEVIL.
Now it's time to pick your own @$$ies in the Talkbacks. Thirsty for more @$$ie Awards?
Best Single Issue/Single Moment!
Best Miniseries!
Best Publisher!
Best One-Shot/Annual/Special!
Favorite Super Team!
Best Artist/Art Team!
Favorite Comic Book Movie!
In Memoriam 2012…
Best Cover Art/Cover Artist!
Favorite Super Villain!
Best Writer!
And so ends our week-long celebration of the best of the best in comics! Look for AICN COMICS REVIEWS every Wednesday, SPOILER ALERT: AICN COMICS/POPTARDS PODCAST every Tuesday, and interviews all the days in between! Thanks to the @$$Holes, those in and out of the comic book industry, those of you readers and back-talkers in the Talkbacks! It's been a great year and we look forward to continuing to point out the best and worst in comics each and every week here on AICN!
---
Editing, compiling, imaging, coding, logos & cat-wrangling by Ambush Bug
Proofs, co-edits & common sense provided by Sleazy G
Remember, if you have a comic book you'd like one of the @$$holes to take a look at, click on your favorite reviewer's link and drop us an email.


---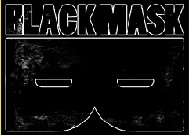 Find out what are BLACK MASK STUDIOS and OCCUPY COMICS here and on Facebook here!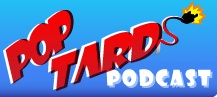 Want more in all things Geek?
Check out PoptardsGo and on Facebook here!




---

Get your copy of highly-anticipated anthology TOME by 44FLOOD today on their Kickstarter!

Check out AICN COMICS on Facebook and Comixpedia.org!