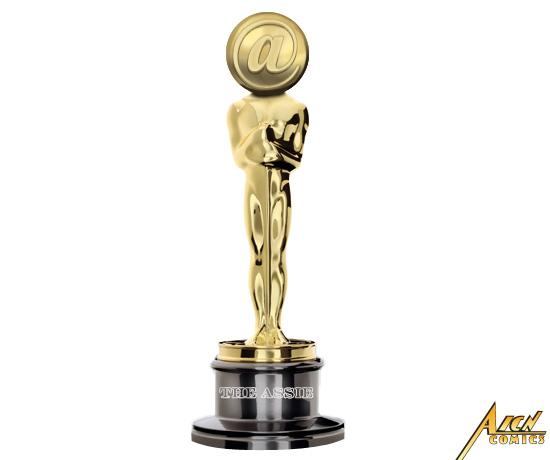 Logo by Kristian Horn
@@@ AICN COMICS @@@
@@@ 7th ANNUAL @$$IE AWARDS! @@@
---
Welcome, all, to the 9th Annual AICN COMICS @$$IE AWARDS, where comics' best and brightest are recognized for stellar performances in comic bookdom. I'm Ambush Bug. There was a time when we could fit all of the @$$ies into one lengthy column, but the @$$Holes' ranks have grown too big for that. Most BEST OF… lists are posted around the first of the year, but we think ours is special, so while those outside of the know celebrate the time of the Oscar, we here at AICN COMICS celebrate the time of the coveted @$$ie Award. For the next week, every day the @$$Holes will present their picks in 12 categories for the best of the best in comics. So sit back, crack the knuckles in your browsing hand, and scroll down as the @$$Holes pick the @$$ies!
Best Cover Art/Cover Artist!
Favorite Super Villain!
Best Writer!
---
Best Comic Book Cover Art/Cover Artist!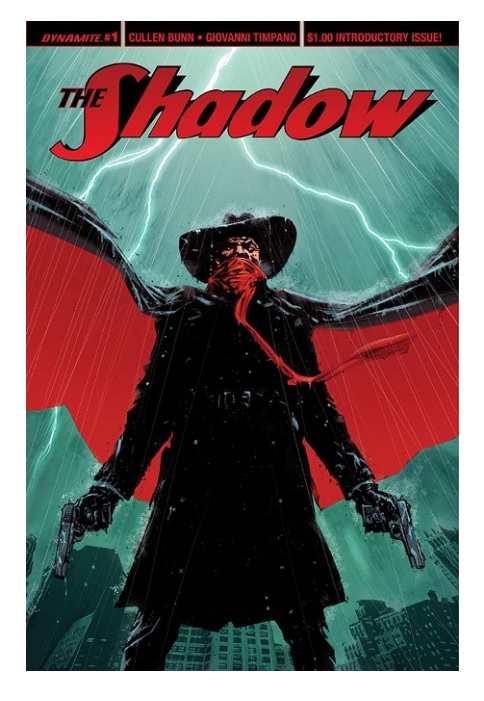 Masked Man
:
THE SHADOW #1 (Alex Ross, Dynamite Entertainment)
I love iconic images and iconic characters, and it doesn't get any better than Alex Ross' take on the classic Shadow head shot. For my money Alex Ross is still the best painter in comic books, but like other critics I've gotten a little jaded of his seeing his Superman, Batman and Wonder Woman over and over again. So it's one of the reasons I enjoy Dynamite Entertainment's output so much: seeing Alex Ross tackle more than just superheroes. The Bionic Man, Flash Gordon, Green Hornet--all look amazing under his brush. Heck, his Voltron is just freak'n awesome ( I assume we were both watching it back on channel 60 in Chicago). But from his piercing blue eyes to his crooked nose, the Shadow never looked better! Iconic character, iconic pose, iconic painter--big bucket of win all around.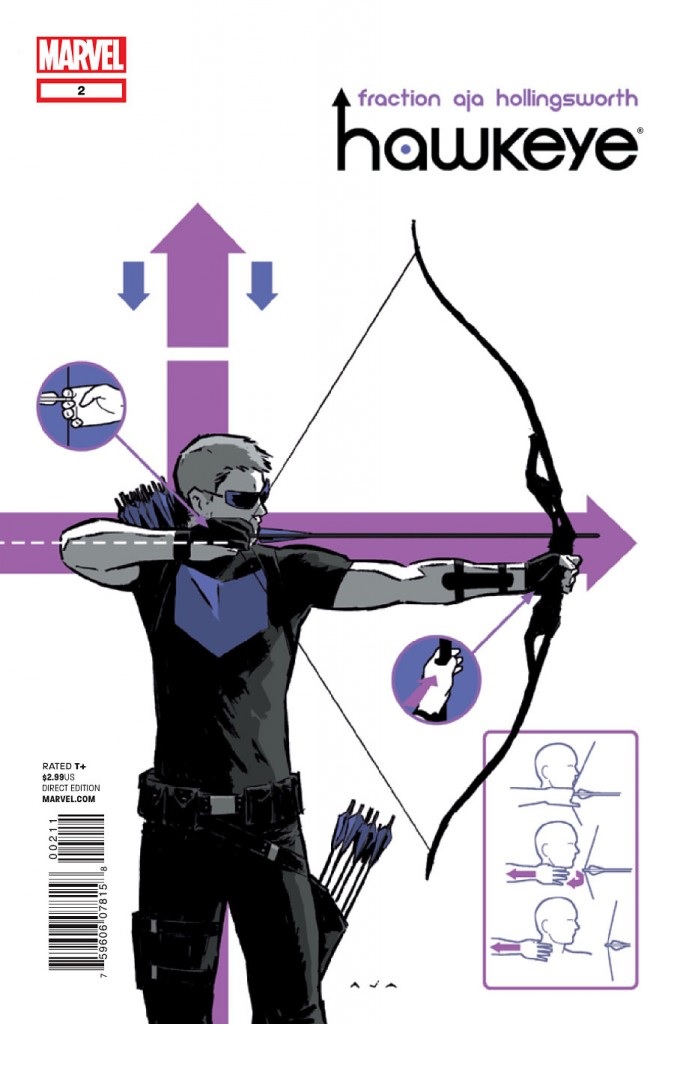 Vroom Socko
:
HAWKEYE #2 (David Aja, Marvel Comics)
What's the job of a good cover? It's to entice, to ensnare, to hook the reader as quickly and cleanly as possible. It's the job of a comic book cover to stand out. And in a year where most of the covers on the stands featured either a prominent "NEW 52" or AVSX across a third of its space, standing out is simply a matter of being as unique and original as possible. Well, thank god for David Aja, because his pop art-inspired HAWKEYE covers aren't just the best of the year, they're some of the best ever, with issue #2 being my personal favorite. That cover is why I decided to give the book a chance, and I'm glad I did.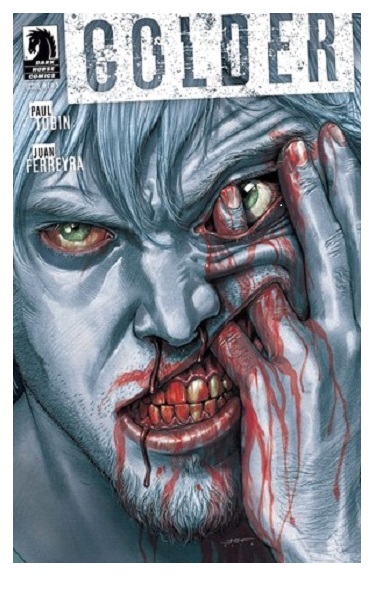 MajinFu
:
COLDER #1 (Juan Ferreyra , Dark Horse Comics)
Crafting a great comic book cover can't be easy. Finding that delicate balance between bold imagery and stunning composition takes a special kind of artist, and there were a lot of those this year, making this perhaps the most difficult category in all of the @$$ies. But when it comes right down to it, a good cover should make you want to immediately pick up a comic, open it and figure out just what the hell it's all about. Perhaps a few squeamish types glanced upon the cover of COLDER #1 by Juan Ferreyra and ran out of their local comic shop screaming in terror, but upon seeing that grimly-detailed façade with those cold eyes staring straight into my soul, I knew I had to check it out. It's a riveting image, so well-realized that you just can't look away. Thus, it is my clear choice for cover of the year.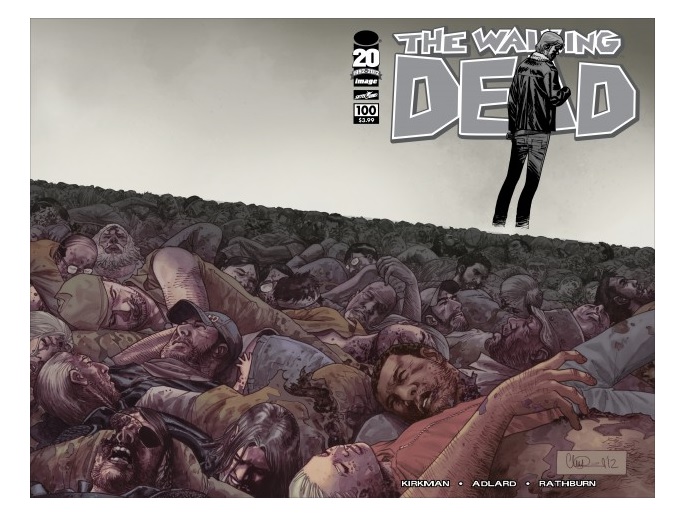 The Writing Rambler
:
THE WALKING DEAD #100 (Charlie Adlard, Image Comics)
Art is such a ridiculously subjective thing that I always find it difficult to declare something "the best of the best". For me this year was filled with memorable pieces from books I am both wholeheartedly invested in and some that I have yet to pick up and read, but none made me sit back and just appreciate it more than Charlie Adlard's wraparound cover for THE WALKING DEAD #100. The issue itself left some disappointed, but to me this hauntingly beautiful image of Rick glancing back at the mangled bodies of those we have lost so far throughout the series was the perfect way to capture the series' milestone. For those who love the series it causes a sense of sadness to be reminded of so many sacrificed lives in the story. I also think it makes a fantastic statement as to the series moving forward now that it has reached such a boiling point in pop culture. It's Adlard's way of acknowledging everything that built this series into the huge success that it has become, and for that it takes top honors from me.
Lyzard
:
SALSA INVERTEBRAXA (Mozchop, Pecksniff Press)
A good cover should entice the reader, rope them in. Mozchop's cover for SALSA INVERTEBRAXA does so. But, even better, the cover work does not give the reader a false sense of what will be inside, creating unattainable expectations. The outside is just as dynamic as the panels within and within is the best art of the year.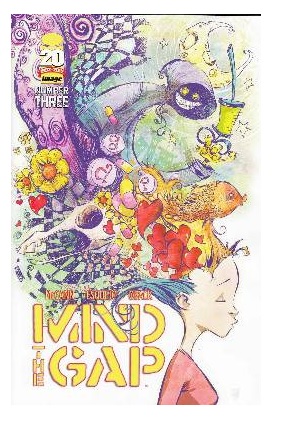 The Dean
:
MIND THE GAP #3, (Skottie Young variant, Image Comics)
I like to leave one of my favorite comics of the week on the top of a little pile of them on my coffee table for guests to peruse when they visit. I usually try to pick something either familiar or provocative enough to the general public so that maybe someone who hasn't read a comic in a while will pick it up, and Skottie Young's variant cover to MIND THE GAP#3 sat on top of the pile for a record three straight weeks! It's vibrant, enticing, and an interesting contrast in style to the interior art, but it perfectly matches the story within in its eccentric and mysterious tone. I typically go for the original covers no matter how cool the variants are, strictly for consistency's sake, but this one was too great for me to pass up. It's the perfect eye-catcher for a story like MIND THE GAP, and hopefully it drew a larger audience to this excellent series from Jim McCann.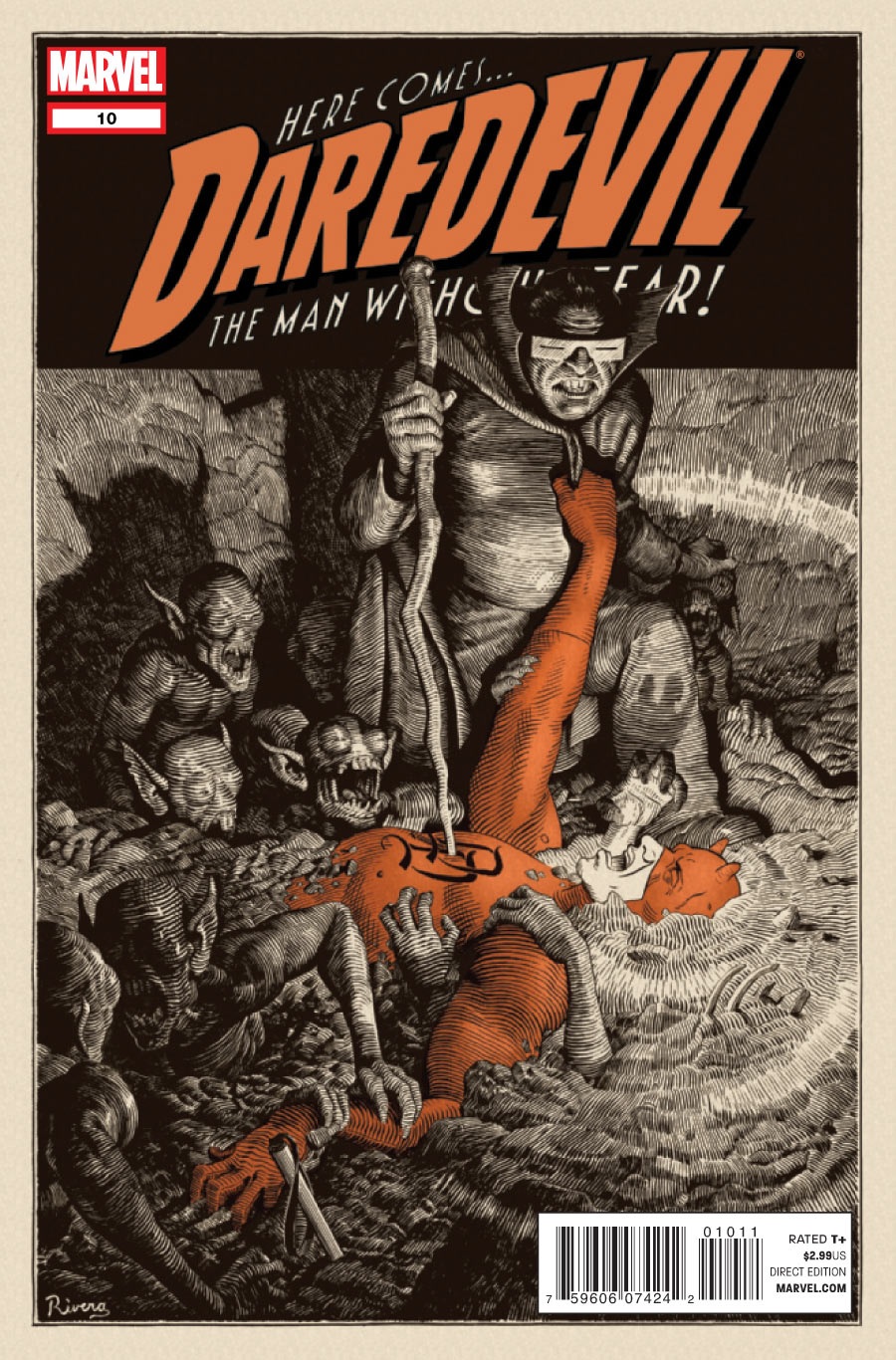 BottleImp
:
DAREDEVIL #10 (Paolo Rivera, Marvel Comics)
Rivera gave DAREDEVIL amazing poster-like covers month after month, but this one is one of my favorites. With the limited color palette and fine hatched detailing, Rivera's homage to Doré's famous engravings of the underworld jumped out amongst the brightly-colored offerings on the stands, making for a bold and atmospheric image that dared the reader to not pick this comic.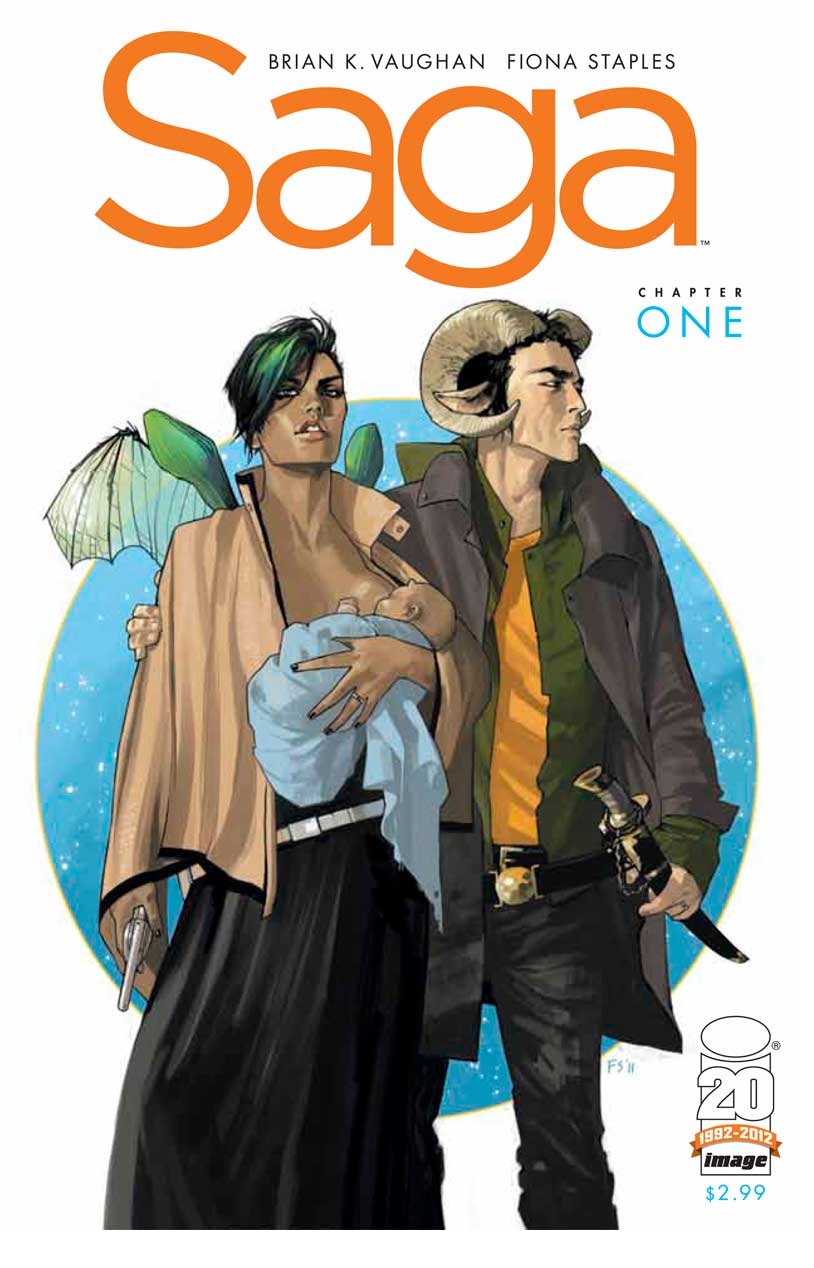 Optimous Douche
:
SAGA #1 (Fiona Staples, Image Comics)
Again my award goes to Fiona Staples' work on SAGA. A cover these days is meant to do one thing and one thing only: differentiate. 100 years ago the cover might have served to replicate the material inside the book, but that is a time long forgotten. It's nice when companies still do it, but I left the fray on this topic years ago realizing it was a losing battle. When you look at the sea of books on the shelves these days, a good cover is essential for getting a new reader to pick the book up. To do so, your cover must walk to a different beat. The SAGA covers with their bright backgrounds and stark one-shot images completely defy the current norm of cover clutter. Since our assignment, though, was to pick one cover, issue #8 gets the Optimous @$$ie. This was simply beautiful in the scene it painted and utterly indicative of the material inside.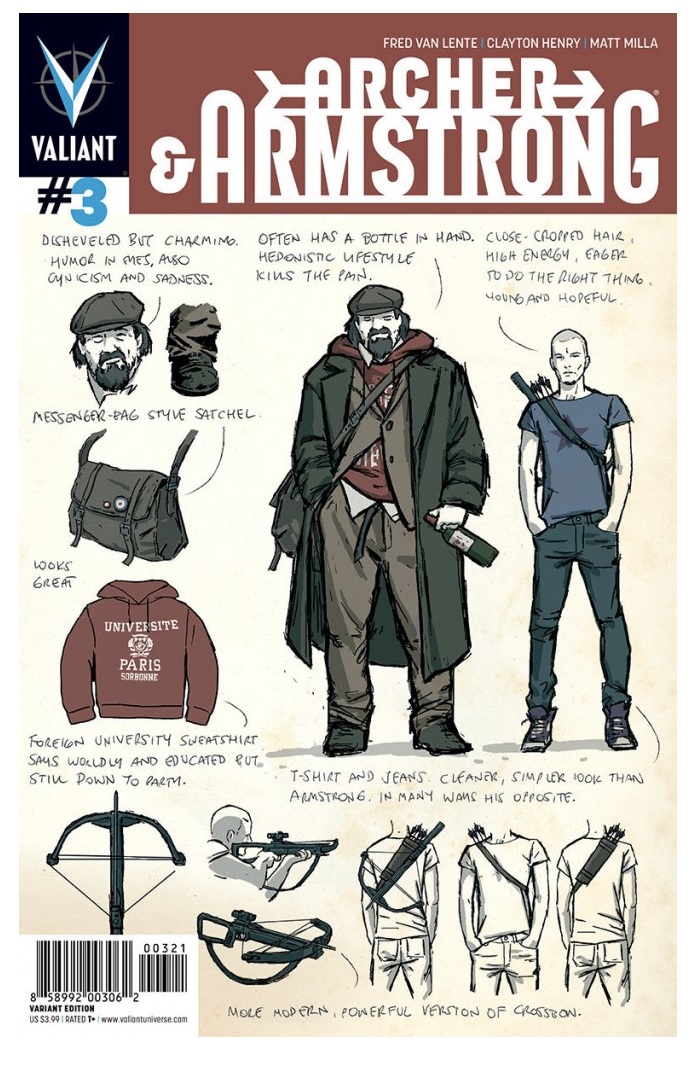 Ambush Bug
:
ARCHER & ARMSTRONG #3 variant (David Aja, Valiant Entertainment)
I love behind the scenes stuff, and maybe that's why I loved Valiant's variant covers of character refs which ran across their line over the last summer, my favorite being David Aja's initial sketches and designs of ARCHER & ARMSTRONG. Across the board, the covers to ARCHER & ARMSTRONG are some of the strongest in the biz conveying a vibrancy and humor that few other comics have. Be it Armstrong chugging a bottle of whiskey with a quiver full of arrows shot into his back or Archer taking aim at a sniper through the lens, you can always expect a laugh even before you crack open the comic with ARCHER & ARMSTRONG. Still, the one that stood out to me was the character ref cover by David Aja. It's one of those things that pulls you in and forces you to check out every inch of the page, and pulling in a reader is what a good cover always does.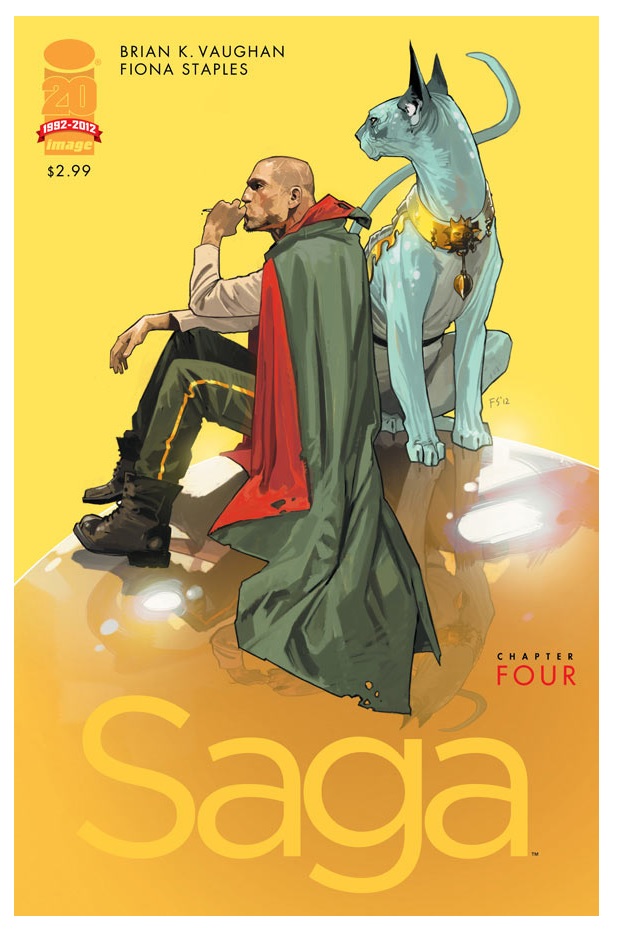 Humphrey Lee
:
SAGA #4 (Fiona Staples, Image Comics)
I'm not an artist. I don't know how they take what is in their heads and send that impulse down their arm, through the wrist and hand, and let three little fingers do some walking and make the imagery that happens. I don't full understand the ideas of balance and composition and perspective and how they make these elements work. But, despite not really understanding how an artist works, I like to think I know good art when I see it. I may not understand how those artistic elements I mentioned before come together, but I think I know that potent mixture once it's done brewing. SAGA #4's cover - as well as all the art that comes in the pages of the book itself – coming out of Fiona Staples' brain/arm/wrist/fingers is just a striking piece of art that I have to imagine makes all the artists who see it and actually know what it takes to make something like that happen shake their heads in a "how did she do that?" manner. I just think it's super pretty and it's really stuck with me since it hit the stands, so that's why it's my pick.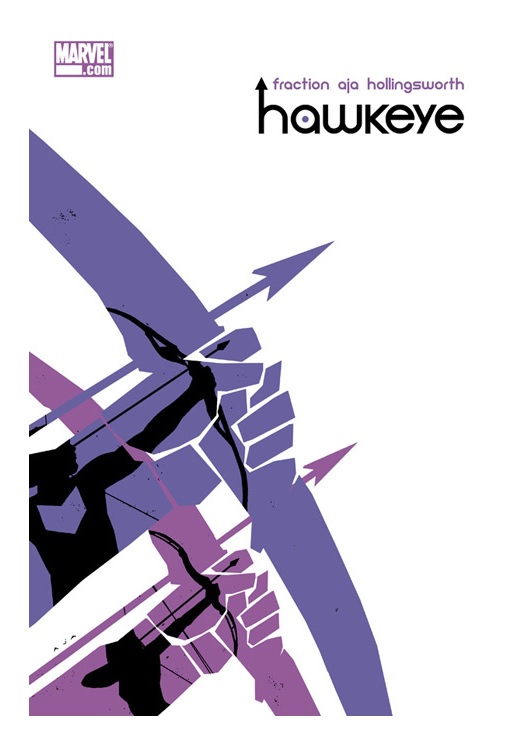 Henry Higgins is My Homeboy
:
HAWKEYE #3 (David Aja, Marvel Comics)
David Aja is TERRIFIC. See my earlier entry on him and his work for Hawkeye, and transform it into purely stylistic set pieces.
It's beautiful.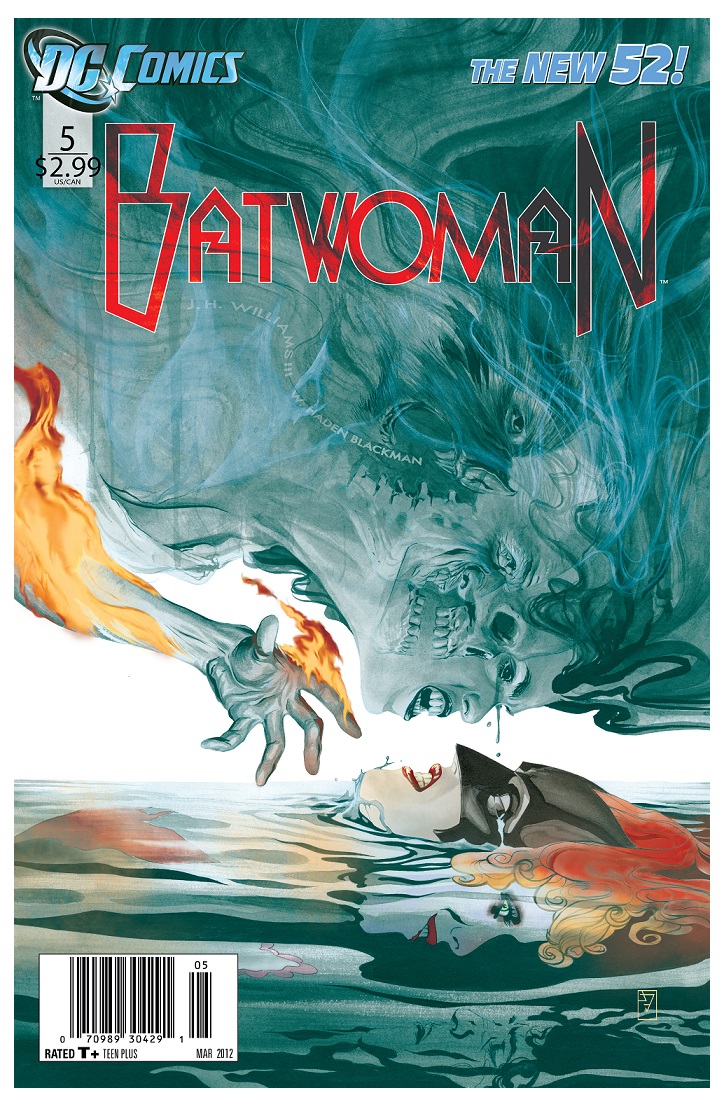 Matt Adler
:
BATWOMAN #5 (J.H. Williams III, DC Comics)
It's tempting to say this cover speaks for itself, but that would be cheating, so let me say a bit more. J.H. Williams III is a master of innovative layout and storytelling techniques on his interiors, but he's certainly no slouch when it comes to creating iconic cover images that leap off the stands at you. BATWOMAN #5 is the best example of that this year, with Williams portraying his heroine, Kate Kane, facing off against a supernatural menace. The illustration is so layered that you can look at it again and again and find new things to admire each time. The faces embedded within one another create a very creepy effect, and I love his technique in rendering the pool of water that Kate is floating in. Credit must also go to DC for knowing the strength of this image, and not cluttering it up with a lot of useless cover copy or banners.
---
Favorite Super Villain!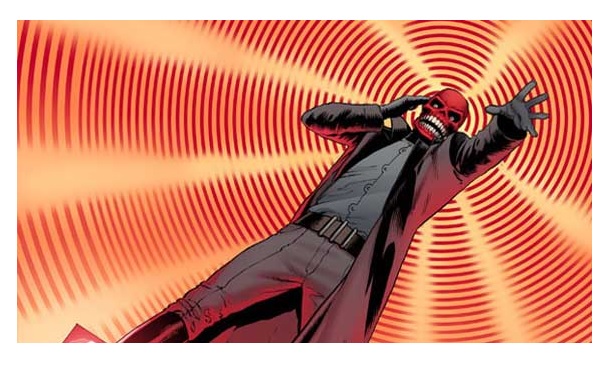 Matt Adler
:
The Red Skull (UNCANNY AVENGERS, Marvel Comics)
Rick Remender and John Cassaday are knocking it out of the park overall with UNCANNY AVENGERS, but for my money, the single best part of their run so far is the way they have repurposed and reestablished the Red Skull. It was smart to give him a relatively clean slate, with much of the memories of past encounters with Captain America wiped clean, and return him to his roots; he's an evil Nazi supremacist whose vile philosophies directly clash with Charles Xavier's message of peace and tolerance. His manipulations of the Scarlet Witch have a deeply disturbing undertone as he sees her as subhuman ("Jew, Gypsy, and a mutant…"). He seeks to spread his message to all of mankind, and what the Skull does to Xavier's corpse in order to achieve his goals perfectly expresses his contempt for Xavier's idealism, while at the same time reminding us why this man, with or without powers, is one of the most chilling Marvel villains of all time.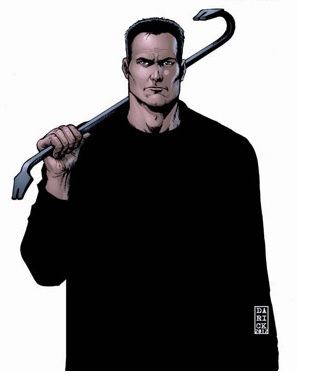 Henry Higgins is My Homeboy
:
Butcher (THE BOYS, Dynamite Entertainment)
Okay, I'll be honest; I didn't see this one coming. I probably should have. The guy has been pretty mental for the entirety of Garth Ennis' recently concluded THE BOYS. But for Butcher, the demented Obi-Wan to Wee Hughie, to transform into an unrepentant monster witha diabolical scheme to kill countless people was still a huge surprise. The comic, which before had felt more like a critique on human nature when given real power (i.e. bad things), returned to its more contained roots and showed Hughie, quickly losing allies and options, scrambling to deal with a villain who knows exactly how to not be a stereotypical villain.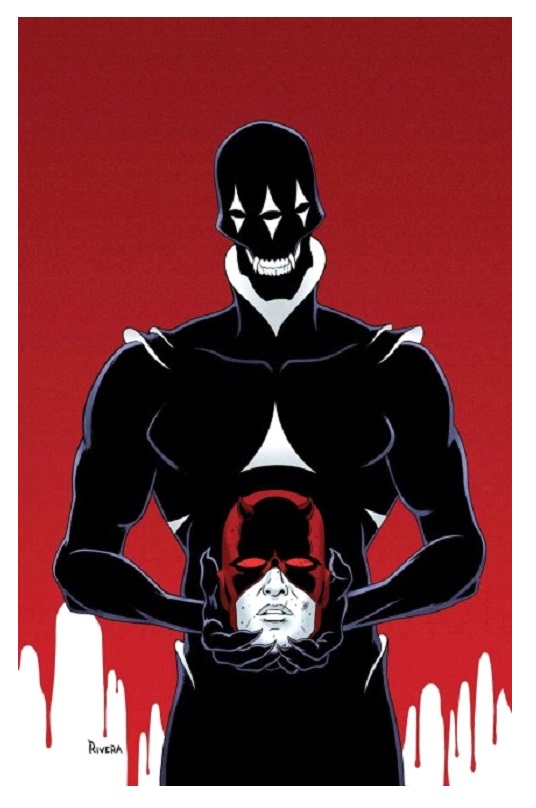 MajinFu
:
Coyote (DAREVEVIL, Marvel Comics)
Remember The Spot from 2011's gorgeous Daredevil debut? He was a relatively harmless, hopelessly inept kidnapper that showed up in the first issue only to be promptly foiled by everyone's favorite blind attorney. Well, he made a comeback this year with some new threads and a new outlook on life, resulting in a really revolting (albeit creative) use of his powers. The blight on humanity known as human trafficking doesn't seem to get the media attention it deserves, but thanks to Mark Waid, readers are exposed to the horrifying practice via The Coyote, who lectures Daredevil's severed head on his disturbing new penchant for procurement. It's a grim tale that also includes smuggling drugs in pregnant women's bellies and plans delving into gun running. Coyote gets the nod this year, not just for recreating himself, but for drawing more attention to issues that trouble our real world, making him one of the most relevant villains of the year.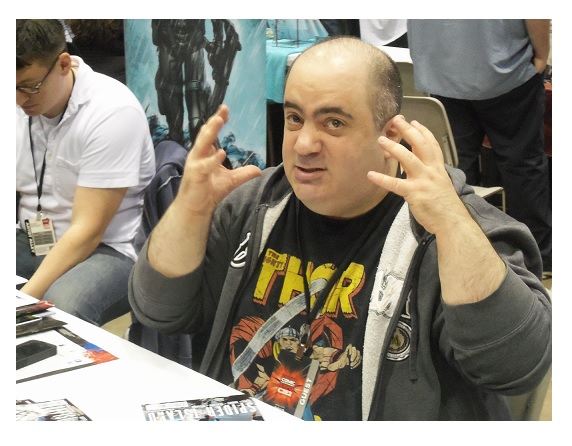 The Writing Rambler
:
Dan Slott (AMAZING SPIDER-MAN, Marvel Comics)
Now sure, Joker is the obvious pick here and a well-deserved pick at that, but honestly was there anyone who caused more trouble and became so hated by so many comic book readers this year as Dan Slott? It's crazy because for the majority of 2012, people (myself included) were pretty happy with Slott's telling of the ol' webhead's adventures and felt that Spider-Man stories had become enjoyable again. It was Spidey's big 50th birthday and news spread that the iconic AMAZING SPIDER-MAN was finally coming to an end with a big 700th issue. But then the rumors started, and with one storyline choice Slott cemented himself as public enemy number 1 amongst longtime fans of SPIDER-MAN. Personally I think Slott's vilification is a bit much, especially seeing that the man was actually receiving death threats online (which is just insane). Nonetheless, Slott's choice to kill off Peter and replace him with Dr. Octopus is arguably the biggest story of 2012 and without question placed him at villain #1 this year.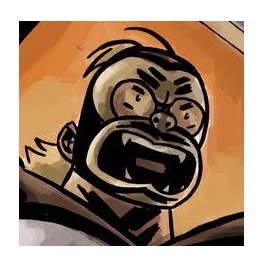 Lyzard
:
Sasquatch (DEADHORSE, 215 Ink)
Sasquatch from DEADHORSE is more a henchman than supervillian, but Gadsworth is so passive that Sasquatch is the only active antagonist that represents a real threat. I wanted him featured as often as possible, even if it meant sacrificing pages from the main plot. I mentioned in my review of the final issue that I cared more about the characters than the mystery. Sasquatch is the best example of this.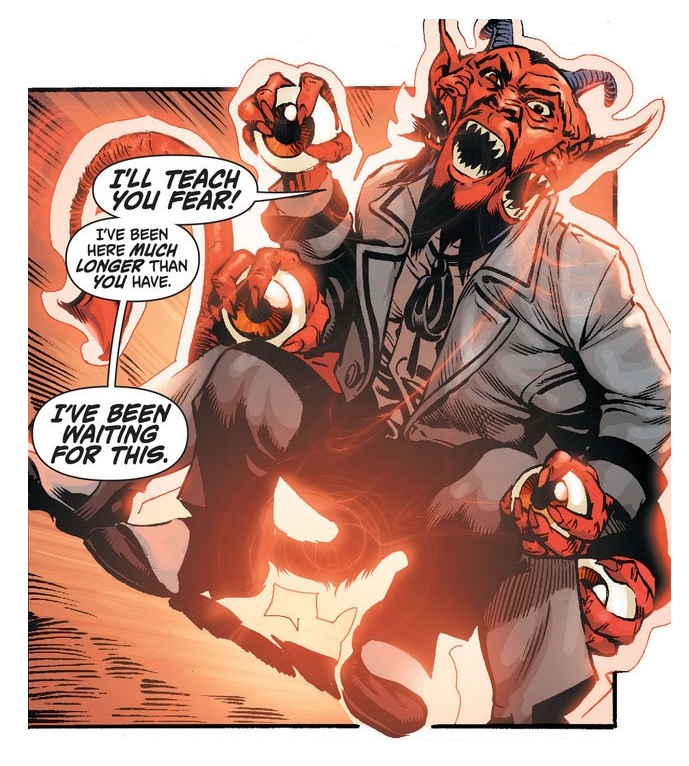 The Dean
:
Vyndktvx (ACTION COMICS, DC Comics)
I had been rooting for this guy to be Mr. Mxyzptlk so hard since ACTION COMICS #1, but now that we know more of his story, I'm glad we've got a fresh face for Superman to punch at. I mentioned in my @$$ie for best one-shot that I've been less than thrilled with Morrison's run so far, and I have been, but the development of this little fella has been one of the run's more redeeming qualities, and he quickly became a very credible threat to Superman (which is always sorely needed), who is fun to root against. I've always been a sucker for Mxyzptlk, too, and the backstory given between him and Vyndktvx is a welcome growth in character for him beyond just being the guy who likes to annoy Superman. Also, the idea of Mxy and Superman pairing up like Roger Rabbit and Eddie Valiant to take Vyndktvx down is at the top of the moments I can't wait for in 2013. If they zip around Metropolis in Benny the Cab I'll have an early winner for next year's "Best Single Moment" @$$ie!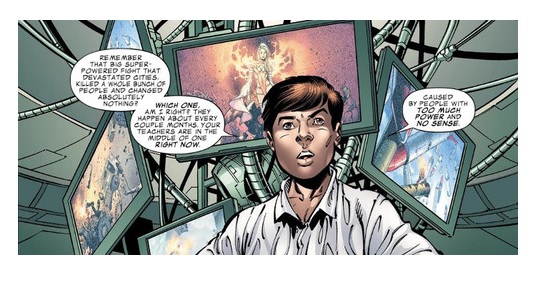 BottleImp
:
Jeremy Briggs (AVENGERS ACADEMY, Marvel Comics)
Some of the best villains are memorable because they don't consider themselves to BE villains, and such is the case with Jeremy Briggs, the brilliant teenage industrialist with the power to transmute elements. As seen in AVENGERS ACADEMY #34-37, Briggs reasoned that superheroes cause nearly as many problems for the world as their villainous counterparts (as evidenced by the hero-on-hero action in the recent AVENGERS VS X-MEN crossover). His solution was to create a nanotech vaccine that would effectively wipe out the majority of the world's superpowered beings' abilities. What made Briggs compelling is that his point was a valid one, and could also be read as a commentary on the general state of modern superhero comics. Of course, the Avengers Academy managed to save the day, but not before Briggs caused them to confront the consequences of their own actions.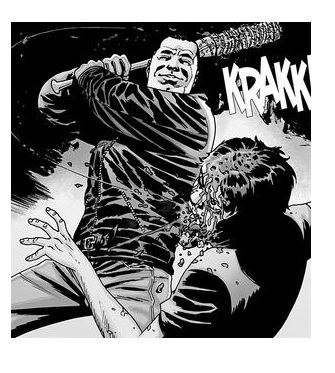 Optimous Douche
:
Negan (THE WALKING DEAD, Image Comics/Skybound)
Fine, he's not exactly a "super" villain, but Negan's propensity for evil and nonchalant deliverance of brutality definitely puts him a step above the traditional over-contrived plans of most villains. He uses brutality to control his community like a biblical king. He uses brutality to keep The Hilltop delivering its weekly tithing. He uses brutality in basic introductions, as poor Glen learned this year. Anyone who can revel in gore and fear like Negan is simply not meant for civilized society. As for whether he's fit for post-apocalyptic society, he's done well so far.
Ambush Bug
:
Doctor Octopus (Marvel Comics)
As much as the new developments in SUPERIOR SPIDER-MAN have been somewhat problematic and annoying, I have to give it up to Doc Ock for doing what very few villains have ever done. He won. Now, I'm sure this victory is not going to last long, but I have to give it up to the villain who actually accomplished his goal. Seeing Doc plod around in Peter's body has been everything from annoying to ick-inducing (the masturbation scene was just too much), but AMAZING SPIDER-MAN #700 and the issues leading up to it painted Otto Octavius as sympathetic, diabolical, methodical, villainous, and even heroic, proving that classic villains can still be interesting when given the opportunity.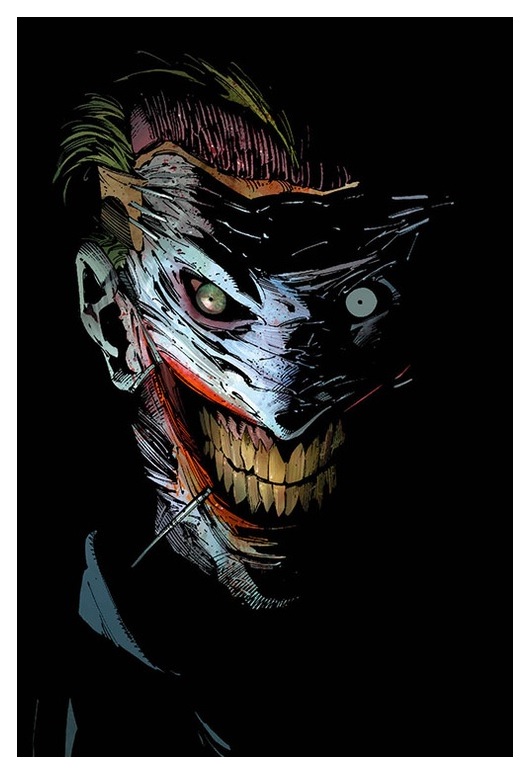 Humphrey Lee
:
The Joker (DC Comics)
Essentially, take everything about my "Favorite Moment" for the year and apply it here. We all know that The Joker is the comic book villain equivalent of the atom bomb – best used when things absolutely need to be decimated – and was he ever unleashed the past few months. Not only has he come back with the proper amount of revenge and malice in mind, but also an obsession with Batman that is more disturbing than ever presented before. He's deranged, psychotic, and almost kind of tragic; he's the best villain in comic book history for a reason, and Snyder and company are using him about as menacingly as I have seen in a Batman story before.
---
Best Writer!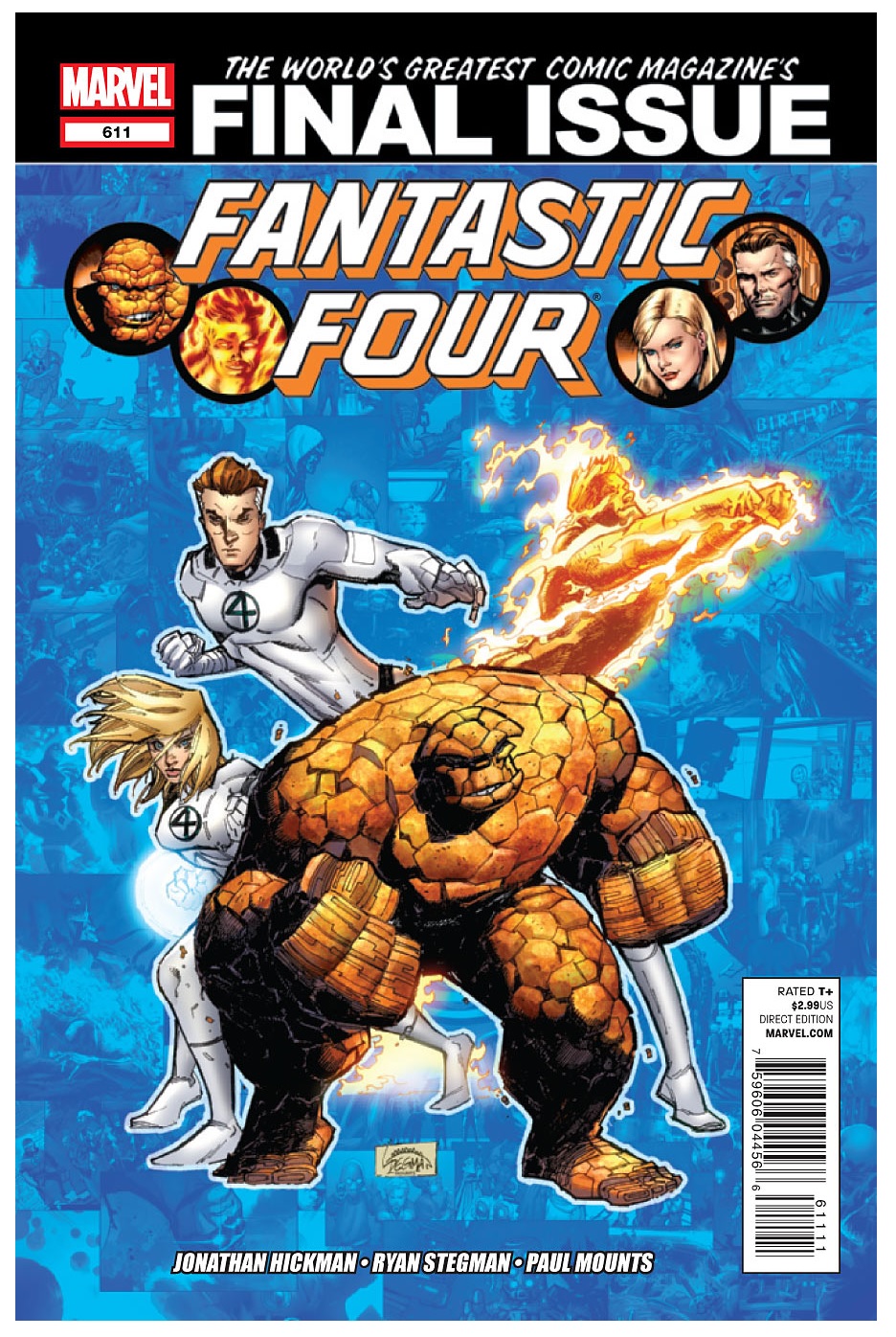 Humphrey Lee
:
Jonathan Hickman (Marvel Comics, Image Comics)
I've come to realize over the years that I have a particular affinity for the "utility knife" writers. Basically, those guys and gals that can produce very proficient work over the span of a couple genres in the medium are usually who really scratch my sweet spot like I'm a puppy. This past year, I think Jonathan Hickman probably hit that spot (ugh, sorry about thi,s Mr. Hickman) more than anyone else. He showed his penchant for top-notch superhero work with the wrap of his statemen- making FANTASTIC FOUR, and kicking off an AVENGERS tour I feel would at the least match it. He showed his love for sci fi by writing a pretty hard version of it – with some excellent black humor throw in – on THE MANHATTAN PROJECTS, and though (sadly) has only seen a couple issues, his espionage thriller, SECRET, looked like it was also going to live to the high standards his work has set since he hit the industry with THE NIGHTLY NEWS. Five books: all were stellar, all showing different flashes of his writing acumen. I think that makes a pretty good winner.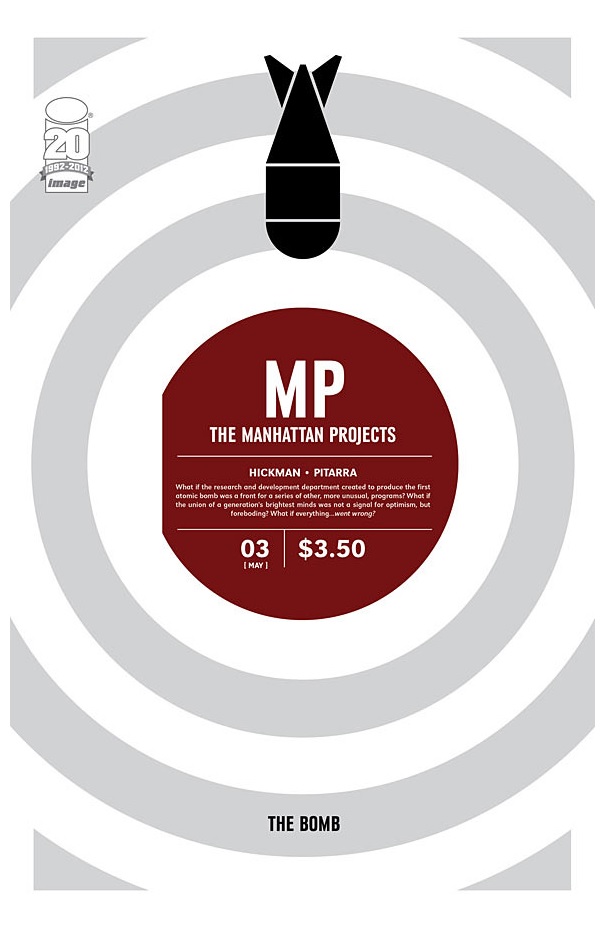 Henry Higgins is My Homeboy
:
Jonathan Hickman (Marvel Comics, Image Comics)
This past year, Hickman has been unstoppable. THE MANHATTAN PROJECTS is one of the most inventive titles released in years. This year, he finished one of the best runs the Fantastic Four have ever seen. He's taken over for Bendis and assumed writing duties for the two main Avengers titles, which in only one or two issues has already established itself as one of the most exciting Avengers stories in recent memory. Damn.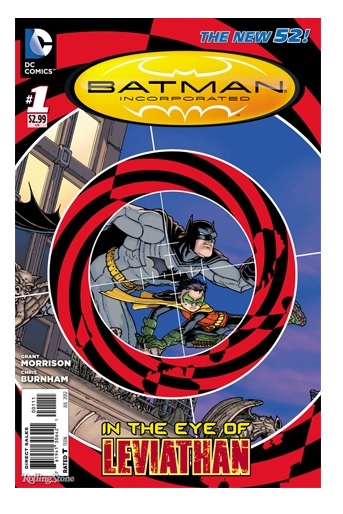 Matt Adler
:
Grant Morrison (DC Comics, Image Comics)
I've already spoken about the greatness of Morrison's work on HAPPY, so let me turn my attention to another series that has earned the Scottish scribe my pick for best writer of the year: BATMAN INCORPORATED. Now, look, I had as many doubts about the concept of BATMAN INC. as anyone; Bruce Wayne running a company fronting an international team of Batmen seemed a bit silly, even by Morrison's standards. But to his credit, Morrison has limited those elements, and with the DC relaunch what we've gotten is a sort of fusion of BATMAN INCORPORATED with his run on BATMAN AND ROBIN. Particular attention is paid to Damian Wayne, Bruce's prodigal son, and I have to say that Morrison is the only one who makes this character work for me. Every other writer seems to portray him as too much of a smug brat, while only Morrison has the skill to show that underneath it all, he's still just a vulnerable kid. That skill also makes BATMAN INCORPORATED the only Bat-title I'm interested in following on a regular basis, as Morrison realizes that Batman can get pretty tiring if he's always relentless doom and gloom. He injects the right amount of humor, without making Batman the butt of the jokes. I must also give praise to his run on ACTION COMICS where, as with Batman, he has succeeded in giving Superman more layers, particularly in bringing him back to his roots as a two-fisted crusader for truth and justice. It's disappointing to realize that Morrison will be ending his DC work soon, but ultimately, I can't blame him for wanting to pursue his own creations. And if they are at the level of quality of HAPPY, I will eagerly follow them.
Masked Man
:
Mark Waid (Marvel Comics, IDW Publishing)
I'm pretty critical of writers, as there's nothing I hate more than lazy writing, such as having characters do things only to fit the plot as opposed to having them do things that actually makes sense! And while all writers have good days and bad days, Mark Waid's work rarely comes off as lazy. In 2012 he gave us a rip-roaring good time with THE ROCKETEER: CARGO OF DOOM, and took the already solid read DAREDEVIL to another level. DAREDEVIL was good in 2011, but with this latest storyline of teleporting and madness it's now better than good! Not to mention that DAREDEVIL #17 was my favorite issue of the year and that I'm picking DAREDEVIL as my favorite series of the year, so it's no wonder that Mark Waid is also getting my nod for best writer of 2012. With so much lazy writing out there (in best selling series and crossover events) I am not genuinely excited for much of anything on the shelves these days. So for me to actually get excited about the next issue of DAREDEVIL, that's a major achievement in my world.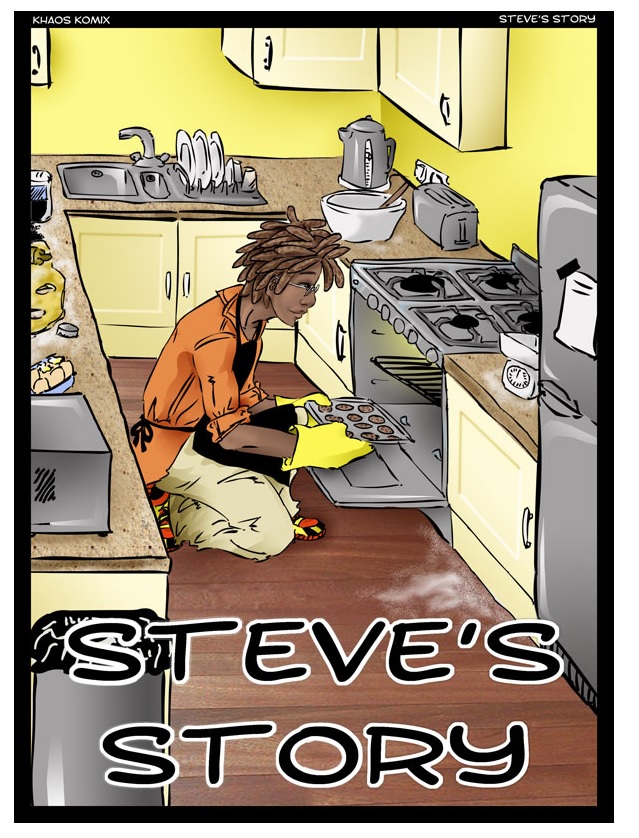 Vroom Socko
:
Tab Kimpton (Khaos Komix)
For this category, the main decision factor was a simple one: character. Who wrote the most interesting characters? How did they develop through the story? And most important of all, did I give a shit? Well, the characters I gave a shit about the most were the ones in Tab Kimpton's online comic
Khaos Komix.
This past year centered around Charlie and Jamie and their trials and travails, both highly personal, both deeply troubling at times. Kimpton handles both their hardships with dignity and deft grace, and weaves them together masterfully. Jamie's characterization is a particular standout, and not just because Kipton took the classic asshole and made him likable and well rounded. Crafting a character with his particular history is a tough line to walk; one false step and you're either inauthentic or pandering. Thankfully, Kimpton makes walking that line look easy, though I'm sure it was the hardest part of the project. Khaos may have ended with this story, but I'm looking forward to what Kimpton has lined up next.
Note on the above link: Khaos Komix is centered around LGBT characters and is Not Safe For Work. If you have a problem with that, fine. Just keep it to yourself, because I don't want to hear about it.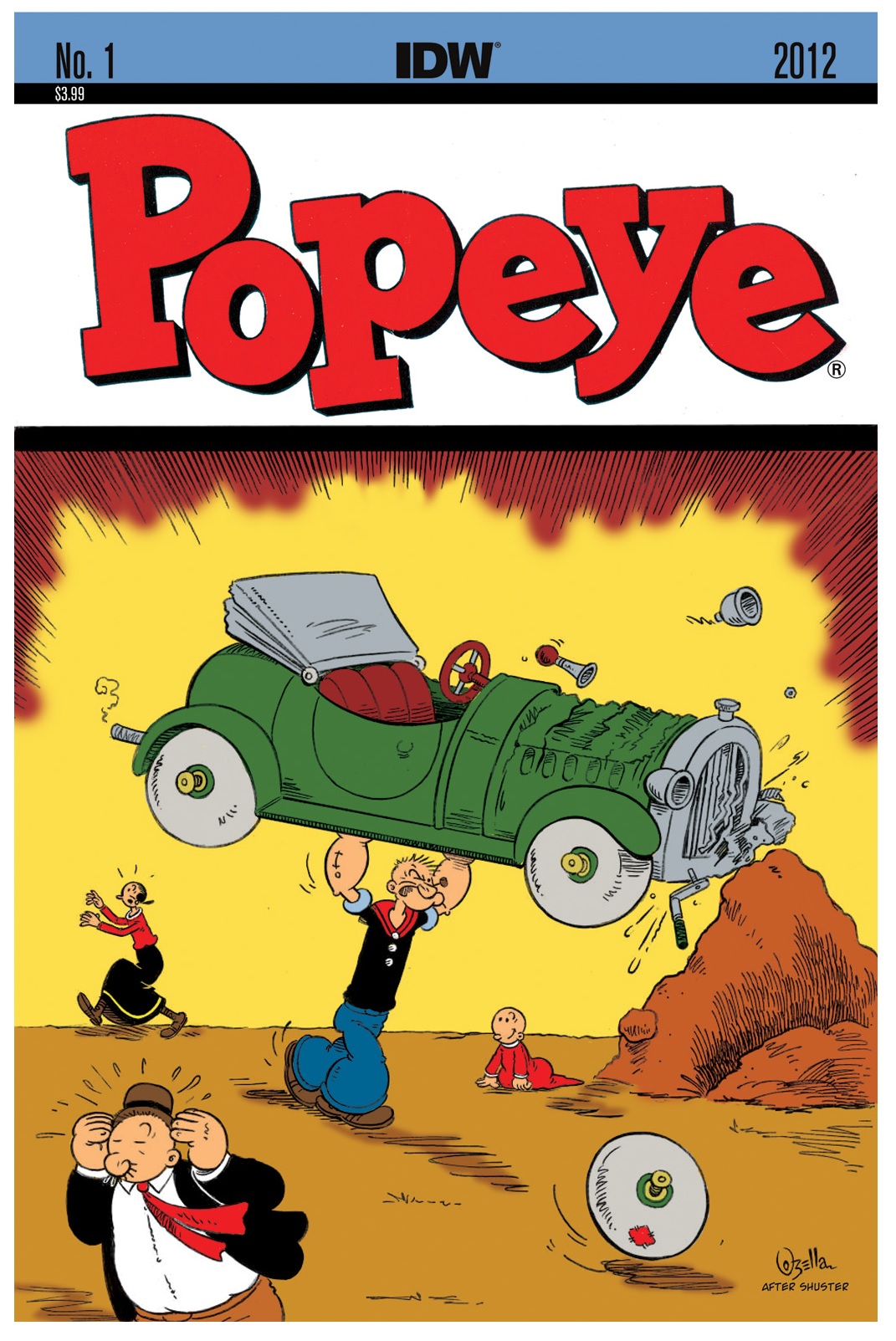 MajinFu
:
Roger Langridge (IDW Publishing/BOOM! Studios)
How many writers today are known for their work in children's comics? In a market often directed at an older audience, the beauty of Langridge's work is he writes great stories for kids, yet they can be enjoyed at almost any age. Seriously! From the fairytale whimsy and nursery rhyme nature of SNARKED! to the humorous and creative diction in POPEYE, Mr. Langridge has delivered on every page he's written over the course of the entire year. Snarked! sadly wrapped earlier this year, but every time a new issue of the spinach-eating sailor man shows up at the shop, you'll catch me squealing with delight. The book is chock-full of wit and clever turn-of-phrase. Langridge seems to invent a new word with each new issue, always to comical effect of course. This is the sort of pleasurable work you can enjoy with a big cup of the choicest warm fluid and then share with just about anyone else you know, which is the highest praise I could give to any writer. The best comics are meant to be shared. Langridge writes those comics.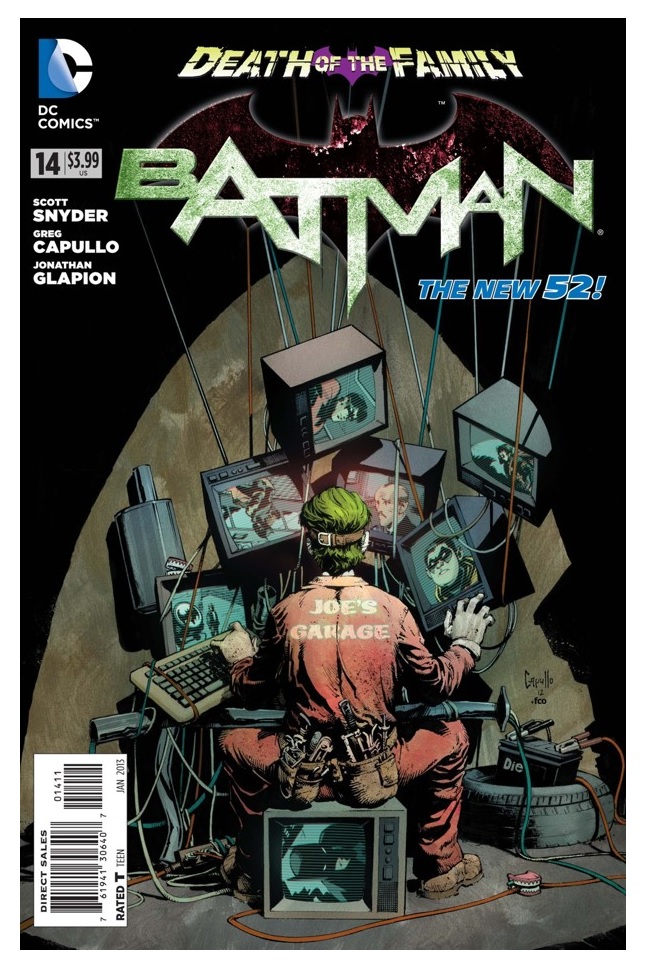 The Writing Rambler
:
Scott Snyder (BATMAN, DC Comics)
When you're hot, you're hot, and Scott Snyder is simply on fire this year. While managing to write for SWAMP THING and AMERICAN VAMPIRE Snyder has also found the time to craft one of the best years of BATMAN reading ever. His work on BATMAN is nothing less than exceptional, as he has spent 2012 not only providing us with a new layer to the BATMAN mythos with the "Court of Owls" storyline but he's also given us the highly anticipated return of the Joker in the "Death of the Family" event (which by now I'm sure your tired of us all drooling over, but damn if it isn't worth every word!). You can see how much he loves his job through his work, and for fans of BATMAN it is just a joy to see him craft one of the best BATMAN vs. Joker stories to date. I cannot even imagine what 2013 holds for Snyder, and with the finale of "Death of the Family" on its way as well as him penning a new Superman book this year, I think it's fair to say he may just hold onto this title of best writer for the foreseeable future.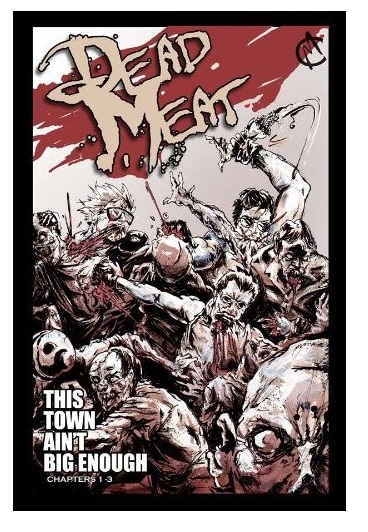 Lyzard
:
Clayton McCormack (DEAD MEAT)
Clayton McCormack may not have been the best writer this year when it came to structure or character development, but his dialogue was bar-none my favorite of 2012. Witty, ironic, and no failed punch lines, McCormack didn't have a variety of character voices, but at least the ones he did work with were well done. The companion YouTube videos are an even better example of McCormack's ability to comment on the zombie genre without being blatantly meta.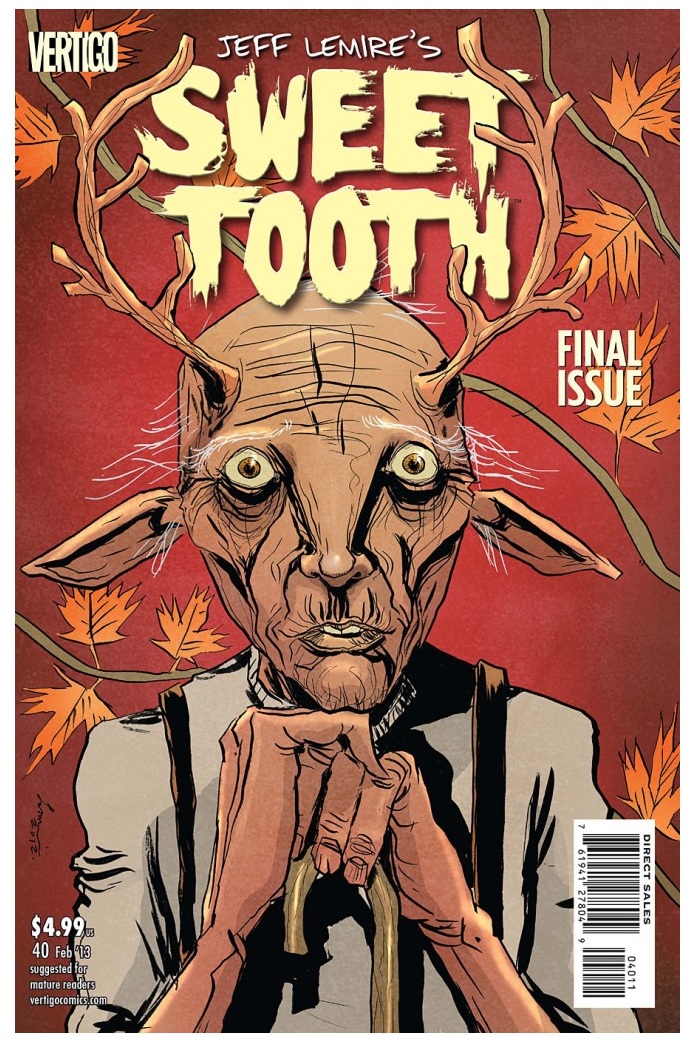 The Dean
:
Jeff Lemire (SWEET TOOTH, JUSTICE LEAGUE DARK, ANIMAL MAN, UNDERWATER WELDER, Top Shelf Productions/DC Comics)
We had some really great writers doing some really impressive work all year, but ultimately my @$$ie goes to Jeff Lemire. It came down to quality and variety for me, and Lemire consistently put out some way above average stories for DC, Vertigo, and Top Shelf this past year ranging from horror to magic/fantasy to the cluttered boy-with-antlers genre. His DC titles have been some of the best the New 52 has had to offer; SWEET TOOTH, which recently concluded, ended as impressively as it started, and THE UNDERWATER WELDER was easily my favorite original story released in 2012(
you can check out my review here
). Plus this guy's work on ANIMAL MAN got Buddy Baker his first t-shirt! Never thought I'd see the day where Animal Man got an officially licensed t-shirt, but here we are, and it's all thanks to the excellent writing on display in any title last year that has Lemire's name on it.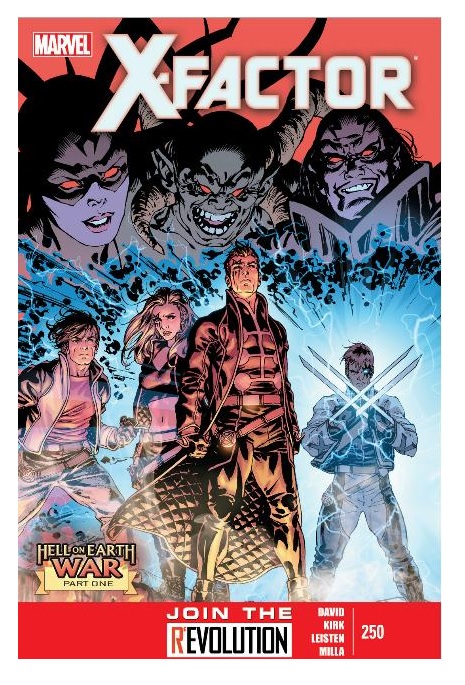 BottleImp
:
Peter David (X-FACTOR, Marvel Comics)
For years now Peter David has been writing the hell out of Marvel's misfit mutant book, and it looks like the higher-ups have finally realized that the best thing for them to do is to let him do it, free of interruptions. Case in point: no crossovers! This past year X-FACTOR was mercifully excluded from the AVENGERS VS. X-MEN muddle and David was allowed to do what he does best: write gripping stories that balance intricate plotting with longer-reaching story arcs, and always with a strong focus on characterization. You can keep your Wolverines and Emma Frosts; I'd much rather read about the Jamie Madroxes and Lorna Danes.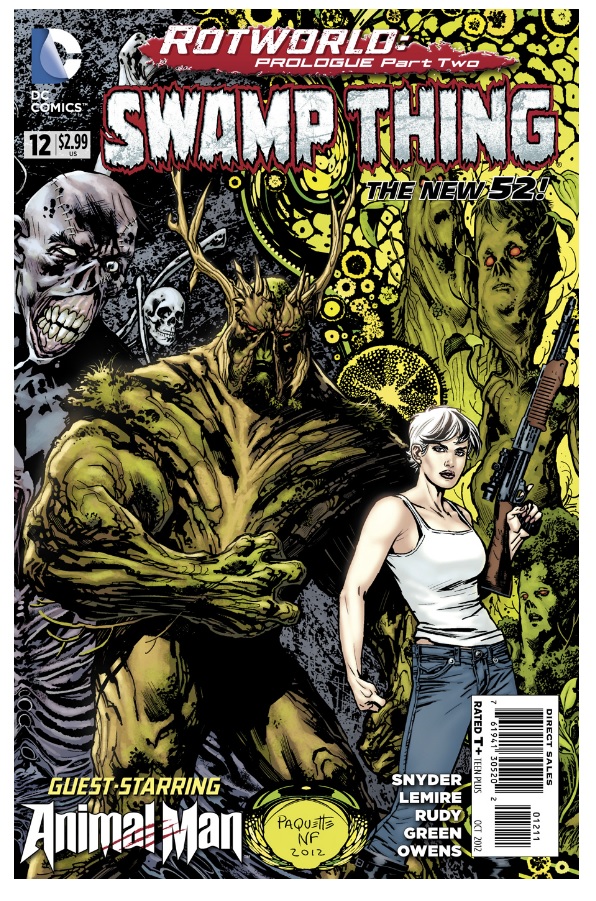 Optimous Douche
:
Scott Snyder (AMERICAN VAMPIRE, BATMAN, SWAMP THING, DC Comics)
Sorry, Mr. Johns, but I'm giving this year's high-five to Scott Snyder. Aside from the awesome AMERICAN VAMPIRE, he basically made BATMAN the hottest property in DC right now (comics-wise I mean). And while I still care nothing for SWAMP THING as a character, there's no denying Snyder's craftsmanship on the title. Even if "Death of the Family" shits the bed in the end, the ride was worth it. Not saying it will, I'm just saying if. Now, as we look to 2013 and the pairing with Lee on SUPERMAN, please please please for the love of Kandor and all that's holy - DO NOT build this story Marvel-style with art dictating plot. It killed fucking JUSTICE LEAGUE critically, and with it a bit of Johns' sterling reputation. The market is done with splash pages, especially when we expect complexity from a writer. Stand your ground, don't sell out your principles, and don't get any stars in your damn eyes when working with Lee.
Ambush Bug
:
Peter Tomasi (BATMAN & ROBIN, GREEN LANTERN CORPS, DC Comics)
Though he's often overshadowed by the likes of Geoff Johns and Scott Snyder, Peter Tomasi delivers some of the most rock solid characterization in comics today. Be it the heartwarming, yet action packed adventures he tosses Damian Wayne through as Bruce Wayne leads him through the tough training needed to be a Dark Knight of Gotham or the bawdy and bold adventures of Guy Gardner and John Stewart as they lead a rag tag group of rookies in mastering the emerald ring, Tomasi never fails to make the stories original, exciting, and full of moments you will never forget. As he wraps his runs on GREEN LANTERN CORPS and BATMAN & ROBIN, I'm looking forward to what new corner of the DC Universe Tomasi will be bringing his masterful use of character next. Whoever he writes and wherever he goes, I'll be sure to follow.
---
Now it's time to pick your own @$$ies in the Talkbacks. Thirsty for more @$$ie Awards?
Best Single Issue/Single Moment!
Best Miniseries!
Best Publisher!
Best One-Shot/Annual/Special!
Favorite Super Team!
Best Artist/Art Team!
Favorite Comic Book Movie!
In Memoriam 2012…
Look for more tomorrow with picks for…


Best Crossover/Event!
Favorite Superhero!
Best Ongoing Series!
See you then!
---
Editing, compiling, imaging, coding, logos & cat-wrangling by Ambush Bug
Proofs, co-edits & common sense provided by Sleazy G
Remember, if you have a comic book you'd like one of the @$$holes to take a look at, click on your favorite reviewer's link and drop us an email.


---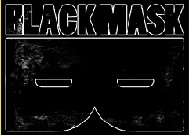 Find out what are BLACK MASK STUDIOS and OCCUPY COMICS here and on Facebook here!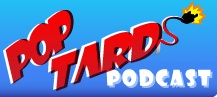 Want more in all things Geek?
Check out PoptardsGo and on Facebook here!




---

Get your copy of highly-anticipated anthology TOME by 44FLOOD today on their Kickstarter!

Check out AICN COMICS on Facebook and Comixpedia.org!