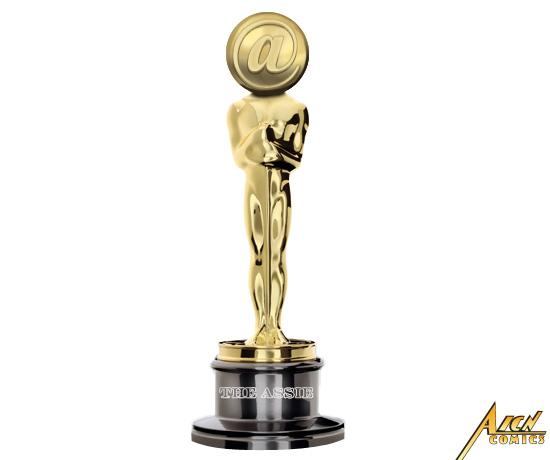 Logo by Kristian Horn
@@@ AICN COMICS @@@
@@@ 9th ANNUAL @$$IE AWARDS! @@@
---
Welcome, all, to the 9th Annual AICN COMICS @$$IE AWARDS, where comics' best and brightest are recognized for stellar performances in comic bookdom. I'm Ambush Bug. There was a time when we could fit all of the @$$ies into one lengthy column, but the @$$Holes' ranks have grown too big for that. Most BEST OF… lists are posted around the first of the year, but we think ours is special, so while those outside of the know celebrate the time of the Oscar, we here at AICN COMICS celebrate the time of the coveted @$$ie Award. For the next week, every day the @$$Holes will present their picks in 12 categories for the best of the best in comics. So sit back, crack the knuckles in your browsing hand, and scroll down as the @$$Holes pick the @$$ies!
And the @$$ie goes to…

(Click title to go directly to the reviewers picks)
Best One-Shot/Annual/Special!
Favorite Super Team!
Best Artist/Art Team!
---
Best One-Shot/Annual/Special!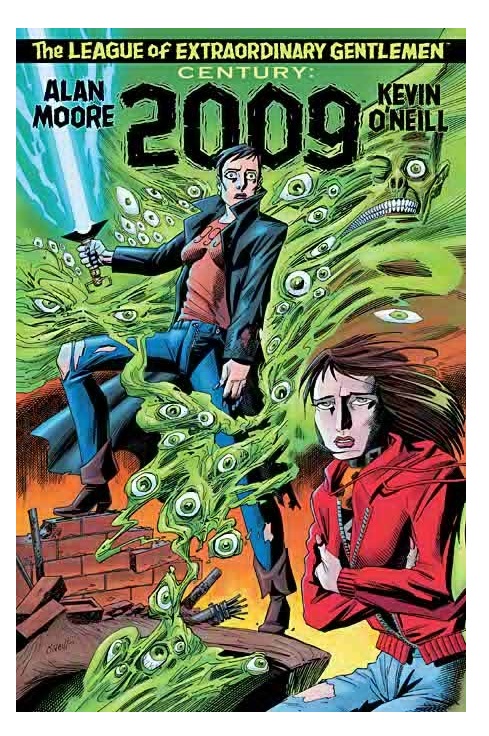 BottleImp
:
THE LEAGUE OF EXTRAORDINARY GENTLEMEN: CENTURY: 2009 (Top Shelf Productions/Knockabout)
Love him or hate him, you have to admit that Alan Moore always swings for the fences in his work, and this seeming conclusion to the LOEG series is no exception. From the inclusion of a warped version of the Harry Potter universe to his tapestry of the "Blazing World" of imagination, to Kevin O'Neill's caricatures of every man who's played 007, to the reveal of a godlike Mary Poppins summoned to defeat the Antichrist, this chapter of the CENTURY saga is rife with the elements that LOEG fans have enthusiastically embraced. Definitely not for everyone, but the initiated will have devoured it.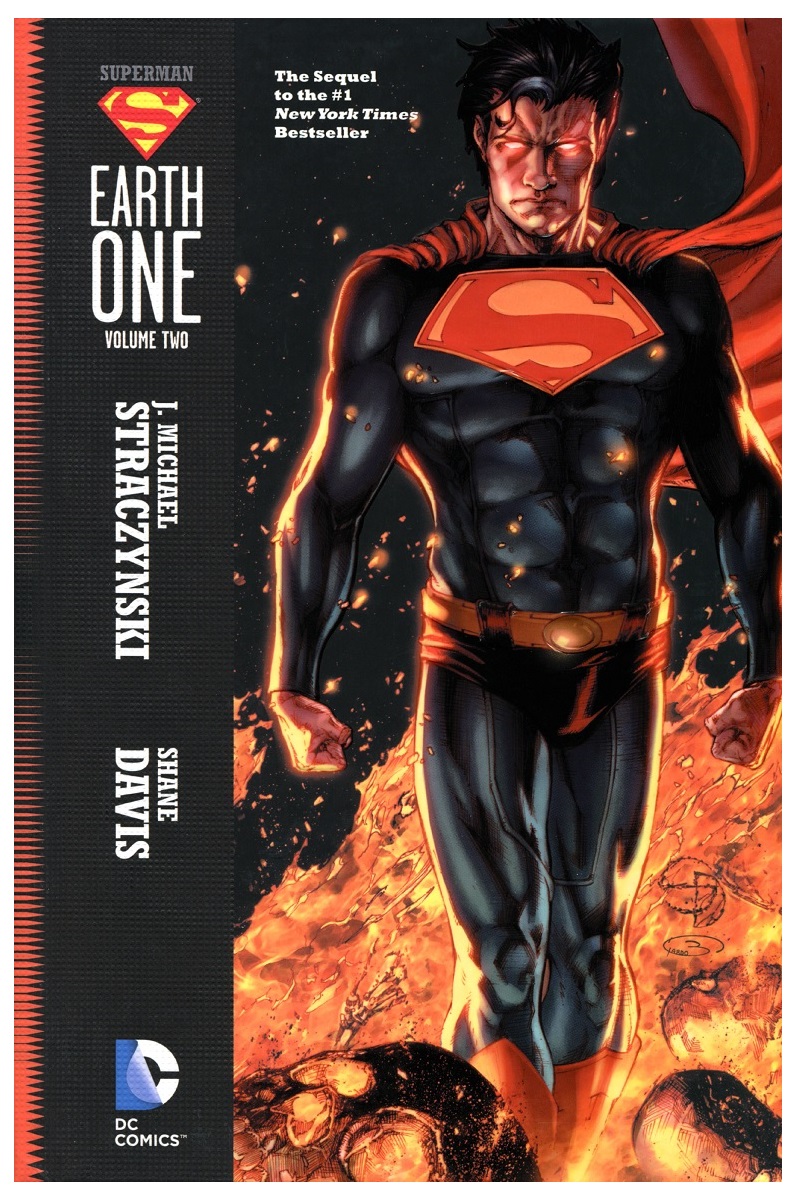 Optimous Douche
:
SUPERMAN EARTH 1 VOLUME 2 (DC Comics)
EARTH 1 continues to hold a special place in my heart for two reasons: 1. I love JMS; in my opinion the only bad book he created was Superman Walking and I attribute that fallacy to editorial, not the writer. 2. EARTH 1's tone and format have been a begging point of mine for years. I want more graphic novels and less floppies. I also want an Earth where it feels like our world. I was worried the New 52 would meet my second requirement, but sadly the "five year before" mantra squashed that hope. In VOLUME 2, we get much more SUPER and much less man, which is A-OK in my book. JMS is a clever enough writer that he can bring heart and character gravitas to action sequences; we don't need to see Clark to see humanity in SUPERMAN. Also, Shane Davis really turned up the art in this one. The Parasite looked familiar yet original. SUPERMAN was appropriately aged and the moment on the moon was beyond endearing thanks to Shane's heart pouring through his pen.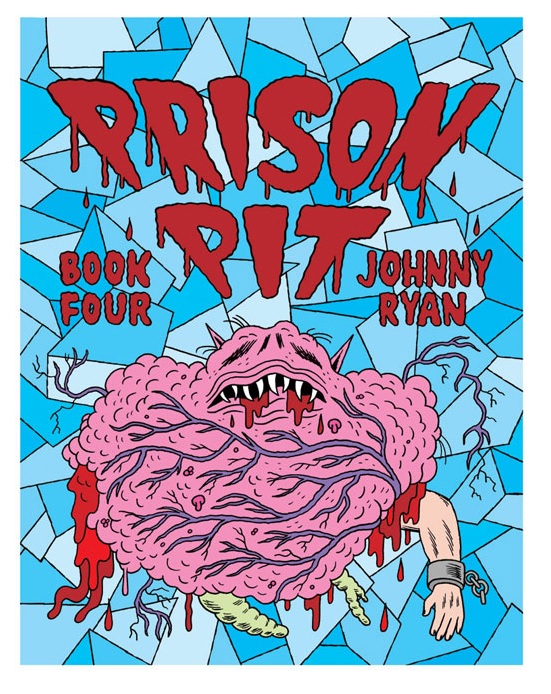 Ambush Bug
:
PRISON PIT BOOK FOUR OGN (Fantagraphics Books)
It might be an unconventional choice, but since the PRISON PIT series seems to come out every year or so, I consider this a series of one shots. The demented stream of consciousness serial of a crudely drawn man monster named Cannibal Fuckface fights, fucks, and decimates his way through everything in his path and in this installment must make his way out of the Caligulon, a spaceship powered by sex. But even after he escapes, there's more fighting and fucking to do. Truly twisted shit. The kind of stuff that might land oneself in therapy if you were caught scribbling it in your notebook in math class. But that's why I love every volume birthed by the brave and bold Johnny Ryan. I look forward to every installment of PRISON PIT, and this fourth volume was especially good. Recommended for those looking for something truly off the beaten path.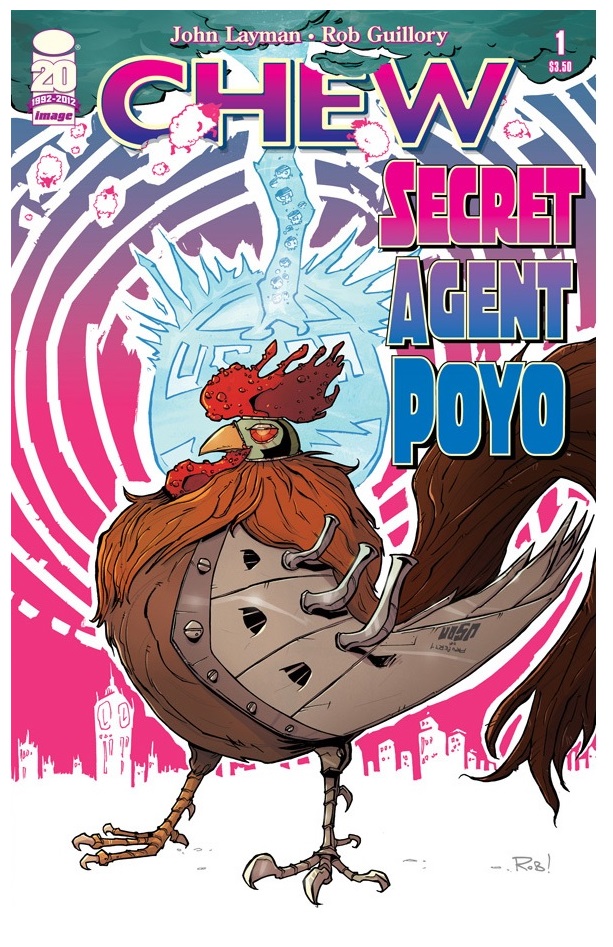 Humphrey Lee
:
CHEW: SECRET AGENT POYO #1 (Image Comics)
The reason this issue worked/entertained is that it, arguably more than any regular issue of CHEW to hit thus far, SECRET AGENT POYO was way more self-aware of the nonsensical, tongue-in-cheek material it was putting forth. It just adds layers upon layers of over-the-top and then, eventually, you get to a ten story MegaPoyo fighting Mecha-Turducken and it's game over, @$$ie won.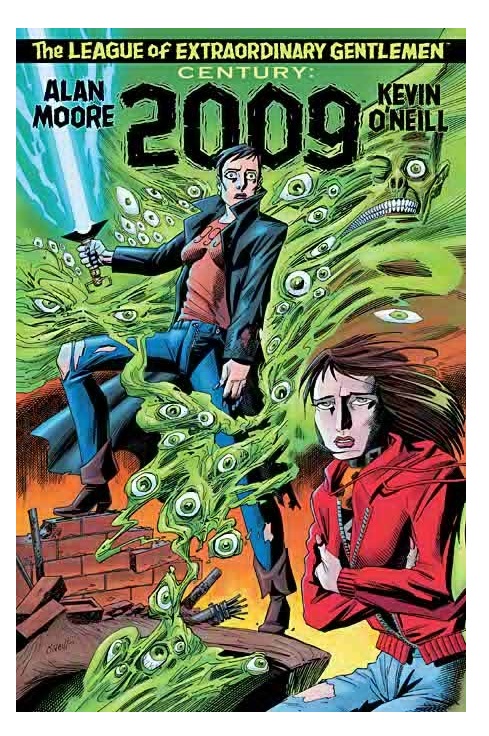 Henry Higgins is My Homeboy
:
LEAGUE OF EXTRAORDINARY GENTLEMEN 2009 OGN (Top Shelf Productions/Knockabout)
The world didn't end in December(obviously), but if it had, we could have all at least taken some solace in the fact that Alan Moore gave us the conclusion to THE LEAGUE OF EXTRAORDINARY GENTLEMEN. While the constant references and allusions can become distracting at times, it incorporates them well enough into the world in interesting ways to remain consistently engaging the entire read through. The book manages to cover a deft number of plot points with an extremely quick pace(it wasn't until rereading this comic for this article that I remembered the search for Mina), but it never loses the reader. A testament to Moore, and his standing as one of the greatest comic writers of all tim.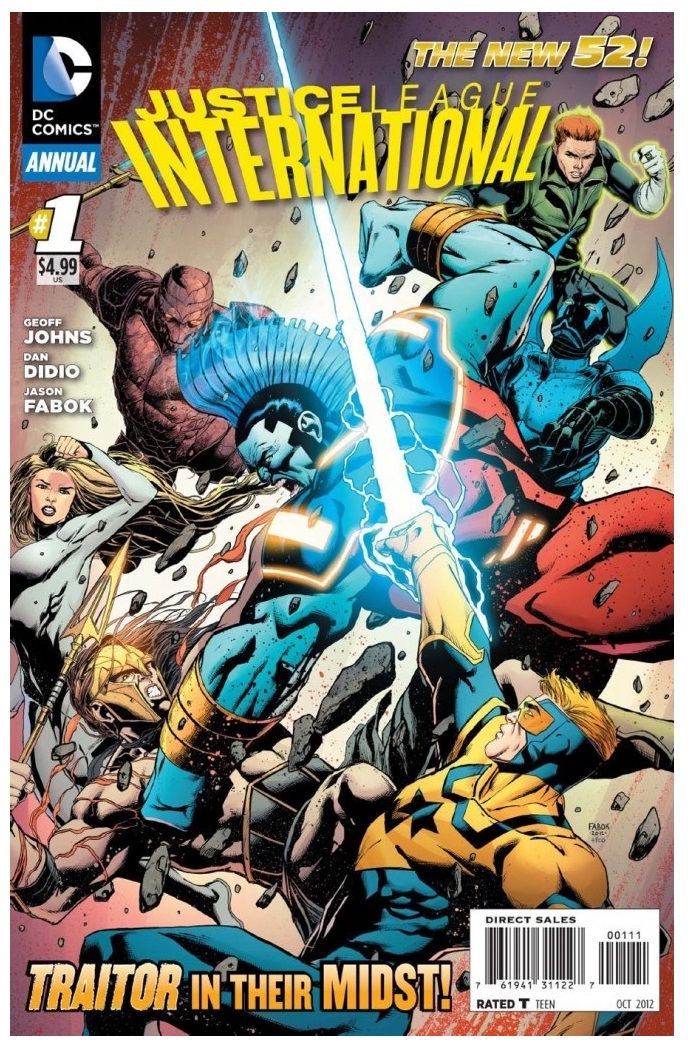 Matt Adler
:
JUSTICE LEAGUE INTERNATIONAL ANNUAL #1 (DC Comics)
To be totally honest, I haven't read a ton of one-shots or annuals this year. Still, JUSTICE LEAGUE INTERNATIONAL ANNUAL #1 sticks out in mind, both for its gorgeous Jason Fabok artwork (hey, how 'bout his Batman, folks?), and for the skilled way that Geoff Johns and Dan Didio wrap up the remaining plotlines for the JLI series while seeding storylines in the DC Universe to come. In that respect, it reminded me very much of one of my favorite DC Comics of the last decade, COUNTDOWN TO INFINITE CRISIS, which seeded the events for INFINITE CRISIS in such a shocking and compelling way that you had to see what happened next (now, if only INFINITE CRISIS itself lived up to lead-in, but I digress). Similarly, Johns and Didio take Booster Gold, who has often been treated as a joke, and give him his moment in the sun, fighting the machinations of Brother Eye and his mysterious ally, and learning that some dire consequences may be in store for the DC Universe with the developing romance between two of Earth's most powerful superhumans, Superman and Wonder Woman.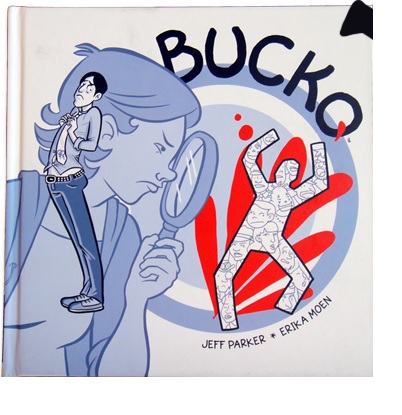 Vroom Socko
:
BUCKO (Dark Horse Comics )
This Dark Horse collection of the Jeff Parker/Erika Moen
online comic
is easily the funniest book to come out this year. It's the story of a young man who, struck with massive diarrhea, runs into the nearest public restroom and finds a dead body. This is shocking, of course, but it doesn't change the fact that he still has diarrhea. This is why, when the police show up, he's found taking a shit six feet from a corpse. With a supporting cast of etsy craftspeople, Suicide Girls, Juggalos, bicycle repairmen, and general purpose slackers, this book is a laugh from beginning to end. Plus, if you couldn't guess by that cast list, it's set in Portland. Gotta give the hometown love.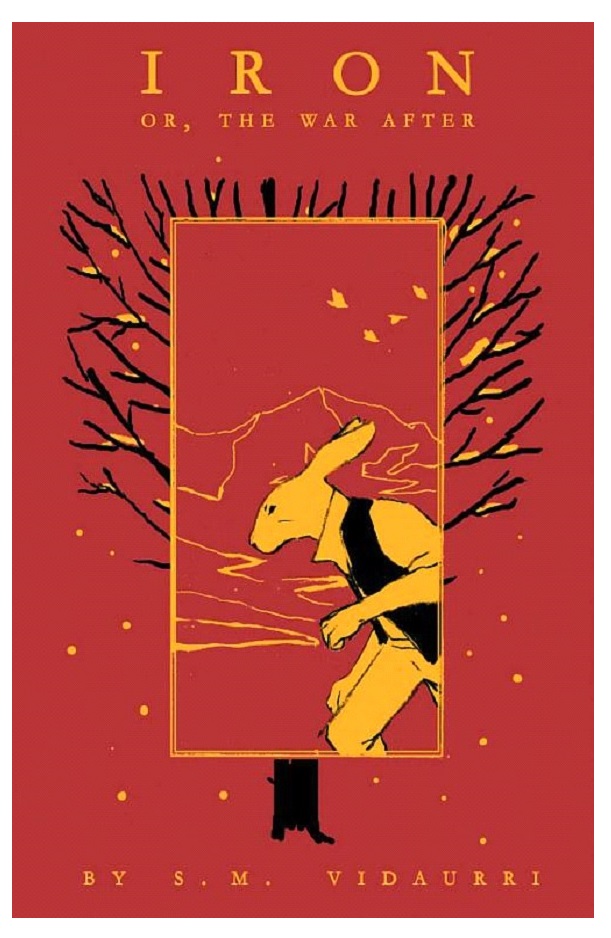 MajinFu
:
IRON: OR THE WAR AFTER (Archaia Entertainment)
You can check out my initial review of this book
here
and an interview with the IRON: OR THE WAR AFTER's creator
here
. IRON examines the ramifications of war and the complicated web of intrigue and espionage as it leaves ripples across an entire community, not just the soldiers and the spies. So much of the story revolves around secrets and picking a side, yet in the end it seems every character is isolated by their own struggles. A string of personal dramas ensue, only to scatter like the pearls of Martha Wayne's necklace. The winter tundra background is an impeccable complement to this melancholy tale as blood on the snow usually makes for an especially chilling visual. The whole tale is beautifully illustrated in watercolor, each and every character bearing the head of an animal that seems to suit their persona perfectly. If you're a fan of the quieter, more subtle works of comics, don't let this one slip by.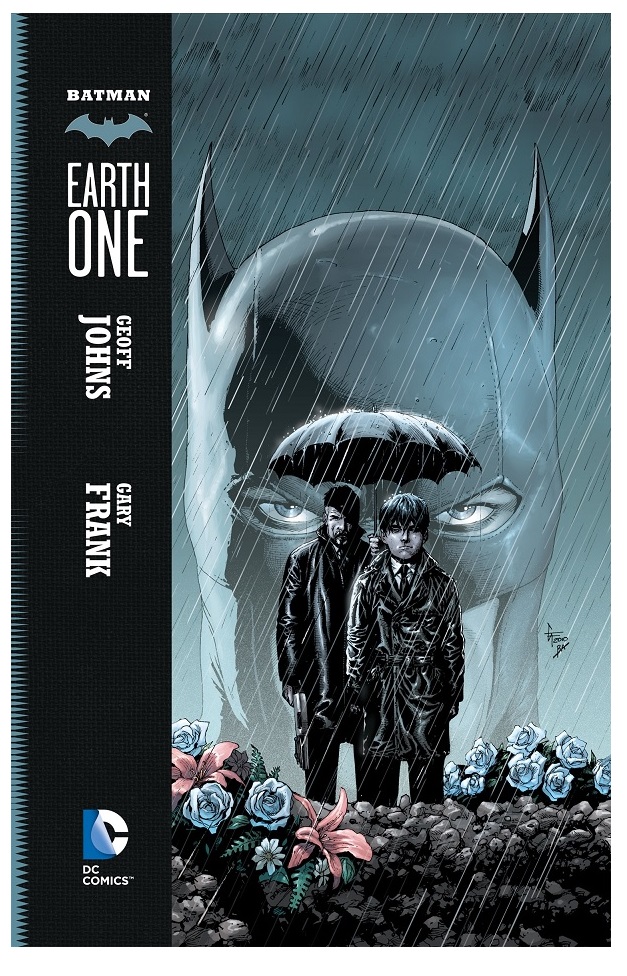 The Writing Rambler
:
BATMAN: EARTH ONE VOLUME 1 (DC Comics)
There really is something wonderful about a good BATMAN story, and as 2012 has shown us it definitely is the Dark Knight's year for great stories. Taking a departure from the norm, BATMAN: EARTH ONE retells the Batman story but in a much different way. Much like Marvel has done with the Ultimate line of books, DC seems to be (slowly) coming into their own with the EARTH ONE series of books and for me BATMAN:EARTH ONE has been the high point so far. Geoff Johns and Gary Frank give us a great retelling of a story near and dear to all BATMAN fans' hearts, but they do it in a way that makes it a completely fresh new take on the content. I've always loved these alternate world tales because the writers can take risks they never could in the normal superhero universe where characters have been established for decades. I particularly loved John's take on Alfred here as a much tougher version than the one that we've become accustomed to. I hope DC expands these EARTH ONE titles more in the future and I can't wait to see what future volumes of BATMAN: EARTH ONE may hold.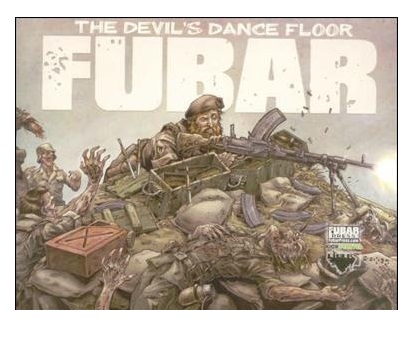 Lyzard
:
FUBAR: THE DEVIL'S DANCE FLOOR (FUBAR Press)
In last year's @$$ies, I praised FUBAR: EMPIRE OF THE RISING DEAD, a collection of short zombie comics taking place in the Pacific Theater. While the original FUBAR covered the European Theater, this one shot explored an overlooked aspect of World War II, the African Theater. Jeff McComsey drew and wrote the tale of a British squad as they remain composed against a much larger contingency of zombies.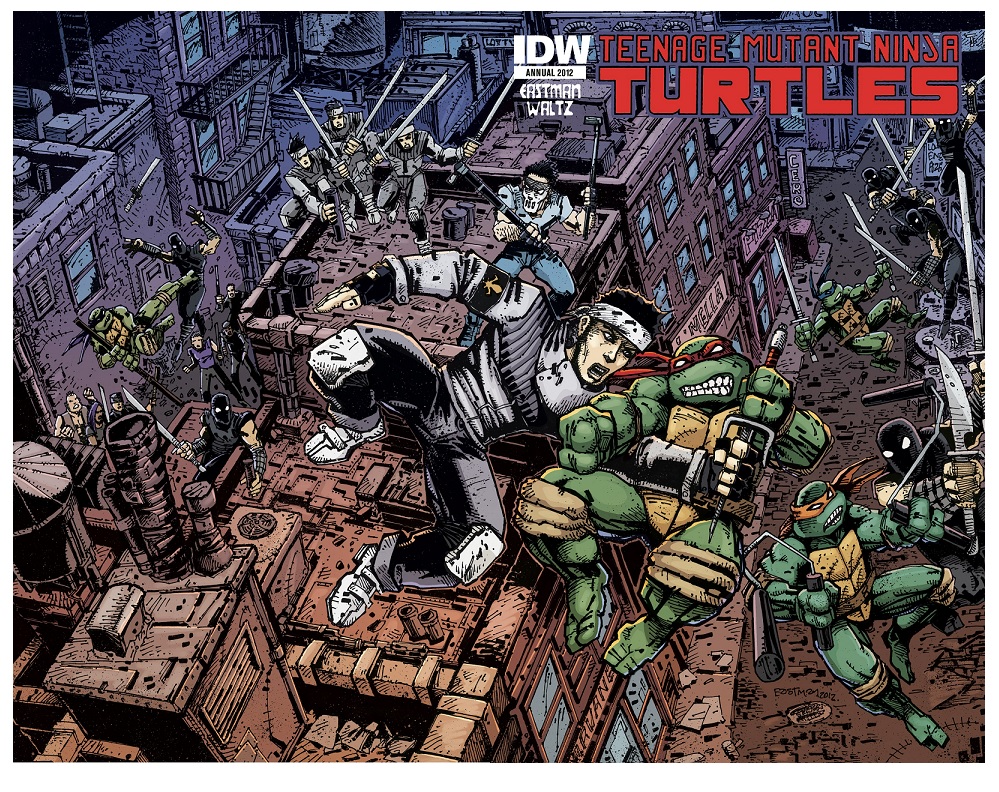 The Dean
:
TEENAGE MUTANT NINJA TURTLES ANNUAL 2012 (IDW Publishing)
I'm yet to hear anything bad about Kevin Eastman's latest TEENAGE MUTANT NINJA TURTLES series. He even got the annual right, and I typically hate the comic book annual, but this one was nearly perfect in every way. It was a fun, longer than usual, original tale, which was only loosely connected to the ongoing plot, and gave new readers a chance to jump in and familiarize themselves with the title. It was longtime TMNT readers, however, who got the greatest treat of all in this annual, with Eastman drawing the half-shelled heroes himself for the first time in almost two decades! Seeing the turtles in black and white again definitely earned this annual some major nostalgia points, but the "Pulp Fiction"-like tour of the city and its inhabitants made for a great read too, making the TEENAGE MUTANT NINJA TURTLES annual the best all around issue I had to pay over $3.99 for all year.
---
Favorite Super Team!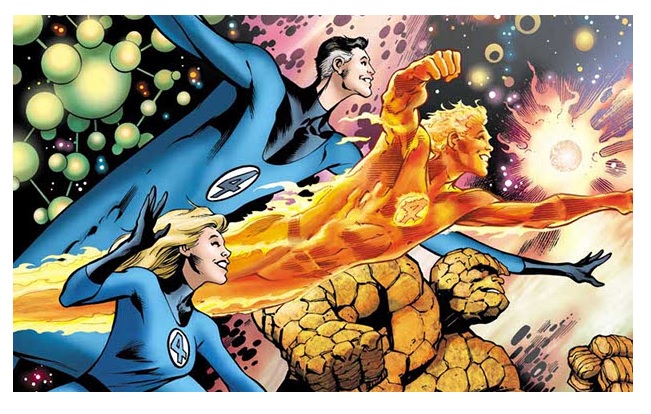 The Dean
:
Favorite Super Team: Fantastic Four (FANTASTIC FOUR, Marvel Comics)
This is sort of a two-in-one answer, I guess, but I'm going with the FANTASTIC FOUR/FUTURE FOUNDATION (FF) here, and not just for the close of Hickman's incredible run, but for the promise of Fraction's follow up, too. I love the thrill of science and exploration that Hickman kept up throughout his time on both titles, and reading either FANTASTIC FOUR or FF made both Marvel's and our actual universe seem so endlessly fascinating in the way any great science fiction should. Even when the AVX event was in the thick of things, FANTASTIC FOUR and FF still made everything else going on seem so small and insignificant by comparison. With Marvel NOW! and Fraction taking over, things have shifted more to the adventure side of the comic spectrum, but the joy of exploring the universe alongside the Richards clan is still there, and having Michael Allred and Mark Bagley along for the artwork just makes it all that much more fun. But each creative team has kept that sense of wonder in comics alive more than any other super hero group this year, so that easily makes the FANTASTIC FOUR my favorite super team of 2012.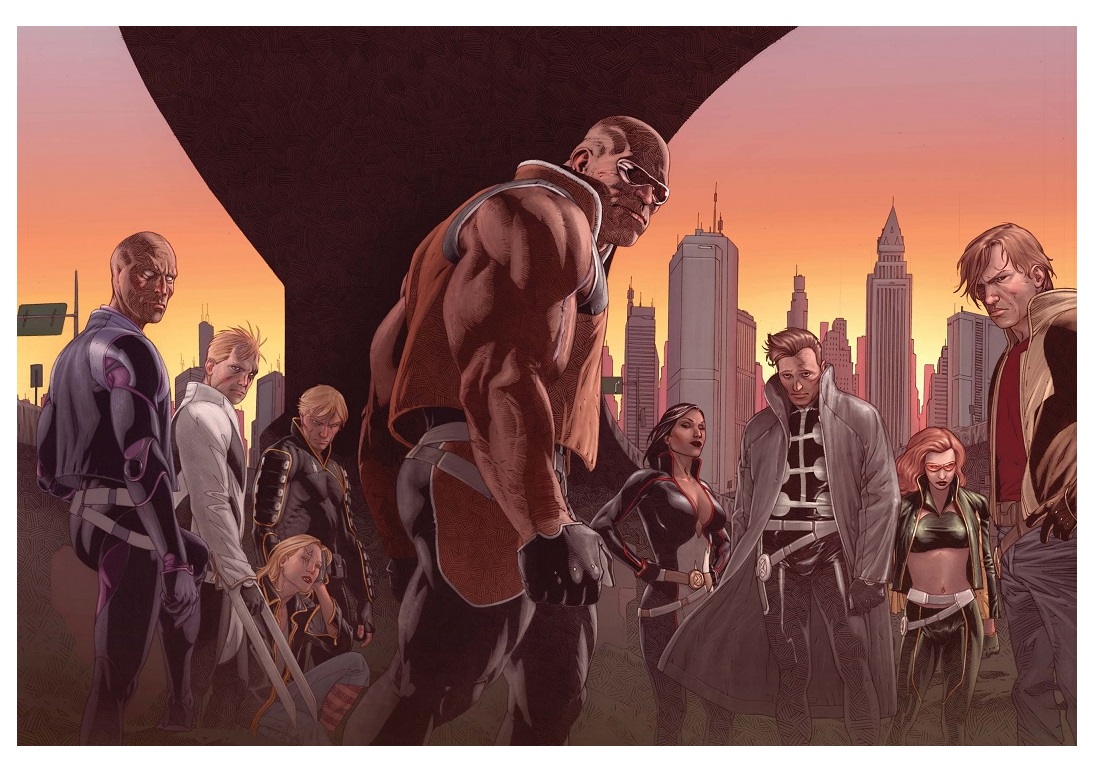 BottleImp
:
X-Factor (X-FACTOR, Marvel Comics)
It all comes down to characterization in this category, and no super-team has as great a mix of members with deeply 3-dimensional characterization as the B- and C-Listers in X-FACTOR. In a world populated by amazingly powered supermen (and women), demons from hell and vast pantheons of immortal gods, the cast of the quirky mutant detective agency is blessed with all the humor, angst and baggage that one finds in the real world, making them wonderfully, refreshingly human.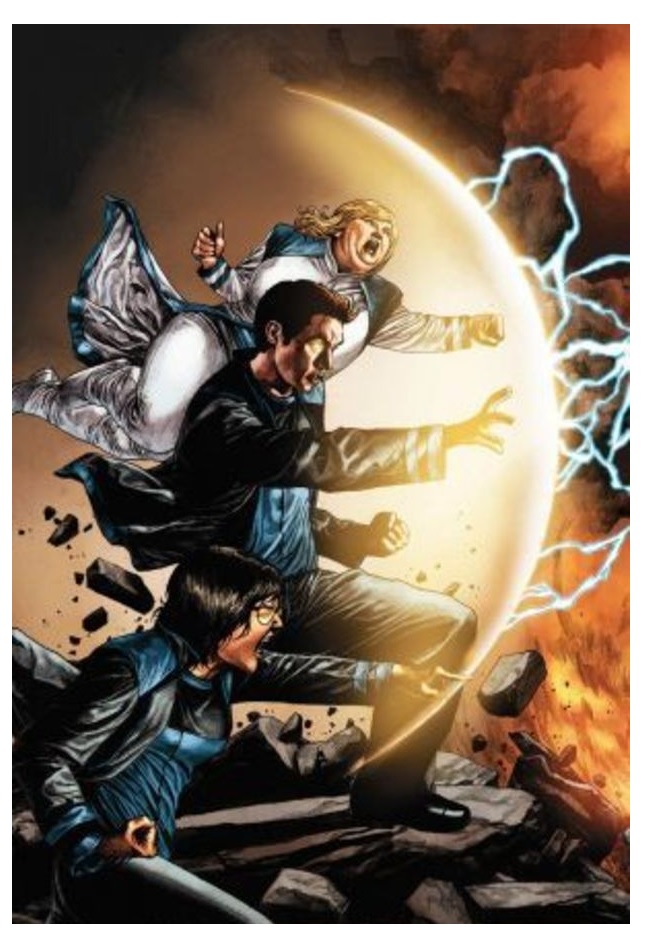 Optimous Douche
:
Harbinger (HARBINGER, Valiant Entertainment)
My love of old Valiant is well documented, because ever since Valiant 2.0 launched I have sung it's perpetual praises in the context of what came before. BLOODSHOT, ARCHER & ARMSTRONG and X-O have been amazing reads, but each month I am simply floored by the goodness inside HARBINGER. Its antagonist is the ever-charming and equally deadly Toyo Harada. The team thus far consists of a psycho, a mental rape victim and a fat chick that can float. These are muties 21st century style. What's not to love?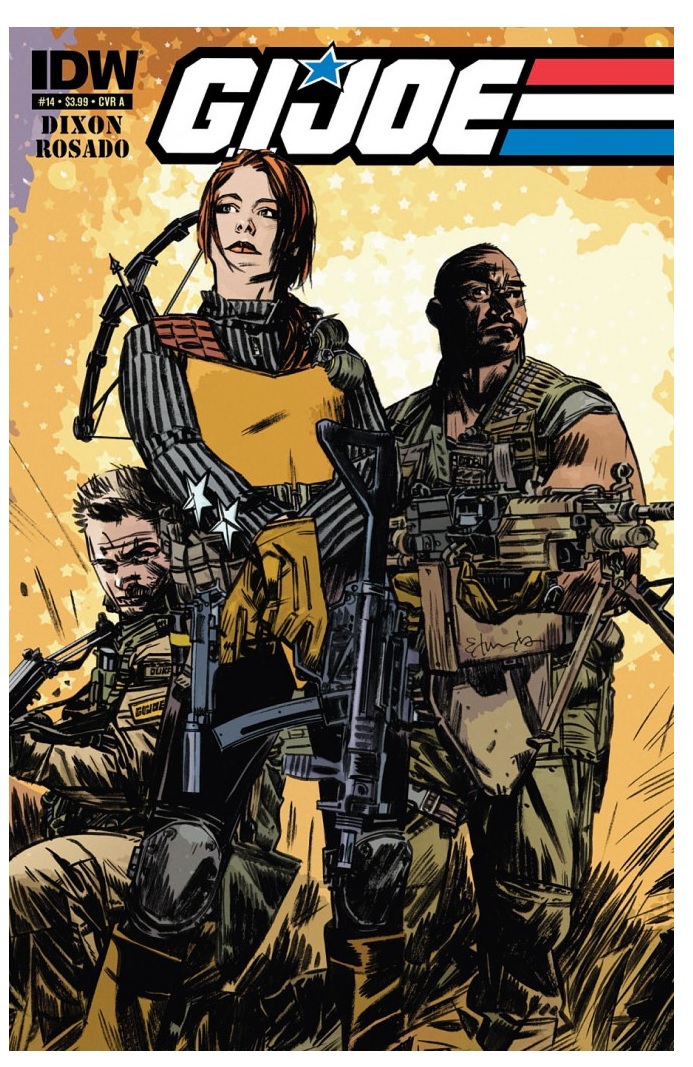 Ambush Bug
:
G.I. Joe (G.I. JOE, G.I. JOE: COBRA, SNAKE-EYES & STORM SHADOW, IDW Publishing)
Call me a sucker for nostalgia, but IDW's been doing the GI JOE team right for quite a while now. Not knocking Larry Hama's amazing work with the Joes, but this more modern and more realistic approach to America's covert military unit has been perfect. More so than ever, the GI JOE team is realized as a formidable and, more importantly, fallible (as they seem to rarely get the win when it comes to fighting COBRA) fighting team. I love it that it seems like guys like me who took their GI JOE battles on the rough terrain of the living room furniture seriously seem to be doing the same with the funny books. Chuck Dixon, Mike Costa, and now Fred Van Lente with the new GI JOE series that came out last week are all delivering their A game and making this my favorite team of heroes to root for!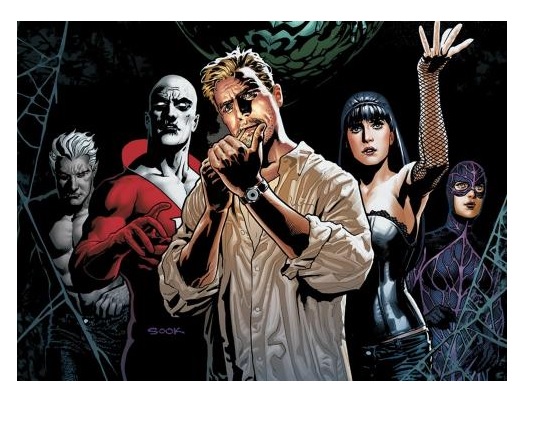 Humphrey Lee
:
Justice League Dark (JUSTICE LEAGUE DARK, DC Comics)
Despite my reservations about an upcoming, solo CONSTANTINE book (ugh) I do think there is a place for the character in the DCU, and JL DARK, particularly under the pen of Jeff Lemire, has really worked to that potential. You have the rogue of all rogues dishing out orders to a very eclectic and mysterious group while dealing with threats only they can. I like the clashing attitudes, especially the reactions that come from some of the group as Johnny boy strings them along and continually throws the lot of them to the wolves, and as a Vertigo fanatic, it's been immensely enjoyable seeing some of the long-running touchstones of that imprint such as the Houses of Mystery and Secrets and The Books of Magic become focal points of the team and the book they inhabit. If this is going to be the main incarnation of the retired punk we get (and I have a sinking feeling it is), I could think of worse fates, and having such an intriguing group of miscreants around that have to deal with his chicanery really brings the package together.
Henry Higgins is My Homeboy
:
Avengers (AVENGERS, NEW AVENGERS, AVENGERS ASSEMBLE, Marvel Comics)
So, did you see any movies this year? Because I only paid to see "The Avengers" once, but I think I saw it more than that in theatres. Or maybe it was just the barrage of ads, trailers, teasers for trailers, comic tie-ins, food tie-ins, and people rushing to me to recount the movie. Guys who only last year railed on me for liking super heroes were suddenly rushing to my side to learn more about Thor and S.H.I.E.L.D. and the mysterious purple guy after the credits. It's a sight to be seen.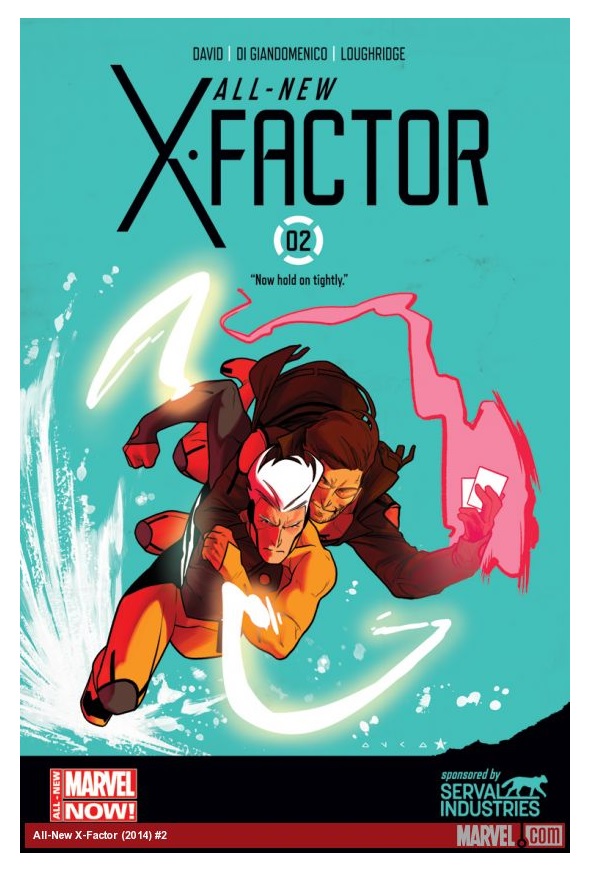 Matt Adler
:
X-Factor (X-FACTOR, Marvel Comics)
Who doesn't love this team, seriously? It's got all the X-characters that you always want to see, but there's no room for in other books since they aren't the stars of a movie--plus the occasional hilariously random addition, such as Pip The Troll. Best of all, they're written by one of the top writers in the biz, Peter David (who, I'm happy to hear, is making good progress in his recovery from a recent stroke). Their leader, Madrox, is one of the most fascinating characters in comics because his internal conflicts are very often played out externally, via his numerous duplicates who each reflect a different aspect of his personality. And the fact that they are an investigative agency gives endless storytelling opportunities, as a good mystery can lead you just about anywhere. The team is currently in the middle of the Hell On Earth War, dealing with the fallout related to wolf-lady Rahne's freaky son, but don't ever make the mistake of thinking you know where this team is headed; with an ever-changing roster, and a remit that lets them deal with hell, heaven, and everything in between, X-Factor is all about the unexpected.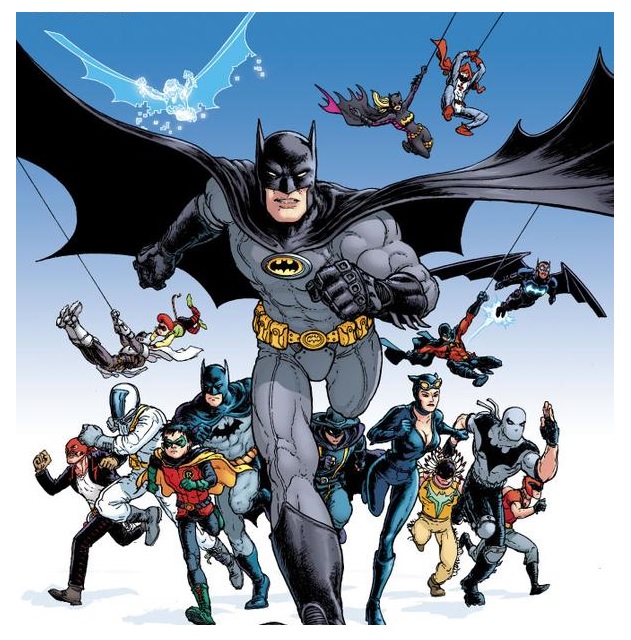 MajinFu
:
Batman Inc. (BATMAN INC., DC Comics)
Morrison's latest bat-opus is on a bit of a slow burn as Bruce Wayne rallies his troops against the dangerous and elusive Leviathan. Damian Wayne got a lot of love and a gaggle of great moments this past year, including his own issue (#5) dedicated to the future Batman from #666, where we once again see Gotham on the verge of collapse. This issue is especially interesting because if offers a contrast between the struggling loner version of Damian's Batman, and his father's newly-formed group of socially enriched Batmen, who absolutely brought the house down in the issue prior. BATMAN INC. is the perfect antithesis to the decades of the Dark Knight wallowing in pathos. With a little help from his friends all over the world, he's making a lot of progress, and it's a whole lot of fun to read. I'm really looking forward to where this series goes as the confrontation with Leviathan seems to be building towards a crescendo in 2013.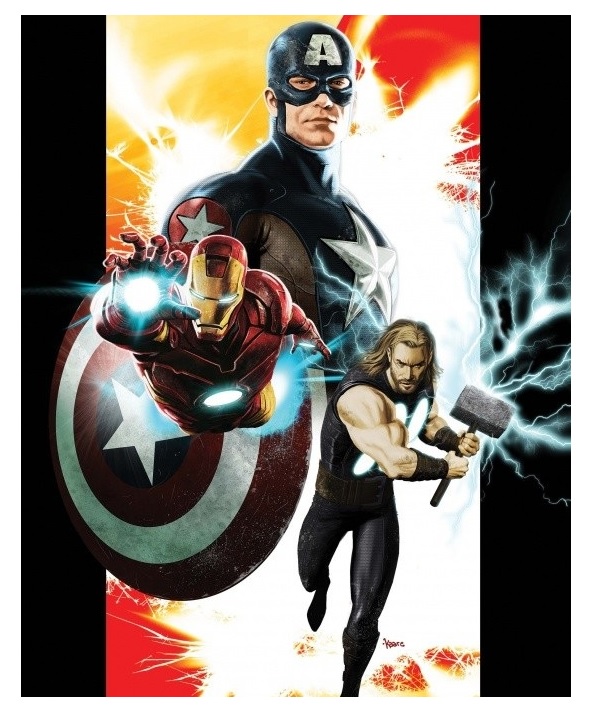 The Writing Rambler
:
The Ultimates (ULTIMATE COMICS: THE ULTIMATES, Marvel Comics)
Personally, I have always enjoyed reading Ultimate Marvel books. Many feel THE ULTIMATES stories fell apart during ULTIMATES 3 and ULTIMATUM but I've always continued pressing on with the books, and I feel like it paid off as THE ULTIMATES is by far one of my favorite team books out there. The most recent "United We Stand" storyline has been nothing but enjoyable for me, and watching Captain America take the oath of President and lead THE ULTIMATES on a charge to reuniting a divided United States was some of the most fun I've had reading a book all year. I know the following is blasphemy to most, but as far as a team goes I'll take THE ULTIMATES any day over their 616 Avenger counterparts.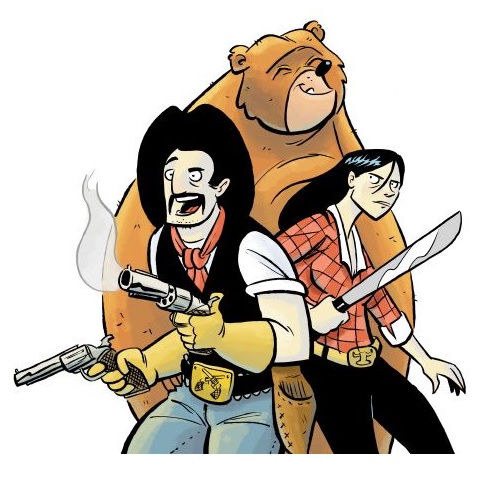 Lyzard
:
Reed Gunther, Sterling, and Starla (REED GUNTHER, Image Comics)
What makes Reed Gunther and his bear Sterling a super team is their super loyalty, especially as tested in the issues released this past year. Their success is based on teamwork, not only as a dynamic duo, but also as a terrific trio when joined by cowgirl Starla. They complete each other; Reed is the id, Sterling the ego, and Starla is the ever so necessary super-ego.
---
Best Artist/Art Team!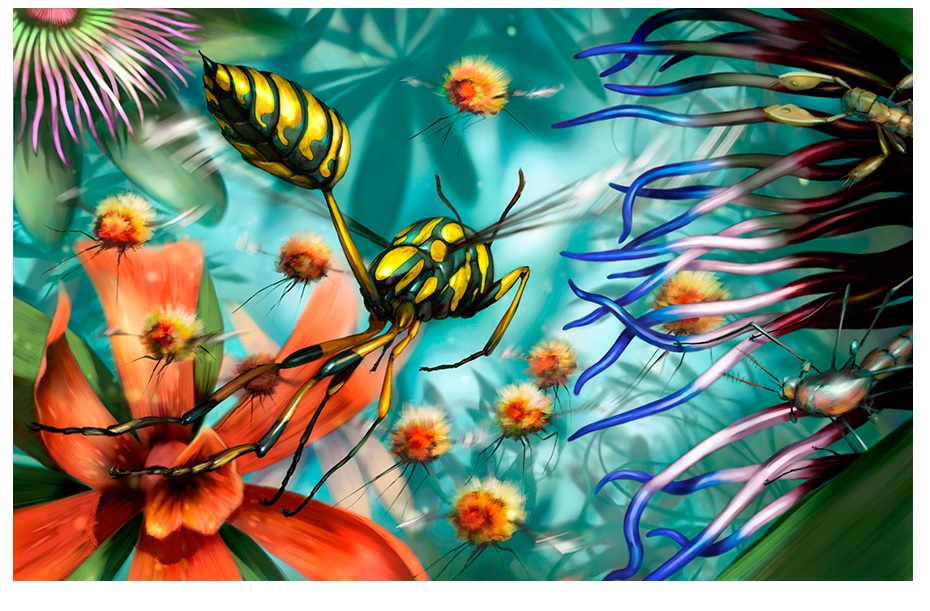 Lyzard
:
Mozchops (SALSA INVERTEBRAXA, Pecksniff Press )
This was probably the easiest choice I had. Mozchop's SALSA INVERTEBRAXA is a prime example of visual storytelling, each page a piece of high art. Mozchop finds beauty from, of all things, insects, bringing their nasty world to life with a magical combination of verisimilitude and bold colors.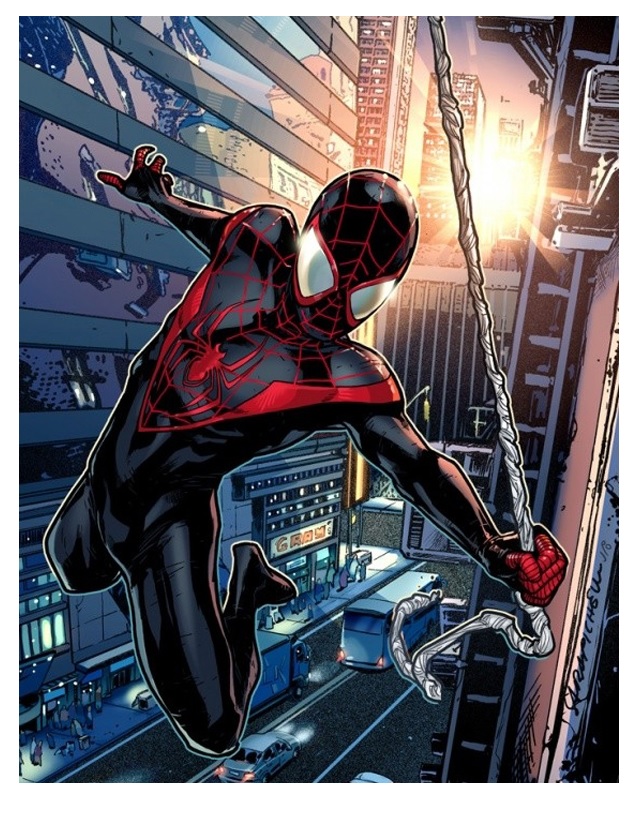 The Writing Rambler
:
Sara Pichelli (ULTIMATE SPIDER-MAN, Marvel Comics)
Sarah Pichelli had an excellent 2012 and deservedly won awards for her hard work on ULTIMATE SPIDER-MAN this past year. I absolutely love each issue that she creates, and I think her talent is part of the reason Miles Morales is such a likable character. There's no question that Brian Michael Bendis writes a great story, but it's Sara's artwork that takes ULTIMATE SPIDER-MAN to the next level and truly gives us feeling and expression for the characters in every panel. I can't wait to see what 2013 holds for her and her work on ULTIMATE SPIDER-MAN.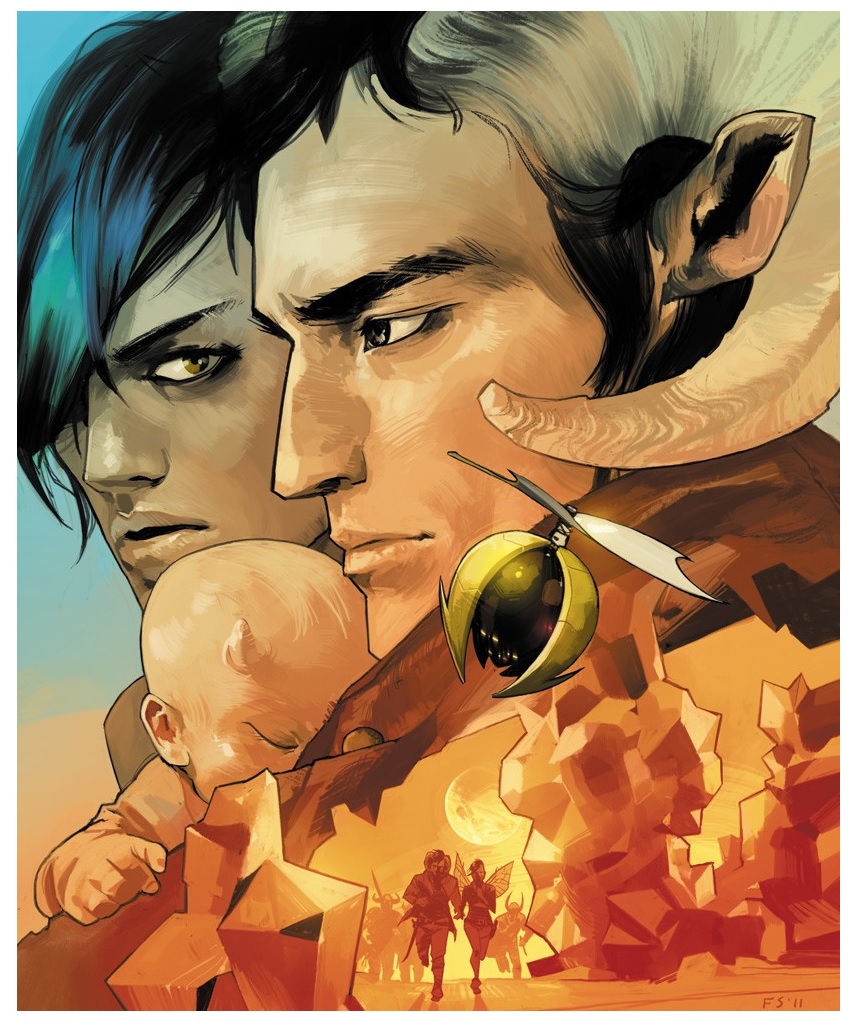 The Dean
:
Fiona Staples (SAGA, Image Comics)
Nothing takes me longer to read than SAGA, and it's all Fiona Staples' fault. Poor reading comprehension has a little bit to do with it, but mostly it's Fiona Staples. Her work is nothing short of stunning, and the vast, weird universe of SAGA as she draws it is easy to get lost in and accounts for a huge part of the series' charm. From cover to cover, it's among the most distinct titles on shelves these days, and it might be the only series I've ever read where my anticipation of each issue's release is mainly in what I'll get to see drawn next, with the continuation of the story being secondary. This would have been a tough decision without her, as artists like Aja, Capullo, Cloonan, Samnee, and many more have been putting out some real visual feasts all year, but Staples decidedly earned this @$$ie with the gorgeous insanity that is SAGA.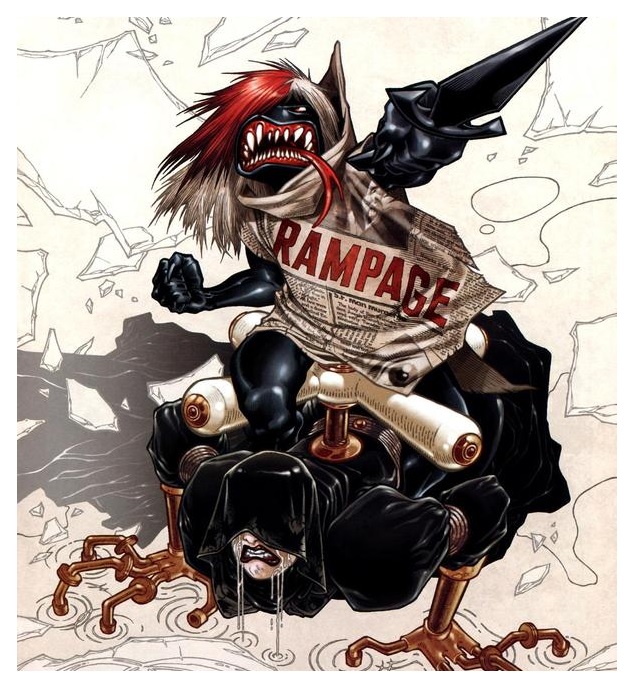 BottleImp
:
Gabriel Rodriguez & Jay Fotos (LOCKE & KEY, IDW Publishing)
I'm sure that other artists could do a decent job if they were ever called upon to fill in an issue or two of this series, but no matter how talented, they wouldn't come close to the marvelous mix of realism, caricature and mood achieved by the drawing and coloring team of Rodriguez and Fotos. The former's architectural precision in depicting Keyhouse and the surrounding area is perfectly balanced by dynamic characters whose blend of naturalism and slightly cartooney expression evoke the work of the late, great Will Eisner, and the latter's nuanced color palette drapes the linework in tones that enhance the sense of believability and atmosphere. The only downside seems to be that this level of perfection takes an awful long time to achieve, seeing as how LOCKE & KEY averages only six issues per year, but Rodriguez and Fotos always make the wait worthwhile.
Optimous Douche
:
Fiona Staples (SAGA, Image Comics)
Beautiful covers of simplistic imagery juxtaposed atop even simpler colors. Insane yet all too familiar aliens, spaceships and locales that are as welcoming as they are foreign. Bringing a level of humanity to a cast of characters who are anything but human. These are all of Staples artistic virtues that make her an invaluable asset to this sci-fi opera. The back and forth drama between her and Vaughan each time he kills a character she spends months creating - priceless.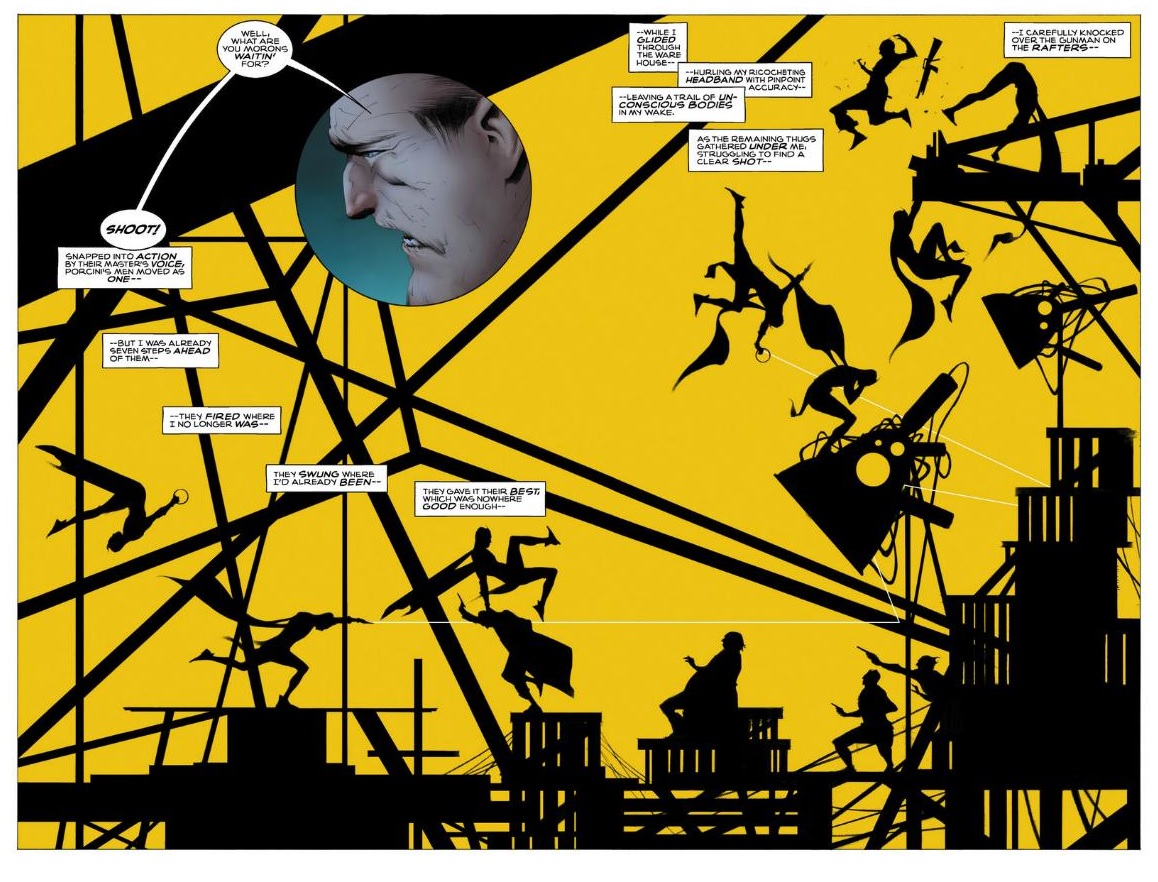 Ambush Bug
:
Jae Lee (OZYMANDIAS, DC Comics)
Say what you will about BEFORE WATCHMEN, but damn if it didn't look purty. And leading the pack, according to me, was Jae Lee's illustrations on OZYMANDIAS. Not only do we get Lee's vivid and moody style, but Lee experimented around with this one, making each page either look like a classical painting. Even better, Lee conveyed action in a manner like few others can communicate it. Splashes with multiple images of the main character have been done before, but never in such a complex and visually entertaining way. More so than any other comic this year, I visited and revisited the pages of this miniseries to soak in the amazing imagery.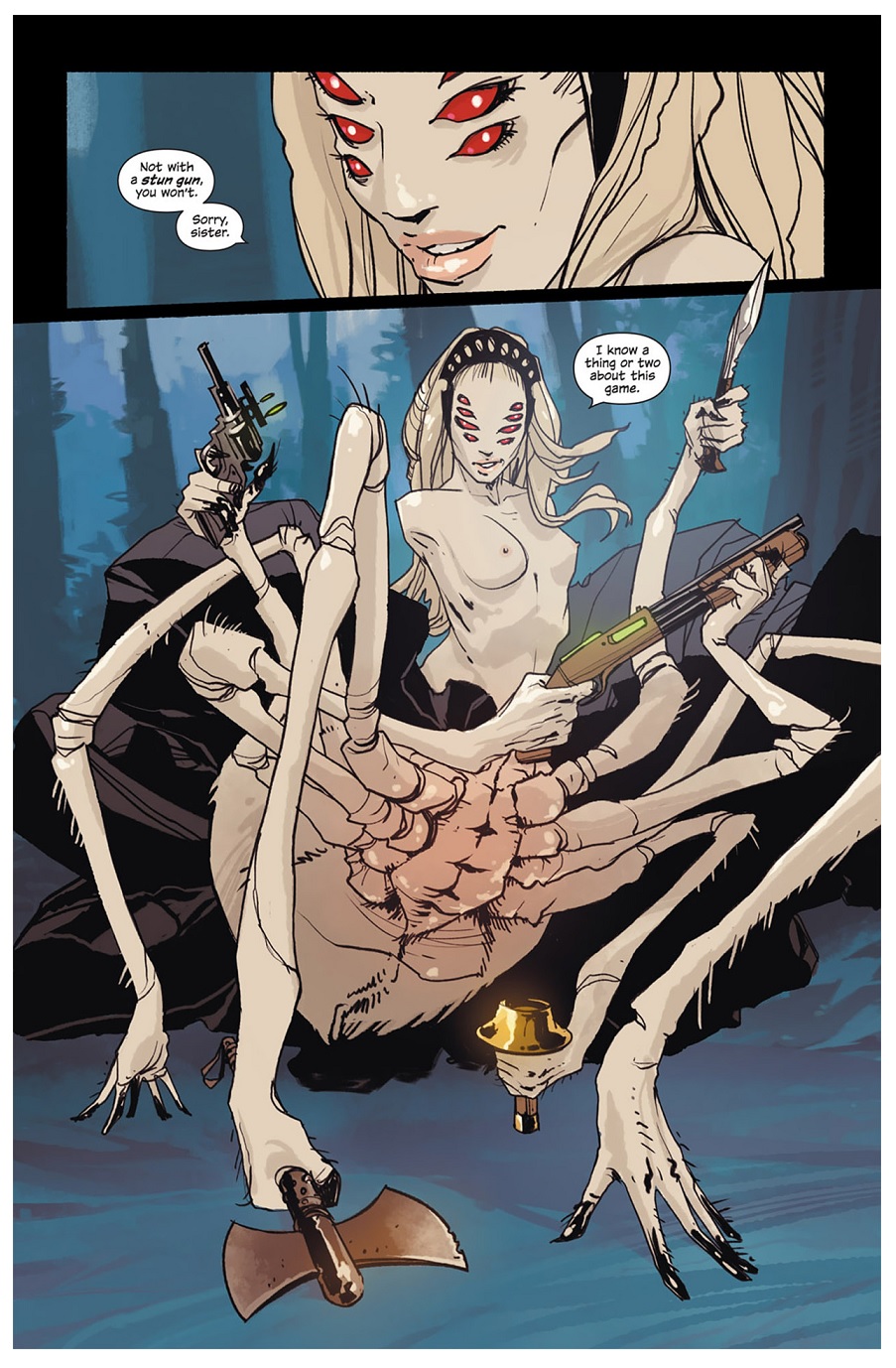 Humphrey Lee
:
Fiona Staples (SAGA, Image Comics)
This was simultaneously one of the hardest and easiest decisions I made this year while filling out this award. Fiona Staples indeed killed this year, much like (modifier time!!) David Aja killed it, any of the DAREDEVIL assortment of artists killed it, and J.H. Williams III killed it when he was around BATWOMAN and so on. But Fiona killed it on another level of another world, literally, as her pencils (and brushes and whatever else she used) on SAGA designed and produced one of the most lush and vibrant and kind of bugfuck crazy settings I have seen in a comic. The creative juice that went behind this work is just staggering and definitely deserves any and all accolades it receives on the year and in the future.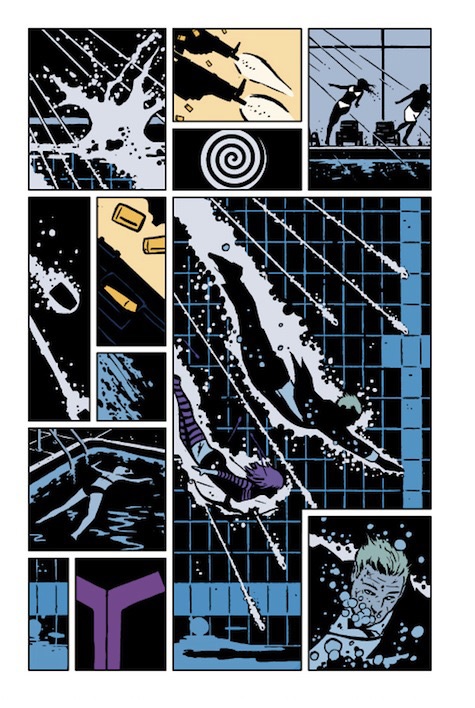 Henry Higgins is My Homeboy
:
David Aja (HAWKEYE, Marvel Comics)
Hawkeye has only a few issues to its name, but I'll still argue that it's one of the most visually appealing and engaging comics I've ever seen in my life. The work done by David Aja has been tremendous, combining succinct storytelling with a flourish of personal taste and style. It's some of the best comic art I've ever seen in my life.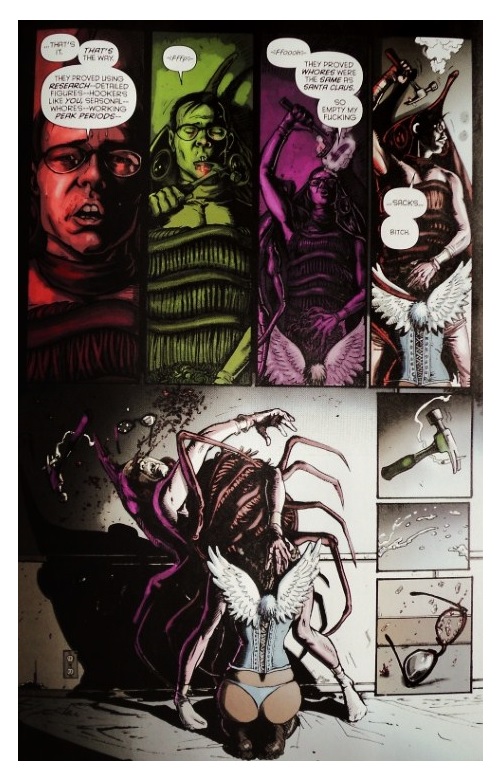 Matt Adler
:
Darick Robertson (HAPPY, Image Comics)
A pick like this is very subjective: some people love the hyper-realistic art of, say, Greg Land; others prefer the cartooniness of a Humberto Ramos. Me, I look for a happy medium, and for me Darick Robertson is that, and not just because of that awesome pun. I love that he can do the realistic style of art, but it never looks traced, or overly photo-referenced. He retains his own distinct style while still convincing me that what he's portraying is actually going on, and his characters are real people with real emotions. He closed out THE BOYS earlier this year, and is now almost done with HAPPY, his miniseries with Grant Morrison, and in both of these books he is able to blend pathos with humor expertly. He truly is one of the few artists whose art would make me pick up a book without caring who the writer is. But it doesn't hurt that he consistently chooses great writers to work with, from Fabian Nicieza on NEW WARRIORS to Warren Ellis on TRANSMETROPOLITAN to Garth Ennis on THE BOYS. Keep it coming, Darick.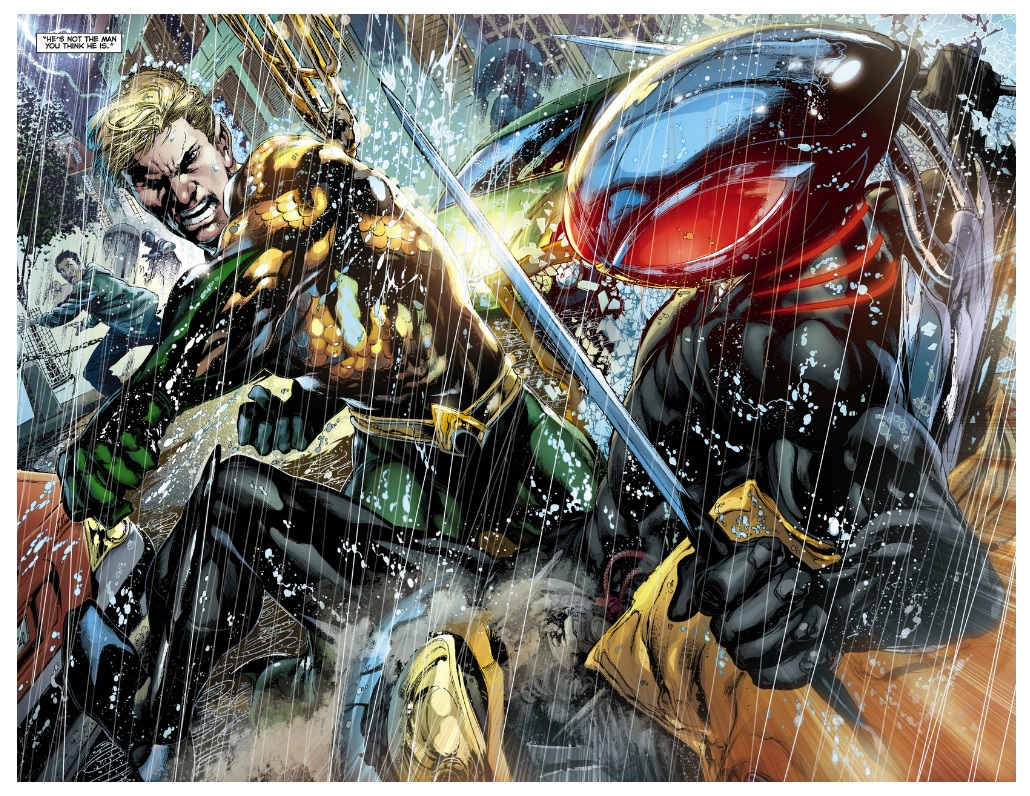 Masked Man
:
Ivan Reis, Joe Prado, and Rod Reis (AQUAMAN, DC Comics)
Yeah, I gave credit to the colorist Rod Reis. Coloring in comic books has come a long way, and they can really make or break a page. And Rod more often than not makes a page! Now, I was also impressed with Olivier Coipel's work on AVSX, James Stokoe's work on GODZILLA: THE HALF-CENTURY WAR, and Darwyn Cooke's work on MINUTEMEN, but Ivan Reis's work on AQUAMAN has been the most impressive, month in and month out, in 2012. His storytelling is solid, his heroes look heroic, his babes look hot, and his backgrounds and details are second to none. This guy is to comic books in the 2000s what Neal Adams was in the 1970s, George Perez was in the 1980s and Jim Lee was in the 1990s--a matured artist with a fresh and perfect voice. Joe Prado, meanwhile, inks the hell out of Ivan's pages. He keeps up with all the mad details, keeping everything clear and solid. I dare say AQUAMAN is about to lose its top ten-selling spot now that Ivan is no longer drawing the book. So, it almost goes without saying that, Geoff Johns is a very lucky man to have these three guys working 'for' him.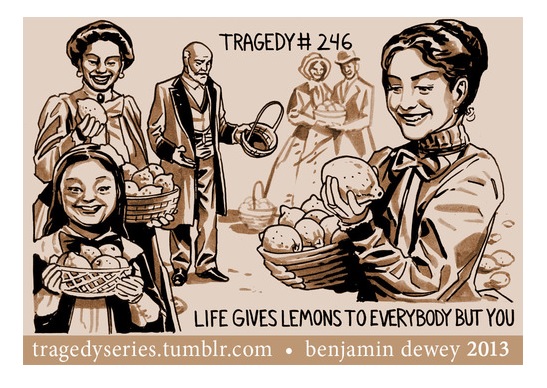 Vroom Socko
:
Benjamin Dewey (Tragedy Series online comic)
If you just read print comics, you may have seen Old New World, one of the stories in Boom Studio's PLANET OF THE APES ANNUAL. Now, you may not think that one story is enough to name artist Benjamin Dewey as the best. And you'd be right. But once you add in his online vignettes known as the
Tragedy Series,
we have a clear winner on our hands. I say this not because the work is clever. (It is.) I say this not because the work is a labor of love for Dewey. (Clearly.) I say this because of the variety of subjects illustrated. I say this because the art often renders the accompanying captions redundant. Dewey is a hell of an artist, deserving of prominent work and worthy of great praise.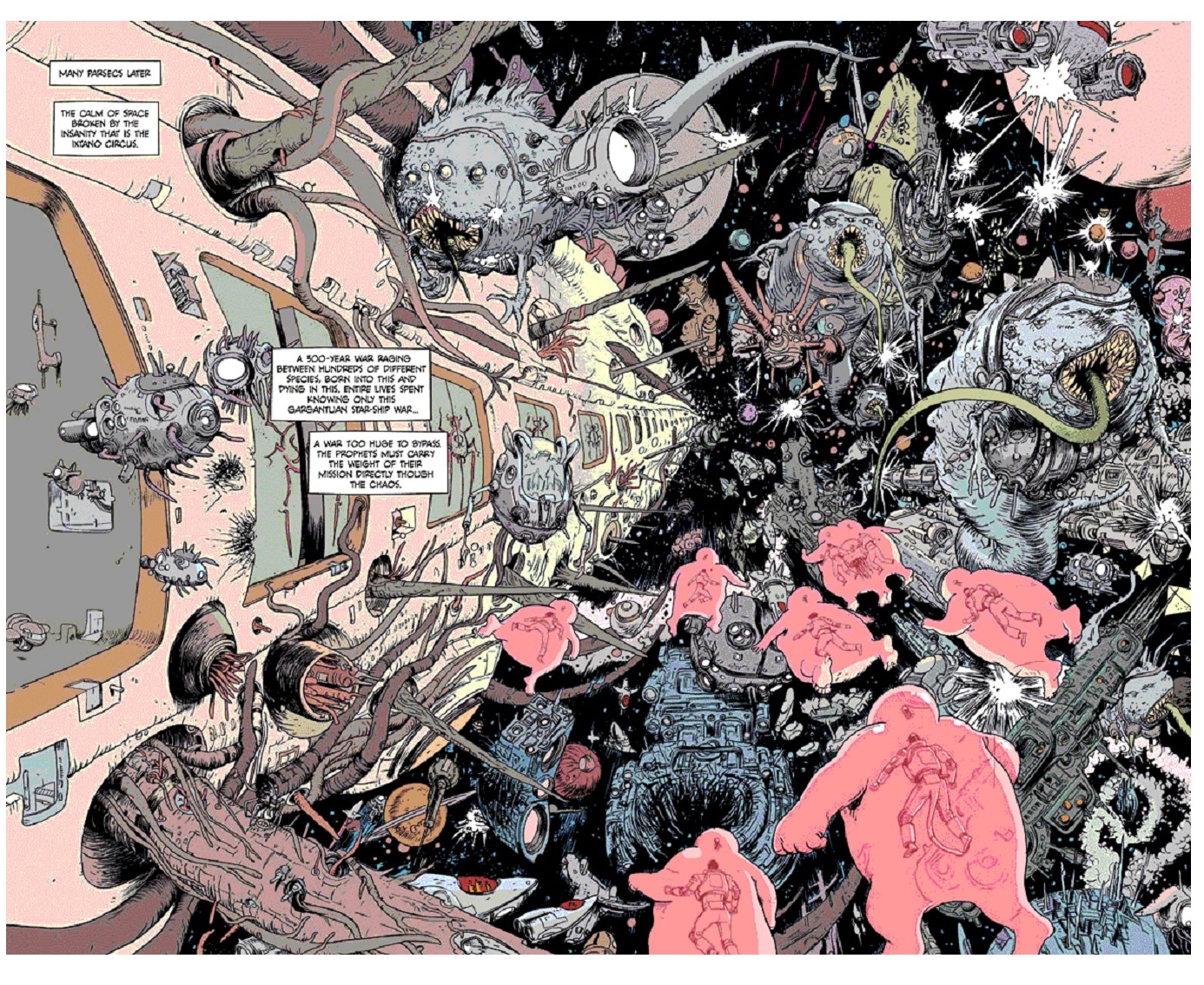 MajinFu
:
Brandon Graham, Giannis Milonogiannis, Simon Ray, Farel Dalrymple, Joseph Bergin III (PROPHET, Image Comics)
I was torn between the art on PROPHET and Ross Campbell's charming work in GLORY, but I decided to go with the former, just because the sheer volume and variety of imagery produced for this book was kind of astounding. Whether it was Brandon Graham's exuberant but clean line style or the Moebius-esque work of Milonogiannis, PROPHET has been nothing if not consistently lush in the visual department. Image Comics made a great decision gathering so many credible, energetic artists to realize such a sprawling story, trading a new artist for each separate John Prophet yarn. Despite the visual shifts, PROPHET manages to maintain a consistent look in the form of John, whether as an old man or a pioneer with a tail discovering new forms of life. Then there's Farel Dalrymple, whose work I've hugely enjoyed ever since first discovering his work in the OMEGA mini-series for Marvel comics. He's perhaps my favorite artist working in the industry, and his surreal style suits this series perfectly. Check out this amazing spread from PROPHET #29 if you don't believe me.
Now it's time to pick your own @$$ies in the Talkbacks. Thirsty for more @$$ie Awards?
Best Single Issue/Single Moment!
Best Miniseries!
Best Publisher!
Look for more tomorrow with picks for…


Favorite Comic Book Movie!
In Memoriam 2012…
See you then!
---
Editing, compiling, imaging, coding, logos & cat-wrangling by Ambush Bug
Proofs, co-edits & common sense provided by Sleazy G
Remember, if you have a comic book you'd like one of the @$$holes to take a look at, click on your favorite reviewer's link and drop us an email.


---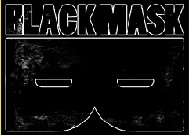 Find out what are BLACK MASK STUDIOS and OCCUPY COMICS here and on Facebook here!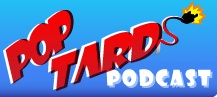 Want more in all things Geek?
Check out PoptardsGo and on Facebook here!




---

Get your copy of highly-anticipated anthology TOME by 44FLOOD today on their Kickstarter!

Check out AICN COMICS on Facebook and Comixpedia.org!