From time to time a deity will come to a screen near you and me. And in recent years, that deity has been... THE GUZMAN!!! When you are having a bad day... look only to the GUZMAN to get your shit together. This GOD walks the Earth looking like he has a complete record of every event in human history... cause he does man. It's like below... when Clarence Beaks asks him, "What technique do you use?" He responds with, "Technique? What technique?" That's brilliance man... The GUZMAN speaks... all you folks listen up... The man is on the mount... repeat his words in whispers only!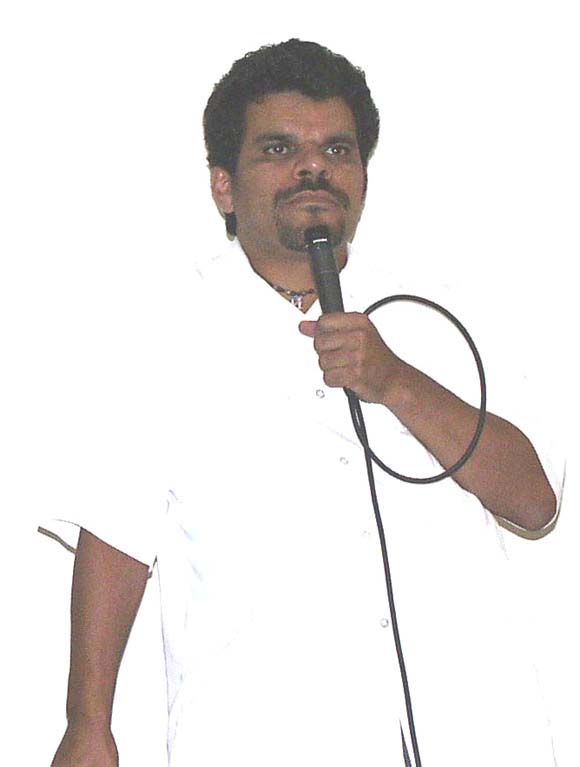 Since I began shamelessly trumpeting my interview with Luis Guzman in the chat room several weeks ago, amid the congratulations and the murderous displays of envy (I applaud your effort, Moriarty, but my mother's recovering nicely,) I was often met with this staggering reply: "who the hell is Luis Guzman?"
What's most amusing about that question is that most of these people were already well acquainted with Luis' work, but such is the curse of the character actor that their performances often goes unheralded; their names doomed to remain below the title. This, however, will not be Luis' fate. Not if he continues to work with such astonishing regularity with such great directors, or imbue characters like Ed Roel in THE LIMEY (for which he received an Independent Spirit Award nomination for Best Supporting Actor) with the same quiet authority.
The occasion for my interview was the Screen Actors Guild's annual Latino Recognition Night, at which Luis was the guest of honor. I spoke with him prior to the award ceremony, and did my best to ascertain what it is about Luis that has drawn the attention and admiration of so many of his peers. It took all of a handshake and an introduction to solve that mystery; Luis is as genuine and humble an individual as you are likely to find in this business.
While most of us know Luis for his screen work alone, he was involved in social work and street theater prior to his film career, and, most notably, performing at New York City's famed Nuyorican Poets Café, where he collaborated with such stalwarts as Miguel Pinero and Miguel Algarin. In fact, it was Miguel Pinero's prison drama, SHORT EYES, that gave Luis his first film role back in 1977. While he did not perform in the play initially, Luis, "saw the play, like, maybe twenty times when it played at Lincoln Center. It was a great experience and a great schooling in theater."
When I asked Luis what acting technique he started with, Luis replied, "what technique? I have no clue what technique I started with! I really didn't get into studying until 1986. I really officially got into the business in 1985, but I studied Meisner (technique) for two years under William Alderson."
1986 also represented something of a break for Luis, as he was cast in the second season premiere for MIAMI VICE, which was the hottest show on television at the time. Still, Luis didn't feel he received the proverbial "big break" until he did Q&A with legendary director Sidney Lumet. Well known as an "actors' director," Luis likened working with Lumet to "going to school. Real school as an actor. Sidney encourages you to get to know your character not only as a character, but as a person. You go through this….. odyssey. And you come out at the end, and you understand who you are and what you're doing. You've become that character."
Having rented Q&A the night before the interview, I recalled the charged interrogation scene between Luis and Armand Assante, which was, not surprisingly, one of the clips chosen for the tribute. As he lets loose with righteous indignation directed at Assante's slick gangster, the relaxed, rather charismatic Luis of BOOGIE NIGHTS, OUT OF SIGHT, and, quite frankly, real life, melts away, and is replaced by a stunning ferociousness. Suddenly, it is quite clear why Luis has become a favorite of masters like Lumet and Soderbergh. This is character work of the highest order.
I next asked Luis how many takes he requires to nail these scenes. Considering the confident air he had exuded throughout our brief chat, I was not surprised to hear Luis respond that, "I usually get it on the first take. In fact, sometimes I just ask them to shoot the rehearsal because….. I'm usually prepared. I mean, sometimes it depends. If it's something that has to be emotional, and you have to hit a lot of different levels, I would certainly say it would take me three or four (takes) just to get into it, but I just like working off the bat."
This would prove to be a useful talent for Luis when, after striking up a solid working relationship with producer Michael Bregman on Brian DePalma's CARLITO'S WAY, he was tapped to join the cast of "House Of Buggin'," which, headed by the impishly talented John Leguizamo, was primed to become Fox' Latino compliment to "In Living Color." Even though the networks were carefully watching the performance of this show, and its ability to crossover, Luis maintained that the sole pressure, for him, was, "…… the fact that we didn't use any cue cards. We did everything from memory. And when you consider that you have to, in five or six days, memorize thirty to forty pages every week, that's really the pressure. Other than that, it was a pleasure. I mean, it was work. It was eighty hours a week, but it was something that I sure enjoyed doing."
While "House of Buggin'" proved to be short-lived, film roles began streaming in for Luis. Perhaps his most important post-"Buggin'" role was as nightclub owner Maurice Rodriguez in Paul Thomas Anderson's 1997 sensation, BOOGIE NIGHTS. An ensemble work where everyone seems to have their moment to shine, it is Luis' charismatic presence that greets us in the masterful opening tracking shot, and guides us through the crowded nightclub, thereby introducing us to the film's many endearing characters. Pulling off such an elaborate shot, as many filmmakers will tell you, despite tireless planning and rehearsing, is usually reliant on a great deal of luck. "We did that whole thing pretty much with our fingers crossed," said Luis. "It's one of those things where you can get 90% through it, then some miscue will happen and you'll have to start all over again. We rehearsed it a few times, and we eventually got through it, but it was a great experience….. with a great, inventive director."
We brought our conversation to a close by talking about Luis' other chief collaborator, Steven Soderbergh, and their work on 1999's critically lauded THE LIMEY. At ninety minutes, the film is a marvel of non-linear, yet economical storytelling, and it is unthinkable without Guzman's character, Ed Roel, who serves both as Wilson's (Terrence Stamp) guide through the L.A. underworld and as one of our few connections to Wilson's murdered daughter, Jenny. With a minimal amount of screen time, Luis conveys a true authority as he deals with the hard-nosed Stamp. Luis credits his success to Soderbergh's fearless directorial style. "Trust, trust, trust….. he trusts me, and I trust him. I convey the message, and he conveys it with the camera. Pretty much, we have a great chemistry. He's incredible."
Sadly, that was all the time I could spend with Luis, who was very much in demand on what was his night in the limelight, and I was more than happy to watch him enjoy the plaudits for his success. During the Q&A, he was asked which actors he most enjoyed working with. First, he acknowledged the late, great Raul Julia, but the second name mentioned was Don Cheadle, his co-star from BOOGIE NIGHTS and OUT OF SIGHT, and as it turns out, TRAFFIC, on which they just finished shooting their scenes as DEA agents. I recalled their moments from Anderson's film, and how much I enjoyed their seemingly effortless riffing. This time out, according to Luis, Soderbergh gave these two a wide berth as they developed their characters. The enthusiasm with which Luis spoke was palpable; so much so that I tracked him down after the ceremony in an attempt to wrest a few details about the upcoming film. His reply?
"Just wait 'til you see Traffic! Man, you gonna bug!"
From a man who's had me buggin' for years, that's a ringing endorsement.
Congratulations Luis,
Clarence Beaks