Merrick here...

...with some interesting odds and ends from the WHOverse this week. YES, we'll very soon be returning to our exploration of classic WHO. But in the meantime, here's some interesting newslets for you...




SOME AWESOMELY, FUNISHLY COOL ADVENTURE IN TIME AND SPACE IMAGES!!

I'm not clear whether these are official images, or BTS shots grabbed during the filming of the forthcoming Docudrama (or should that be DOCudrama?). Either way...thanks to Docbacker Richard Hackett for pointing us towards (and helping us to retrieve) these images.
As a reminder, said Mark Gatiss-scripted Docudrama chronicles the early and formative days of DOCTOR WHO back in the 60s. Where ever these come from, they point to the astounding attention to vibe and detail being heaped upon the upcoming TV movie - scheduled to transmit later this year as part of DW's 50th Anniversary celebration.
Check out that glimpse of the first Doctor, Barbara, and Susan. The actors look AMAZING in the roles.
Can't wait!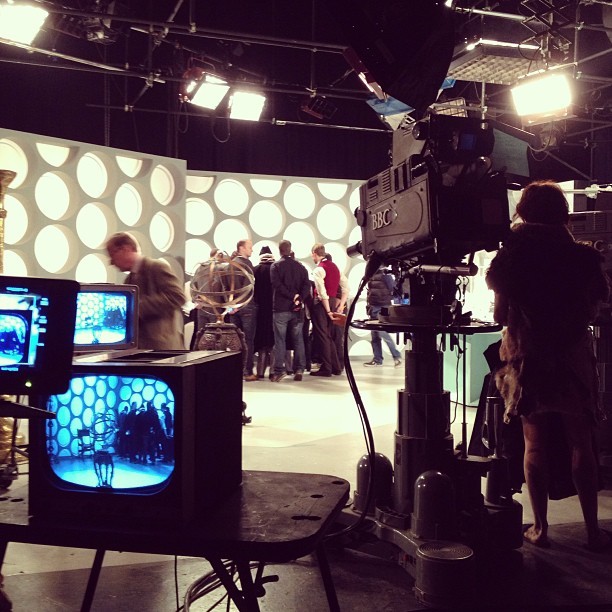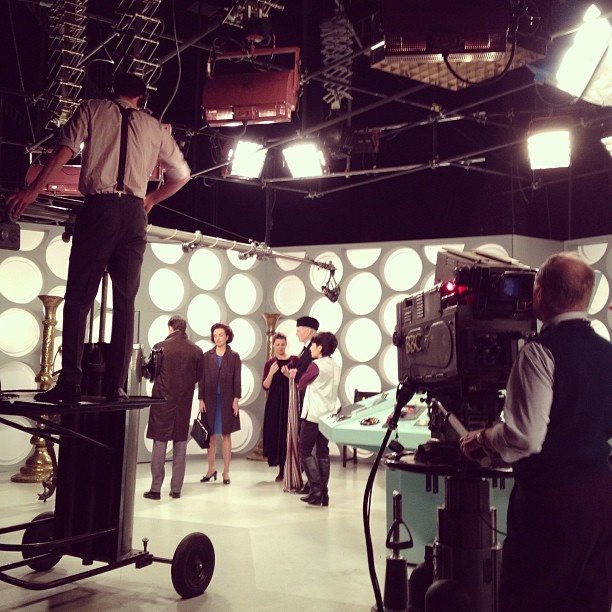 BEHOLD THIS VERY INTERESTING DISCUSSION WITH STEVEN MOFFFAT!!
Annoyingly, emedding is disabled by request (really?). Nonetheless, it's worth a look and offers some wonderful insight into Grand Moff Steven's creative process, some hints about what's coming up, and more. Very cool and fun discourse.
Richard, who sent in the pics above, also pointed us towards this, which we appreciate.
See the interview HERE!





DOCBACKER HORNORSILK REVIEWS THE DAVROS BIG FINISH AUDIO!!

Longtime and wonderful Docbacker HornOrSilk continues his exploration of Big Finish audios with a look at (listen to?) Davros from Big Finish.

Colin Baker & Davros? Sold. I love the cover art of this audio, too...

Here's HornOrSilk!


=====================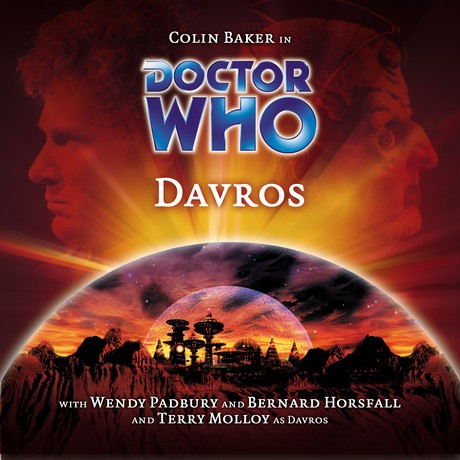 Big Finish Doctor Who #48 – Davros

Every month, I plan to do a review of the new Big Finish audios as I get them (for the ranges I buy) as well as a review for one "classic" Big Finish audio. This week, for the "classic" review, I want to bring up one of my favorite Big Finish audios, Davros.

In New Who, one of the themes which have emerged is that an encounter with the Doctor changes someone, making them better. We have seen it several times, starting with Rose and Mickey. Davros somewhat takes up this theme, and points out how the Doctor also has this effect on his enemies: he makes them better, not better people, but better enemies. To encounter the Doctor, to fight him without converting to his side, is to become stronger, meaner, more villainous. Davros and the Daleks would be nothing without the Doctor: indeed, one could say that the Doctor's presence at the creation of the Daleks changed the fate of Davros and the Daleks alike, making an "alternative" timeline for them which differs from the Doctor's earlier encounters with them (JJ Abram's Star Trek should take note of this). The Daleks, when the Doctor first met them, were much weaker, more unstable, than the Daleks as they would develop because of the Doctor's interference in time (surely some of what he told Davros of the future was unable to be destroyed). Whether or not Lance Parkin wanted to bring up this theme, we see it repeated in a rather unique way here.

The story of Davros, for Davros, takes place before Revelation of the Daleks. I am not certain where it takes place in the Doctor's own timeline. It is seen as being a buffer story between Resurrection of the Daleks and Revelation of the Daleks, explaining how Davros was freed and was able to establish his new agenda.

Arnold and Lorraine Baynes (with Lorraine being played by Wendy Padbury) run TAI industries, which produces products needed for the colonization of the galaxy. Arnold runs a tight business, but yet he has some humanitarian values – he understands he might be greedy, but he also thinks businesses such as his are what keep civilization going, which he believes is a good thing. His wife, Lorraine, is a historian who is interested in Davros, and has done historical reconstructions which led her not only to defend Davros, but to glorify him as well. When they find Davros' frozen body, they recover it; when the Doctor shows up (the Sixth Doctor), Davros revives. The Bayneses have a proposition for Davros: join them, become their head of research and development. While the Doctor is flabbergasted at the idea, Davros accepts. The Doctor offers his own scientific expertise for TAI, making the Doctor and Davros co-workers, with Davros recognizing the abilities of the Doctor while warning the Bayneses he believed the Doctor would cause trouble. The Doctor, obviously, believes the same about Davros. The Bayneses side with Davros.

The first half of the story is remarkable. There is humor in the relationship between Davros and the Doctor. Davros reveals his respect for the Doctor, and tells him that the Doctor is the closest thing he has for a friend. The Doctor would have none of it. He believes Davros must be up to something, that Davros' true nature will come out in the end. The Doctor goads Davros time and time again, while Lorraine Baynes is shown taking an interest in Davros, her hero, encouraging Davros to think of the great destiny which lies before him. Between the actions of the Doctor and Lorraine, Davros does return to his old tricks – he does go on a rampage, seeking a way to take over the galaxy itself. The question is whether or not Davros would have done so if the Doctor himself had treated Davros with some respect, if he had tried to work with Davros and see if there was something within Davros to help rehabilitate him.

The story, in its own way, says there is. We get a view of the backstory of Davros, of the way the Daleks were first created. We learn the actual idea of the Daleks was not his, but a younger woman whose work he incorporated as his own. A woman he loved and feared all in one. A woman he eventually had destroyed for the sake of his own glory. A woman whose memory still haunted him. A woman who, it could be said, was still in Davros' heart, even if Davros himself did not want to admit it. A woman whose relationship with Davros was to mirror the relationship Davros would develop with Lorraine Baynes, with the difference being Lorraine would not be seen as a threat to his glory but its promoter.

It is this character study of Davros, and the way the Doctor interacts with him, which makes this a solid entry. There are other aspects to the story, such as to the reason why the Doctor was there in the first place, with other characters that tie in to the overall story arc. They are not as interesting as the Davros story, and thankfully, do not overstay their welcome. The four leads (the Doctor, the Bayneses, and Davros) are all excellent, and each show unique sides to them so that none of them end up being one-dimensional.
I cannot recommend thisadventure enough.

10/10


- HornOrSilk


====================


You can find HornOrSilk's write-up of The Auntie Matter HERE, and his assessment of The Wrong Doctors HERE.

By the way, there was a mail glitch - may well have been embarrassing human error on my part - which resulted in some e-mails being unintentionally and irrecoverably deleted. If you've recently written to me regarding your interest in contributing to Docbacks, a la HornOrSilk (there's so much to cover - books, comics, audios, etc.)...and if you've yet to hear back from me...please feel free to re-send your message vie the e-mail link below. Be sure to include the term 'Docback' in your subject line.

My apologies for such inconvenience. Suffice to say...my effort towards establishing a higher level of organization across the board (but particularly in regards to the Docback) backfired and wrought despair and chaos. I guess it's a classic case of... 'It it ain't broke...'

LINDALEE ROSE AT GALLIFREY ONE!!

A few months back we pointed you towards an embed of an amazing and adorable four year old girl as she launched her web series in which she reviewed current episodes of DOCTOR WHO (HERE).

Lindalee's WHO career seems to be evolving nicely. She recently attended the Gallifrey One convention in Los Angeles, and enjoyed some face time with high-profile WHO personalities. She...even got a smooch from Freema Agyeman! Which makes me insanely jealous. 'Cuz...my God...

Videos of Lindalee's momentous encounters are now up at BeyondTheMarquee, and/or can be seen via the embeds below.



Lindalee & Freema...
Lindalee and 7th Doctor Sylvester McCoy
(with Dalek driver Nicholas Pegg, Dalek voice Nick Briggs, Travis Richey (Inspector Spacetime, and a Dalek pimping Girl Scout Cookies)...

Unless I'm misunderstanding, Gallifrey One represents not only Lindalee's first DOCTOR WHO convention, but her first full-on interaction with a fan community of any sort. Given this, she acquits herself quite, quite nicely...








-------------------
Glen Oliver
"Merrick"
- e-mail
- Twitter
- Google +
[[[[[ A LIST OF PREVIOUS DOCBACKS CAN BE FOUND HERE!! ]]]]]
DOCBACK CODE OF CONDUCT
1) a Docback should be about completely open and free discourse regarding all things WHO with, obviously, some variation on subject matter from time to time - the real world intervenes, discussions of other shows are inevitable, etc.)...

2) matters of SPOILAGE should be handled with thoughtful consideration and sensitivity. Posts containing SPOILERS should clearly state that a SPOILER exists in its topic/headline and should never state the spoiler itself . "** SPOILER ** Regarding Rory" is OK, for example. "** SPOILER ** Battle of Zarathustra" is fine as well. " **SPOILER** Why did everyone die?" Is NOT good.
And, above all...

3) converse, agree, disagree, and question as much as you want - but the freedom to do so is NOT a license to be rude, crass, disrespectful, or uncivilized in any way. Not remaining courteous and civil, as well as TROLLING or undertaking sensational efforts to ignite controversy, will result in banning. Lack of courtesy may receive one (1) warning before a ban is instigated. Obvious Trolling or Spamming will result in summary banning with no warning. One word posts intended to bump-up any Docback's figures on AICN's "Top Talkbacks" sidebar will be considered actionable Spam - they not only complicate efforts to access Docback from mobile devices, but impede readers' abilities to follow or engage in flowing conversation.
In short, it's easy. Be excellent to each other. Now party on...