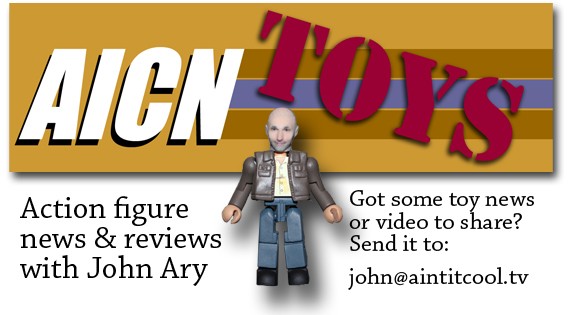 '
John Ary here with a super-sized toy column featuring more highlights from last weekend's Toy Fair and some other stories making action figure headlines...
Classic TV Batman from Mattel
Of all the toys shown off at last weekend's big Toy Fair in New York, this announcement makes me the most excited. Mattel will produce a line of 6-inch action figures based on the 1966 Batman series. We're talking a surfing Batman, a Burgess Meredith Penguin, a detailed Batmobile ($49.99) and much much more! These will hit retail in July for around $16 a piece. See more pics from the Mattel booth over on ToyNewsi.com.
ED-209 from NECA
If you happen to be in violation of Penal Code 1.13, Section 9, you may want to slowly back away from this 7-inch scale action figure. Robocop's mechanical archenemy from Paul Verhoeven's 1987 film will soon get the toy treatment. We don't have much information about it yet other than these three pics from Toy Fair, but we'll keep you posted.
Kick-Ass 2 from NECA
NECA also showed off the new Kick-Ass 2 7-inch scale figures at Toy Fair. This is our first look at Christopher Mintz-Plasse's MotherF*cker costume from the film. Each toy will feature 20 points of articulation and come with character-specific accessories. These will hit the streets in June or you can pre-order the set here.
The Lone Ranger from NECA
Disney's The Lone Ranger will get a couple of action figure lines featuring Tonto, Silver and our masked hero. The 7-inch line will sport multiple points of articulation and accessories, while the 1/4 scale line figures will stand 18-inches high with 20 points of articulation. These will ride into toy stores in May.
Halo 4, Series 2 from McFarlane Toys
HaloWayPoint.com posted these pics of the next wave of Halo 4 action figures. Expect to see new 6-inch versions of Didact, Master Chief, an Elite Ranger, a purpleSpartan C.I.O., an orange Spartan Scout, and a Storm Jackal in stores this September.
Transformers Generation Titan Metroplex from Hasbro
Is he a city, a robot or a rolling powerhouse of Decepticon butt-kicking goodness? Actually, he's all three. To commemorate his inclusion in the Fall of Cybertron videogame, Hasbro will release this behemoth next year. In robot mode, Titan Metroplex stands a whopping two feet tall. That's a lot-a robot!
Giant Darth Vader from Jakks Pacific
If that toy isn't big enough for you, Jedi Insider ran a press release this week from Jakks Pacific detailing their plans for a new 31-inch Darth Vader action figure. It will feature seven points of articulation and come with his signature Lightsaber. Look for him in the fall.
Star Wars 3.75-inch Black Series from Hasbro
A couple of weeks ago we mentioned the new 6-inch line of Star Wars toys from Hasbro featuring better sculpting and articulation. It turns out Hasbro also plans to release a Black line in their standard 3.75-inch scale as well. Expect to see Episode 2 Anakin Skywalker with human and prosthetic hands, a super articulated Clone Trooper Sergeant, a Biker Scout, Bespin Trap Darth Vader with interchangeable hands (holding Han's blaster or Force effect), a Clone Trooper Pilot, Luke Skywalker in his Yavin Ceremony outfit, Padme Amidala from the Geonosis Arena, and a super articulated Biggs Darklighter in pilot suit. Each of those will cost $9.99 when they release in the Fall.
And finally this week, here's a demonstration of the 12-inch Anakin to Darth Vader electronic action figure from Hasbro. Thanks to the Jedi News Channel for shooting this:
That's it for this week. For more action figure newsm follow my toy blog ArticulationTimes.com on Twitter and Facebook for more news updates and subscribe to the AICN Youtube channel.