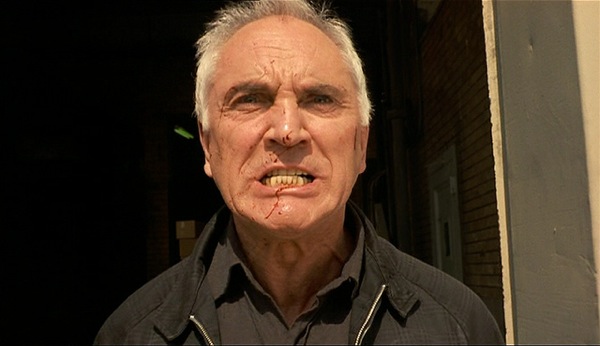 "TELL RON BURGUNDY I'M FUCKING COMING!!!"
Beaks here with some intriguing news from the U.K.
AICN reader "Deep Red" attended a recent screening of Paul Andrew Williams's SONG FOR MARION, and hung around for a Q&A with star Terence Stamp. Along with discussing his legendary career, Stamp discussed a couple of upcoming projects.
First, Stamp revealed that he's had preliminary discussions with "Will Ferrell's people" about playing a Rupert Murdoch-esque media mogul in ANCHORMAN 2. He said he'd love to be in the film, but that there's been no formal offer. The movie begins shooting this spring, so... get to offerin', Will Ferrell's people!
Secondly, Stamp mentioned that he wrote a screenplay for a "loose sequel" to THE LIMEY, which would've reunited him with his FAR FROM THE MADDING CROWD co-star (and former lover) Julie Christie. If you've ever listened to the enjoyably contentious commentary track for THE LIMEY, you know that Soderbergh and screenwriter Lem Dobbs didn't exactly see eye-to-eye on the finished product, so I guess I can buy Dobbs wanting to have nothing to do with a potential sequel. Still, it's a little surprising considering this would be Stamp's first credited go-round as a screenwriter. But now that Soderbergh is retired from filmmaking, it's unlikely this project will ever come to fruition. Bummer.
Here's Deep Red's full report from the Q&A:
Just got back from a preview of Terence Stamp's new film, SONG FOR MARION, here in Cambridge, UK. The man himself was there to do a Q&A, which was very interesting - all sorts of tales about growing up in London during the Blitz, how he regretted turning down the lead in CAMELOT (1967), and how close he was to his late brother.

He was asked directly about whether The Kinks song 'Waterloo Sunset' really was inspired by his relationship with Julie Christie in the 1960s, to which he replied that Ray Davies had apparently told Stamp's brother that indeed it was. That led to another anecdote: that Stamp has written a screenplay for a "loose" sequel to THE LIMEY, Steven Soderbergh's ice-cool 90s thriller. It was intended to star Stamp and Julie Christie, with the plot revolving around an aging gangster going after the ex-partner who betrayed him and married his lover (Christie). The project halted when both Soderbergh and Christie retired from the business, and he wasn't sure if it would ever see the light of day.

When asked what's next for him, he said Will Ferrell's people had reached out to see if he would be interested in playing a Rupert Murdoch-type figure in Ferrell's next film. This would be ANCHORMAN 2 presumably? Stamp said he would love to take part in it, but he's not yet been officially offered the part.

-- Deep Red