The Kidd here...
Wow... Has it really been six years since we've gotten a film from Eli Roth? Well, that's about to change soon enough with Roth back behind the camera for THE GREEN INFERNO, which will take him away from the torture porn that helped him make a name for himself (namely the two HOSTELs) and into the world of cannibalism.
Roth took to his Tumblr earlier today to post the first image from the film, in addition to an official synopsis, which gives us a very general idea of how fucked this cast of characters is going to be when they find themselves stranded in the middle of nowhere with a cannibal tribe in the wings.
A group of student activists from New York City travel to the Amazon to protect a dying tribe, but crash in the jungle and are taken hostage by the very natives they saved.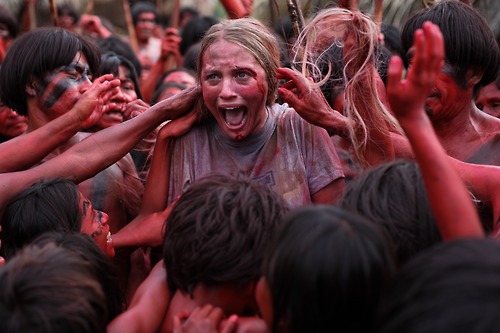 Is "You Will Get Served" really the tagline Roth is planning to use, as he does on his Tumblr?
Lorenza Izzo, Ariel Levy, Daryl Sabara and Kirby Bliss Blanton all star, with the rights still up for grabs both domestically and internationally at the European Film Market, which means no release date for you to mark on your calendar yet.
-Billy Donnelly
"The Infamous Billy The Kidd"
Follow me on Twitter.
Like me on Facebook.