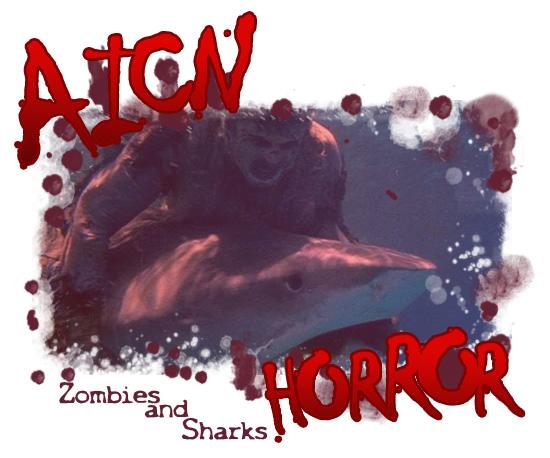 Logo by Kristian Horn
What the &#$% is ZOMBIES & SHARKS?
---
Greetings, all. Ambush Bug here with another AICN HORROR: ZOMBIES & SHARKS column. Before we get to the scary…there is, as always, this!
---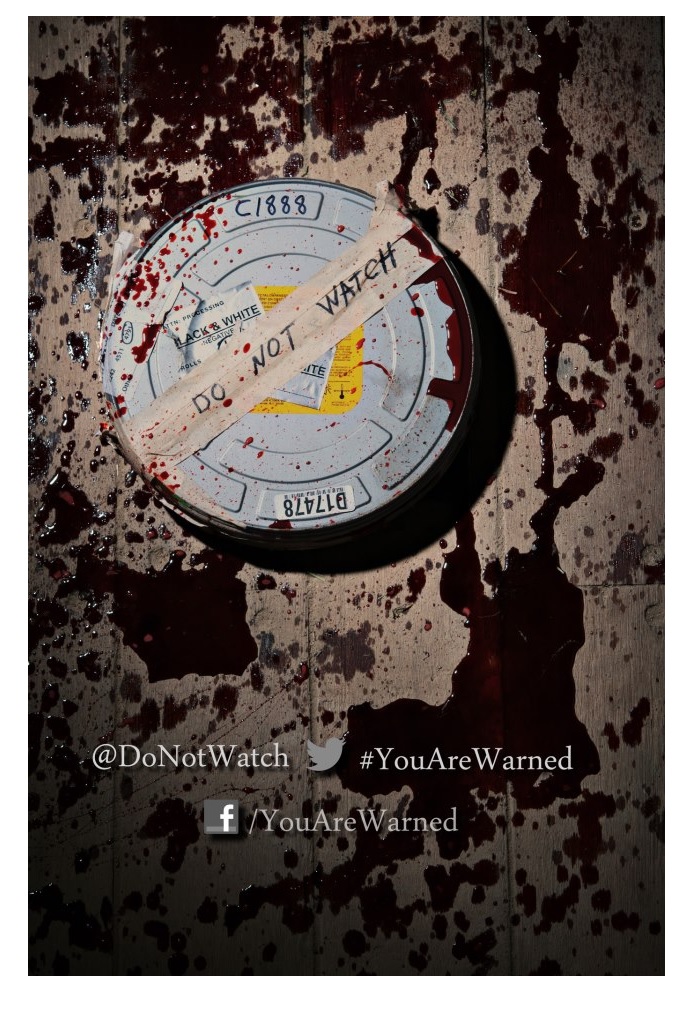 I don't know a lot about the new film DO NOT WATCH except for the fact that I kind of want to watch it. Maybe it's the rebel in me. The poster for this film debuted this week and, wouldn't you know it, there it is on the right. Click to biggen! Here's the official synopsis of the film;
A mysterious documentary appears, loaded onto a charred hard drive with a taped label warning: "Do Not Watch", revealing a filmmaker's pursuit into the disappearance of demonic found footage and the fates of those investigating it.
And
find out more about when and where to see this film on it's Facebook page
. I'll be sure to keep you up to date on when it's available when I find out too!
---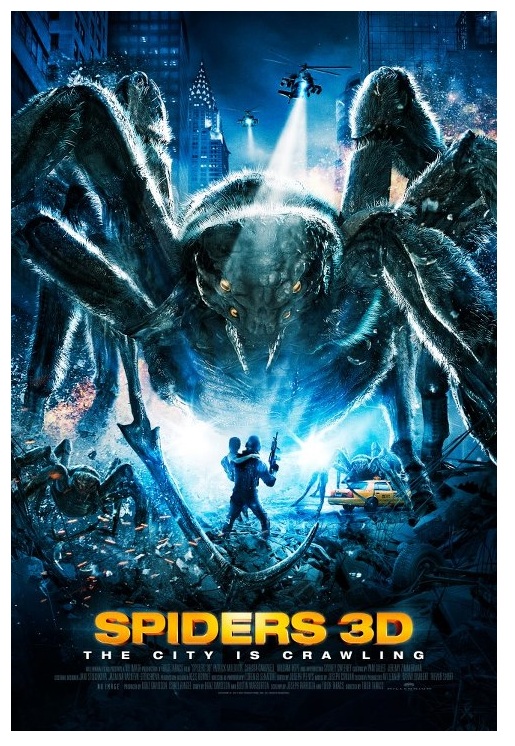 I interviewed director Tibor (THE GATE, I, MADMAN) Takacs and reviewed his new film SPIDERS 3D a while back. Now you have a chance to check out the film yourself as it has been released in limited theaters and VOD today and will be released on DVD on March 12.
Check out my interview and review here
. And be sure to seek out the eight legged action!
---
The curiously titled AXEMAN AT CUTTER'S CREEK had a teaser released this week and I have it here for you to enjoy. Find out more about this film here and hopefully, I'll be able to review it soon for you. Here's the official synopsis;
In this 80's style horror with a new school twist, nine vacationing twenty-somethings travel to a posh timeshare cabin in Big Bear for a hedonistic weekend. But their weekend of drinking and debauchery soon turns to horror when an axe-wielding local legend comes to life! Desperately clawing for any chance at survival, these once estranged friends must band together to take on the bloody beast that's kept these woods desolate and the townspeople terrified. This weekend will be one to be dismembered. Because this weekend, these friends will meet the terror that is . . .the Axeman at Cutter's Creek!
Enjoy the teaser and
find out more about this film on Facebook here
!
---
And here's another trailer from a little indie flick called SPEAK NO EVIL. Here's the official synopsis;
Gabrielle Stone stars as a single mother fighting to protect her daughter from demonically possessed children and a town gone mad.
More info about the film can be found here.
---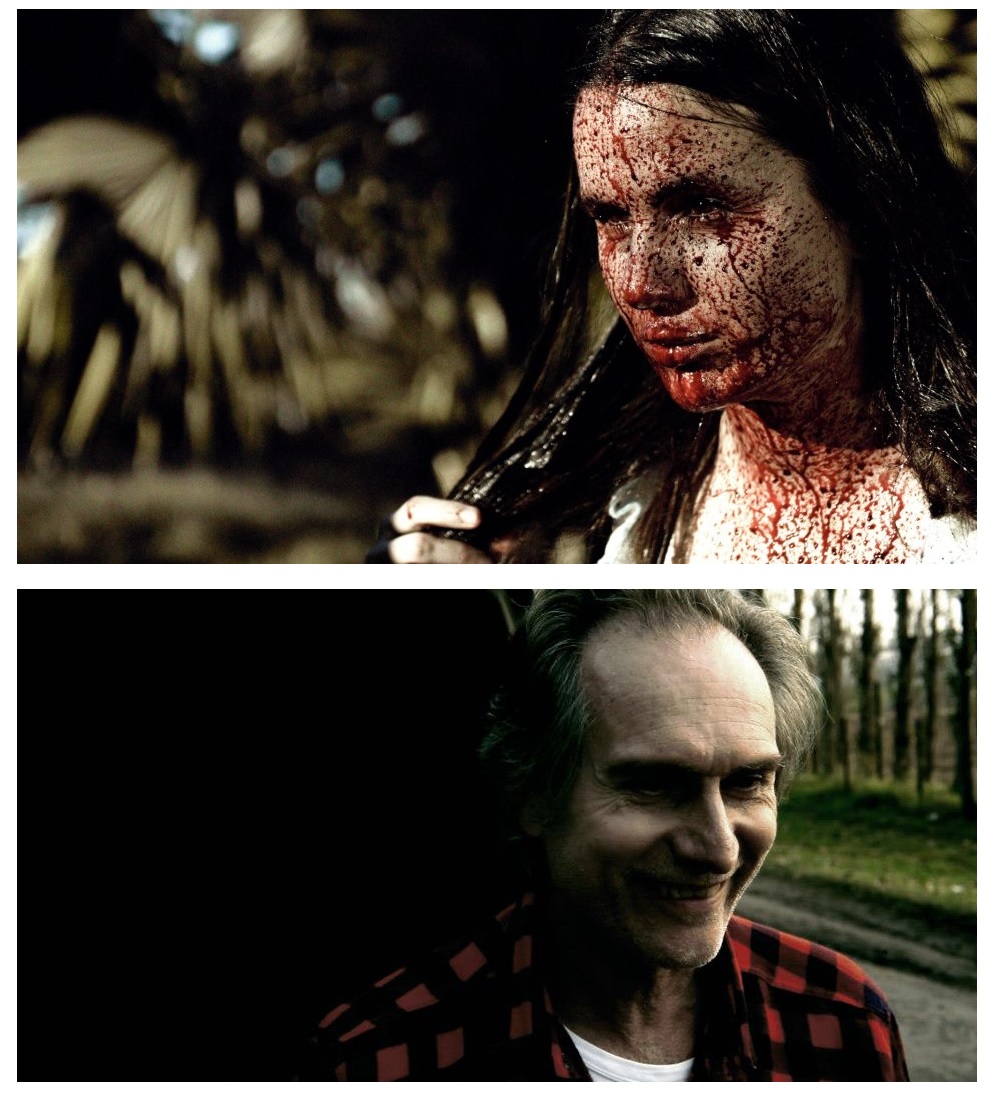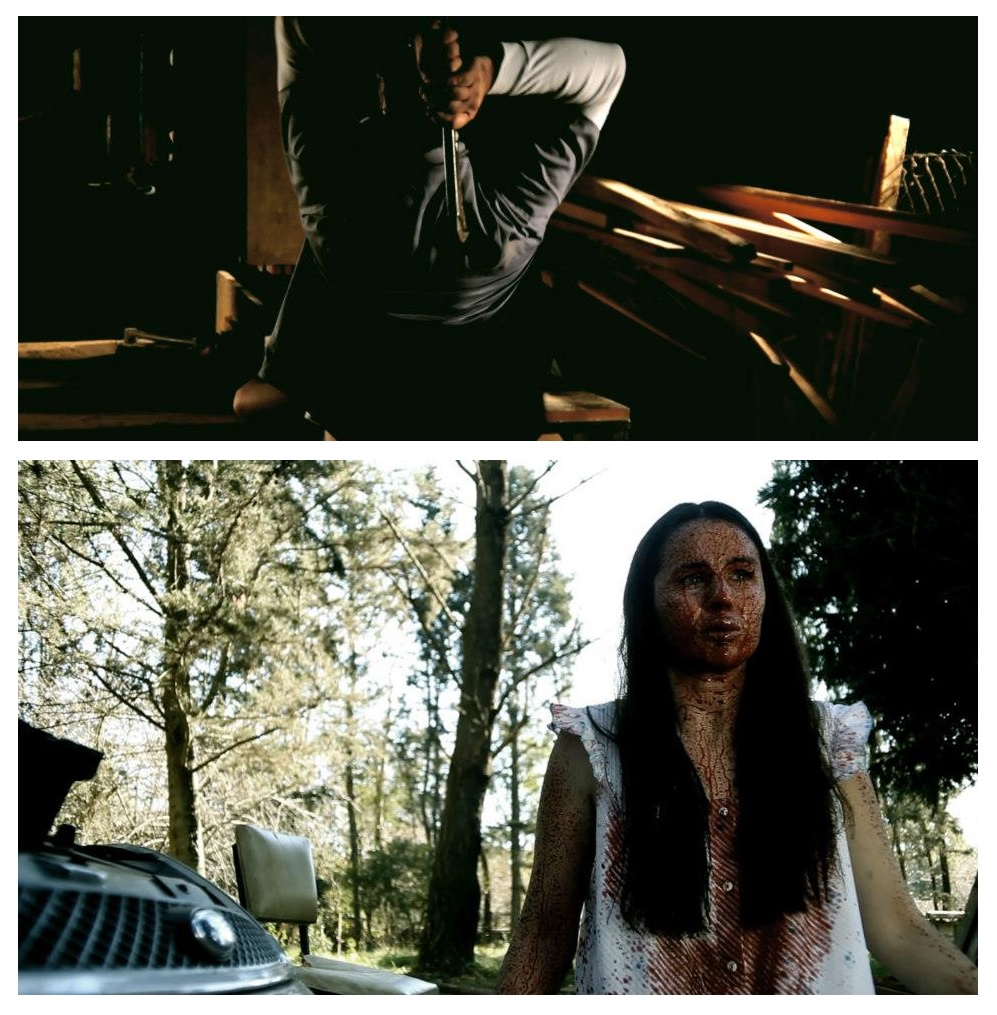 Finally, we have some gruesome pics from a new flick called WHEN YOUR FLESH SCREAMS! from director Guillermo Martínez. Not for the squeamish or faint at heart, here's the official synopsis of this Spanish horror flick;
The story revolves around Martina, a biology student, who after moving from her hometown to complete her studies decides to undertake an excursion to the outskirts of the city in search of rare and exotic specimens for research. Not finding the specimen after a long search, she decides to rest by the roadside. At that time, her new psychotic neighbors propose to take her to the woods where they claim is the specimen that she seeks. Martina accepts the crossing naturally, but on the way the thugs kidnap her, determined to cause all sorts of sinister and gruesome acts, both physical and psychological. The story takes an unexpected turn when Martina decides to release her pent- up anger.
Find out more about this film here
and here's the trailer below!
As with all of these films above, I'll make sure to let you know when you can see these flicks for yourself when I get the info!
Now, let's get on with the spooky.
Today on AICN HORROR

(Click title to go directly to the feature)
Short Cuts Short Film Review: THE COLLECTIVE Vol.5 (2012)
HELLACIOUS ACRES: THE CASE OF JOHN GLASS (2011)
ROSEWOOD LANE (2011)
SICK BOY (2012)
Advance Review: HOUSE OF LAST THINGS (2012)
Advance Review: GHOST TEAM ONE (2013)
And finally…THE ZOMBIE CHRONICLES: DYSTOPIA!
---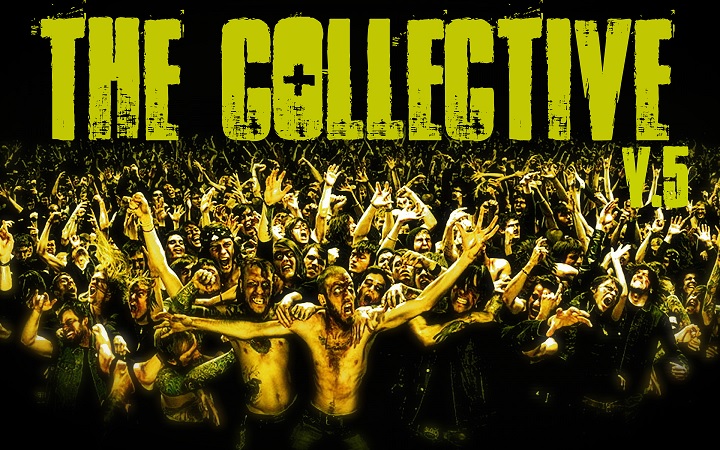 Short Cuts short film review: Available now on DVD!
THE COLLECTIVE VOL. 5 (2012)
Directed by James Mannan, Robbin Panet, DP Bonnell, Joshua Hull, Andrew Copp, Cameron J. Scott, Jason Hoover, Athena Prychodko, Eric Schneider
Written by James Mannan, Robbin Panet, DP Bonnell, Josh Arnold, Andrew Copp, Cameron J. Scott, Jason Hoover, Athena Prychodko, Eric Schneider
Find out more about this project here and on Facebook here!
Reviewed by Ambush Bug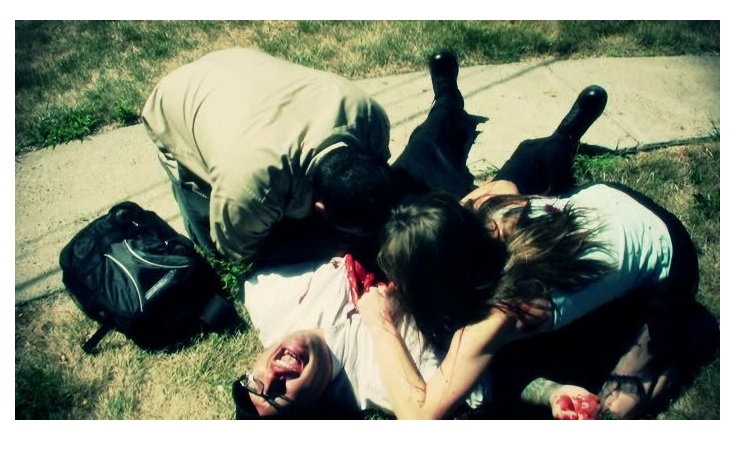 At this year's DAYS OF THE DEAD Con in Schaumburg, IL, I happened upon a booth for THE COLLECTIVE, a project that I am really excited to highlight here. The folks from
JABB Pictures
have been making short films for a while, and in that time, they seem to have been influencing and getting to know other short filmmakers. One of my complaints about short horror is that there isn't any place you can see these films other than doing random searches on YouTube. Well, JABB Productions seems to have felt the same way and have made it simple to see a bunch of cool shorts in one place. I got my grubby mitts on all five volumes of THE COLLECTIVE, an ambitious project where ten filmmakers are given one particular theme to work with and then turned loose to make whatever 10 minute film they wanted.
I reviewed the first volume of THE COLLECTIVE here
which focused on the title "The Meat Eater".
Then I checked out Vol. 2 in which each filmmaker was given a small cardboard box to focus a ten minute film on
. Next I checked out
Volume Three centered on the theme of "10 Minutes To Live" made by ten talented female directors.
And last week
Volume 4 centered on something most of us have, "Emotions".
This is the fifth and final volume of THE COLLECTIVE to be highlighted here on AICN HORROR, this time centering on "The Undead." The next few paragraphs are some brief descriptions and thoughts on each of them.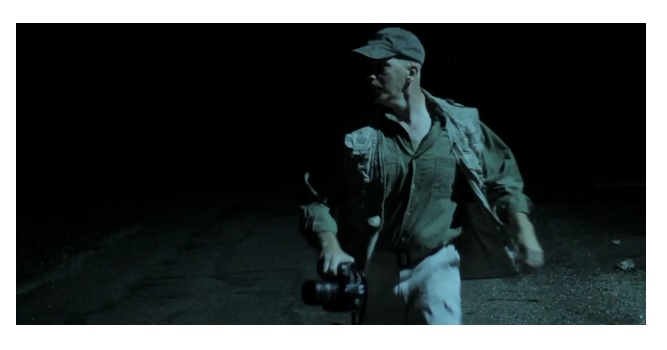 "Marauders" by Jason Hoover is an ultraviolent, ultrastylized glimpse of the apocalypse reminiscent of A CLOCKWORK ORANGE as a trio of monstrous men travel a zombie infested countryside preying on what few survivors are left. Gratuitous and gory, this one is not for the squeamish, but it is admirable for its "no fucks given" attitude throughout. I especially liked the look of this film which washed out all of the colors except the red shirt of one of the marauders and the red blood spatter of their victims. Makes for a cool visual.
Joshua Hull's "Voice Over" which is a fascinating and original take on zombie-ness as a man is bitten by a zombie and starts hearing a zombie voice in his head telling him he is hungry. It's a fantastically fun descent into madness as we become witness to one man's transformation into the living dead. One of the best of the bunch.
"They Said They Were Here To Help" by DP Bonnell opens with a man waking alone and beaten. An investigative journalist is sent in to investigate a possible leak at a power plant near an insane asylum. What could go wrong? Again, this one focuses more on the human fallout from a contagion rather than the zombies themselves. But it's always been about the human monster in zombie films, hasn't it? Well acted and directed, this was a powerful little short that treads through familiar territory, but doesn't forget to entertain.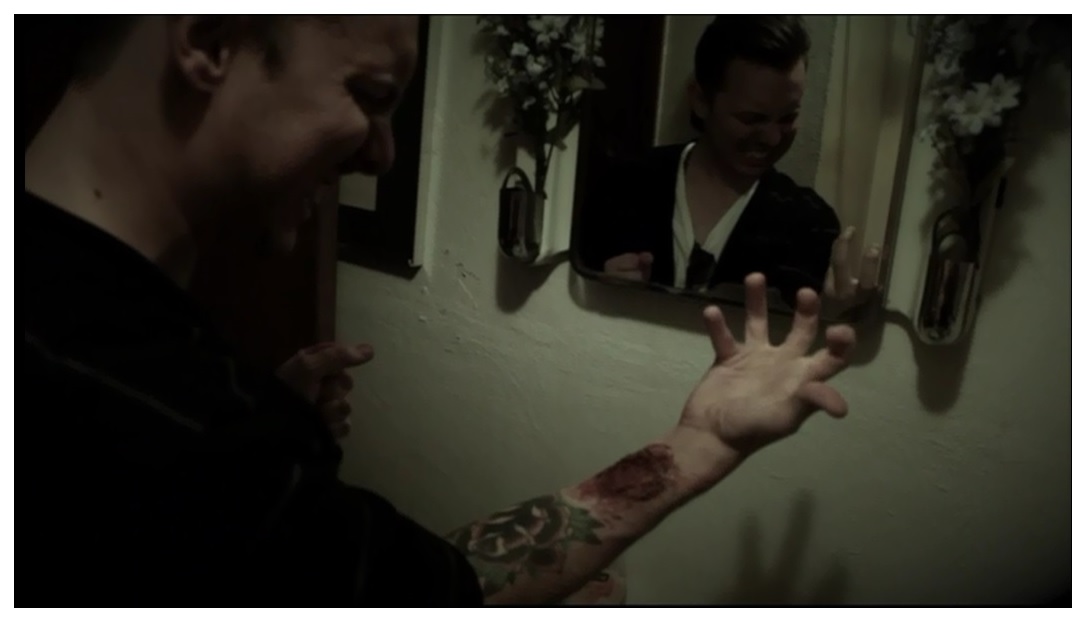 Andrew Copp's "Consumption of the Heart" is a story of the decomposition of a relationship and a woman's desperate attempt to keep it together…and a zombie contagion. Sexually graphic and gory, this one is going to make some feel uncomfortable. But that's what good horror's supposed to do. Moody, atmospheric, and perverse as two people find love despite becoming the undead.
"A (gore)aphobic" by Cameron J. Scott takes place in my home state of Ohio as a reclusive woman watches the world around her fall apart in zombie mayhem while trapped in her apartment. While zombies bang on her door relentlessly, the woman succumbs to madness in this moody and effective little descent into madness.
James Mannan serves some "Zombie Soup" approaches the subject from a different angle by interviewing various creative types (some of which are directors in this volume) about their thoughts on all things zombie. The segment offers up some interesting opinions and stories focusing on zombie lore including favorite zombie movies, favorite aspects of zombie lore, and themes such as religion vs zombies, zombies vs vampires, and more. If anything, this is a nice little break from the more cinematic and narrative of the other films in this volume.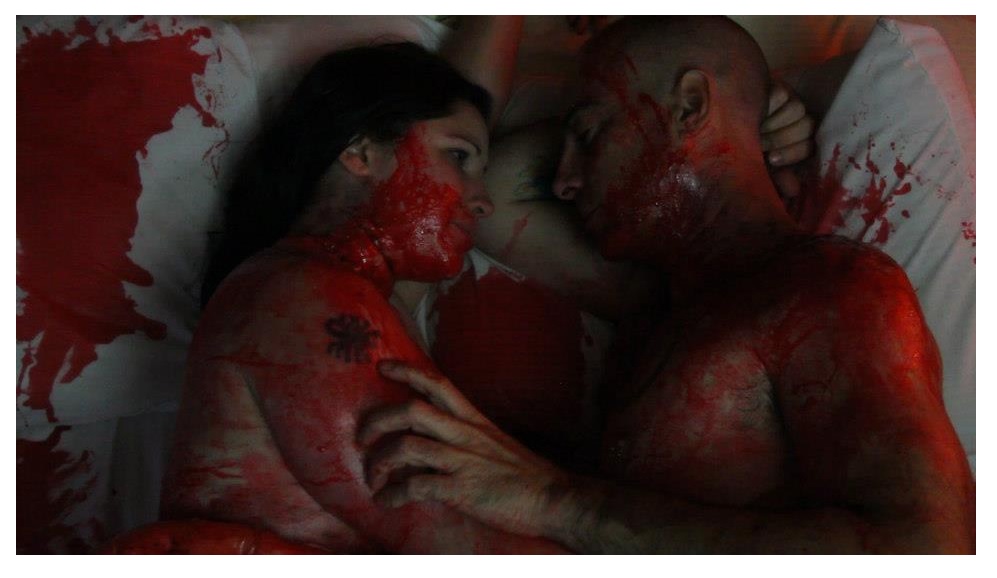 In "(se)XX Z(ombie)", Athena Prychodko asks the questions; "What's a lady to do when all the men die in the zombie apocalypse?" and answers it in gory detail. This perverse little silent film makes for some entertaining, albeit gory good times. The scene where the tattooed pixie goes to town on a zombie male is pretty freaking awesome, if you like that sort of thing, I mean… Fun and twisted stuff filmed in moody black and white.
"Spooky Stuff – The Zombie File" by James Mannan & Robbin Panet follows the filmmakers on the search for real life zombies. This is another fun alternative to the typical zombie shorts we see in this volume. I wouldn't call it spooky and the searchers never end up finding actual real life zombies, but it was fun to follow these filmmakers through different bizarre locales like Hell's Gate.
"The Dead Things Outside Your Door" Parts 1 & 2 by Eric Schneider explains how the increase in natural disasters has made this the perfect time for a zombie apocalypse. Part one focuses on one man who just wants to be left the hell alone, a man who doesn't give a fuck, and more unsavory types who are just keepin' on keepin' on during the end of the world. This is a nicely produced and ambitious set of films which toss some Tarantino types in a trapped house with the undead outside. There's definitely some talent behind and in front of the camera in this one. And it's a really fun way to end this volume.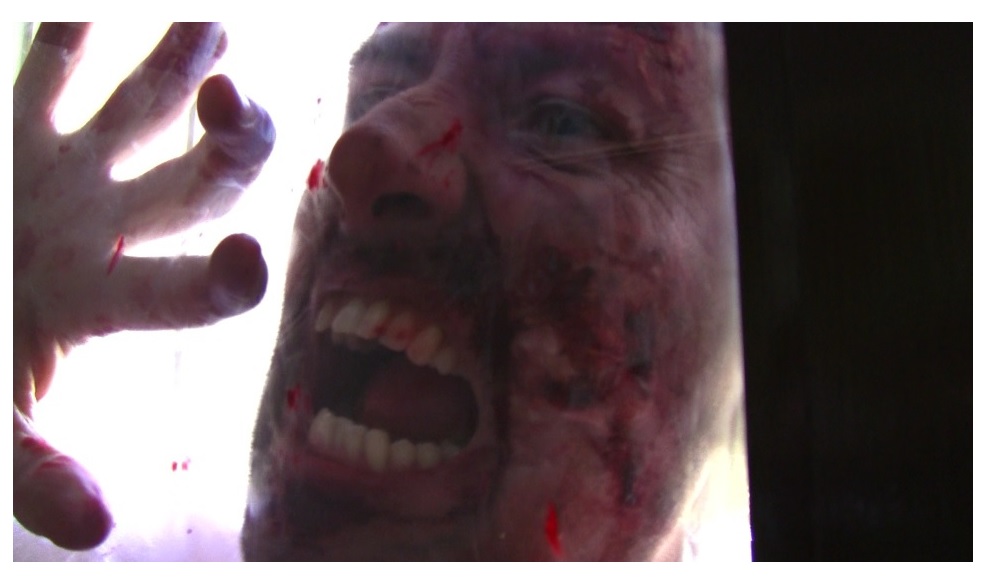 Overall, as I move through these collections of THE COLLECTIVE, the quality of the films are improving with this one proving that zombies are always good for a fright. It seems the directors gave their all with volume 5 and I found it most interesting seeing the filmmakers who have appeared in numerous volumes evolve as artists as I moved through these collections. Though this one was definitely one of the more downer of collections with many tales of woe and misery, it still shows that there are a lot of quality filmmakers in and around my fair city of Chicago.
For those of you who want to support that indie spirit out there, THE COLLECTIVE seems to be the place to go. I'm going to be diving into the final two of the five volumes over the next few weeks and the quality and creativity in these collections seem to grow with each volume. Highlighting some damn fine horrors from Illinois, Indiana, Michigan and beyond, THE COLLECTIVE proves that indie horror is alive and well in the innards portion of America!
---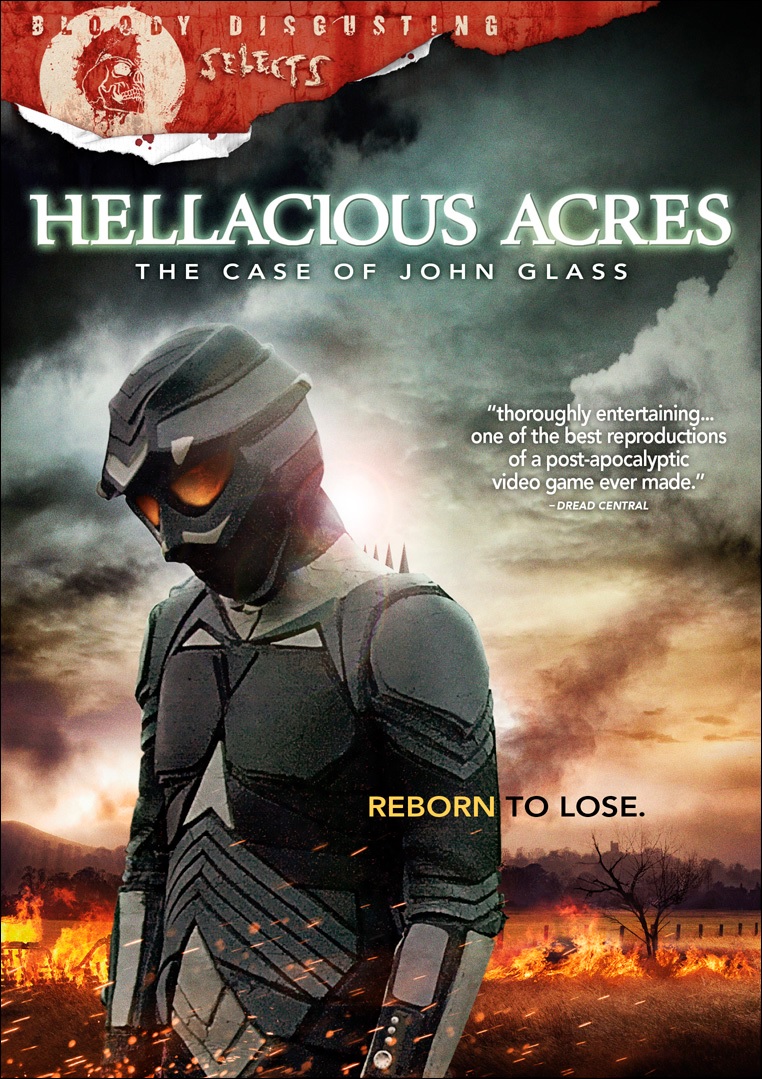 Available on DVD!
HELLACIOUS ACRES: THE CASE OF JOHN GLASS (2011)
Directed by Pat Tremblay
Written by Pat Tremblay
Starring Jamie Abrams, Paula Davis, Navin Pratap
Find out more about this film here and on Facebook here!
Reviewed by Ambush Bug
I think HELLACIOUS ACRES: THE CASE OF JOHN GLASS is going to be divisive film for most. For many reasons, this film reminds me of one of my favorite films of last year, BEYOND THE BLACK RAINBOW, as it embraces retro sci fi with a deep, low hug, but because of its artsy nature and slow pacing, might end up alienating those who want a little excitement in their futurism.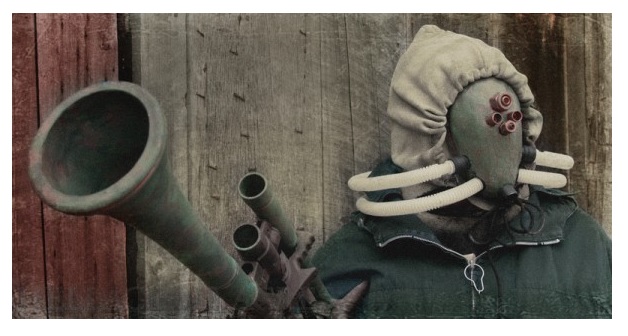 The overall tone of HELLACIOUS ACRES: THE CASE OF JOHN GLASS is a dour one. John Glass wakes from a tomb and basically wanders the countryside for the entirety of the film, pondering life, walking around slouched and sad like the bastard son of Charlie Brown and Eeyore, and occasionally getting into laser fights with other sad creatures.
Upbeat, this film is definitely not, but still, I found myself pleasantly entertained as director/writer Pat Tremblay contrasts the expansive countryside with a space suit wearing android dude nicely. The fact that this film is set in such an unfuturistic place makes this all the more interesting to me.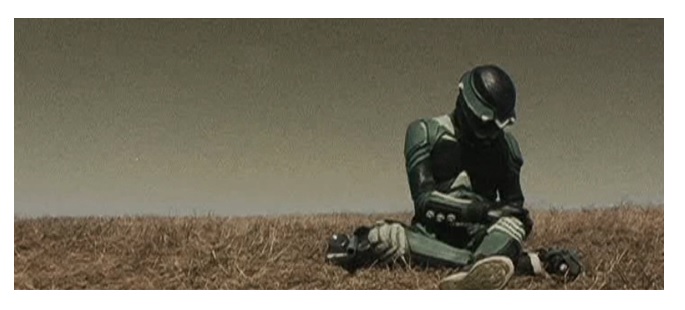 Still, the extended shots of John Glass moping around the grassy plains and farmlands will more than likely make some tedious. A lot of "woe is me" goes on in this film and while I am one to wallow in shit like this, I know there are those who will find it beyond monotonous.
Still, as a person who tends to like depressing shit, I dug the retro special effects and wonky sci fi amateurisms. Though lo fi, there's something resonant and zen about this film that I can appreciate, but if you're looking for peppy thrills and big budget splosions, HELLACIOUS ACRES: THE CASE OF JOHN GLASS will most likely disappoint.
---
Available on DVD!
ROSEWOOD LANE (2011)
Directed by Victor Slava
Written by Victor Salva
Starring Rose McGowan, Daniel Ross Owens, Lin Shaye, Ray Wise, Lauren Vélez, Sonny Marinelli, Bill Fagerbakke, Lesley-Anne Down, Rance Howard, Judson Mills
Find out more about this film here!
Reviewed by Ambush Bug
Though there are those who avoid Victor Salva's films like the plague due to the pedophilia scandal that accompanied his first film CLOWNHOUSE, I try very hard to differentiate the art from personal feelings toward the artist. Not condoning the acts that Salva may have committed, I have to say that his films since then, POWDER, JEEPERS CREEPERS, and JEEPERS CREEPERS II have been somewhat enjoyable and capably made. Still, I have friends who will not watch those films and I respect them for having those beliefs. Understanding Salva's history, though, it does make watching his films interesting for me to see themes come up, whether they are conscious decisions or not by the director.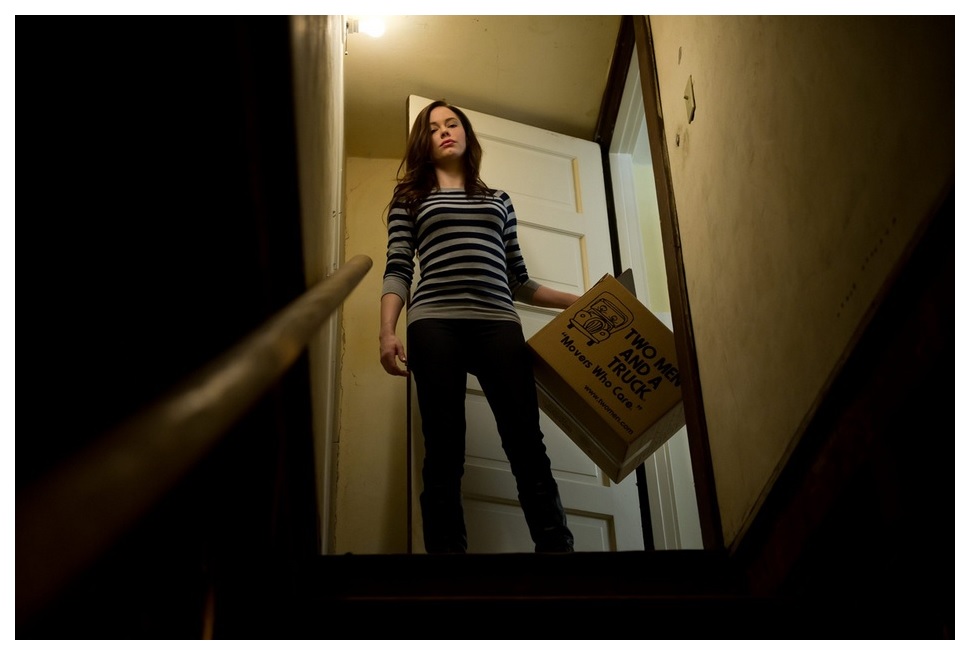 In ROSEWOOD LANE, a woman (Rose McGowan) is pursued by an elusive paperboy who terrorizes her the minute she moves into the home of her dead father. Though her plight it doubted by her lover, the police, and her friends, through her own strength of will she is able to stand up to this boy who torments her. Now, one doesn't have to be Freud to see this as somewhat of a metaphor for Salva's personal history and possible persecution and it was hard for me not to put the pieces together in this manner. But again, I tried hard not to let that influence me while watching.
Making things harder is the fact that Daniel Ross Owens who is supposed to be the paperboy looks like a grown ass man, mainly because he is. Seeing a man who looks to be in his twenties playing a teenager is another creepy reminder of the way a child is often adult-ified in films with the story treating them as if they have the maturity of an adult. It's also a reminder that Salva can't work with children. But again, I tried hard not to let that influence me while I was watching.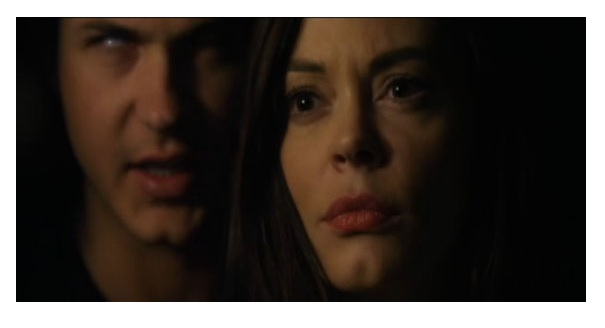 What I did notice that aside from a pretty decent performance by Rose McGowan who plays a surprisingly normal person, this is a bland film. There are some definitely creepy moments and the stalker child definitely is bound to creep a viewer the hell out. There are also some capably handled moments of tension; one in particular involving a kitty door that is obvious and projected, but still proves to be scary. But for the most part, this is a thriller that doesn't know if it wants to be supernatural or based in reality. The rules of this film are fluid and not well thought out. And the story seemed to lack a solid point and ends up being a cat and mouse between McGowan and her paperman/boy stalker leaving way too many holes where answers should be and resolving in an even more confusing manner by adding a bizarre other layer to the weirdness.
In the end, I can't recommend ROSEWOOD LANE. Not because the misdeeds of the director, though looking at this as a psychological piece is much more interesting as the story itself. Pass this one by because it's bland and not well thought out, not because of the sins of the director.
---
New on DVD from Raven Banner Entertainment!
SICK BOY (2011)
Directed by Tim T. Cunningham
Written by Tim T. Cunningham
Starring Skye McCole Bartusiak, Marc Donato, Debbie Rochon
Find out more about this film here!
Reviewed by Ambush Bug
One of my picks for best horror films I saw last year is finally out on DVD this week. SICK BOY is one of those films with a premise that definitely may seem familiar, but its power lies in the skill of the actors involved and the director/writer steering the wheel. Because of this, even though we may know the layout of this type of film, the road to the end remains interesting because of strong performances in front of and behind the camera.
The one thing that stood out immediately with this film was the acting. I've never seen Skye McCole Bartusiak before, but she's definitely got the chops of a good actor and convincingly plays Lucy, an engaged girl who can't seem to find a job she really wants to do. Her husband Kris, played by Marc Donato, delivers a nice performance as well as her loving but frustrated husband who is sick of hearing about how one job after another doesn't work for his wife. Out of desperation, Lucy responds to an ad as a babysitter. Enter Scream Queen Debbie Rochon as Dr. Gordan, a busy woman with a sick child with an unusual disease. She immediately takes a liking to Lucy and hires her to watch over her son for the next few days. Her directions are just to sit in the house and never…ever…go downstairs into her child's room, no matter what.
Now, as with HOUSE OF THE DEVIL, where a babysitter is set up to watch a house rather than the person upstairs, you know sooner or later, Lucy is going to ignore the warnings of her employer and for one reason or another she will be checking in on the sick boy in the basement at some time. It's the tension between the hiring and the snooping that will either make or break this film and director Tim T. Cunningham creates this tension with expert precision as Lucy begins looking through drawers, solidifying what we already know—that she will be going into the basement at some time.
Now, the scary stuff doesn't really happen until the 45 minute mark, which is usually an exercise in tedium for me with films that take this long to get running, but the time whizzes by mainly because Skye McCole Bartusiak completely owns every scene she is in. She's energetic, likable, personable, and easy on the eyes. I could see her becoming a big star some day and given her performance here, she's got what it takes.
SICK BOY does a fantastic job of amping up the tension. Telling you what subgenre this film belongs to or identifying what the sick boy is sick with would be giving away too much of this film. Let's just lump it in with such fantastic "Babysitter in peril" films as HOUSE OF THE DEVIL and WHEN A STRANGER CALLS and leave it at that. Effective in a nail-biting build-up to a climax that definitely is worthy of the wait, filled with blood, gore, and mega-violence, SICK BOY is one of those infectious little horror films that needs to be spread to more viewers. When this one is available for the masses, I'll definitely let you all know. But for now, keep an eye out here and on the
Raven Banner Entertainment
website for when and where you can see it.
---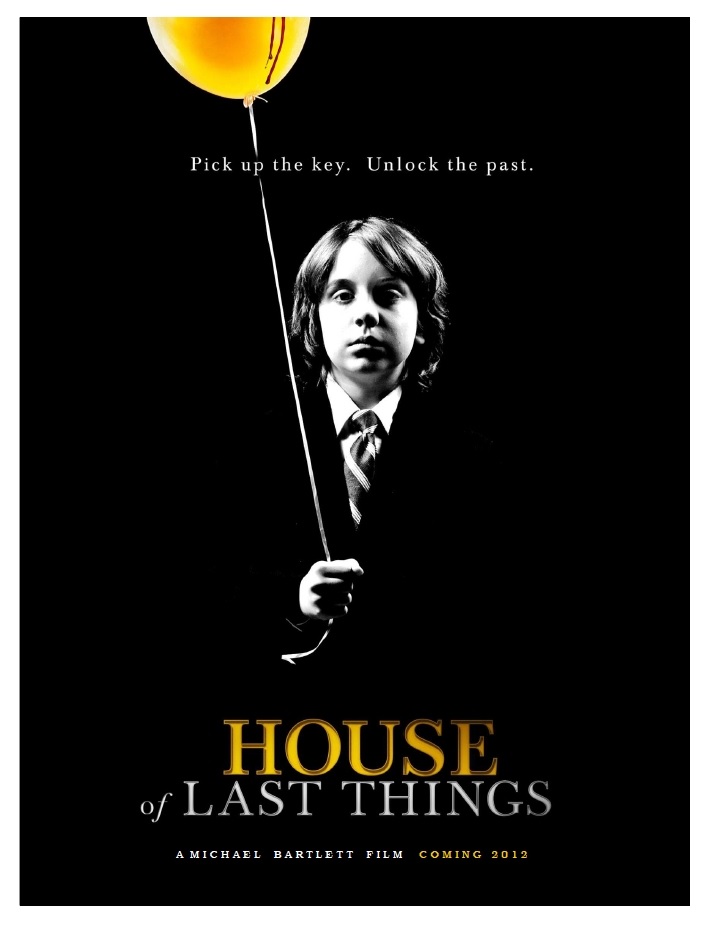 Advance Review: Playing festivals, recently had its world premiere at France's 20th International Festival du film fantastique de Gérardmer!
HOUSE OF LAST THINGS (2012)
Directed by Michael Bartlett
Written by Michael Bartlett
Starring Lindsey Haun, Blake Berris, RJ Mitte, Randy Schulman, Diane Dalton, Micah Nelson
Find out more about this film here and on Facebook here!
Reviewed by Ambush Bug
I find that lately, I can call how most films are going to play out long before they do. Maybe it's because I've seen too many films or maybe I'm too aware of the limited choices a narrative can go. Whatever it is, if a movie comes along and surprises me, I am more than likely going to dig it because it happens so little these days. So when a movie like HOUSE OF LAST THINGS comes along, I definitely want to crow about it.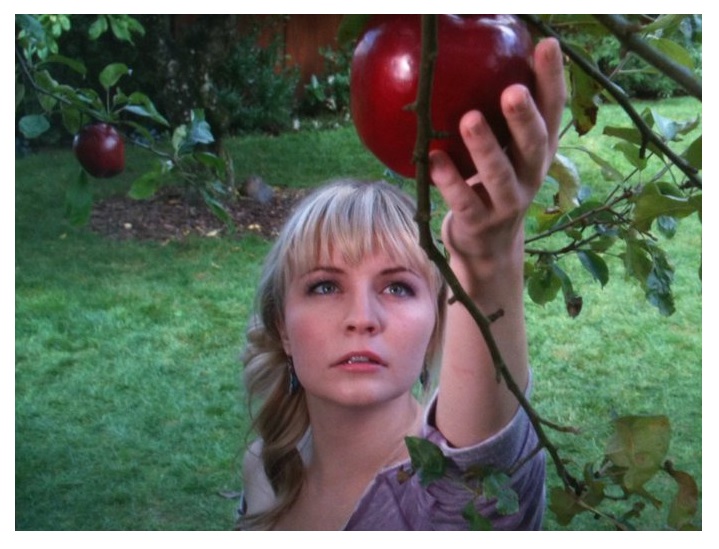 HOUSE OF LAST THINGS is a twisting turning fever dream of a film full of lush treasures and nightmarish imagery. Just when you think you are safe, this writhing snake of a film bears fangs and bites. There's a lot to like in this ghostly fable of people who are trapped in both an idyllic dream and a horrifying nightmare. It's a film that never really lets you get your footing, playing with layers of reality, toying with expectations, and challenging the way narrative usually plays out. It's a testament to the storytelling skill of writer/director Michael Bartlett that he can spin the reality his story is told into so many different directions and still keep the narrative straight and the audience grounded enough to follow it all. But he does it.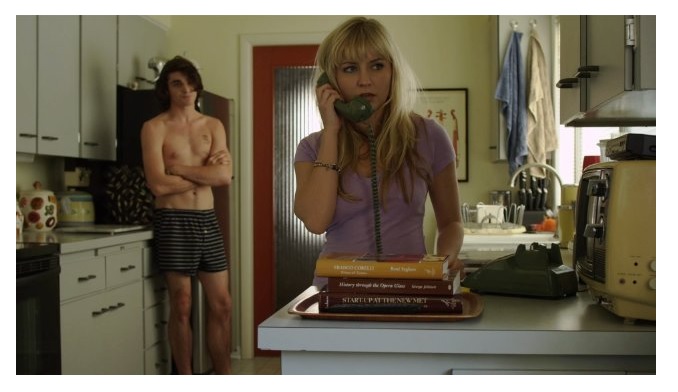 The film follows a trio of characters; Lindsey Haun, Blake Berris, RJ Mitte as they find their selves in a house and a realty where their roles, attitudes, and lives change as the days pass. Everything seems to be fluid in this film as if it were a dream where things occur and those trapped in it just go with the flow instead of questioning every little twist and turn. Filled with imagery both bizarre and beautiful, I can't completely explain what's going on in HOUSE OF LAST THINGS, but the trip makes it all worth while.
Utterly unconventional and capably done from top to bottom—from cinematography to acting, HOUSE OF LAST THINGS is definitely something you haven't seen before. The dream like malleability of this film makes this film a truly unique experience. Though those looking for easy answers and everything explained might leave the film scratching their head, open minded folks who look for unconventional entertainment will definitely want to seek HOUSE OF LAST THINGS out.
---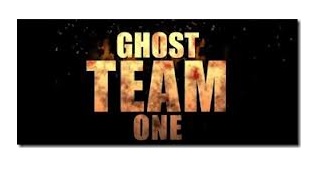 Advance Review: Recently played at Slamdance!
GHOST TEAM ONE (2013)
Directed by Scott Rutheford & Ben Peyser
Written by Scott Rutheford & Ben Peyser
Starring Carlos Santos, J.R. Villarreal, Fernanda Romero, Tony Cavalero, Meghan Falcone , James Babson, Scott MacAuthor & Craig Stott
Find out more about this film here and on Facebook here!
Reviewed by Ambush Bug
GHOST TEAM ONE was one of the most entertaining horror films I've seen in quite a while. Mixing horror and comedy is an extremely difficult thing, taking either a gratuitous or subtle hand to pull off. Spoofs like SCARY MOVIE and A HAUNTED HOUSE make fun of a genre they don't seem to fully understand or even like, filling the runtime with one broad, obvious joke after another. Films spoofing PARANORMAL ACTIVITY in particular are even more painful to sit through because all of the jokes seem to have been told already and even the PA franchise itself seems passé these days. Unlike all of that, GHOST TEAM ONE does something that none of the spoofs do; inject real characters and most importantly, make them funny in their own right, not just making fun of the genre.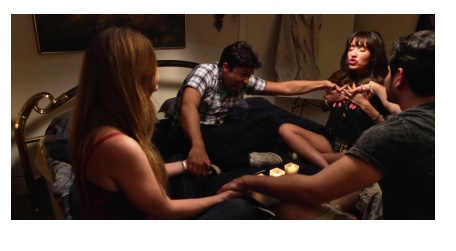 As we meet Sergio(J.R. Villarreal) and Brad (Carlos Santos), they are hosting a wild party. The more outspoken Brad is more than willing to embarrass the more reserved Sergio who notices a beautiful party-goer named Fernanda (Fernanda Romero). When a drunk Sergio runs into a ghost at the end of the night, the footage from the camera he pasted to his head during the party becomes the first footage captured of a ghost that seems to be haunting their apartment. Soon, the three form Ghost Team One, mainly because both Sergio and Brad want to sleep with Fernanda who is fascinated by the ghost. The first person POV film becomes a comedy of errors as Brad and Sergio try to one up each other in pursuit of getting Fernanada out of her pants. Oh, and maybe encountering a ghost along the way too.
The thing that works the best in this film is that both Sergio and Brad are such likable characters. They are best of friends, but are more than willing to cock-block one another in their desire to woo Fernanada. It's this constant competition between the two of these friends that makes this film so enjoyable from beginning to end. Though the humor is often crude and raucous, it also seems to have a lot of depth as the characters play everything straight as if the insane occurrences aren't so insane and are actually never as important as the libido of these two would be ghost hunters.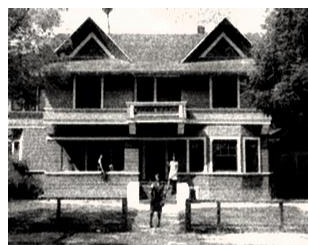 GHOST TEAM ONE has a lot of heart as both of its main players have genuine moments of heart in this film, despite the fact that they are two complete idiots. The three dimensionality of these characters make you root for them despite their moronic behavior.
The film gets a bit too goofy in the final act, but by the time that comes around, I was already invested in these overly-likable characters to care. Seeing Sergio and Brad bounce off and into one another was what made this film so much fun for me. Though the found footage genre seems to be eating it's own tail at the moment, GHOST TEAM ONE proves that there's still life in the old girl yet. Genuinely funny and smarter than most horror comedies combined, you're going to laugh a lot at GHOST TEAM ONE. It's a film that will most definitely show up in my Best Horror Film of the Year list next year as it masterfully comments on an overused subgenre while never failing to entertain and being genuinely hilarious to boot.
---
And finally…from one of the producers of the excellent zombie film THE BATTERY, Douglas A. Plomitallo, comes THE ZOMBIE CHRONICLES, a four part zombie miniseries. This film was shot spending only $60.00! Part 1 is called DYSTOPIA and was shot in the same cemetery Romero shot the opening of NIGHT OF THE LIVING DEAD in. Check it out below and enjoy it for free!
See ya next week, folks!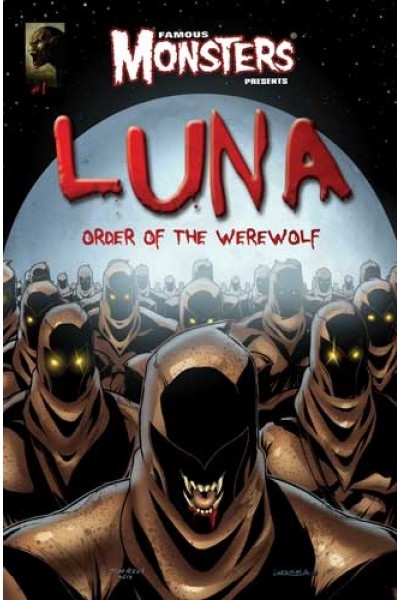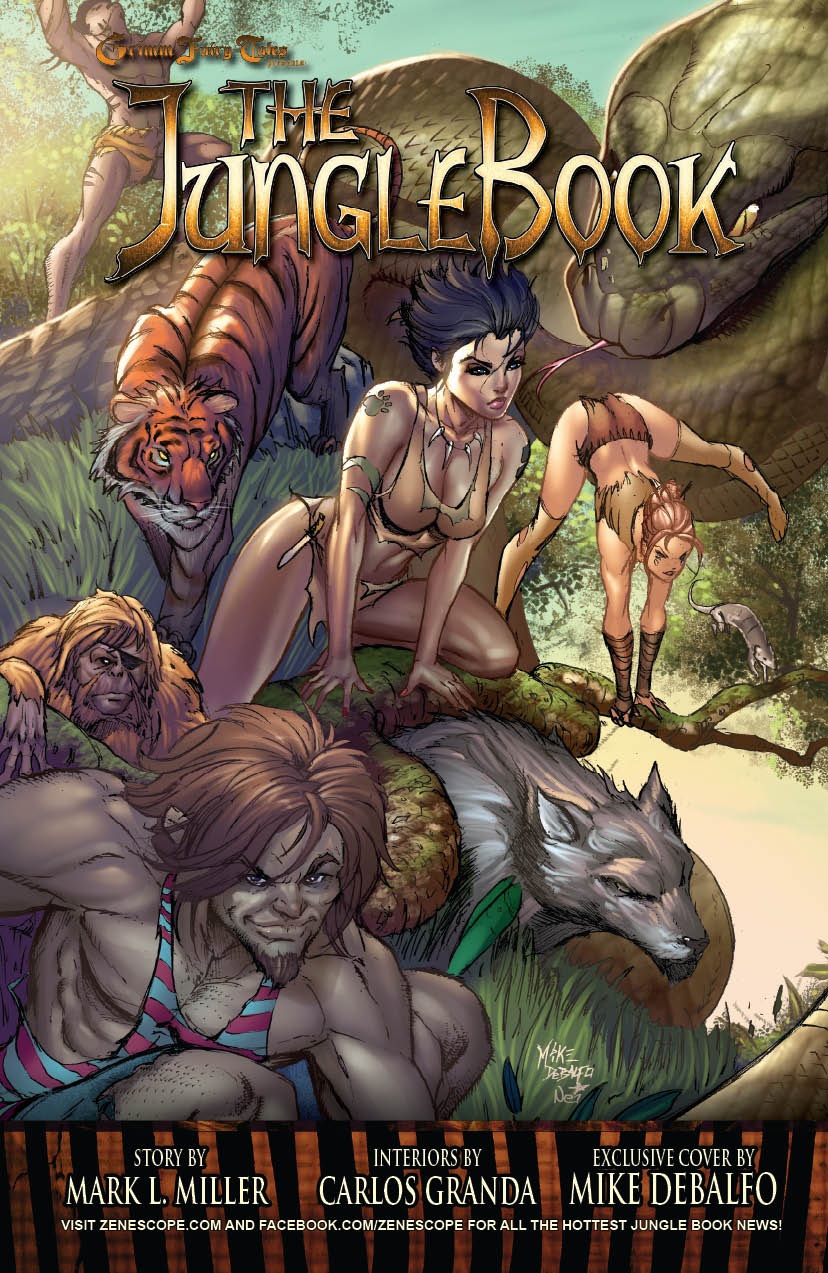 Ambush Bug is Mark L. Miller, original @$$Hole/wordslinger/writer of wrongs/reviewer/interviewer/editor of AICN COMICS for over eleven years & AICN HORROR for two. He has written comics such as VINCENT PRICE PRESENTS THE TINGLERS & WITCHFINDER GENERAL, THE DEATHSPORT GAMES, & NANNY & HANK (soon to be available on iTunes and soon to be made into a feature film from Uptown 6 Films). He has co-written FAMOUS MONSTERS OF FILMLAND's first ever comic book LUNA: ORDER OF THE WEREWOLF (to be released in 2013 as a 100-pg original graphic novel). Mark wrote the critically acclaimed GRIMM FAIRY TALES PRESENTS THE JUNGLE BOOK last year from Zenescope Entertainment & look for his exciting arc on GRIMM FAIRY TALES #76-81 released August-December 2012. Mark will be writing GRIMM FAIRY TALES PRESENTS THE JUNGLE BOOK: LAST OF THE SPECIES to be released in February-June 2013. Follow Ambush Bug on the Twitter @Mark_L_Miller.
---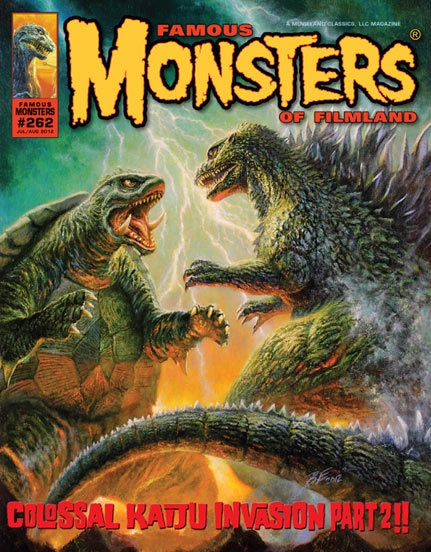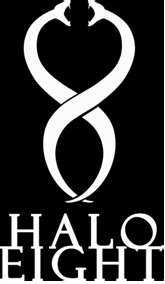 Check out the FAMOUS MONSTERS OF FILMLAND Website for all things horror!


Interested in illustrated films, fringe cinema, and other oddities?
Check out Halo-8 and challenge everything!



---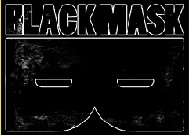 Find out what are BLACK MASK STUDIOS and OCCUPY COMICS here and on Facebook here!





---
Find more AICN HORROR including an archive of previous columns on AICN HORROR's Facebook page!