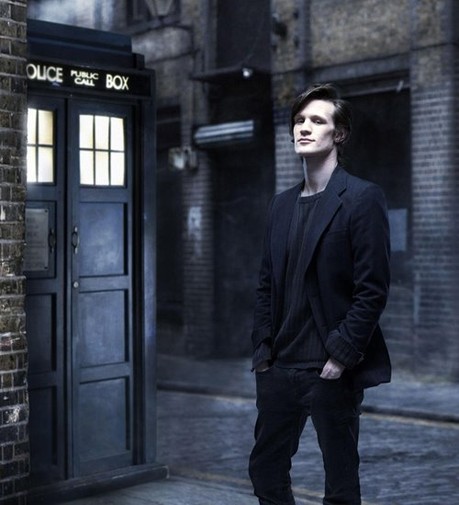 The amazingly charismatic and versatile Matt Smith - known to many-a-Geek like me as 'The Eleventh Doctor' on BBC's DOCTOR WHO (which turns 50 years old this year, by the way) - has landed his first lead in a US motion picture. Specifically, the Ryan Gosling-directed HOW TO CATCH A MONSTER.
Story is set against the surreal dreamscape of a vanishing city and centered on a single mother of two being swept into a macabre and dark fantasy underworld while her teenage son discovers a secret road leading to an underwater town.
...says Variety HERE. Christina Hendricks and Eva Mendes will also star.
The BAFTA-nominated Smith began his DOCTOR WHO tenure back in 2010, at the same time reigning Executive Producer/Lead Writer Steven Moffat took the helm of that venerable franchise.
All reports point to Smith remaining with DW 'through its 50th anniversary' - which runs throughout this year - and Smith has recently indicated in interviews that Moffat has already discussed with him plans for the NEXT Season of the show (i.e. next year, Season/Series 8 if counting from 2005's relaunch).
To prevent mass hysteria, it's important to point out that BBC programming (and notably DOCTOR WHO) has recently been shot in relatively condensed blocks - while its actual broadcast has been spread out over a broad length of time (5 eps, long break of many months, then 8 eps, etc.) As such, Smith taking this role for Gosling...or other roles for that matter...should not necessarily be seen as an indicator that he's leaving the TARDIS. Most likely, he's merely squeezing in gigs between shooting blocks on WHO. Not an unexpected move, by any means, and one that has already been hinted at by Smith in a number of interviews. It'll be truly exciting to see what mainstream audiences make of this quirky-but-commanding performer.
More as we know more...
-------------------
Glen Oliver