Hey folks, Harry here... Having grown up with Famous Monsters of Filmland, Starlog, Cinefantastique and Cinefx, I just can't help but love the physical sculptors that gave us so many great visions upon the screen. Most famously, Stuart Freeborn solved the YODA problem on EMPIRE STRIKES BACK... basing the final sculpt upon Albert Einstein... but my friends... he did so much more.
Working under Alexander Korda, he worked uncredited first upon the face of Charles Laughton for Korda's great REMBRANDT in 1936. Yeah, that long ago. You see Stuart passed away at the age of 98, somehow - he lived to see the birth of all this new STAR WARS excitement. One that'll carry his most famous creation forward and perhaps backwards. But after REMBRANDT, he went on to work on the great Korda classic, THE THIEF OF BAGDAD - perhaps he worked on the giant Rex Ingram foot or upon his pointy ears, the first of his career.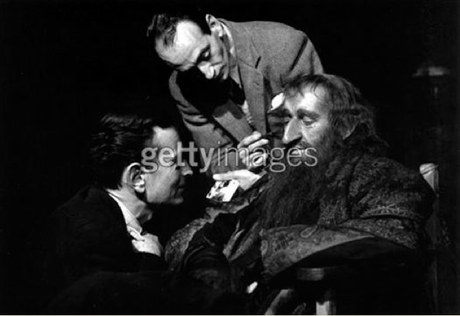 We worked with Powell & Pressburger upon THE LIFE AND DEATH OF COLONEL BLIMP. Then he worked with a young David Lean upon his utterly brilliant OLIVER TWIST, where a future OB1 became Fagin and then Freeborn went on to make Alec Guinness look incredibly fragile in BRIDGE OVER THE RIVER KWAI. He did makeup on the British classic, THE DAM BUSTERS! He worked with Peter Sellers on THE MOUSE THAT ROARED, which I hear led to him doing DR. STRANGELOVE for Kubrick. Oh - and he also did 2001: A SPACE ODYSSEY.
One of my favorite films of his is ALICE'S ADVENTURES IN WONDERLAND - mainly because you get to see his take on Lewis Carroll's characters, but upon the faces of folks like Michael Crawford and Sir Ralph Richardson. Peter Sellers' March Hare and Dudley Moore's Dormouse. Sir Ralph? He was playing THE CATEPILLAR - and you must see that.
He served as the chief makeup artist on THE OMEN, a film that I love dearly. Even have one of the daggers from that.
He was the makeup supervisor on STAR WARS and was one of the creative supervisors that made SUPERMAN fly.
He worked on all the original Star Wars trilogy, along with all the Christopher Reeve SUPERMAN films.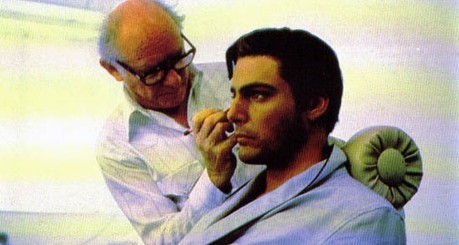 He was the reason I saw SANTA CLAUS, by that time - those magazines were heralding his involvement in everything he did. Like TOP SECRET!
If you've watched the special features on your STAR WARS blu ray set- you've seen a lot of Stuart.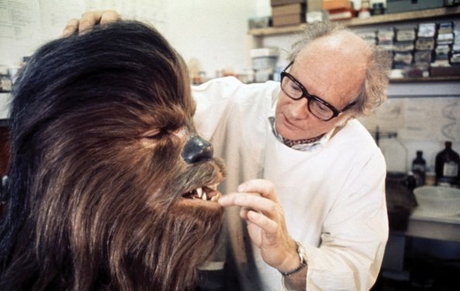 Here's a look at Stuart Freeborn:
The Force Will Be With Stuart, Always!