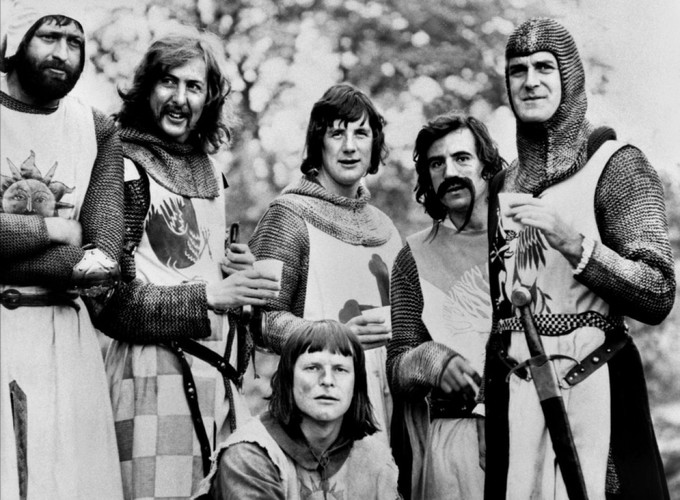 Ahoy, squirts! Quint here. I'm starting to think I died and didn't know it. Am I living Beetlejuice right now? Seriously, we have the promise of a crazy number of promising looking Star Wars movies, Marvel is dominating popular culture with an incredible slate of movies past, present and future and now Monty Python is getting back together? It's too good to be true, but Variety claims it is very real.
Now they're trying to downplay the importance of Terry Jones, John Cleese, Michael Palin and Terry Gilliam reteaming (Eric Idle hasn't signed yet, but they're in the process of wooing him), saying it's not really a Python film, but then saying it will feel like one!
Terry Jones is directing this film called Absolutely Anything, which is a tale of asshole aliens who give an earthling the power of God (he can do absolutely anything... now you understand the title, dontcha?) just to see what happens. It'll be a CGI animated/live-action hybrid deal with the surviving Pythons voicing the aliens and Robin Williams voicing a dog. He's apparently a very smart dog. His face will be seen as well, as he will be playing a character that is only described as a "pompous Frenchman." Are there any other kind of Frenchmen? (Sorry, my French friends! It was too obvious a joke for me not to go for it)
Apparently Jones has been toying with the script for two decades with Gavin Scott.
If Williams is also appearing in the flesh, I have hope that the Python members get to play some live action scenes together, but hey... if it's just them getting together and performance capturing aliens that like to fuck with humans then I'll take it.
-Eric Vespe
"Quint"
quint@aintitcool.com
Follow Me On Twitter