Ahoy, squirts! Quint here with today's Behind the Scenes Picture.
In 1959 Fred Astaire had a TV special in which he decided to dress up as Alfred E. Neuman… Yes, that Alfred E. Neuman, Mad Magazine's mascot.
Not content to half-ass things (this is Fred Astaire we're talking about), he decided to bring in one of the best makeup men in the business, Mr. John Chambers… He was featured yesterday in the Planet of the Apes pic… John Goodman played him in Argo. Legend.
So, John Chambers brought Astairefred E. Neuman to life and the results are at once incredibly impressive and "fuck you" frightening.
Here's the crazy scary pic. I'm not kidding around. That is really unsettling.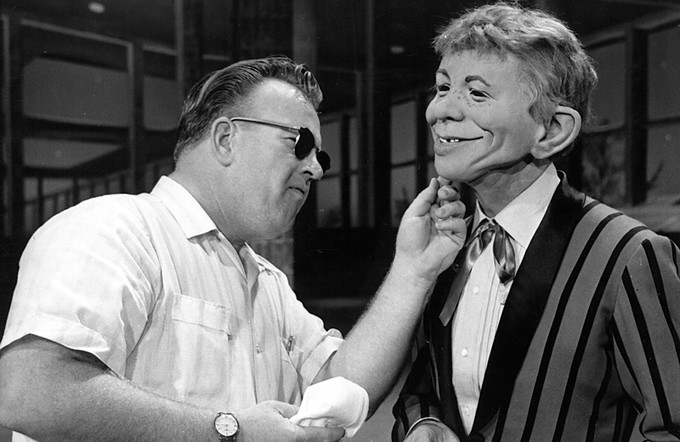 If you think that image will haunt your nightmares you ain't seen nothin' yet. You've seen that unholy creation in still form, but now you get to see it move.
That's right. It's the year 2013, so everything is on YouTube, including that number from "Another Evening With Fred Astaire" as the legendary Astaire as Alfred E. Neuman, dances with Ms. Barrie Chase. You are not prepared for what you're about to see. You may think you are, Mr. Tough Guy, but you're really not.
If you have a behind the scenes shot you'd like to submit to this column, you can email me at quint@aintitcool.com.
Forget it, Jake. It's tomorrow's pic.
-Eric Vespe
"Quint"
quint@aintitcool.com
Follow Me On Twitter
I've got a lot of maintenance work to do on the previous BTS articles, but you can visit two pages worth of images (beware of some broken links thanks to the last server shift): Click here to visit Page One and Click here to visit Page Two