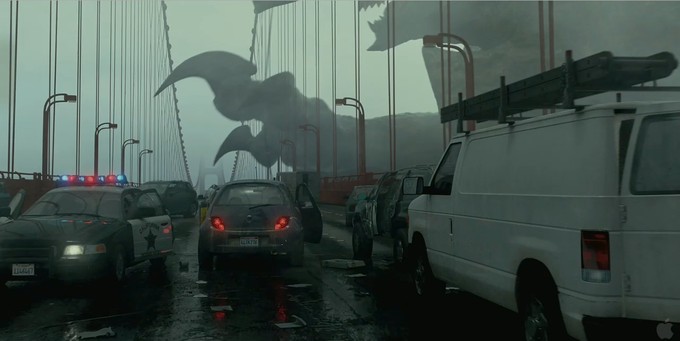 Nordling here.
Obviously, we at AICN have been anxiously awaiting word on PACIFIC RIM, Guillermo Del Toro's giant robots vs. giant monsters movie. I can say for myself, it's my most anticipated movie of the summer. How could it not be, with people calling it Del Toro's STAR WARS? I hope we get plans for a huge saga in PACIFIC RIM, and not just movies, but books, comics, video games... a shared world where various artists can dive in and tell stories. The way Guillermo Del Toro was talking at BNAT, PACIFIC RIM is just the beginning.
Tonight PACIFIC RIM test-screened in Burbank, California (why oh why couldn't they have waited two days! I'M GOING TO BE THERE, DAMMIT!), and with it come some online reactions, including from LOOPER director Rian Johnson, who has the goddamn nerve to see the movie and not invite the rest of us. I mean, seriously, Rian? You're a fellow BNATter, throw us a bone here:
Go into Pacific Rim prepared to be transmogrified into a 12 year old. And then to pee your pants with joy. I love it so much.

— Rian Johnson (@rianjohnson) February 2, 2013
And more reactions are in at IMDB:
Overall, it's probably the best summer monster movie I've seen, and out of summer movies in general, falls behind the new Batman series, but that's about it. I wrote on their response form that they should be proud of the movie and that I'm glad it's not another Transformers clone (re: Battleship). They killed it!

The movie in its current form was around 2:00-2:15-ish. We weren't allowed to have phones, so I'm not sure of the exact time.

I thought the performances were very good, considering the subject matter and the script. Idris Elba was great as the older commanding officer, and Charlie and Rinko both did well in their roles. Charlie Day and Ron Perlman were both awesome. It's not going to win any SAG awards by any means, but the acting and direction were solid, and above average for a big monster movie.
There's more reactions at PacificRimMovie.Net.
Anyone at the Burbank screening? We'd love to hear from you - what you thought, how you felt seeing it, basically anything you want to tell us. If you saw it last night, email us at harry@aintitcool.com and we'll post it. We're starving for it here!
Nordling, out.